VIDEO: Serial groper strikes peninsula again, five total victims
SEASIDE, Calif. (KION-TV)- UPDATE Oct. 3, 2022, at 5:49 p.m.- A man is wanted for sexual battery of at least five women in three cities along the peninsula.
The latest cases to have been reported were in Seaside. One on August 28 and another on Sept 22, said police.
The incident on Sept. 22 happened around 6:15 a.m. on the 5000 block of Coe Avenue. Police say the incident happened the same as the others, a man riding a black e-bike rode near a woman and hit her buttocks before riding off.
That last incident resulted in a woman sustaining scratches. Seaside Police will investigate that incident as a felony assault.
Seaside Police say the suspect is believed to be a white male approximately 5'11 in height. A key to identifying the suspect is the American badge in the middle of his handlebars.
"I would have to be kind of keeping an eye out, which is kind of a shame if I'm on the bike trail taking a walk, and instead of relaxing and enjoying myself, being alert that someone might be tapping from me behind, back of my leg, my head," said Del Rey Oaks resident Victoria Blaszczak. "That's just shocking."
Police are asking anyone with any information to contact their offices.
ORIGINAL STORY:
DEL REY OAKS, Calif. The Del Rey Oaks Police Department said the man shown in the photos above inappropriately touched a woman on her butt while riding a black e-bike Monday morning.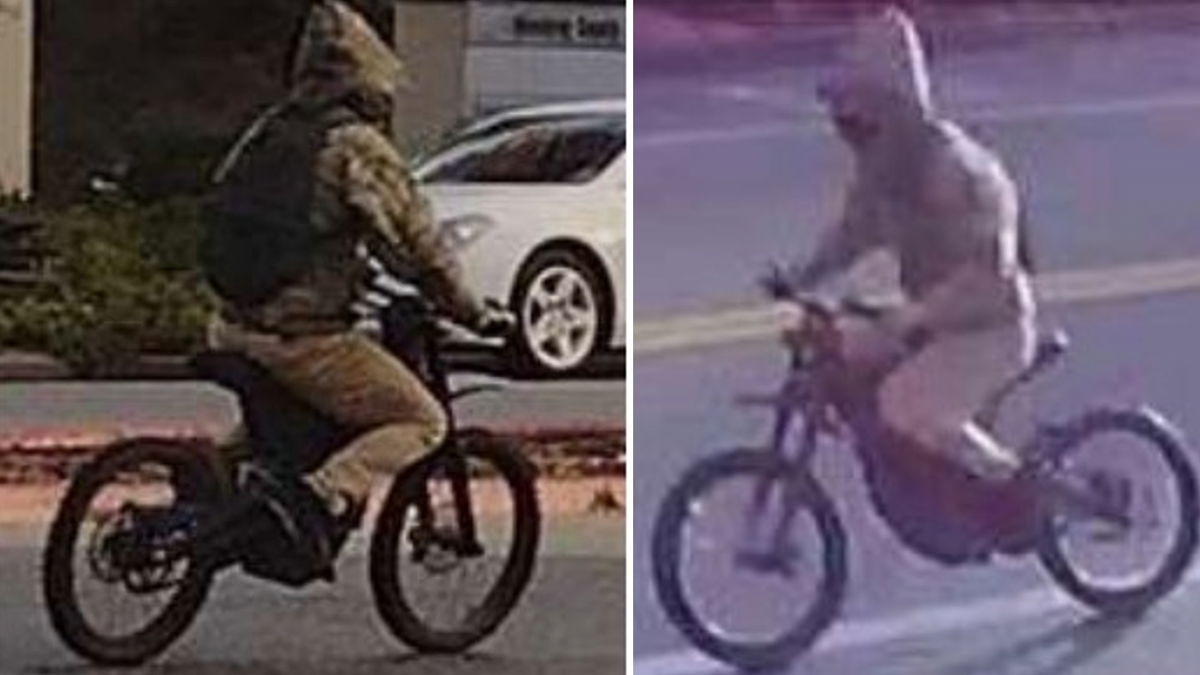 This incident occurred at 7:45 a.m. on the corner of Calle Del Oaks and Del Rey Gardens. The victim was able to take photos as the suspect got away, said police.
The suspect rode westbound on Canyon Del Rey, through the Safeway parking lot, and into Monterey, said police.
Police said he was described as a man wearing a tan camo jacket with khaki pants, wearing a black mask, and riding something similar to a Surron electric motorbike.
This is the third such incident reported on the Monterey peninsula. Two other attacks on women's behinds were reported in Monterey on Sept. 15 and Sept. 20, said Monterey Police.
Read more: Monterey Police look for suspect riding e-bike slapping women on the butt
Del Rey Oaks police say the suspect in all three incidents is likely the same person.