Project Santa (Gift, Inc.) is a non-profit organization that works with the Monterey County Social Services in collecting Christmas gifts for hundreds of kids in foster care. Dyane Tori, is our Project Santa Chief and there are four other retired volunteers that work to collect all the gifts.
We have Christmas ornaments available to adopt a child. The ornament will list the child's name/age and it lists their gift wishes for Christmas this year. Please text Dyane Tori on her cell phone 831-594-2051 and she can assist you in picking out an ornament. If you have any questions or would like to make a gift or cash donation please contact Dyane directly.
Project Santa Wish List – These are gifts that will help supplement children entering foster care closer to Christmas: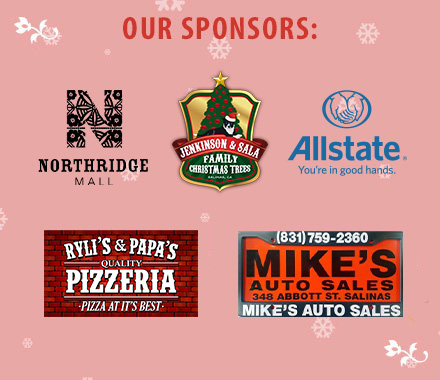 – Lego Sets
– Frozen Theme Items
– Higher Count Puzzle Sets
– Books in Spanish and English
– Activity Books- 1, 2, 3, 4
– Barbie Doll Clothing Sets
– Gift Cards- Target/Walmart/iTunes
– Arts & Crafts Gift Kits
– Teen Toiletries
– Men's Toiletries
Please no red or blue clothing.
Project Santa Sponsor Drop Off Locations:
Monday, December 9th: Northridge Mall – 796 Northridge Mall, Salinas, CA 93906
Tuesday, December 10th: Jenkinson & Sala Family Christmas Tree – 1034 North Main Street, Salinas, CA (Salinas Sports Complex)
Wednesday, December 11th:  Ryli's & Papa's Pizzeria – 931 W. Alisal St., Salinas, CA 93901 (Hartnell Plaza Shopping Center)
Thursday, December 12th: Ainslie LoVerde Insurance Services, Inc.: Allstate Insurance – 1820 N Main St, Salinas, CA 93906
Friday, December 13th: Mike's Auto Sales – 366 Abbott Street, Salinas, CA 93901