Sports betting fuels US gambling's record-breaking growth. Here are the numbers behind it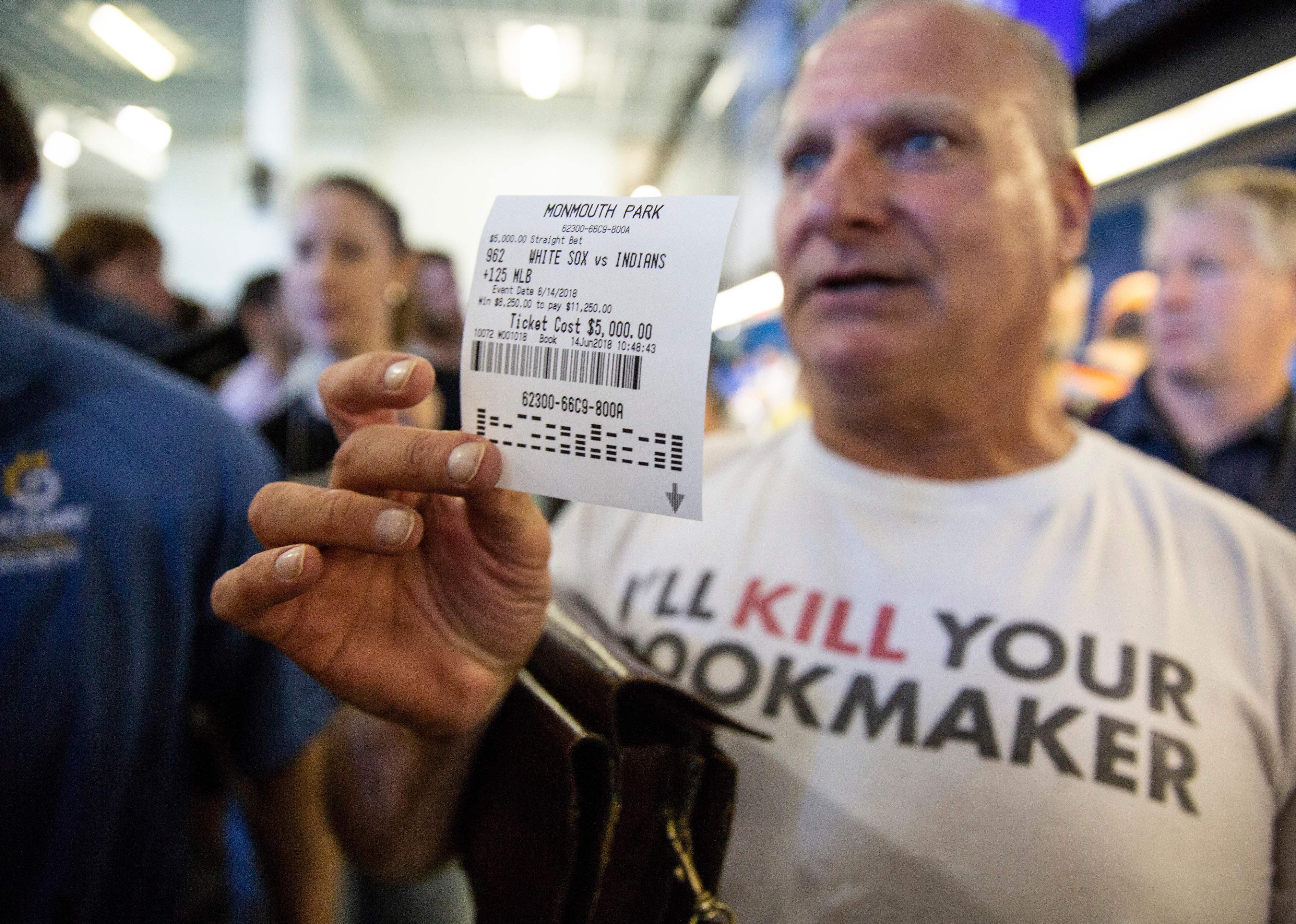 DOMINICK REUTER // Getty Images
Sports betting fuels US gambling's record-breaking growth. Here are the numbers behind it
Professional sports-better up a betting slip for $5,000 USD.
Everything changed for the business of sports betting in 2018 when the U.S. Supreme Court overturned a federal law prohibiting the activity in most states. In the five years since, legalized gambling has become one of the fastest-growing sectors of the mammoth, multi-billion dollar sports industry.
According to PBS, Americans have placed more than $220 billion worth of sports wagers in total (or nearly $45 billion per year) over that span—and their betting pace shows few (if any) signs of slowing down. It's a milestone moment for a pastime that is exploding in popularity, as well as a period of rapid change and evolving technology across the sports betting world. Through the 2020s, it is estimated that the sports betting market will have an average annual growth rate of more than 10% year-over-year, reaching an eye-popping total value of $167.66 billion per year by 2029.
To help make sense of the latest developments, ATS.io analyzed trends in the sports and gaming betting industry from a collection of news and expert sources. Using their data, here are seven major takeaways about the current state of sports betting in the U.S.
---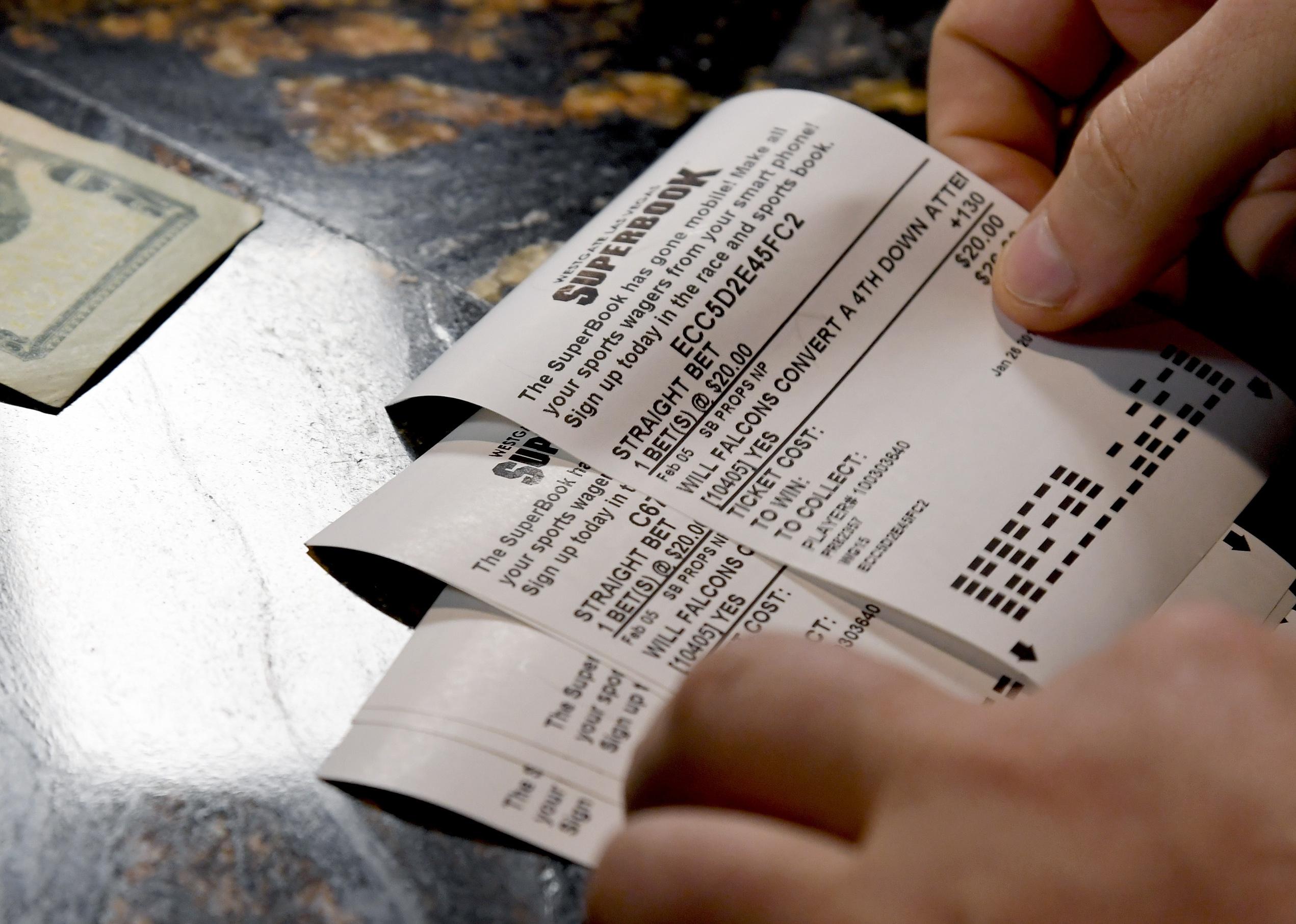 Ethan Miller // Getty Images
A growing gaming industry
A bettor's slip for proposition bets for Super Bowl LI.
Betting has never been bigger in America than it is right now. According to state regulators and the American Gaming Association, the U.S. gaming industry has seen a remarkable 24 consecutive months of growth as of March 2023, reaching a record-breaking $16.60 billion gross gaming revenue, driven by sports betting (70.1% annual growth).
---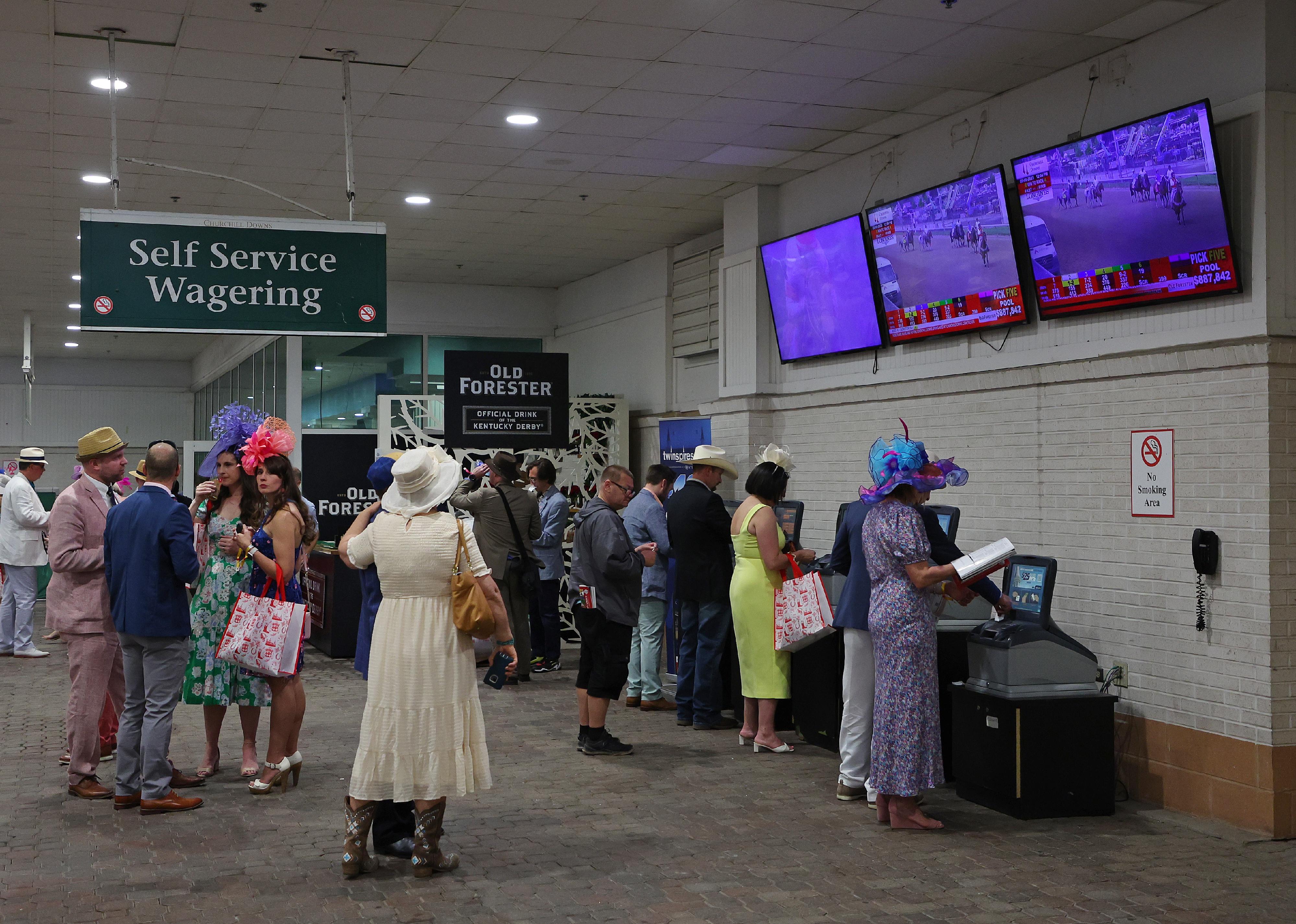 Stacy Revere // Getty Images
The seasonal nature of sports betting
Spectators wait in line to wager on races prior to the 149th running of the Kentucky Derby.
The volume of money bet on sports does not stay constant throughout the year. Instead, it tends to ebb and flow based on which pro and college sports are in season. In general, here are the patterns to keep an eye on: Sports betting declines in the winter months, particularly after the Super Bowl in early February, and picks back up around March Madness (when even the Wall Street trades slow down in favor of filling out a bracket). After those events are over, betting activity tends to dip during the summer—but it increases a lot in September, coinciding with the start of the pro and college football seasons.
---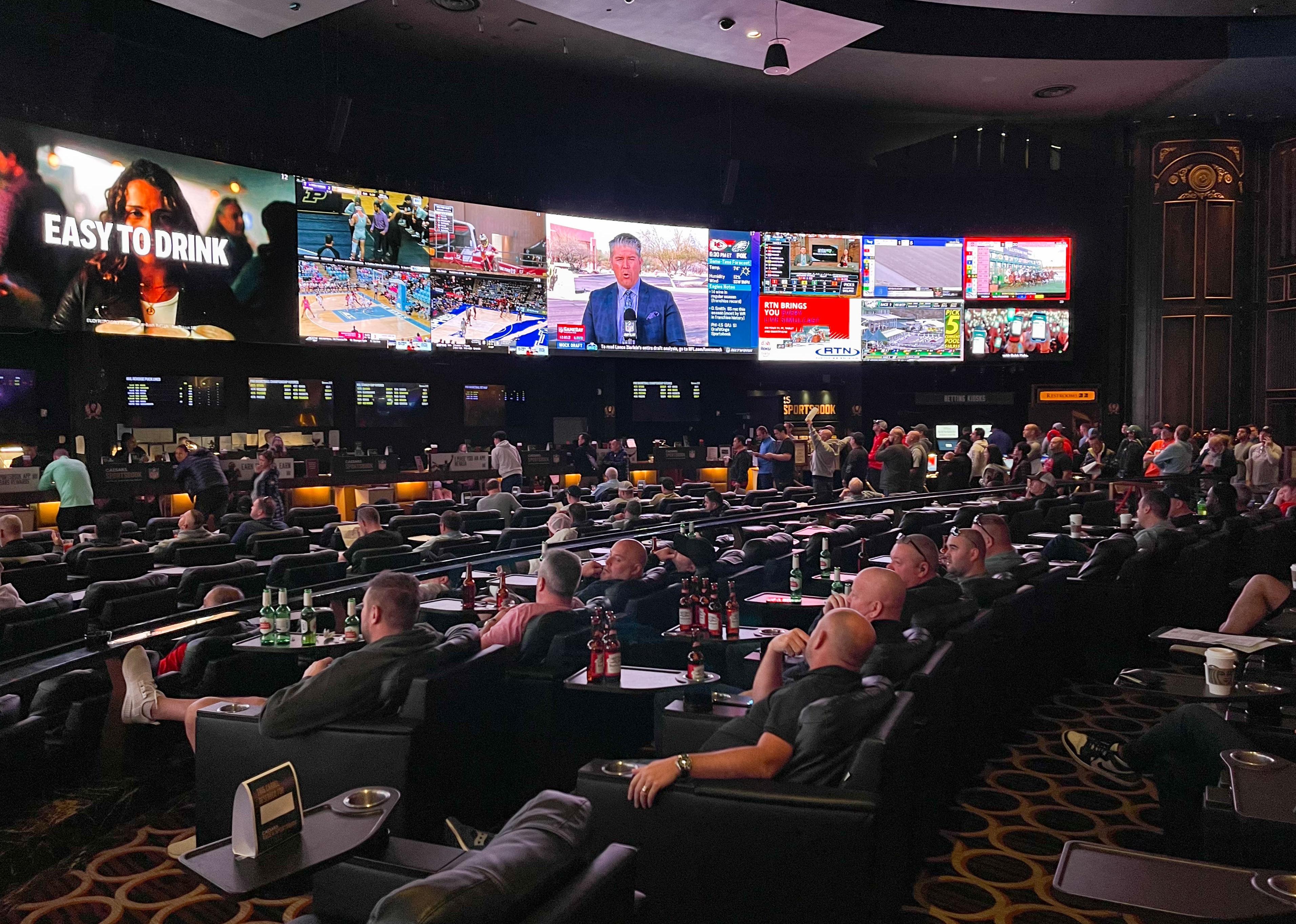 George Rose // Getty Images
Sports betting in the past few months
Gamblers in the Caesars Sports Book at Caesars Palace Hotel & Casino for the Super Bowl LVII.
The NFL is the king of all betting in the U.S., with CRG Global's data showing that 81% of all mobile gamblers placed at least one bet on the league last October. (The NBA was a distant second, at 54%.) But that can cause gambling numbers to slow down once the NFL season is over, even as the industry remains at an all-time high level overall. According to the American Gaming Association, sports betting revenue declined by 40.3% from January to February in 2023, highlighting the power of football in driving U.S. bettors' interest.
---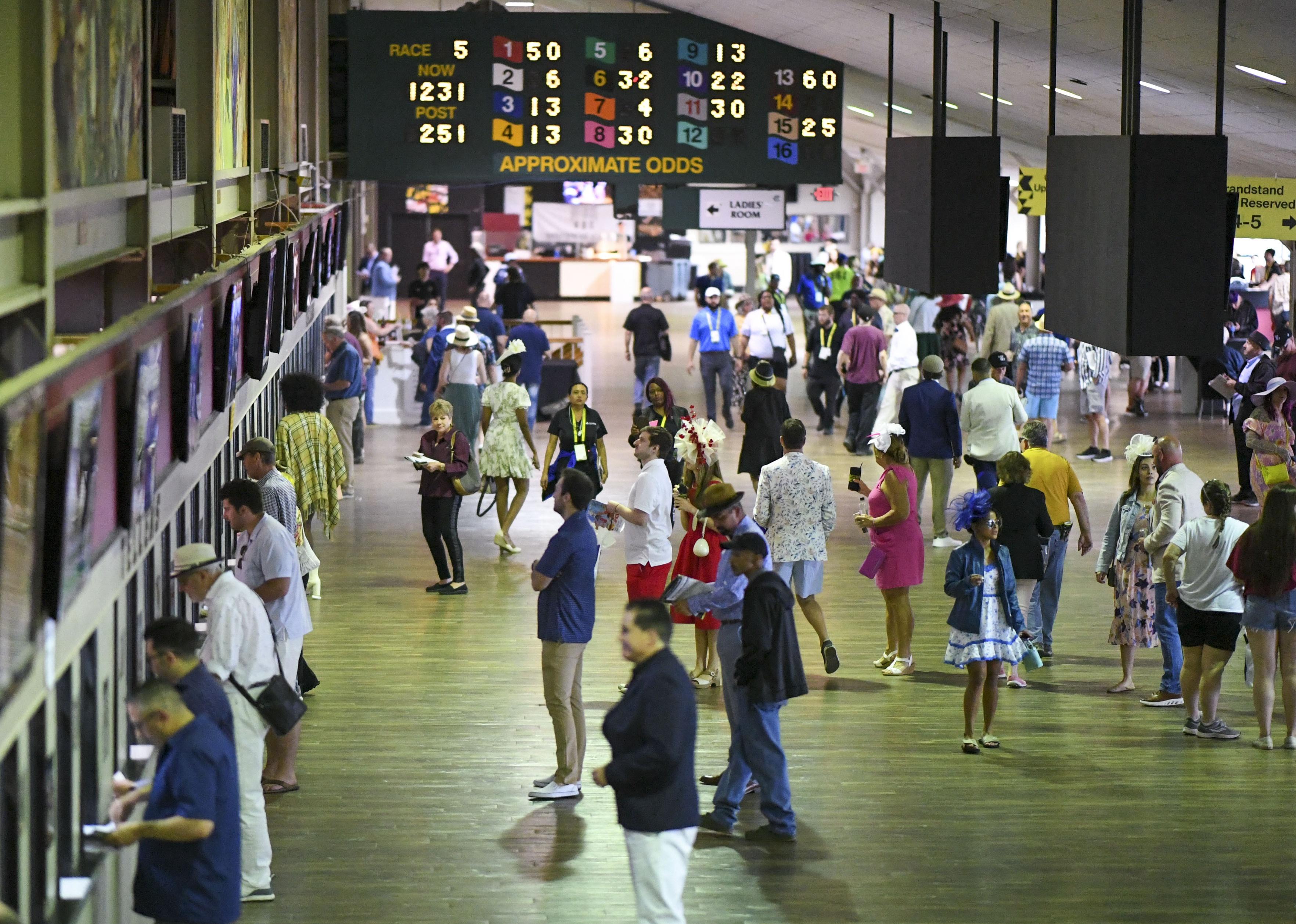 Jonathan Newton // Getty Images
Sports betting in the past year
Race fans line up to place their bets at Pimlico Race Course.
Still, the industry maintained strong growth. March represented a new single-month revenue record with a revenue of $5.90 billion, a 10.3% annual increase. If we look at a snapshot of things year-over-year, sports betting revenue increased to $2.79 billion, or 70.1% annual growth. In part, that rise was driven by the expansion of legalized gambling to new markets: Three new states—Ohio, Massachusetts, and Maryland—began offering legal commercial sports betting in the year leading up to February. As of May 19, 2023, 33 states and Washington D.C. offer legal sports betting. Four other states have legalized the activity but have yet to launch their programs.
---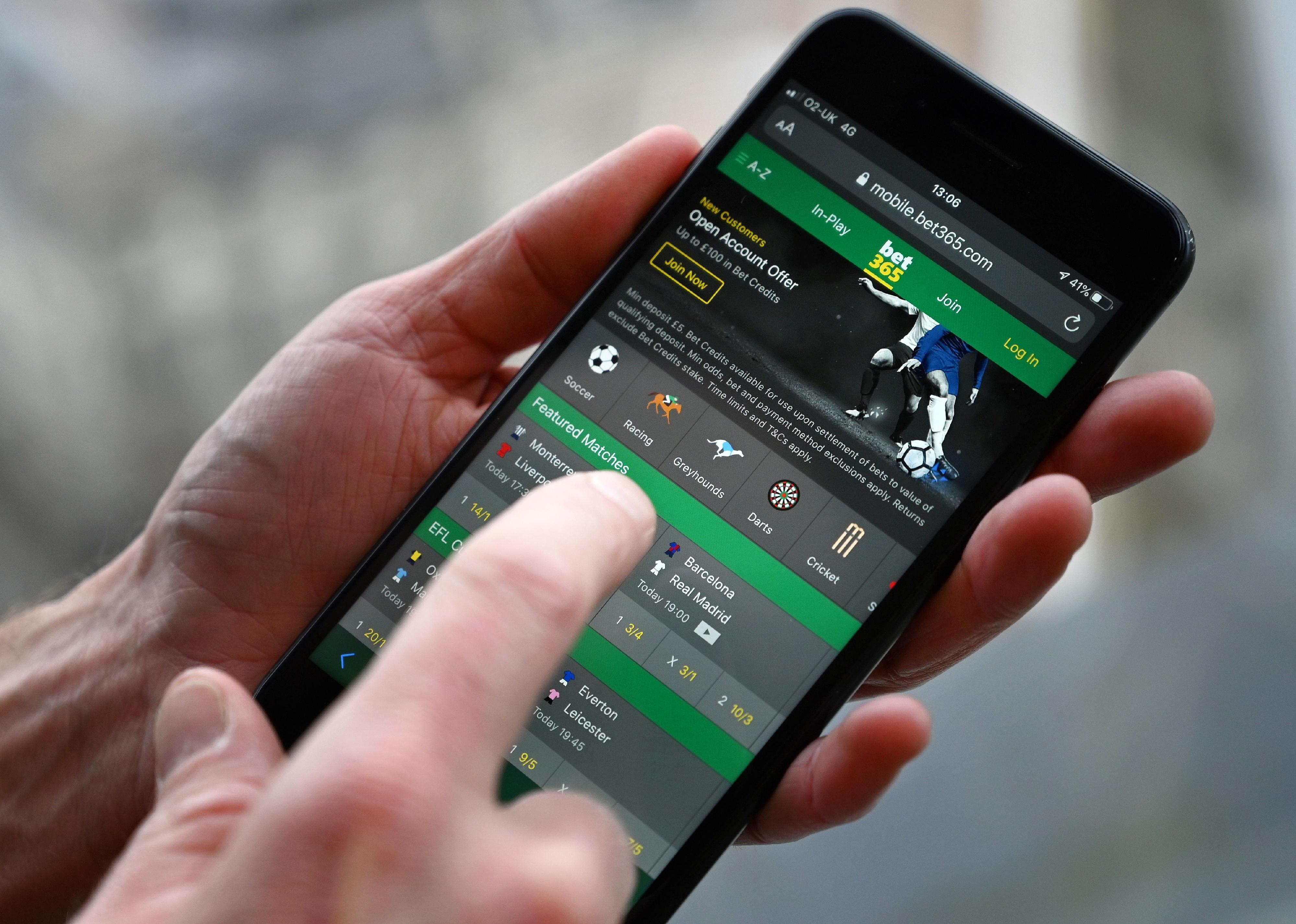 PAUL ELLIS // Getty Images
Sports betting is going digital
A man poses for a photograph with the online gambling website displayed on a smartphone.
More and more, Americans are placing wagers with a click of their mouse or a tap of the finger on their smartphones. Of the 33 jurisdictions where sports betting is legal, 24 offer online betting options, and three—Kansas, Maryland, and Ohio—were added to the ranks of those where betting from mobile devices is allowed. While some states allow on-site betting at casinos but prohibit digital wagers, the sheer convenience of the latter makes it seem like online options will become the norm as more states allow legal sports betting.
---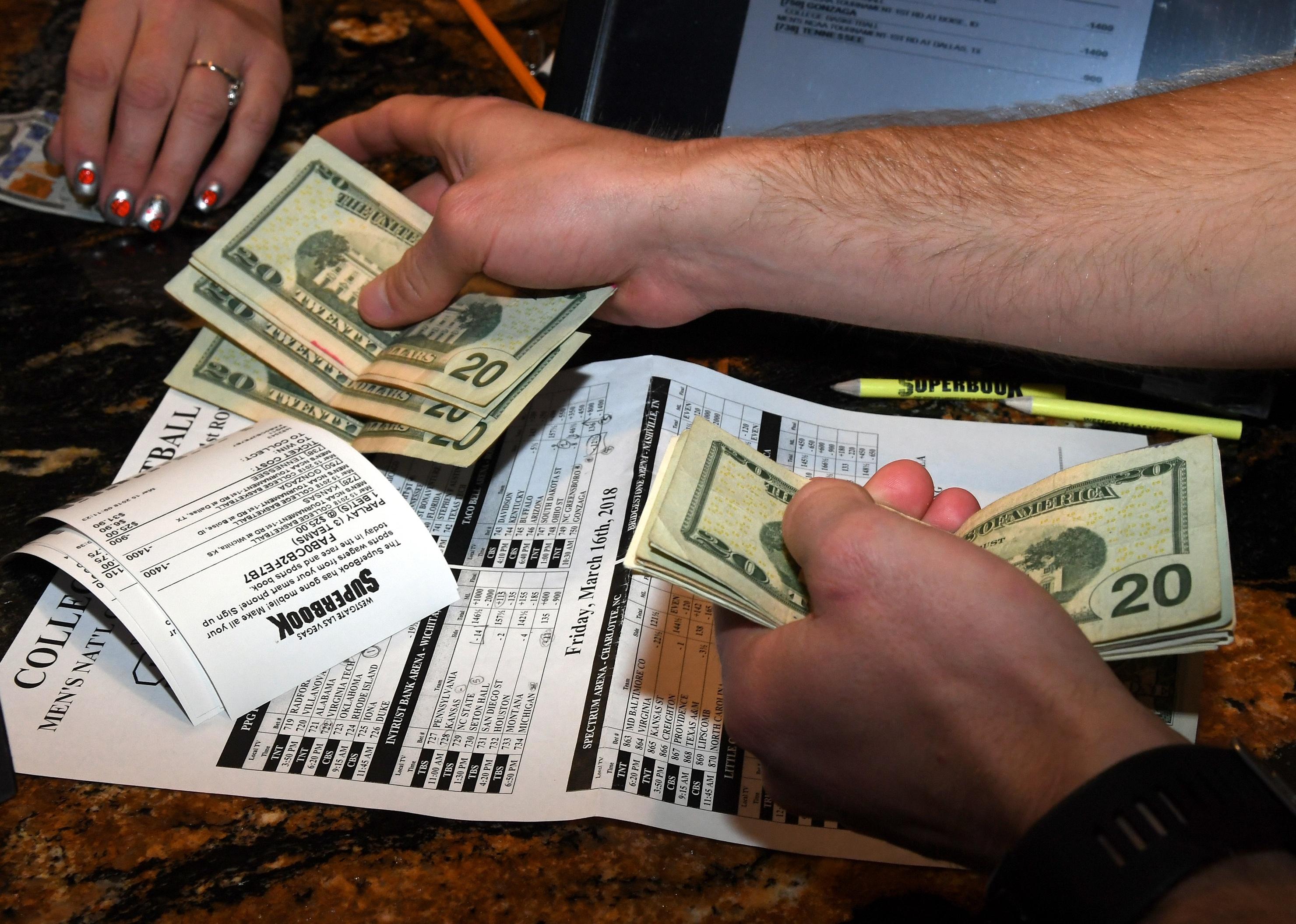 Ethan Miller // Getty Images
States with the highest gross gaming revenue
Man makes bets during a viewing party for the NCAA Men's College Basketball Tournament.
The popularity of sports betting varies a lot by state—some have been in the game for a long time, while others are still catching up after arriving late to the party. According to the American Gaming Association, as of March 2023, the 10 states with the highest gross gaming revenue (or GGR) are Nevada, Pennsylvania, New Jersey, New York, Ohio, Michigan, Indiana, Louisiana, Mississippi, and Maryland. It's not particularly surprising to see the home of Las Vegas rank #1—Nevada brings in more than 2.5 times the GGR of any other state.
---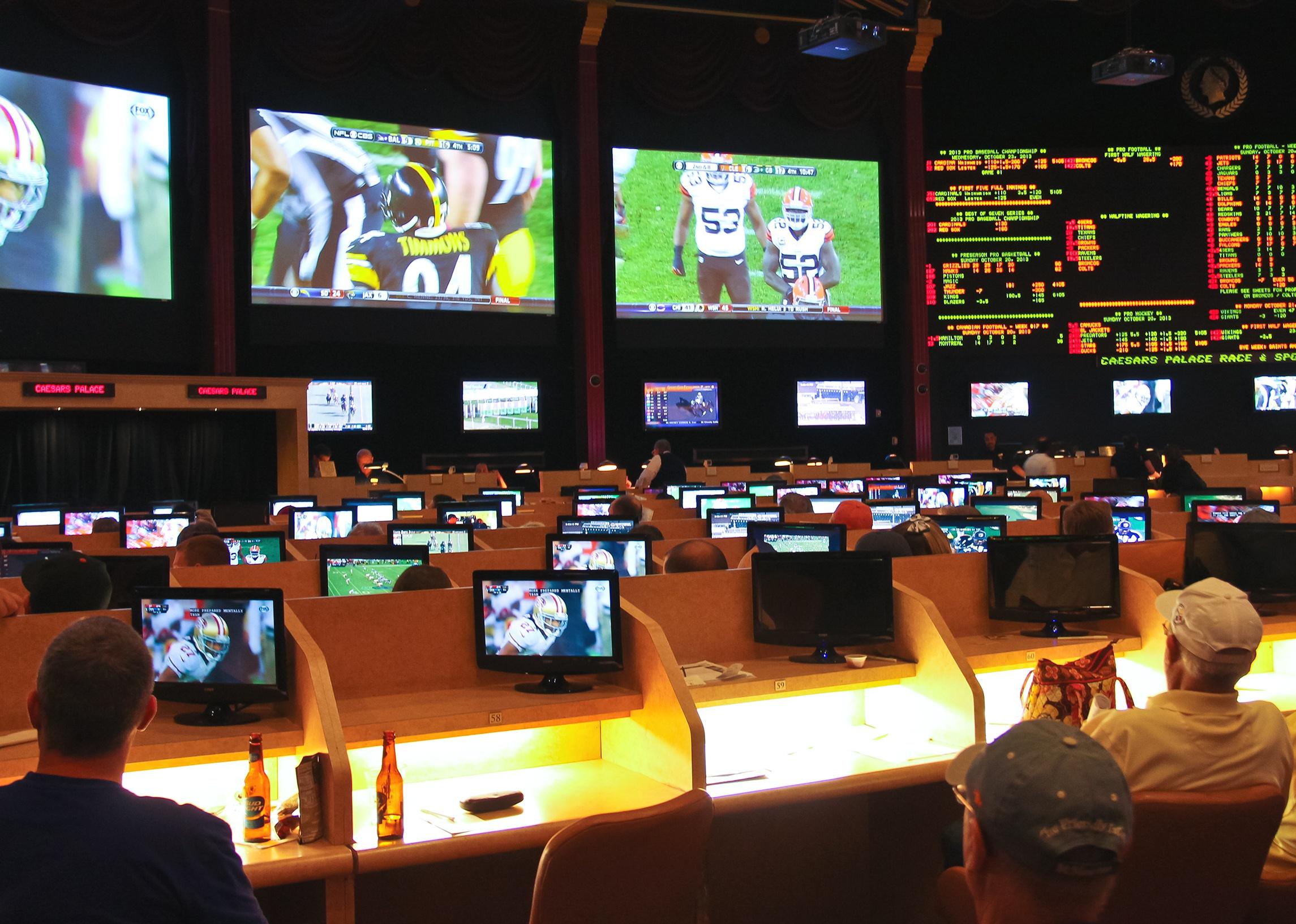 Nick_Nick // Shutterstock
US casinos
Sports betting at Caesar's Palace in Las Vegas.
Along those same lines, Nevada has a U.S.-leading 334 total casinos statewide, according to World Atlas. Not only is that tally 200 more than any other state, but it represents roughly one-third of the more than 1,000 active casinos in the U.S. overall. (The 172 casinos located in Clark County—home of Las Vegas—would rank higher than any state by themselves.) Behind Nevada, the top 5 in total casinos are rounded out by Oklahoma, California, Colorado, and South Dakota.
Data reporting by Lauren Low. Story editing by Carren Jao. Copy editing by Robert Wickwire. Photo selection by Clarese Moller.
This story originally appeared on ATS.io and was produced and
distributed in partnership with Stacker Studio.
---