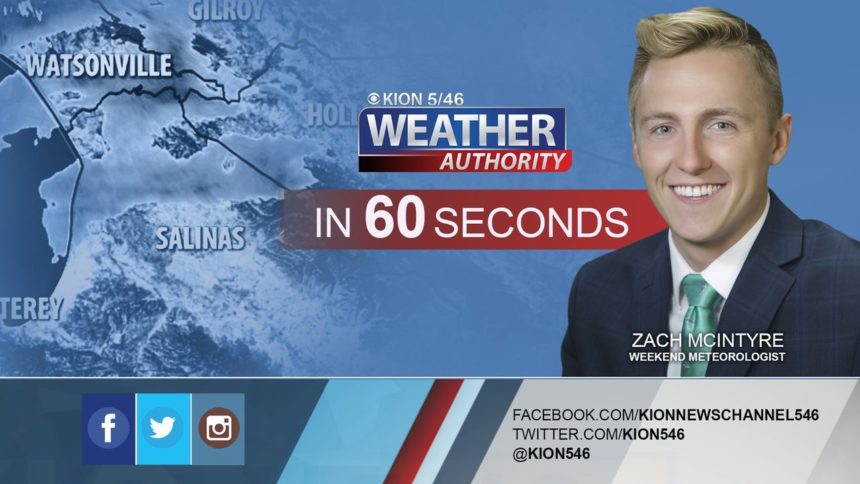 No Sky July will be in full effect throughout the day as the deep marine layer dominates our weather. A trough of low pressure to our north is the reason we're seeing deep onshore flow. It will eventually lose out to two separate areas of high pressure—one to our east and one to the west—as their influence will push up temps and push *down* the marine layer into the holiday weekend. You can expect warmer weather starting Friday and lasting through the weekend. Flow will generally remain onshore, so low clouds will likely still be around—just less present during the day-time hours and with limited reach overnight. Afternoon winds could get gusty at times which will likely increase fire danger with the heat this weekend.



Thursday: Expect a repeat performance of Wednesday except just a bit warmer on the Santa Cruz side of the bay. Expect persistent low clouds with only a few breaks, but sunny skies inland. Temperatures will remain cool with 60s on the coast and 70s to mid-80s inland. Breezy at times in the afternoon.
Overnight: Widespread low clouds overnight will push along the coast and inland valleys. Drizzle possible. Expect coastal lows in the low to mid-50s with upper 40s to low 50s inland.
***BEACH HAZARDS STATEMENT***
- In effect from 3 AM Friday to 8 PM Sunday from the Sonoma County coastline southward through Monterey County. In particular south facing beaches...including but not limited to...Santa Cruz and Stinson Beach.
- Sneaker waves, strong rip currents, longshore currents, and moderate shore break.
- Sneaker waves can knock unsuspecting beach goers
over and into the sea. Rip currents can pull swimmers and
surfers out to sea.
Friday: Patchy low clouds on the coast and sunny inland. Warmer, with coastal highs in the 60s to low 70s and upper 70s to low 90s inland. Breezy for inland valley in the afternoon.

Extended: Coastal highs will reach the upper 60s to 70s for the weekend with widespread 80s-90s inland. A few southern valleys may reach the low 100s. Low clouds will likely be present on the coast in the mornings with partly cloudy skies in the afternoon. Cooler, cloudier weather expected as we head toward mid-week next week.


-------------------------------------------------------------------------

This week's normal temperatures:
--COASTAL CITIES--
LOW: 53ºF
HIGH: 69ºF

--INLAND CITIES--
LOW: 50ºF
HIGH: 85ºF

----------------------------------------------------------------------------
-The outlook from the Climate Prediction Center for July 9th-15th calls for the likelihood of near normal temperatures and near normal precipitation. Note: Little to no precipitation typically falls this time of year.

-El Niño/La Niña STATUS: Neutral
-Forecast into Summer: Neutral
-Forecast into Winter: Equal chances of Neutral and La Niña

-Area drought status: Good to Abnormally Dry