Renovated park honoring Sgt. Damon Gutzwiller opens in Santa Cruz County
APTOS, Calif. (KION-TV) -- A park frequently visited by fallen Santa Cruz County Sheriff's Office Sgt. Damon Gutzwiller and his family has officially reopened in his name.
The county said the park not only bears his name, but also incorporates some of Sgt. Gutzwiller's interests.
"This is a playground his kids can use and these are boulders that come from the Sierras where he used to like to travel," said Santa Cruz County Supervisor Zach Friend.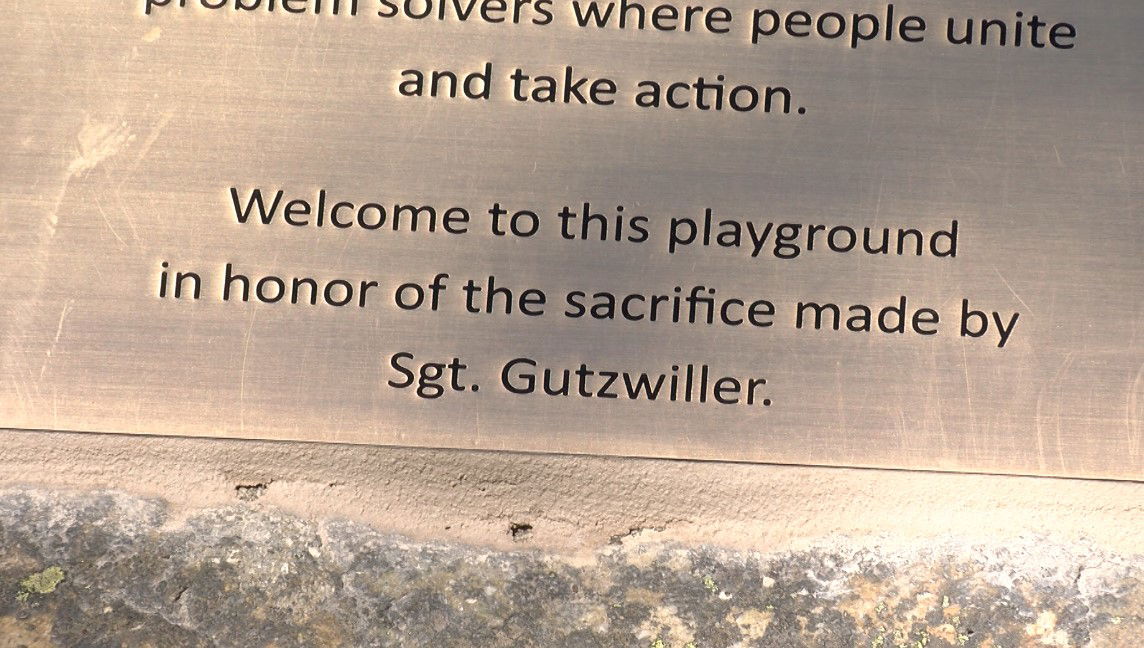 The county said the newly upgraded playground features a climbing apparatus, a rope ladder and a slide.
Megan Carpenter is an 8-year-old who helped come up with the design of the park and said she's excited to see it come to life for the community.
"I finally get to see the design and it just feels good that other kids can actually enjoy it," said Carpenter.
Renovations were made possible thanks to a community fundraising effort that ended up raising $400,000 in donations.
Sgt. Gutzwiller was shot and killed in an ambush attack back in June 2020 that saw some other law enforcement officers hurt.
Santa Cruz County Parks hopes the park serves as an example of what happens when the community comes together and that it serves as a fitting memorial to Sgt. Gutzwiller's service and sacrifice.
For more on Santa Cruz County Parks, visit http://scparks.com. For a list so major donors and
more information on the project, visit https://www.countyparkfriends.org/willowbrook.html
Groundbreaking for park honoring fallen Santa Cruz County Sheriff's Sgt. Damon Gutzwiller
A groundbreaking was held to honor a fallen hero with the Santa Cruz County Sheriff's Office, Sgt. Damon Gutzwiller.
The reimagining of Willowbrook Park started in January 2022 and managed to break ground in less than a year.
"The Santa Cruz Deputy Sheriffs' Association would like to thank County Park Friends, Supervisor Friend, and all of the other community partners and donors who contributed their time, efforts, and money to making this day possible. This memorial will serve as a place of beauty, peace and reflection for so many of us here in the community and will ensure that Sgt Damon Gutzwiller's sacrifice, and that of his family and all who knew him, will be forever remembered and honored."

Ethan Rumrill, President of the Santa Cruz Deputy Sheriffs' Association
The memorial area of Willowbrook County Park will feature a new seating/reflection area, a flagpole that will be eternally flown on the south side of the park, and new monument signs and improvements to the landscaping at the entrance to the park. An accessible playground is also in the works.
Gutzwiller's wife and two children were in attendance. Officer Gutzwiller often took his children to the park before his passing.
Supervisor Zach Friend stated, "Today's groundbreaking allows for hope and a new story to be told. As we create a reimagined park filled with sounds of cross-generational happiness from children and adults playing, and reflection, love and community support at the new memorial site."
Park honoring fallen Santa Cruz County Sheriff's Sgt. Gutzwiller gets $25,000 donation
The Associated General Contractors of California announced a $20,000 donation towards the Reimagining Willowbrook Park Project to honor fallen Sgt. Damon Gutzwiller.
"When AGC learned of the effort to honor Sergeant Gutzwiller's memory at Willowbrook Park, our local members were eager to help. We hope this contribution assists in moving the memorial forward and encourage the community to support this important project," said Chris O'Connor, Vice President for AGC of California.
The check was presented Tuesday at Willowbrook Park to the County Park Friends, the Santa Cruz County Deputy Sheriff's Association and the County Parks Department.
"Sergeant Gutzwiller's legacy and dedication to his community will be forever felt in this park, said Kim Namba, Deputy Director for Santa Cruz County Parks. "Community contributions like that of AGCs are moving this project from vision to reality."
The project has raised over $250,000 in honor of Sgt. Gutzwiller.
Park renamed to honor fallen Santa Cruz County Sheriff's Sgt. Damon Gutzwiller
It was a somber day for the Santa Cruz County Sheriff's Office as they mourned the loss of one of their own on Monday. Sgt. Damon Gutzwiller was killed while on the job exactly two years ago today.
The ceremony was held at Willowbrook County Park which is now named in honor of Sgt. Gutzwiller. A park that he frequented with his family.
"I think this does help people heal, and eventually it will allow for them to have a place to come and sit down and let their children play and remember Damon," Santa Cruz County Sheriff Jim Hart said. "When somebody makes this kind of sacrifice, you don't want to forget that, and it's easy over time to forget what happens. I want Damon to be remembered for the person he was and for the police officer he was and really the man he was. He was a wonderful human being."
A moment of silence led by the sheriff was held and the unveiling of a new park sign in honor of Sgt. Gutzwiller was held.
"As long as I'm the sheriff I'm going to continue to have remembrances and memorials for him," said Hart.
Hart also added that Gutzwiller's death has been hard for his department and that about five deputies have left and stated his death as the reason for leaving. Hart added he considered not running for reelection but felt he needed to due to the difficulty in finding police officers these days.