Higher early voting turnouts among older voters than younger people on the Central Coast
HOLLISTER, Calif. (KION) We're less than 24 hours away from election day and already thousands of Central Coast voters have turned in their ballots. Voter turnout is higher among people 65 and older than young people under the age of 24 across counties on the Central Coast.
"Currently, those right now that are under the age of 25, so far about 40 percent of them have turned out to vote. So far those that are under the age of 65, we're seeing about 75 percent turnout," Assistant County Clerk for San Benito County Francisco Diaz said.
Similar trends are showing in Monterey and Santa Cruz counties, according to PoliticalData.com. The site lists that Monterey County is seeing 38 percent of ballots returned among 18-34 year olds and 76 percent among people 65 and older. Santa Cruz County is seeing a bit higher return from young people at 44 percent and 78 percent for 65 plus.
There's a few factors that play into why this may be. Anderson says voting by mail percentages are on the rise in recent elections and the process has become easier. But this year, the coronavirus may also play a role.
"Other trends have shown that the older population is perhaps the most cautious about going out and in public gatherings and in public places means that there will be a lot more voting by mail and less voting on election day and unperson," Political Analyst David Anderson said.
It's important to know that historically, voter turnouts have been lower among young people in California. In 2016, 36% of eligible voters ages 18-24 submitted ballots and in 2018, about 27%.
With this in mind, young voters in our counties this year actually appear to be showing up at a higher rate than the state average for the 2016 presidential election.
In-person early voting is done for the day, but there is still time to submit your ballot and register to vote on election day tomorrow.
FULL DATA REPORT FROM POLITICAL DATA INC.:
SANTA CRUZ COUNTY: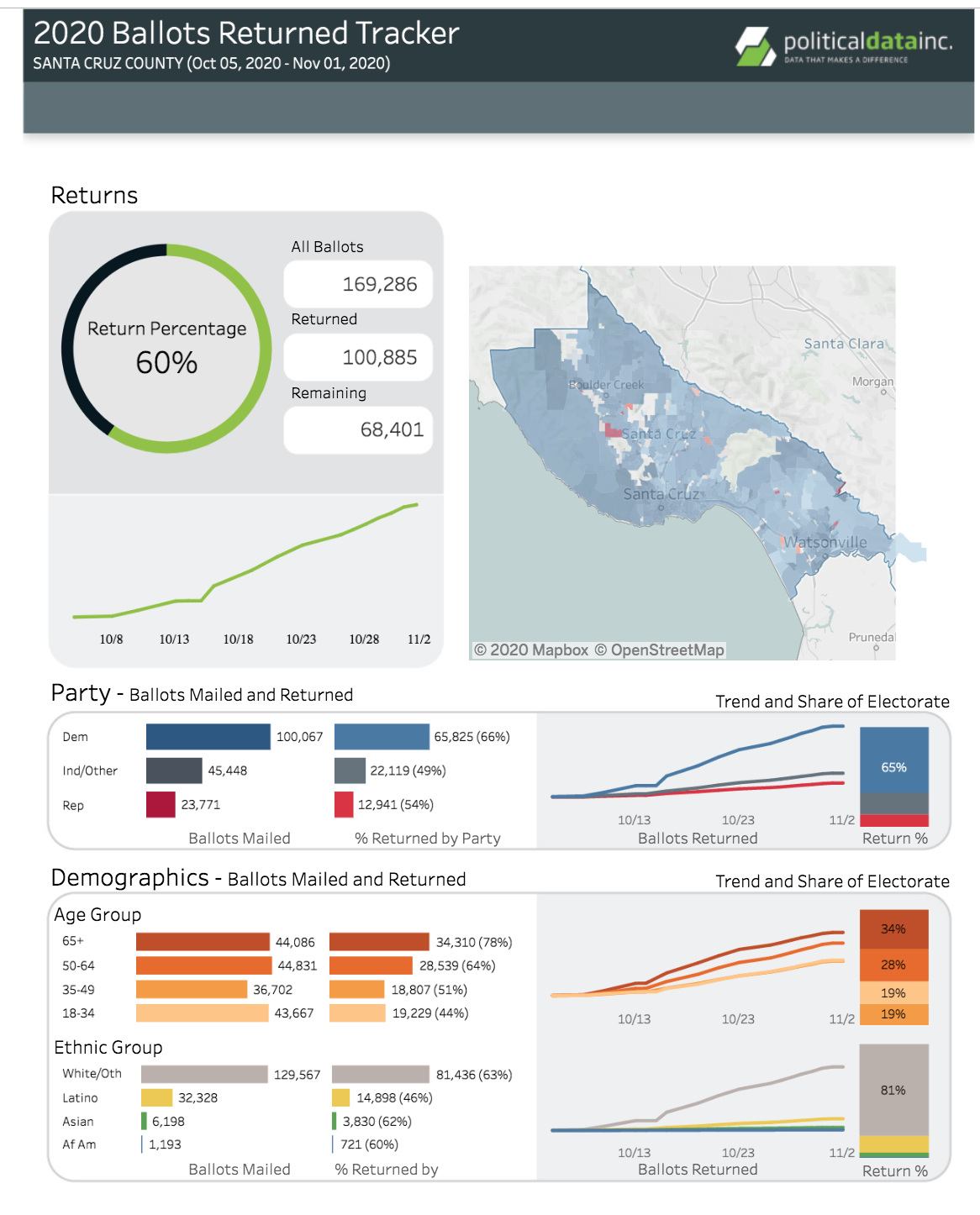 MONTEREY COUNTY: