"No pain and no discomfort" during COVID-19 test for anchor Veronica Macias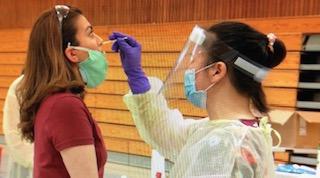 SALINAS, Calif. (KION) After waiting more than a week, anchor Veronica Macias was finally able to get tested for COVID-19 at Alisal High School.
Testing is through appointment only.
As she made her way into the gym she was greeted by frontline workers in protective gear. They asked for nothing more than a patient ID number. People who do not have an ID or are undocumented will not be asked for any other information other than the registration number.
However, far from being treated like another number, staff demonstrated friendliness and compassion. It's as though they talk to you with their eyes.
To make sure patients don't overlap appointments are spread out throughout the day. Six people per half-hour for an average of 130 per day.
The gym doors are open for ventilation and there is no privacy screens inside.
Fear and worries about expose inside quickly diminish and so does anxiety about the long nasal swab thanks to a very nice registered nurse. The nurse explains the entire process.
The entire test took but a few seconds and she was in and out of the gym within 5 to 10 minutes.
Thanks to some very gentle hands it was nothing like what she had expected, no discomfort --- no pain.
Her specimens have been sent off to a lab and her results will be emailed in 48-72 hours.