Highway 1 ramp in Santa Cruz County closing Thursday night for resurfacing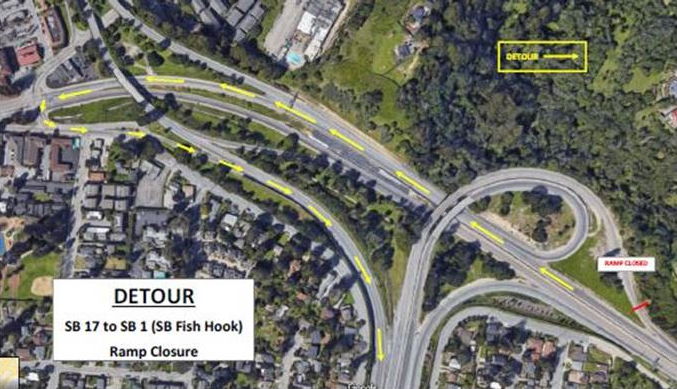 SANTA CRUZ, Calif. (KION) The southbound connector ramp at the Fishhook, or the connection between southbound Highway 17 and southbound Highway 1, will be closed Thursday night and into Friday morning.
The ramp will be closed from 9:30 p.m. to 6 a.m. while Caltrans crews resurface it. It is part of a seven-mile project to resurface the highway that started last June.
Construction on the project happens each week between Sunday night and Friday morning from 9 p.m. to 6 a.m. if weather permits. Caltrans said it will announce ramp closures in advance.
The project extends from northern Aptos to the junction of State Route 9. Caltrans said it includes upgrades to Americans with Disabilities Ramps bridge rail replacement at the Fishhook and Ocean Street bridges, improvements to electrical systems, bridge deck treatments and replacement of concrete barriers. Caltrans said it is expected to be finished by the end of the year.