UPDATE: Delayed PG&E Power Shutdown begins in Santa Cruz County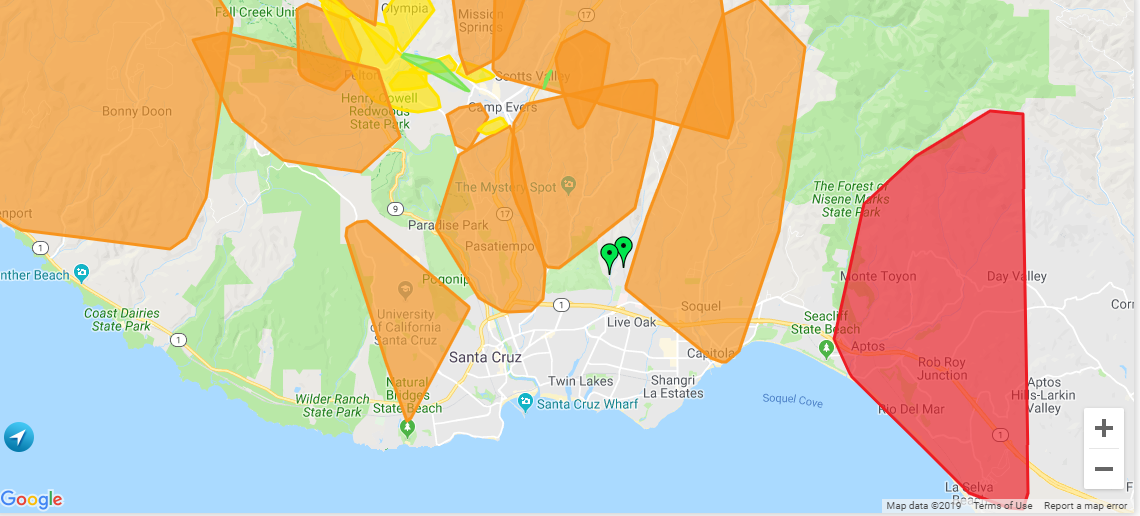 LATEST 10/9/19 11:55 P.M.: The delayed PG&E Power Shutdown has begun in Santa Cruz County. This second wave of power shutoffs will last through midnight.
Thousands are already without power in areas around UC Santa Cruz and the Santa Cruz Mountains. PG&E's outage map shows the largest outages between La Selva Beach, Aptos, and up into the mountains. More than 8100 customers are reported without power there, as of 11:20 p.m.
The outage also covers:
4717 customers around Capitola and Soquel.
3050 customers around Scotts Valley and up Highway 17 towards the summit.
Around 2000 customers are reported without power in the Felton area.
Boony Doon, Ben Lomond, Boulder Creek, and Brookdale are also covered in the outage map.
UC Santa Cruz announced that they have canceled classes Thursday.
With power out, classes are cancelled Thursday and campus services reduced. Read more online https://t.co/SPDvRwTrrm
— UC Santa Cruz (@ucsc) October 10, 2019
==============================================================================
UPDATE 10/9/19 10:00 P.M.: Pacific Gas and Electric tells KION that they have not started the Public Safety Power Shutoff in Santa Cruz County. While "phase 2" has begin in some areas, power remains on in Santa Cruz County, the South Bay, and the East Bay.
PG&E says this is because, "at this point," the weather conditions have not made it necessary to continue to shut the power off in those areas through the PSPS plan. However, that can change at any moment and the power can begin to shut off.
==============================================================================
UPDATE 10/9/2019 6:50 p.m. Pacific Gas and Electric held a press conference Wednesday night to provide an update on phase 2 of its planned power shutdown.
The utility said that it is continuing to monitor weather conditions, but anticipates that the planned power outage will start for counties in phase 2, including Santa Cruz County, before 10 p.m., Wednesday.
Phase two, which includes more than 200,000 customers in Santa Cruz County, the South Bay, and the Easy Bay, was expected to start at noon, Wednesday. PG&E says the timeline shifted because of a shift in the timeline of the weather pattern. However, they still expect the fire risk conditions to "subside" at around noon, Thursday.
PG&E also said it is launching a new site to provide updates on outages. This is in response to issues with its original site.
Here is the link to the new website: https://storymaps.arcgis.com/stories/16f9f52a1a874fa79fc1cc955d4de5a7
It provides a map with expected outage areas, where outages currently are, and a method to look up your address. PG&E said that this website will be able to handle the increased web traffic. As of 8:30 the website is down, with the error message – "there seems to be an issue." They posted a new link at 9:08 p.m.
At the Wednesday afternoon press conference, PG&E was asked about if there were mistakes by the company in the past that got to this point where hundreds of thousands of people had to go without power. A spokesperson said that he couldn't speak to mistakes of the past, and blame a changing climate. PG&E says that the environment has "completely changes," citing the drought, dryer vegetation, and dead trees.
Below are photos of the expected power shut off areas, as of 8:15 p.m. Wednesday
UPDATE 10/9/2019 1:00 p.m. PG&E said the second phase of its power shutoff is now scheduled to take place at 8 p.m. on Wednesday. It was originally scheduled for around midnight and was then pushed back to noon.
PREVIOUS STORY: Pacific Gas and Electric has confirmed that the second phase of its Public Safety Power Shutoff will start around 12:00 p.m. Wednesday, pushed back from the originally expected 12:00 a.m start time. PG&E tells KION that Santa Cruz County is included in that second phase along with Santa Clara, Alameda, Alpine, Contra Costa, Mariposa, San Joaquin and San Mateo counties.
According to PG&E the Public Safety Power Shutoff will now happen in three phases total, the first began at 12 a.m. Wednesday impacting Amador, Butte, Calaveras, Colusa, El Dorado, Glenn, Humboldt, Lake, Marin, Mendocino, Napa, Nevada, Placer, Plumas, Shasta, Sierra, Solano, Sonoma, Tehama, Trinity, Yolo and Yuba counties.
The third phase they say is, being considered for the southernmost portions of PG&E's service area, impacting approximately 42,000 customers. PG&E has still determined specific locations.
PG&E says the shutoffs are to help keep its equipment from starting wildfires during hot, windy weather. They power could be shut off through Thursday, when hot weather and strong winds are forecast.
Customers will be notified by phone, text or emails when the shutoff happens. You can call PG&E at 1-866-743-6589 during regular business hours to update your information.
KION 2019