Sanogo, UConn pull away from Saint Mary's, into Sweet 16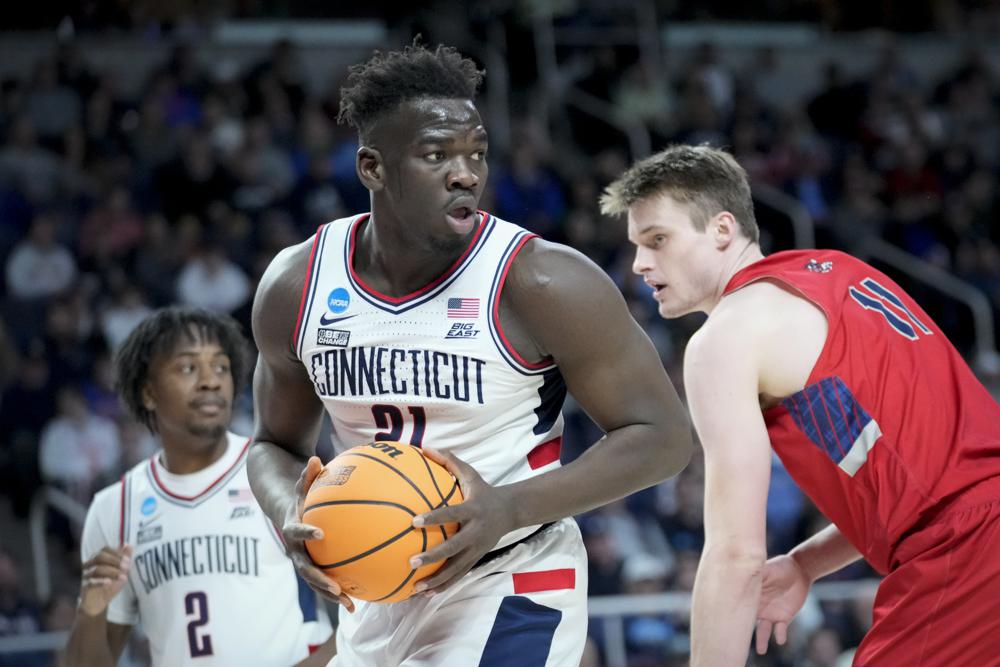 ALBANY, N.Y. (AP) — Adama Sanogo scored 24 points and Jordan Hawkins delivered from the 3-point line in the second half as UConn pulled away from Saint Mary's for a 70-55 win on Sunday that put the Huskies in the Sweet 16 for the first time in nine years.
No. 4 seed UConn (27-8) advanced to the West Regional in Las Vegas on Thursday. Next up is eighth-seeded Arkansas, which knocked off No. 1 seed Kansas.
Sanogo followed up his 28-point game in the Huskies' NCAA tourney opener against Iona with another powerful and efficient performance in the paint. The 245-pound junior was 11 for 16 from the floor and grabbed eight rebounds, dominating a big-man matchup with Mitchell Saxen (six points, three rebounds and four fouls).
Saint Mary's (27-8) of the West Coast Conference failed to get out of the first weekend of the tournament for the second straight season as a No. 5 seed.
Aidan Mahaney and Logan Johnson each scored nine for the Gaels, who played the final 25 minutes without third-leading scorer Alex Ducas. The senior left with an apparent back injury.
UConn used a 14-2 spurt, highlighted by a 3 from Hawkins with 11:28 left in the second half, to go up 51-40.
Hawkins had been scoreless to that point, but he added another 3 coming off a screen moments later to make it 56-45, and the "Let's Go Huskies!" chants started to reverberate throughout MVP Arena.
Hawkins wasn't done, making back-to-back 3s to make it 62-47 with 6:38 left. He finished with 12 points.
Meanwhile, the Huskies defense was clamping down on the Gaels, who were held under 60 points for just the fourth time this season.
The Gaels and Huskies played a practically even first half, with both shooting 44.4% from the field, and closing strong. Mahaney made a 3 with 21 second left to put Saint Mary's up 30-28 and Newton responded with a 3-pointer 18 seconds later that put the Huskies up 31-30 at half and brought the pro-UConn crowd to its feet.