15 notorious celebrity lawsuits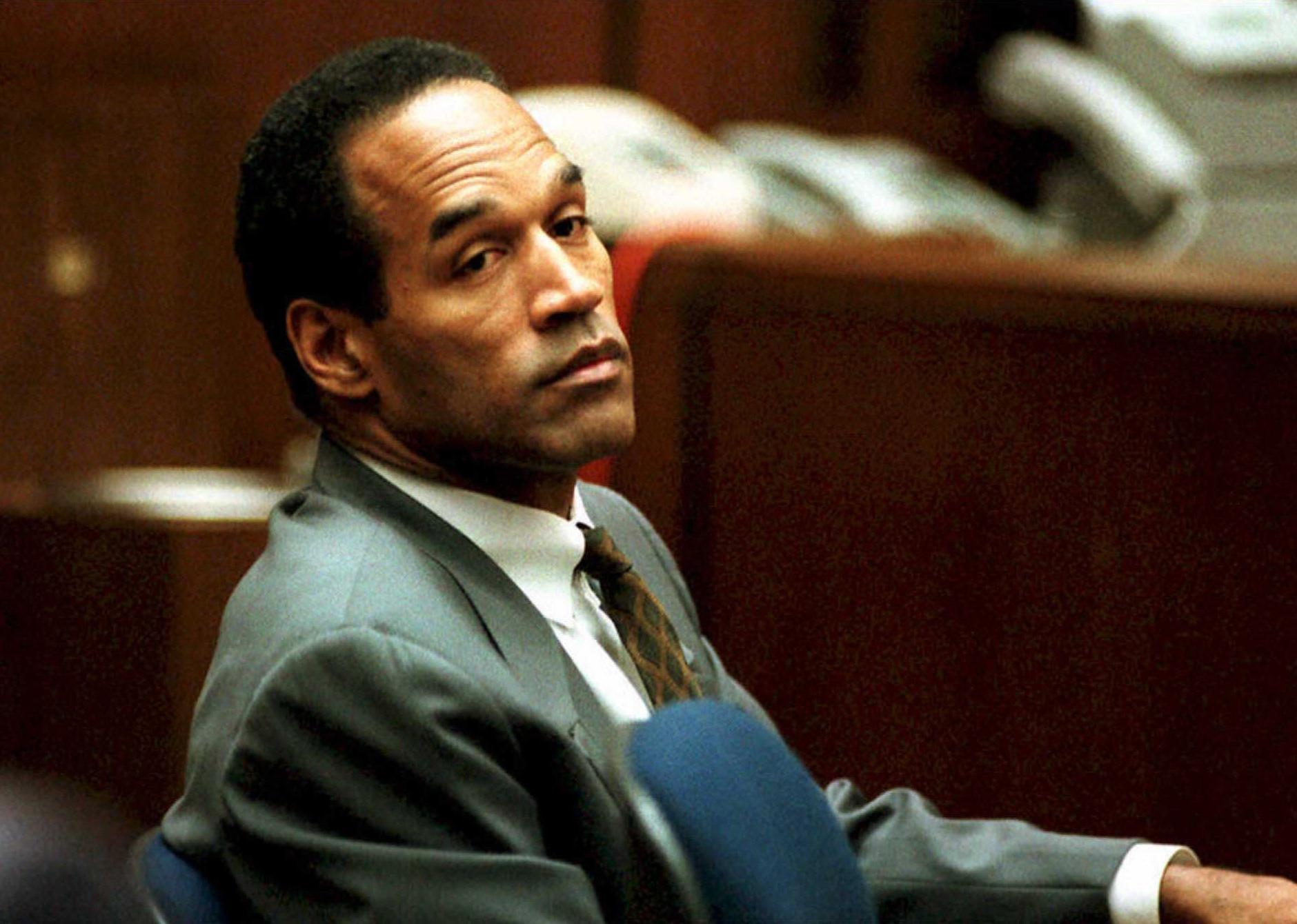 POOL/AFP // Getty Images
15 notorious celebrity lawsuits
O. J. Simpson sits in Superior Court in Los Angeles.
Singers, actors, producers, athletes, royals, and many other high-profile people linked to show business have, at one time or another, ended up in court, either to defend themselves from wrongdoing or in an effort to win a claim of their own. Regardless of whether they sat at the plaintiff's or defendant's table, the legal system was witness to the most trying moments of their lives—and in many instances, so was the rest of the world.
Some judicial cases have ended up in documentaries, films, TV series, and bestselling books. But that is minor compared to the thousands of news outlets worldwide that thirst for more and more coverage to feed the public's never-ending interest in the legal ups and downs of the rich and famous. Some lawsuits have shed light on decadeslong depravity in the entertainment industry and the ruthlessness of yellow media; others have helped bring critical, sensitive issues into the public consciousness.
The involvement of some of Hollywood's biggest names in the Harvey Weinstein scandal, for example, and the magnitude of the accusations brought to bear both in the court of law and in the court of public opinion elevated the feminist #MeToo movement into a worldwide phenomenon. The three journalists who exposed the case in two separate stories—Megan Twohey and Jodi Kantor of The New York Times and Ronan Farrow of The New Yorker—were together awarded the 2018 Pulitzer Prize for public service. This undeniable example of how the justice system and the media can collaborate to overthrow such a vicious figure who abused his privileges to the detriment of other people's basic rights exemplifies why many are fascinated by celebrity lawsuits and the power they have to right wrongs that too often go unpunished.
And there is no shortage of celebrities getting themselves in legal hot water these days. Therefore, Janda Law Firm compiled a list of some of the most notorious celebrity lawsuits using various news sources.
---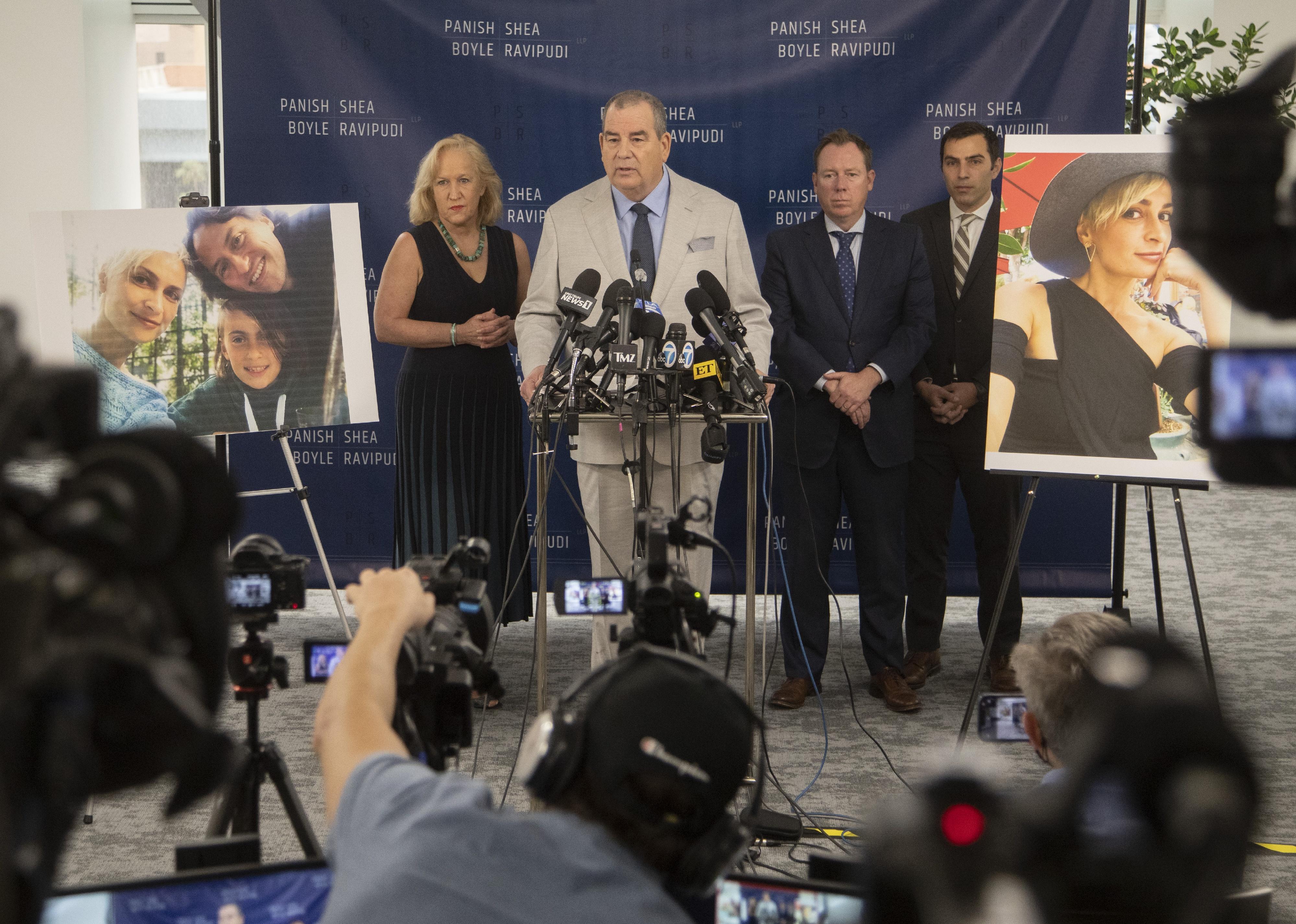 Myung J. Chun / Los Angeles Times // Getty Images
Alec Baldwin vs. Halyna Hutchins' family
Attorneys representing Halyna Hutchins family announce a wrongful death lawsuit during a press conference.
A New Mexico judge recently approved the settlement reached by actor Alec Baldwin and the widower of cinematographer Halyna Hutchins, who was killed on set by a bullet fired from a prop gun by Baldwin while filming the Western movie "Rust" in October 2021. Initially filed in February 2022, the wrongful death lawsuit alleged that Baldwin and the other defendants failed to perform industry-standard safety checks and follow basic gun safety rules while using real guns to produce the movie Rust, with fatal consequences.
Investigators are still figuring out how real ammunition was loaded into the pistol. Charges of involuntary manslaughter were filed against the film's gun supervisor, Hannah Gutierrez Reed, and remain in place, even though her lawyers filed a motion in May 2023 to dismiss them; a preliminary hearing is scheduled for August 2023.
---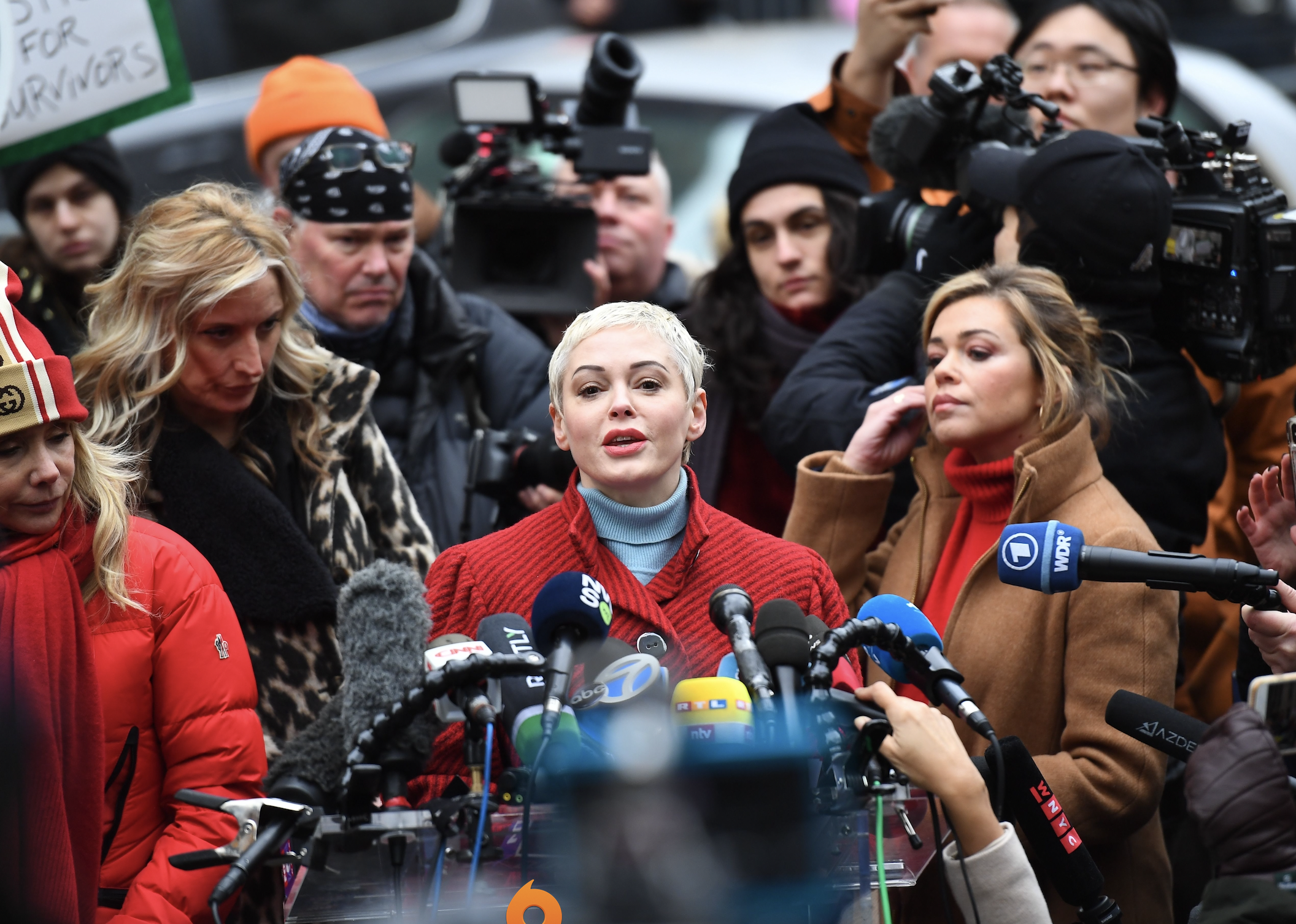 JOHANNES EISELE/AFP // Getty Images
Ashley Judd and Rose McGowan vs. Harvey Weinstein
Actress Rose McGowan speaks during a press conference.
"Any allegations of non-consensual sex are unequivocally denied by Mr. Weinstein."
This was the statement infamous former movie producer Harvey Weinstein used in an attempt to downplay over 100 accusations of sexual harassment and about 20 allegations of rape from women actors, models, aspiring stars, and past employees.
Among the high-profile celebrities who accused Weinstein were actors Ashley Judd and Rose McGowan. The former sued the disgraced producer for sexual harassment and defamation; the first charge was initially dismissed, a decision later reversed by an appeals court.
McGowan's rape lawsuit was also dismissed after she skipped a filing deadline in the court case in which she represented herself. Nevertheless, after half a dozen women sued Weinstein in New York City, Los Angeles, and London, the mogul was found guilty of third-degree rape and criminal sexual acts and sentenced to 23 years in prison in New York in early 2020. The following year, he was found guilty of rape, forced oral copulation, and third-degree sexual misconduct by a Los Angeles jury and sentenced to 16 years.
---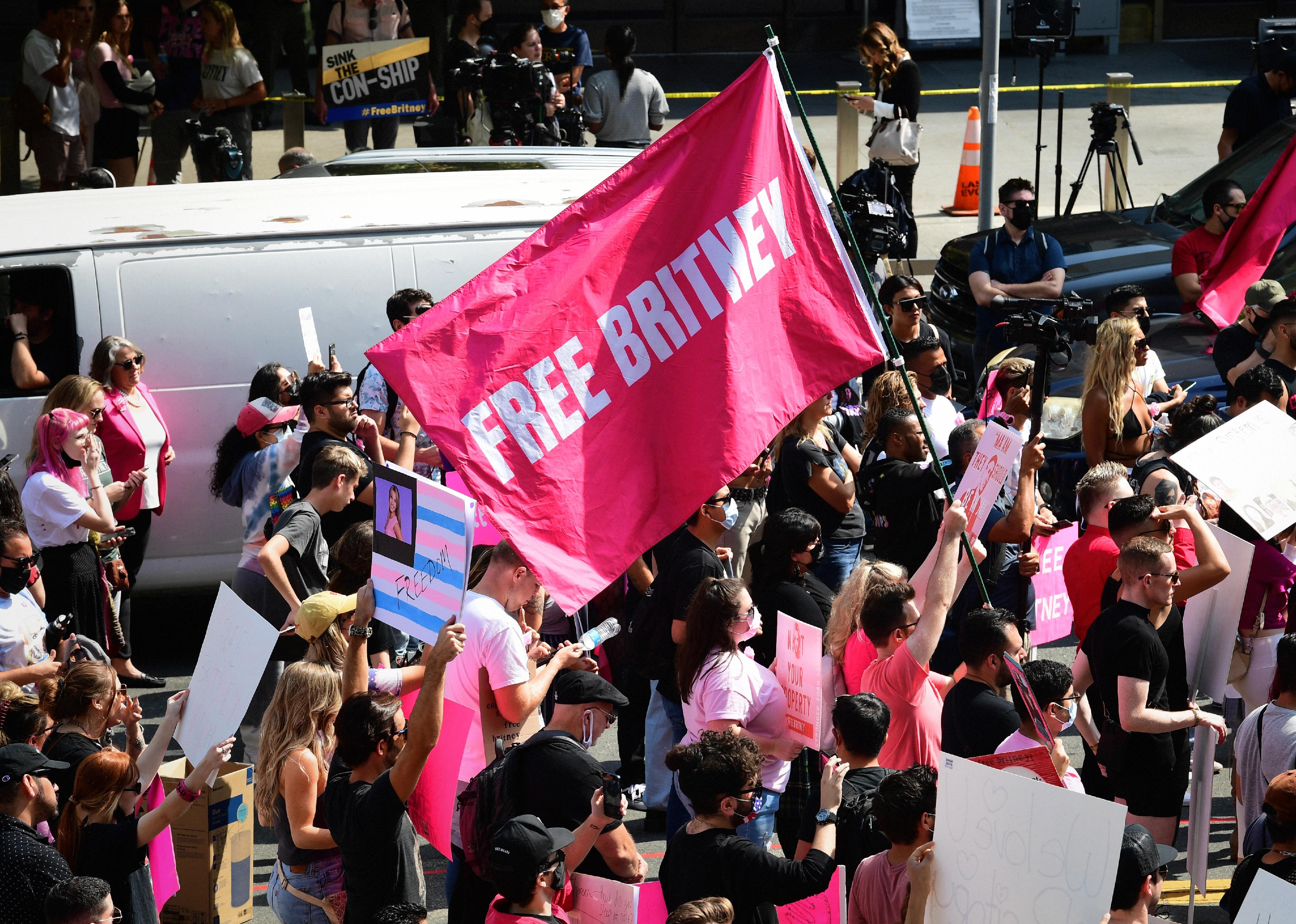 Chelsea Guglielmino // Getty Images
Britney Spears vs. Jamie Spears
#FreeBritney activists protest during a rally.
After 13 years of managing her financial assets and her life decisions through a binding, court-ordered conservatorship, Britney Spears' father, Jamie, was removed from his role by a judge. Shocking allegations of the controlling nature of the relationship with her father sparked the fans-led #FreeBritney movement.
Both sides of the story were portrayed in two TV documentaries aired a few months after the family feud was resolved in court. Among the allegations regarding the extent of her father's power, Britney stated Jamie had the last word about her birth control regimen, her marital status, and even the color of her kitchen cabinets.
---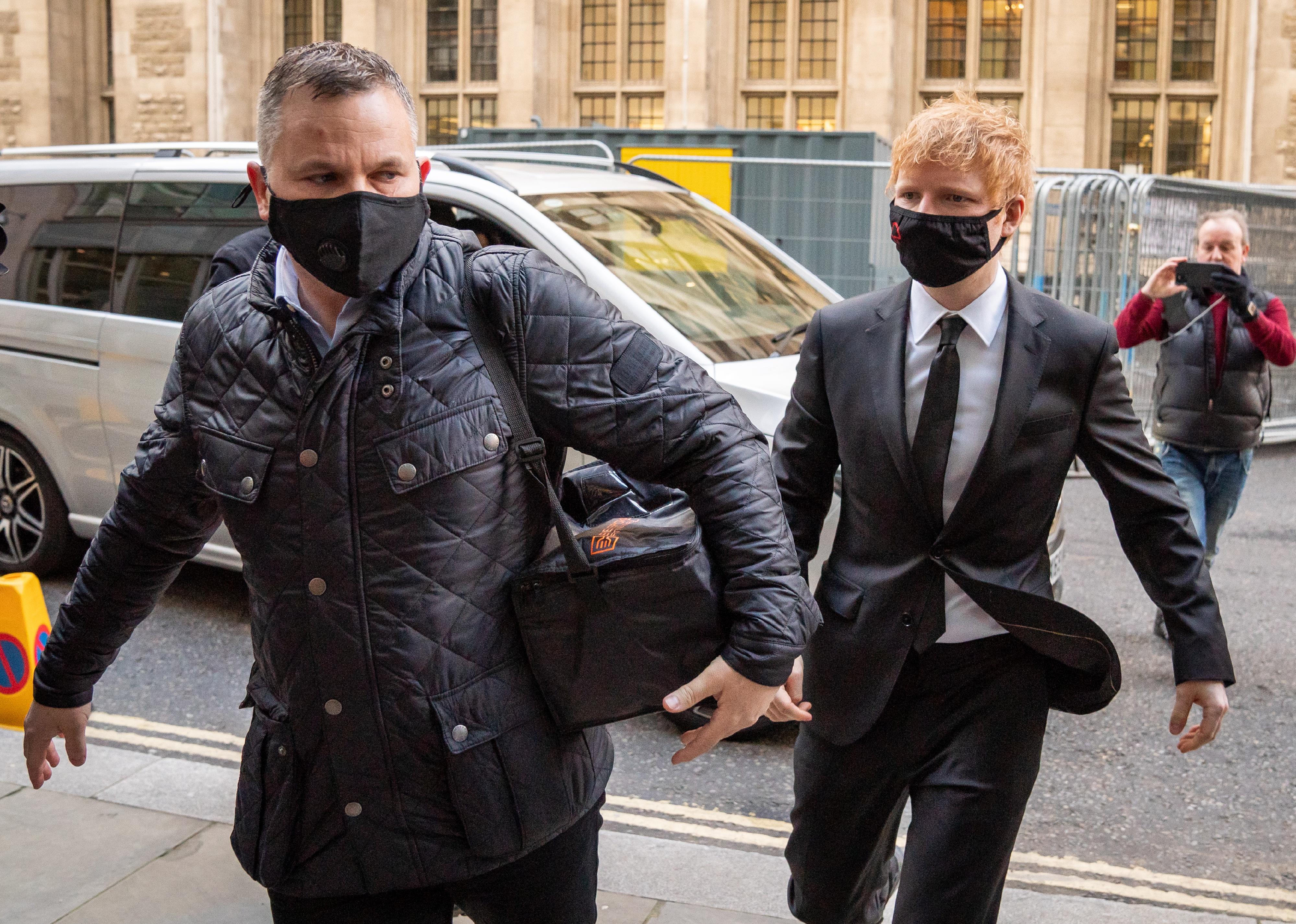 Aaron Chown/PA Images // Getty Images
Ed Sheeran vs. Sami Chokri and Ross O'Donoghue
Ed Sheeran arrives at the Rolls Building at the High Court in London.
In 2022, a London High Court judge ruled in favor of singer-songwriter Ed Sheeran after he was sued by composers Sami Chokri and Ross O'Donoghue for copyright infringement. After an 11-day trial dedicated to dissecting Sheeran's hit song "Shape of You," the judge settled the case, stating the English star "neither deliberately nor subconsciously" copied parts of Chokri's song "Oh Why."
Sheeran has been in court more than once, facing similar charges. In May 2023, he was acquitted of copying parts of Marvin Gaye's soul classic "Let's Get It On" to compose his two-time Grammy-winning track "Thinking Out Loud." The musician has repeatedly spoken about unethical people trying to reach financial settlements through "baseless claims" of copyright infringement. "I am not and will never allow myself to be a piggy bank for anyone to shake," he said after his latest courtroom quarrel.
---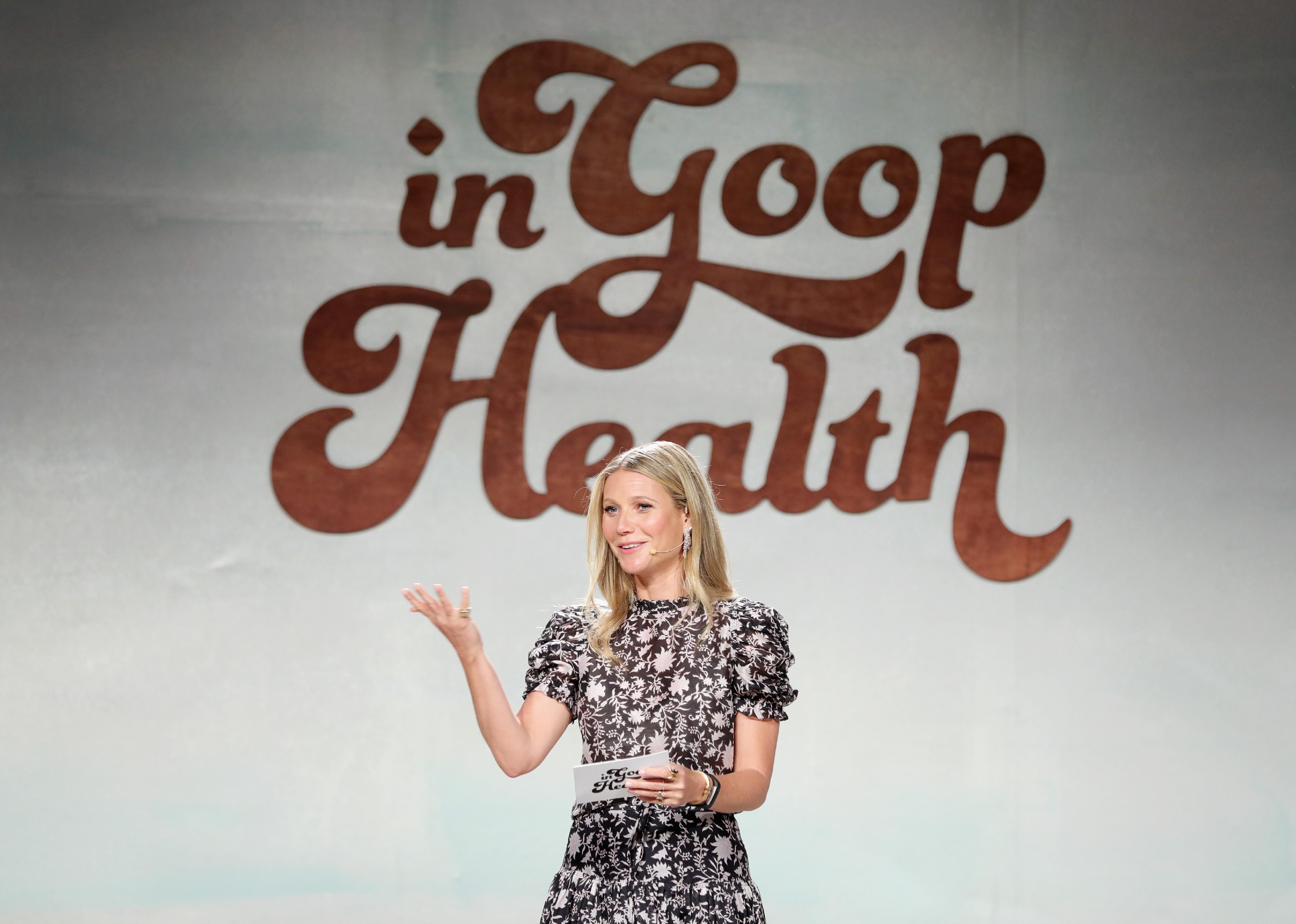 Neilson Barnard // Getty Images
Gwyneth Paltrow's Goop vs. California FDMD
Gwyneth Paltrow speaks onstage at the In goop Health Summit.
Lifestyle company Goop, owned by Hollywood A-lister Gwyneth Paltrow, settled a $145,000 lawsuit with the California Food, Drug, and Medical Device Task Force over claims that a $66 vaginal detox egg "could balance hormones, regulate menstrual cycles, prevent uterine prolapse, and increase bladder control."
Prosecutors stated the claims were not based on reliable scientific information, while Paltrow's company referred to the issue as an "honest disagreement." The "Jade Egg" and a similar "Rose Quartz Egg" can still be purchased on the company's website.
---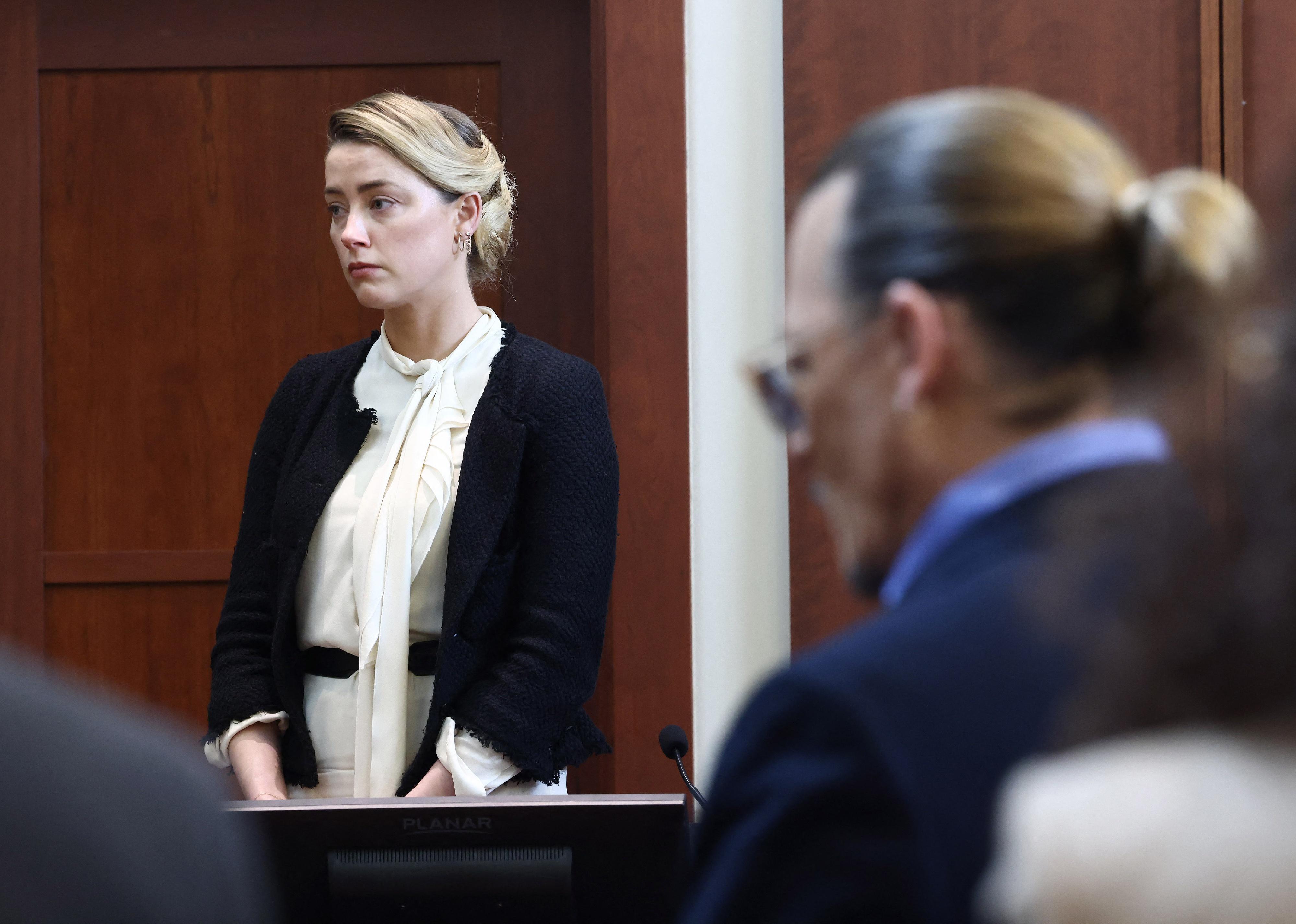 JIM LO SCALZO // Getty Images
Johnny Depp vs. Amber Heard
Amber Heard testifies as actor Johnny Depp looks on.
In April 2022, estranged couple and actors Johnny Depp and Amber Heard met in court to determine a defamation lawsuit he initiated against his ex-wife, along with her counterclaims. The actor accused Heard of damaging his career after writing an op-ed article in The Washington Post (amended after the jury's verdict) portraying herself as a survivor of domestic abuse.
On June 1, the jury favored both to different extents. Heard was ordered to pay Depp $10 million in compensatory damages and $350,000 in punitive damages, as she was found guilty of all three charges. In comparison, she was awarded $2 million from her ex-husband in compensatory damages for one of the three claims against him. Both actors appealed a few months later but settled to drop the appeals in December 2022.
Immediately after the highly publicized, livestreamed trial between the former spouses, Heard moved to Spain with her 2-year-old daughter; Depp moved to France a few months later.
---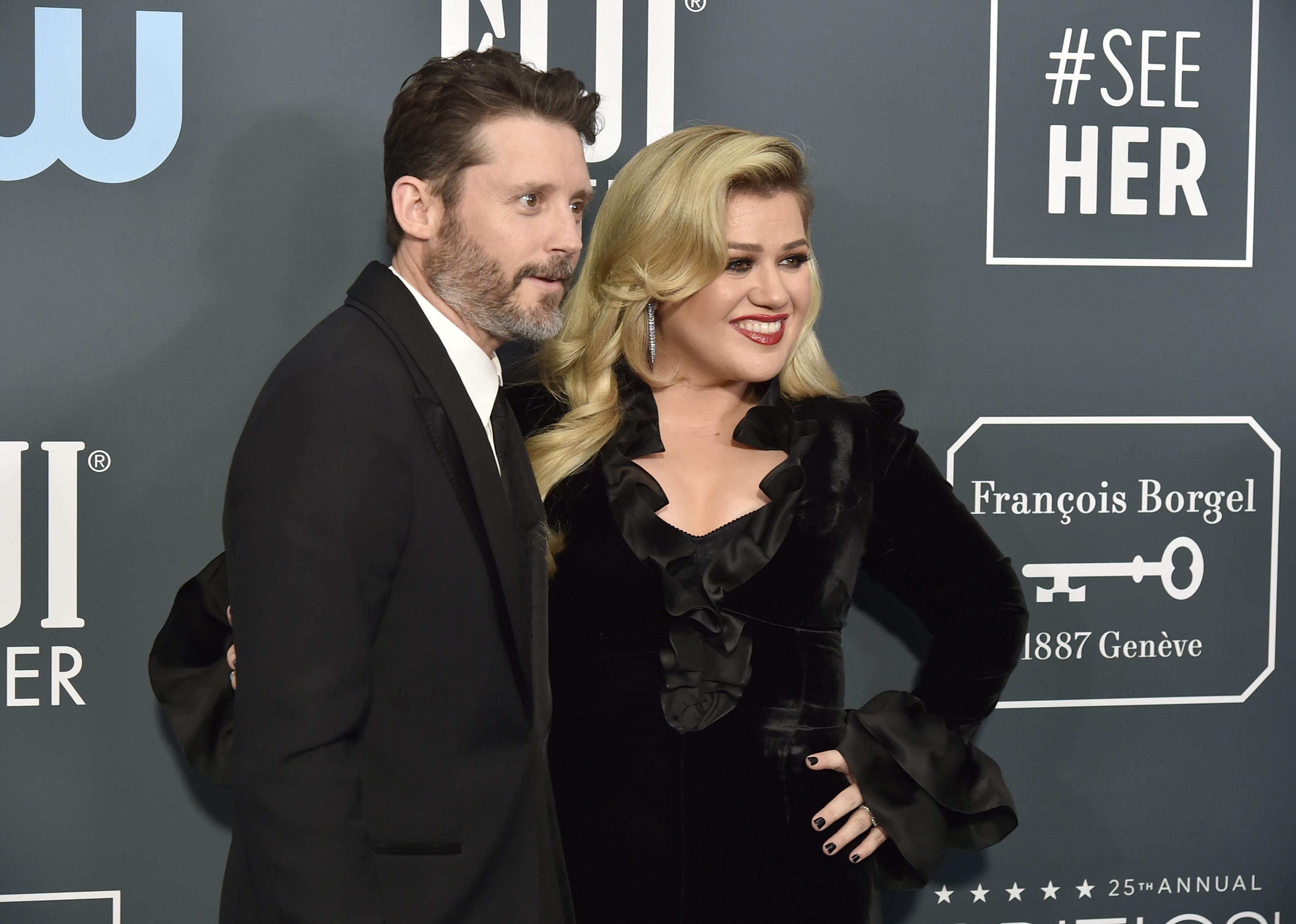 David Crotty // Getty Images
Kelly Clarkson vs. Starstruck Management
Brandon Blackstock and Kelly Clarkson during arrivals for the 25th Annual Critics' Choice Awards.
Kelly Clarkson's former father-in-law Narvel Blackstock's company Starstruck Entertainment sued the original American idol shortly after she filed for divorce from Blackstock's son Brandon. The management company claimed Clarkson owed them $1.4 million in commissions and $5.4 million in future commissions. The singer countersued her former managers, stating they had violated the California labor code by procuring and offering her services without a proper license to represent her.
Starstruck Entertainment affirmed it springboarded the singer into stardom by producing highly successful records and leading her to sign contracts to host her own talk show and as a judge on "The Voice" during their 13-yearlong association.
---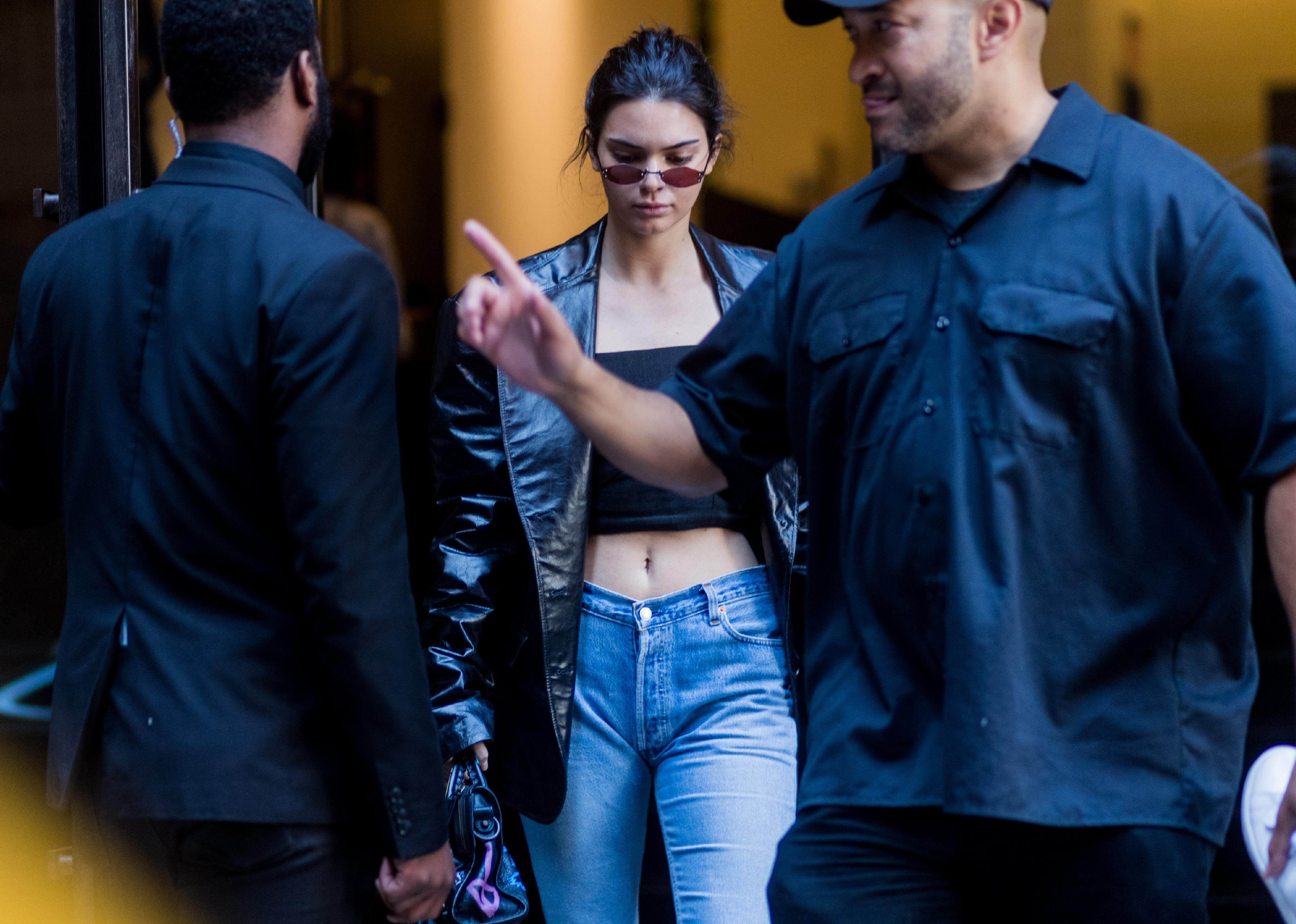 Christian Vierig // Getty Images
Kendall Jenner vs. Gregory Messer
Kendall Jenner wearing cropped top, denim jeans, black jacket seen in the streets of Manhattan.
Fraudster Billy McFarland and rapper Ja Rule were the organizers behind a now-infamous musical event named Fyre Festival. They offered a star-studded lineup and luxury services to rival those at Coachella, all set in a lavish locale: the Bahamas. Tickets cost up to $100,000. As exhaustively explained in documentaries on Netflix and Hulu, the festival was aborted soon after the first attendees started arriving on the islands.
Kendall Jenner and other models and social media influencers such as Emily Ratajkowski and Bella Hadid were paid to promote the festival. Jenner received $275,000 in compensation for an Instagram post (now deleted) inviting people to the event. Gregory Messer, a trustee overseeing the failed festival's bankruptcy process, sued Jenner for not informing her followers that she was being paid for the promotion and for divulging fraudulent information. The star was ordered to pay a $90,000 settlement, while McFarland was sentenced to prison.
---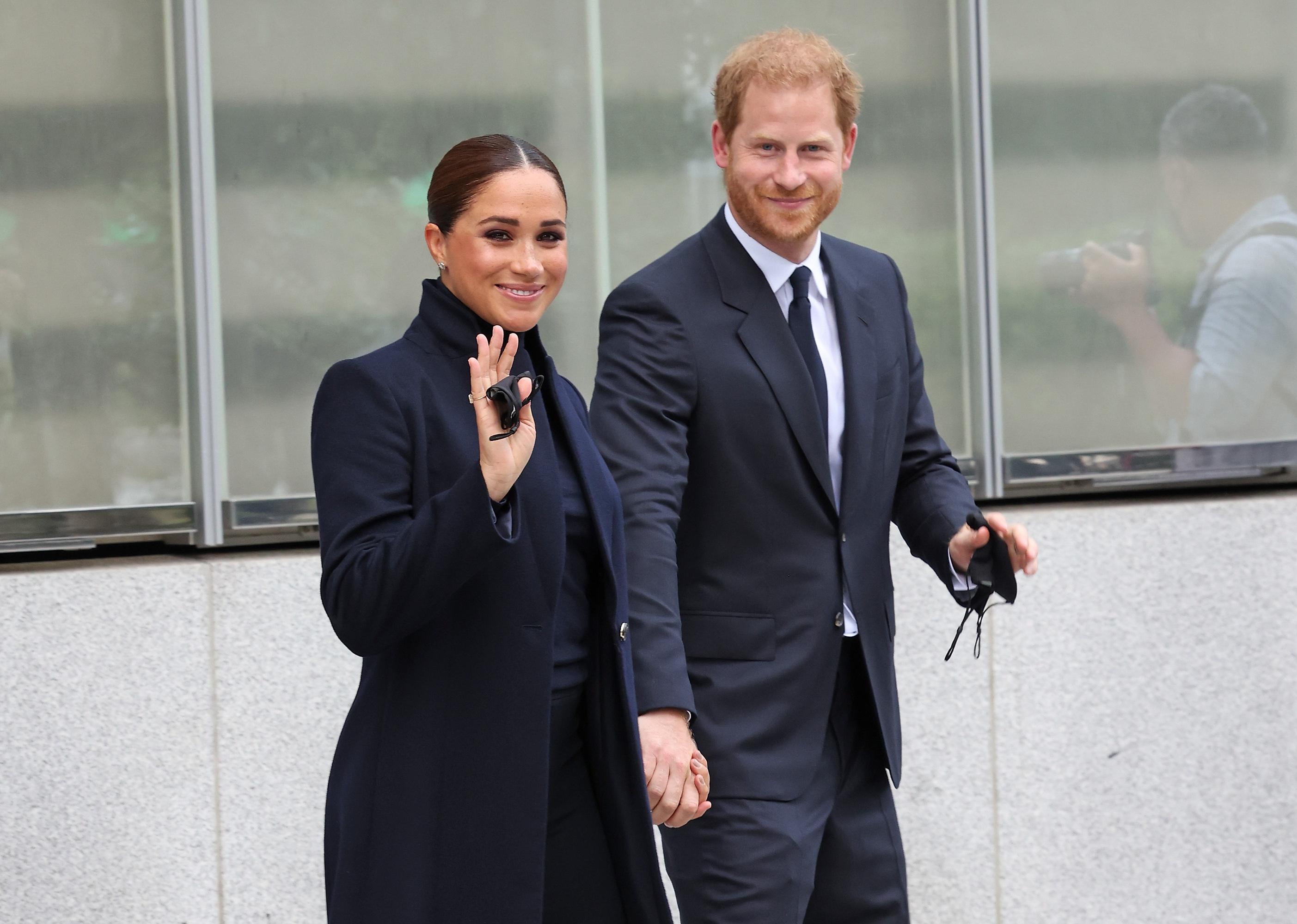 Taylor Hill // Getty Images
Meghan Markle vs. Associated Newspapers
Prince Harry, Duke of Sussex, and Meghan, Duchess of Sussex, visit One World Observatory.
Duchess of Sussex Meghan Markle won a legal battle against Associated Newspapers for printing parts of a private letter handwritten by her to her father shortly after marrying Prince Harry Mountbatten-Windsor.
The late Diana Spencer's second son and his American wife have had a grueling relationship with British tabloids since they announced their engagement in November 2017. Prince Harry blames the press for his mother's death in 1997 and his exit from the United Kingdom in 2020. Details of his ordeal and other personal revelations fill the pages of his bestselling book "Spare." Additionally, Markle expressed her points of view along with her husband's in a Netflix docuseries.
---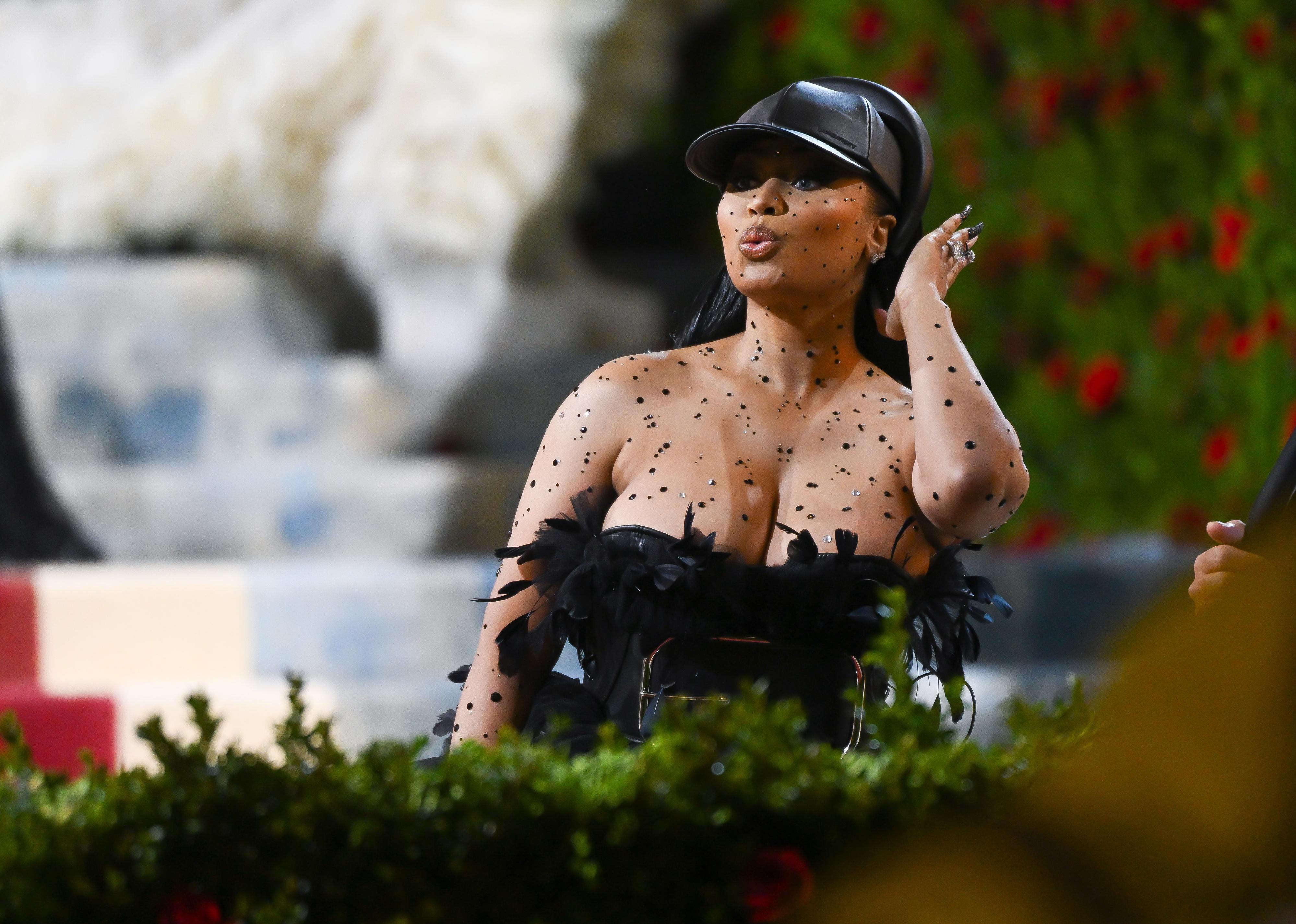 James Devaney // Getty Images
Nicki Minaj vs. Tracy Chapman
Nicki Minaj arrives to the 2022 Met Gala.
Rapper Nicki Minaj paid singer-songwriter Tracy Chapman almost half a million dollars for using parts of her 1988 song "Baby Can I Hold You" in a 2021 unreleased production called "Sorry."
After denying her permission to use elements of the track several times, Minaj's song, which had already been recorded and was set to be included in her album "Queen," was leaked online, prompting Chapman's copyright infringement lawsuit.
---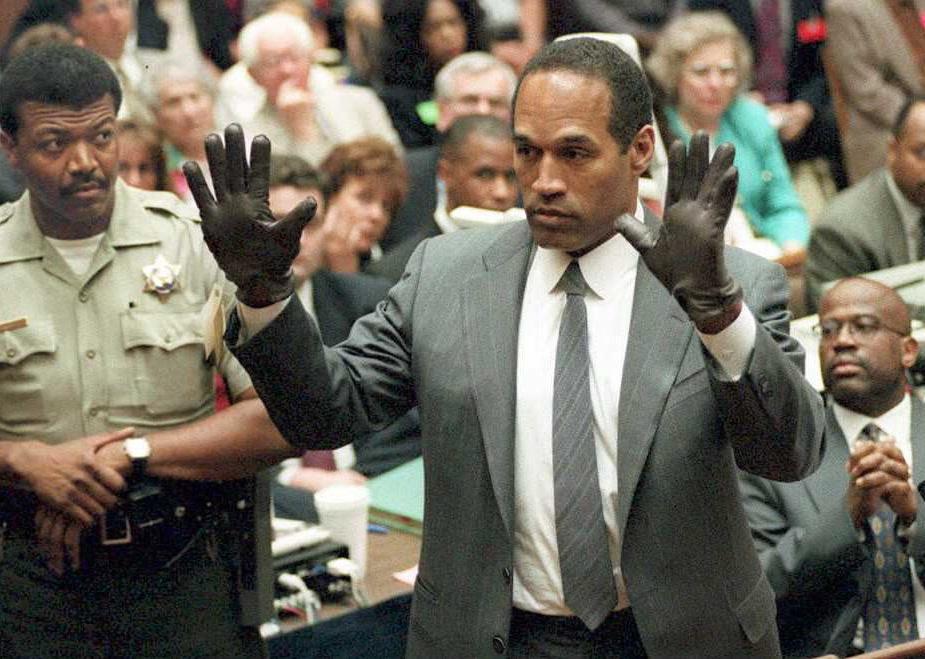 POOL/AFP // Getty Images
OJ Simpson vs. the state of California
O.J. Simpson shows the jury a new pair of Aris extra-large gloves.
Over 25 years have passed since the former NFL star was acquitted of all criminal charges in the 1994 double murder of his ex-wife, Nicole Brown, and her friend Ron Goldman. Yet it remains an unforgettable legal, sports, and television event. In 1997, a civil court found Simpson liable for Brown and Goldman's deaths and ordered him to pay millions to the victims' families.
Ten years later, in September 2007, Simpson entered a Las Vegas hotel room, armed, arguing he was righteously reclaiming his own sports memorabilia. He faced several charges, including armed robbery and kidnapping. Simpson was found guilty and sentenced to 33 years in prison. He was granted parole in 2017 after serving nine years, his minimum sentence.
---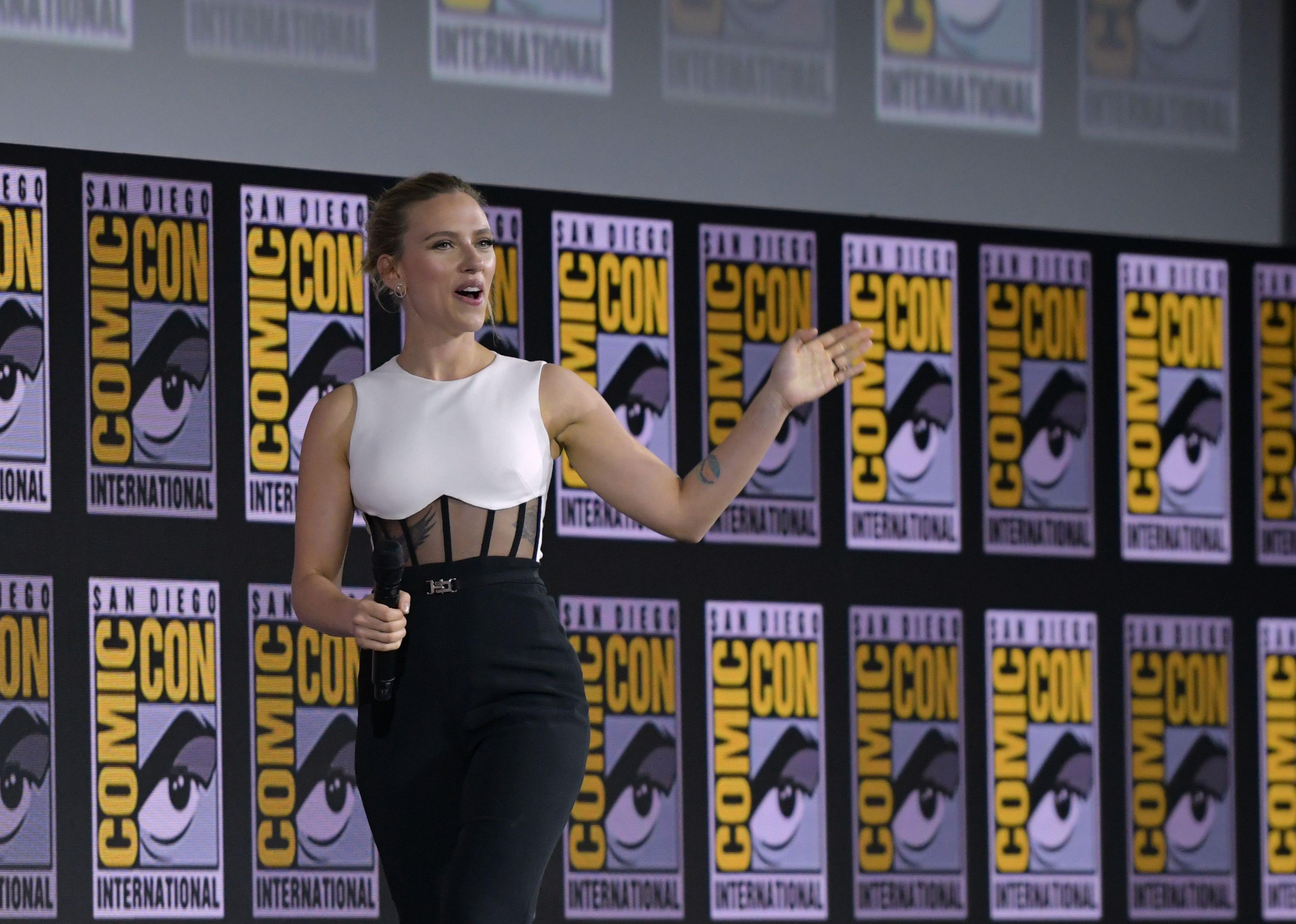 CHRIS DELMAS/AFP // Getty Images
Scarlett Johansson vs. Disney
Scarlett Johansson presents the movie "Black Widow" on stage.
In 2021, Walt Disney Studios agreed to settle a suit brought by actor Scarlett Johansson for $40 million after she sued the studio for breach of contract. The movie giant released "Black Widow" on its streaming platform, Disney+, and in theaters simultaneously without the actor's knowledge or consent.
Johansson claimed the decision to dual-release hurt the box office profits, of which she was supposed to receive a 15% share. She had originally requested $100 million in compensation; however, after the settlement, both the studio and the actor expressed their satisfaction with the agreement and desire to continue working together.
---

Jeff Kravitz/FilmMagic for dcp // Getty Images
Taylor Swift vs. David Mueller
Taylor Swift poses for photographers at an event.
In 2015, radio DJ David Mueller filed a lawsuit against singer-songwriter Taylor Swift for defamation after he was "wrongfully terminated" by his employer following an altercation with Swift, according to his claim. The megastar counter-sued Mueller for battery and sexual assault and demanded to be paid the symbolic amount of $1.
After a highly publicized trial in 2017, the jury favored Swift and ordered the former DJ to pay the singer $1 for intentionally lifting her skirt and grabbing her buttock during a photo op. Even though Mueller had requested a $3 million reparation payment, claiming he wouldn't be able to work in radio ever again, he was back on the airwaves less than six months later.
---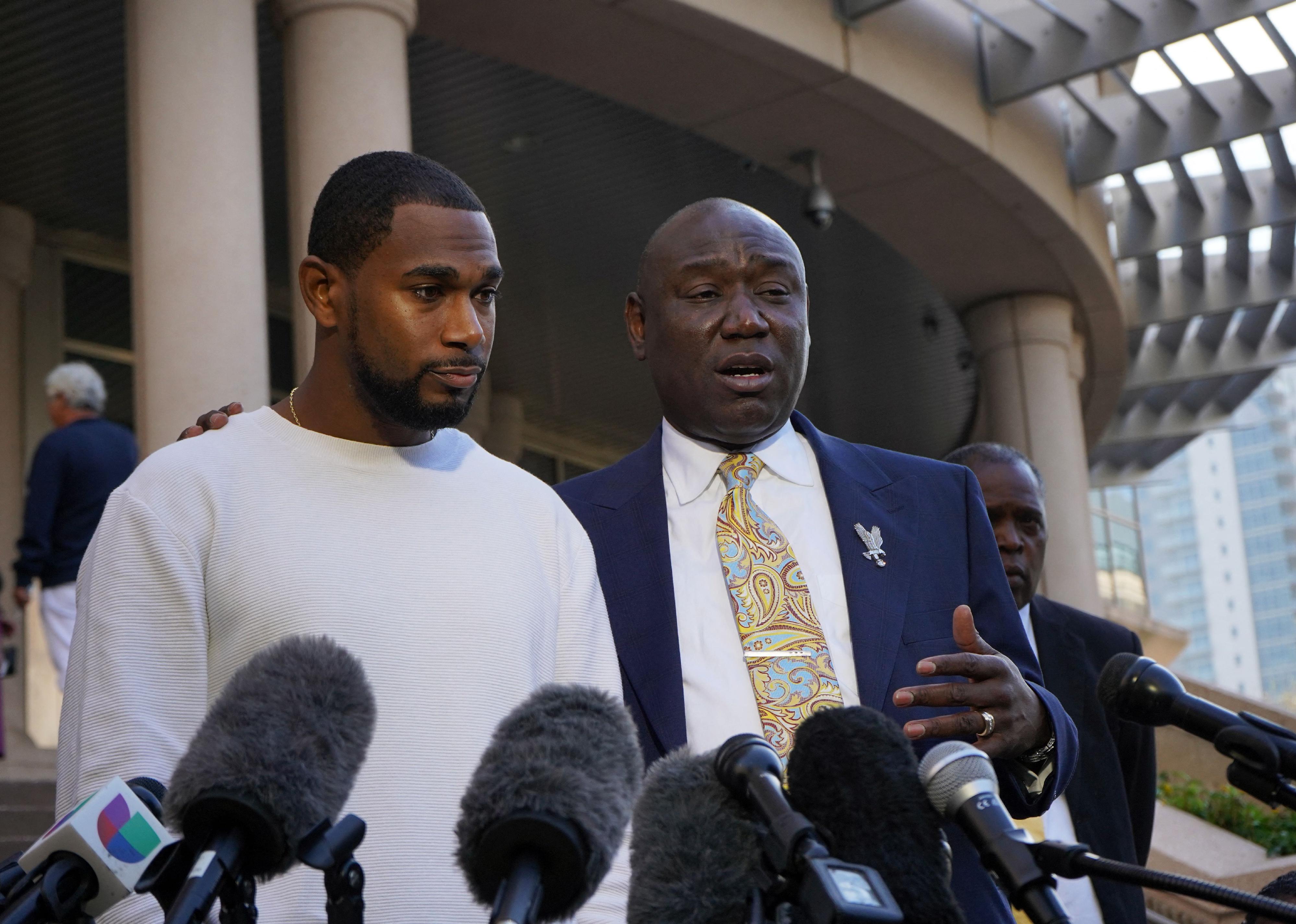 Cécile Clocheret // Getty Images
Travis Scott vs. Astroworld attendees
Astroworld Festival victim, Dishon Isaac, speaks during a press conference.
Several lawsuits adding up to over $750 million were filed against American rapper Travis Scott and the November 2021 Astroworld Festival organizers. Ten people died in the event due to crowd outrage and ineffective security.
Scott expressed his concern and apologies to the victims and their families after the incident and claimed to have not been aware of the deadly incidents until after his performance. Several cases have been settled privately, while others are ongoing.
---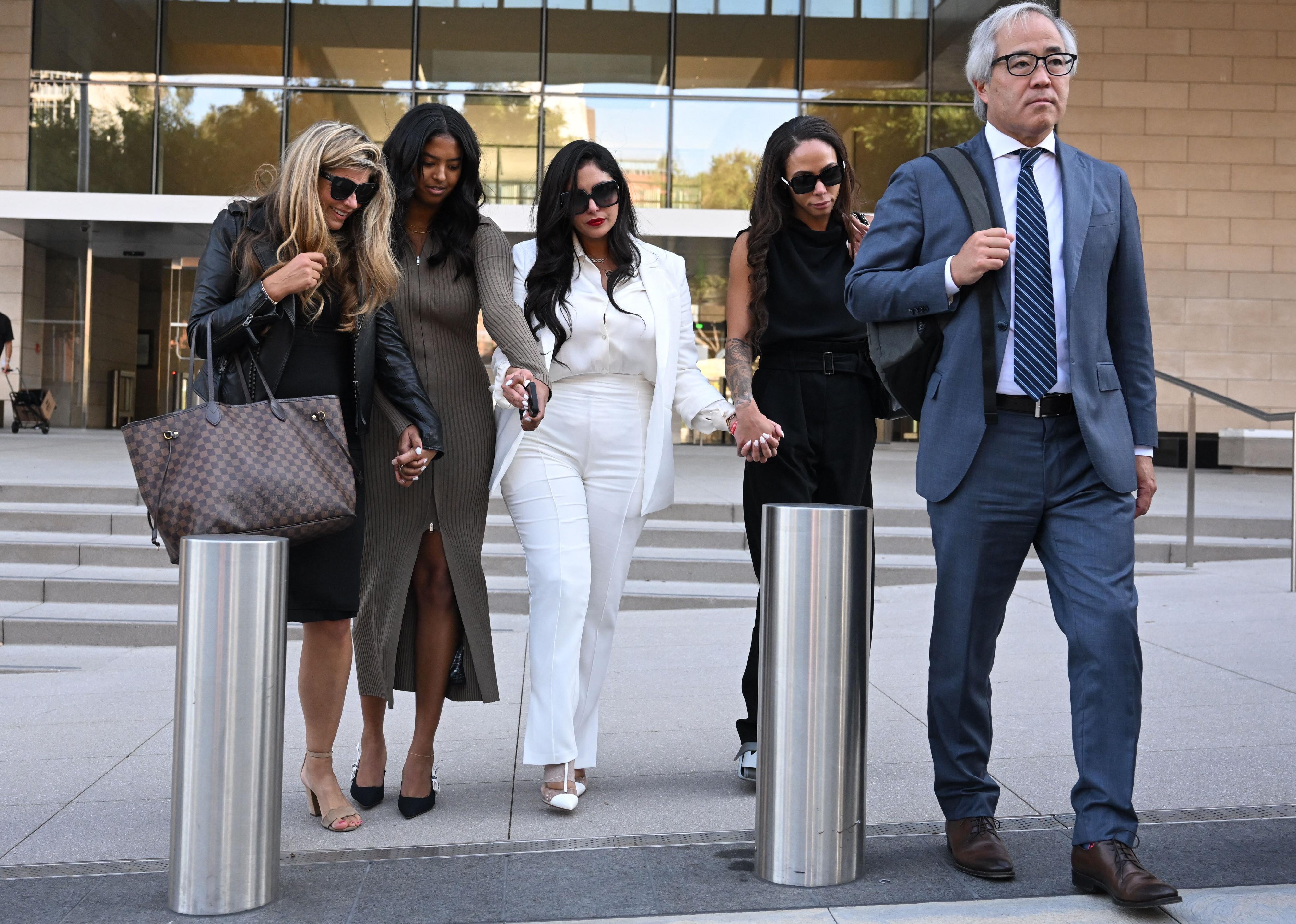 PATRICK T. FALLON/AFP // Getty Images
Vanessa Bryant vs. Los Angeles County
Vanessa Bryant departs the court house in Los Angeles.
Los Angeles County was ordered to pay nearly $29 million to Vanessa Bryant, widow of Kobe Bryant, and almost $20 million to Chris Chester, the widower and father of two other victims who died in the January 2020 helicopter accident that killed the NBA superstar and his daughter Gianna.
The lawsuit accused first responders from the sheriff's office of negligence and invasion of privacy for taking and sharing photographs of the accident. The pictures, according to the plaintiffs, included images of human remains of the deceased.
Data reporting by Emilia Ruzicka. Story editing by Brian Budzynski. Copy editing by Paris Close. Photo selection by Clarese Moller.
This story originally appeared on Janda Law Firm and was produced and
distributed in partnership with Stacker Studio.
---