How Biden's approval rating compares to other major world leaders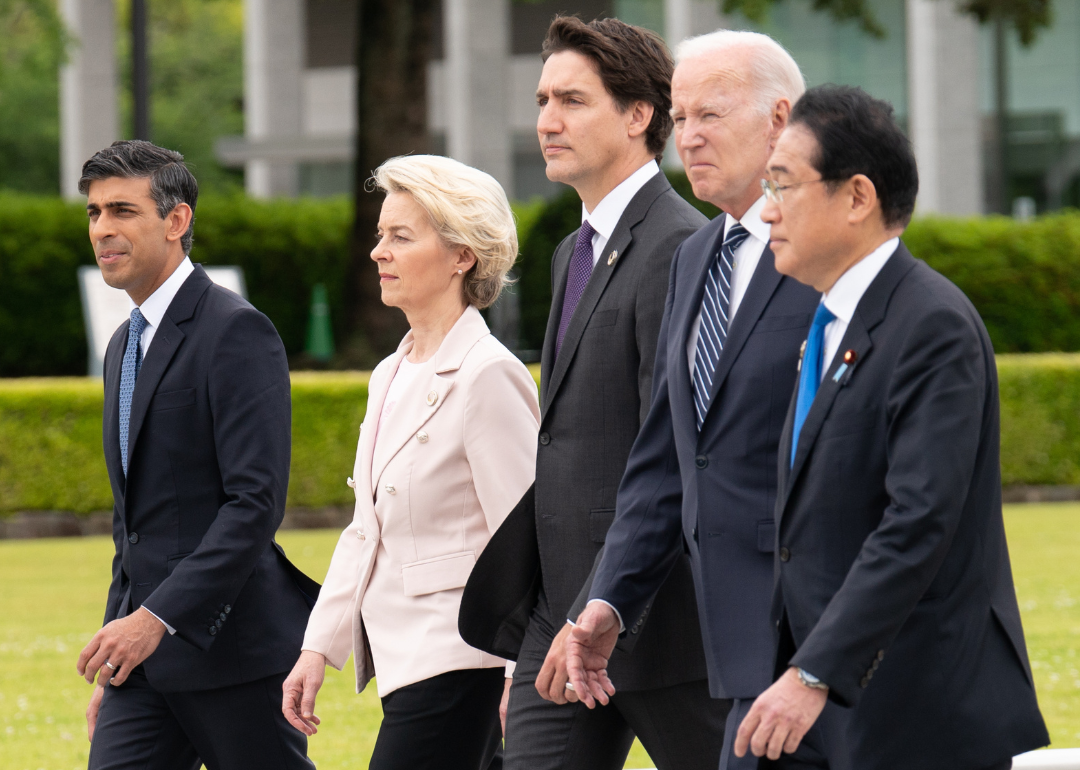 Stefan Rousseau – WPA Pool/Getty Images
How Biden's approval rating compares to other major world leaders
US President Joe Biden with world leaders at the G7 Summit in Hiroshima.
In April of this year, after announcing his intention to run for reelection, President Joe Biden's approval rating hit 41%, which is among the lowest ratings of his presidency. As of June 14, Biden isn't doing much better, despite the headline-grabbing legal turmoil former President Trump—considered the front-runner to oppose Biden in the 2024 election campaign—has been embroiled in following his indictment for mishandling classified documents.
The ups and downs of presidential approval ratings are indicative of the sensitive nature of social attitudes toward elected leadership. While approval ratings can help frame the greater political context, how an administration reacts to those ratings can guide campaign strategy and even voting patterns among party leadership.
While countries elect their leaders using a variety of electoral processes, and different democratic institutions function in different ways, approval ratings are nonetheless a valuable statistic to use to investigate democratic processes and functions. Using data from Morning Consult's latest Global Leader Approval Rating Tracker, Stacker analyzed how Joe Biden's approval rating compares to other world leaders.
Keep reading for a snapshot of how world leaders stack up on the global political stage and some insight into the political culture and electoral dynamics of different countries.
---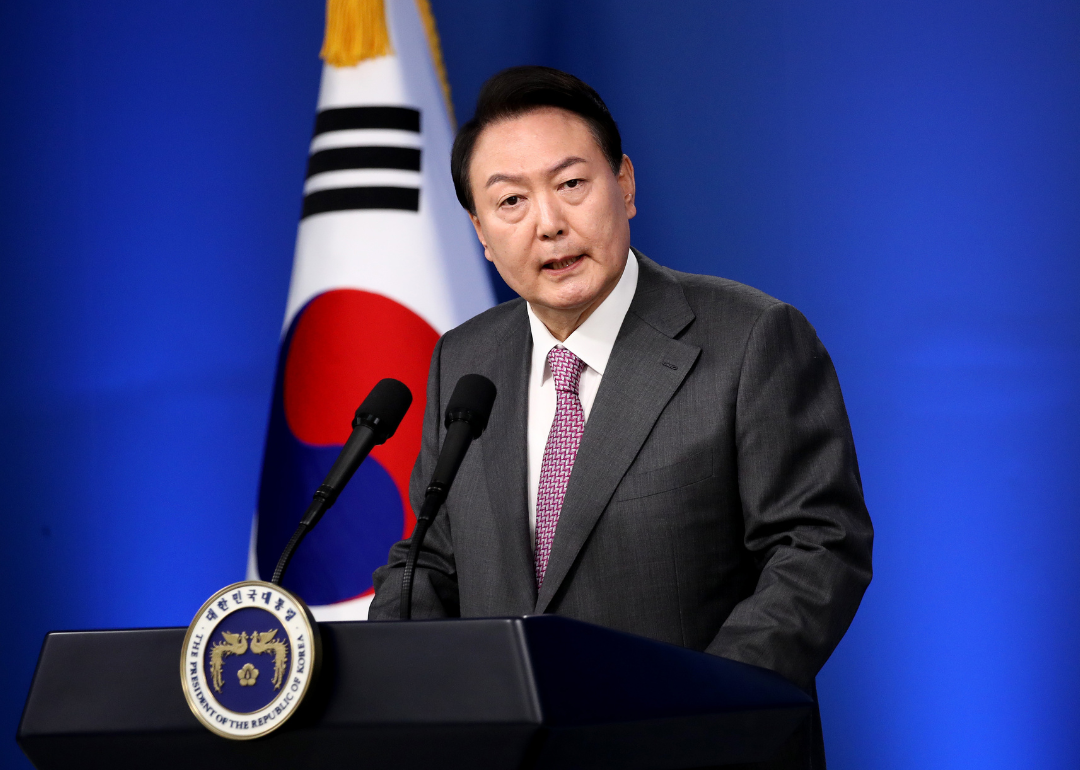 Chung Sung-Jun // Getty Images
#20. Yoon Suk Yeol, South Korea
President Yoon Suk Yeol delivers a speech.
– Approve: 24%
– Disapprove: 69%
– No opinion: 7%
A strong protest culture and deep economic inequality are important elements of South Korea's political culture. In 2016, an estimated 1.5 million Koreans led pro-democracy demonstrations in Seoul calling for the ouster of then-President Park Geun-hye, who was widely perceived as corrupt. The demonstrations eventually led to Park's impeachment.
In early 2022, Yoon Suk Yeol won the presidency in one of the most competitive elections in South Korean history. During his presidency, activists have continued to protest through strikes and demonstrations for better working conditions, worker protections, and better pay.
---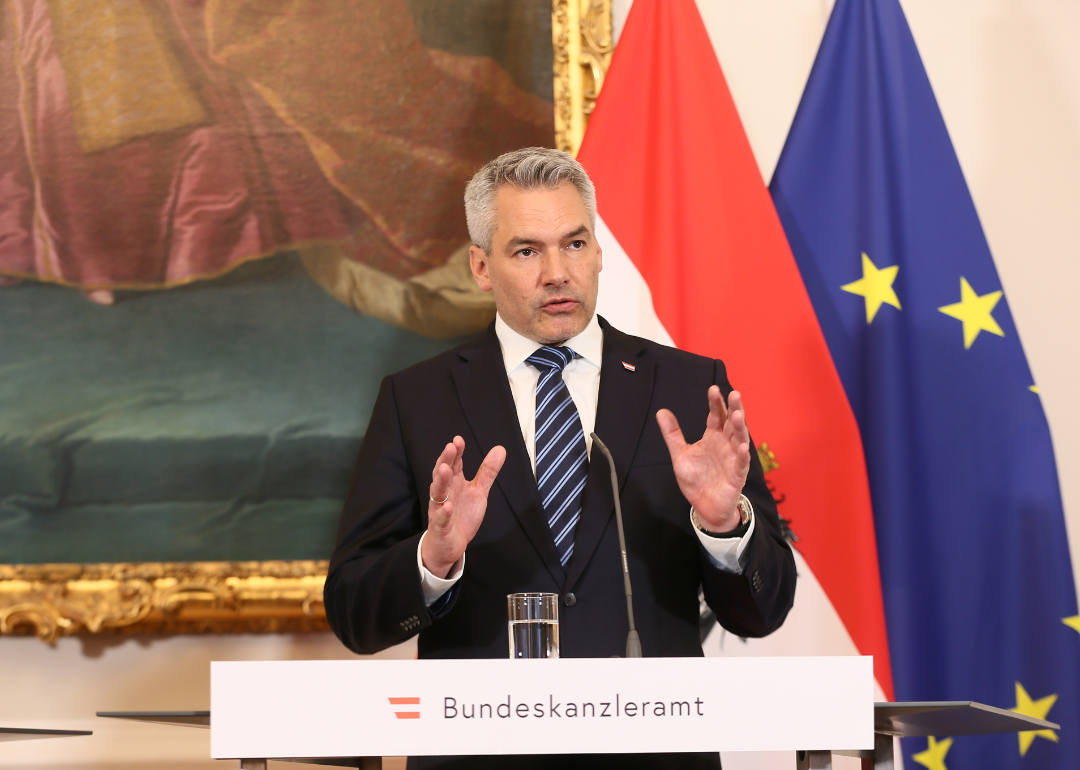 Askin Kiyagan/Anadolu Agency via Getty Images
#19. Karl Nehammer, Austria
Chancellor Karl Nehammer speaking in Vienna.
– Approve: 27%
– Disapprove: 64%
– No opinion: 9%
Karl Nehammer's administration has proven to be a hard-liner on immigration and migration policy: Austria has consistently pressured the EU to tighten border policies and introduced several policies to secure its own border during the 2015 migration crisis. Public opinion in Austria reflects these values: Austrians report the strongest anti-immigrant sentiment in the world. Nehammer remains unpopular in part because of his inability to stabilize the economy after the invasion of Ukraine and subsequent refugee and energy crises.
---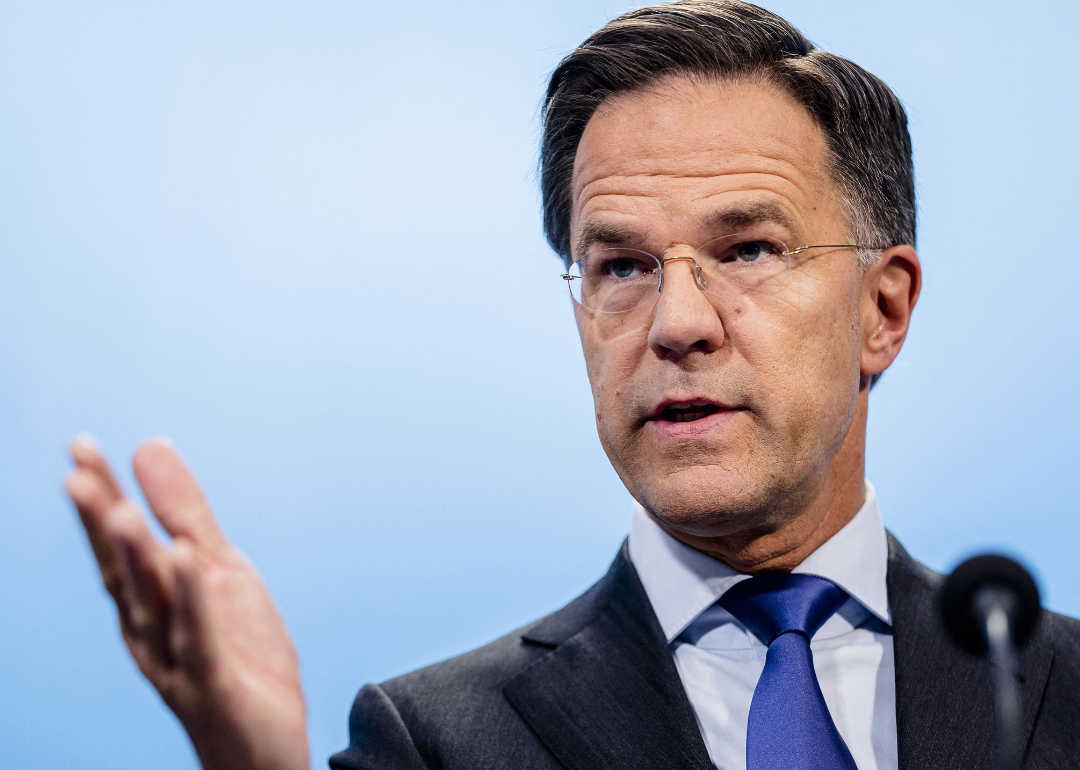 SEM VAN DER WAL/ANP/AFP via Getty Images
#18. Mark Rutte, Netherlands
Prime Minister Mark Rutte addresses media.
– Approve: 29%
– Disapprove: 65%
– No opinion: 6%
Mark Rutte has served as prime minister of the Netherlands for 12 years. The Netherlands has many political parties, and the election of a prime minister requires a coalition of support from the nation's legislature. This process involves the constant work of coalition-building and management in order to maintain the office. Although Rutte is commonly viewed as corrupt, his party—the center-right People's Party for Freedom and Democracy—is the biggest in a fragmented system, allowing for him to remain in power.
---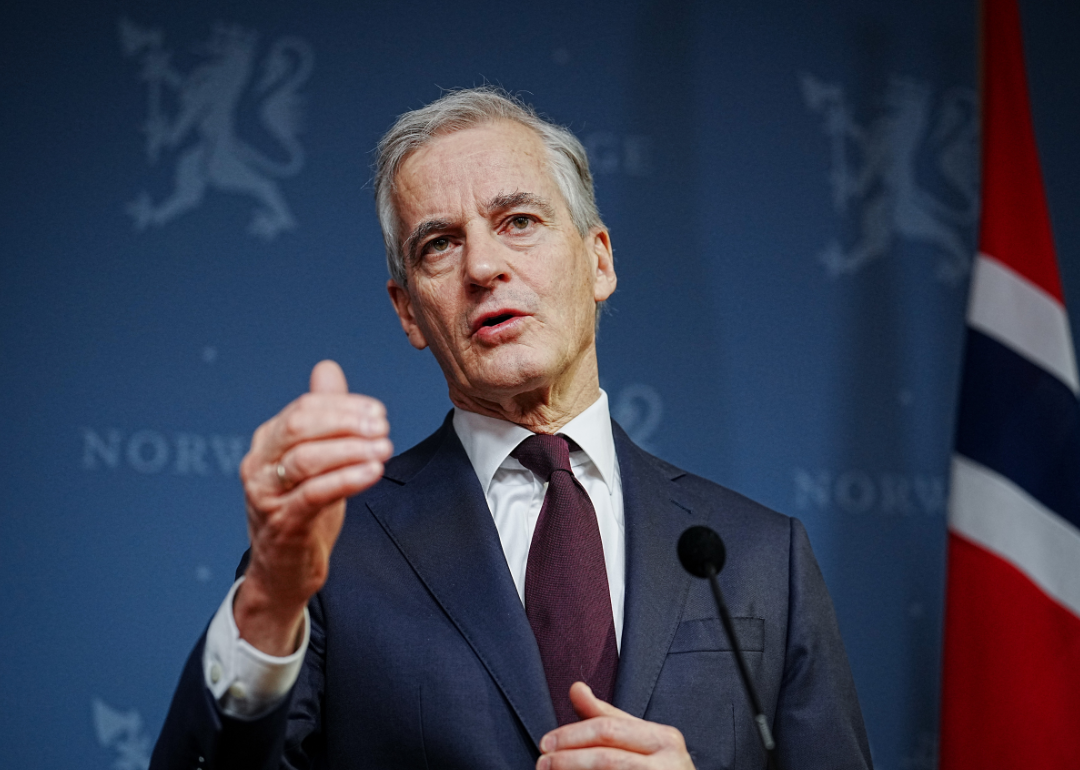 Kay Nietfeld/picture alliance via Getty Images
#17. Jonas Gahr Store, Norway
Jonas Gahr Støre, Prime Minister of Norway, holds a press conference.
– Approve: 29%
– Disapprove: 63%
– No opinion: 8%
After oil was discovered there in the 1960s, Norway became one of the wealthiest countries per capita in the world. Norway is a social democracy, characterized by high taxes, big government spending, and lower rates of inequality. Norwegians are also some of the happiest people on the planet. Norwegians have high expectations for their government leaders: Jonas Gahr Store is widely regarded as failing to stabilize the economy post-COVID-19 and in light of the ongoing war in Ukraine. Top issues for Norwegians include high energy prices and rising interest rates.
---

Pier Marco Tacca // Getty Images
#16. Leo Varadkar, Ireland
Prime Minister Leo Varadkar arrives at EU Council Meeting.
– Approve: 30%
– Disapprove: 58%
– No opinion: 12%
Leo Varadkar is Ireland's first openly gay prime minister and one of the youngest in the country's history to ever take the job. Elected in 2017, Varadkar echoed a movement embracing anti-establishment leaders in the broader West: the same undercurrent that elected the likes of Donald Trump and Boris Johnson.
Although Varadkhar passed progressive legislation legalizing abortion in 2018 and contributed to the passage of same-sex marriage in Ireland after coming out as gay in 2015, housing and cost of living crises plagued Ireland during Varadkhar's tenure as prime minister. Varadkhar's party lost power in 2020 and narrowly won it back in 2022 in a coalition that has still failed to pass any economic relief.
---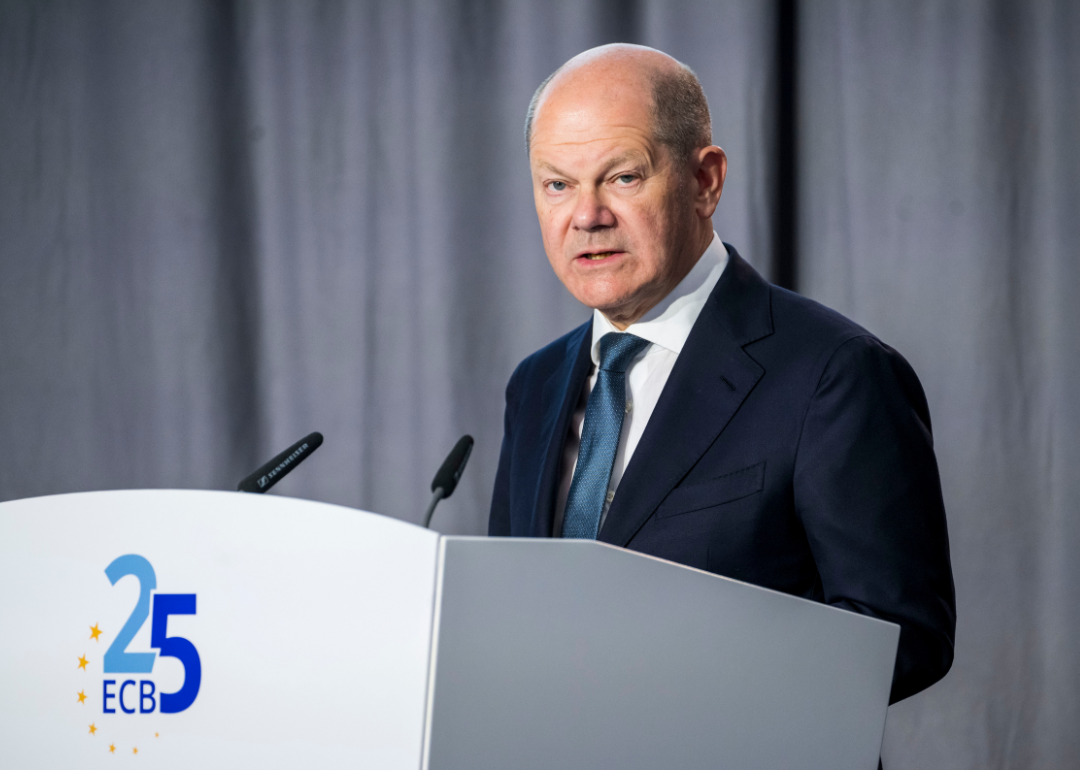 Thomas Lohnes // Getty Images
#15. Olaf Scholz, Germany
German Cancellor Olaf Scholz speaks at 25th anniversary of the European Central Bank.
– Approve: 32%
– Disapprove: 61%
– No opinion: 7%
The far-right movement in Germany is fueled by resentment over migration policies, inflation, and climate change. Germany's far-right party—Alternative for Germany or AfD—has gained popular momentum and built steady opposition to Social Democrat Olaf Scholz's tenure. Scholz most recently faced opposition in the form of a protest during a speech wherein he defended Germany's decision to send aid to Ukraine.
---

Mateusz Slodkowski/DeFodi Images via Getty Images
#14. Mateusz Morawiecki, Poland
Prime Minister Mateusz Morawiecki speaks on the subject of the grain market.
– Approve: 33%
– Disapprove: 60%
– No opinion: 7%
Poland is experiencing a democratic backslide in conjunction with the election of millionaire Mateusz Morawiecki in 2017. Morawiecki's party embraced many autocratic tactics such as pushing propaganda through state-run media and facilitating a crackdown on civil rights for women and the LGBTQ+ community. In June 2023, hundreds of thousands of Poles protested at the nation's capital in opposition to what they see as the country's anti-democratic path.
---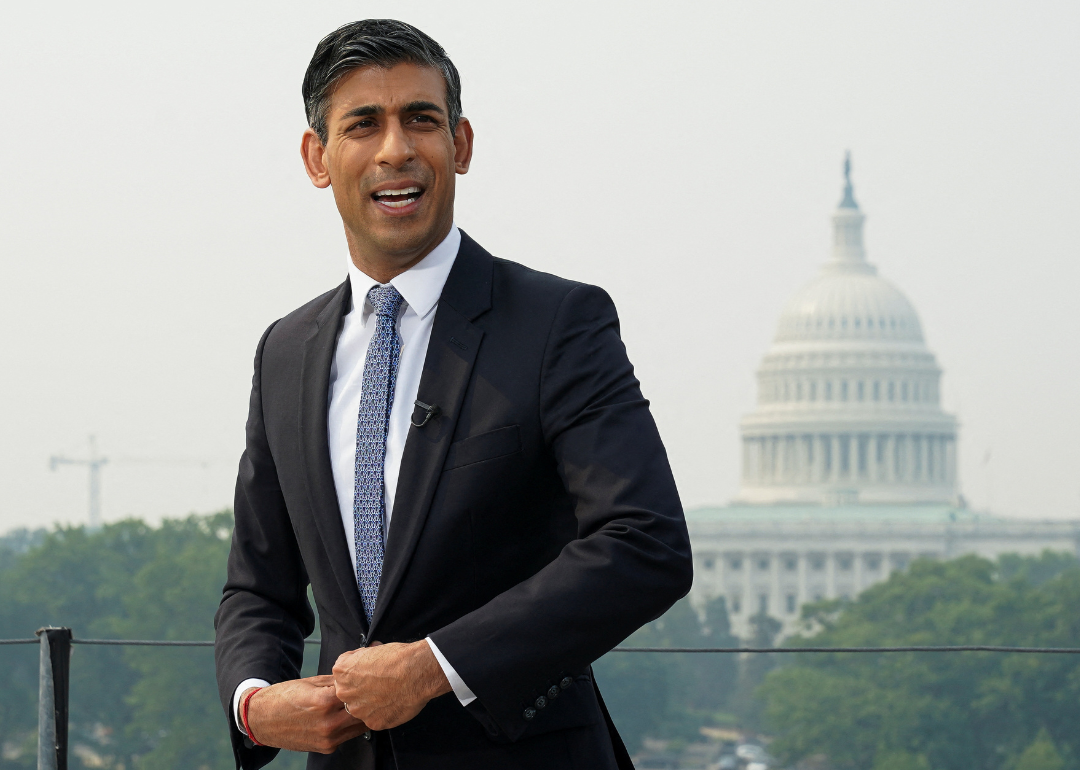 Kevin Lamarque-Pool // Getty Images
#13. Rishi Sunak, United Kingdom
British Prime Minister Rishi Sunak speaks in Washington DC.
– Approve: 33%
– Disapprove: 55%
– No opinion: 12%
Sunak is a member of the Conservative Party, which has retained control of the U.K. government for the past 13 years. During this period, the U.K. went through tumultuous changes: Parliament agreed to a withdrawal from the European Union (known as "Brexit"), proposed unfunded tax cuts, and gutted public services. The U.K. had a series of local elections in 2023 in which Sunak's party lost control of 45 local administrations. As the nation struggles to manage immigration policy, strikes, and rising taxes, Sunak has pledged to cut inflation by half in advance of the next election cycle in 2024.
---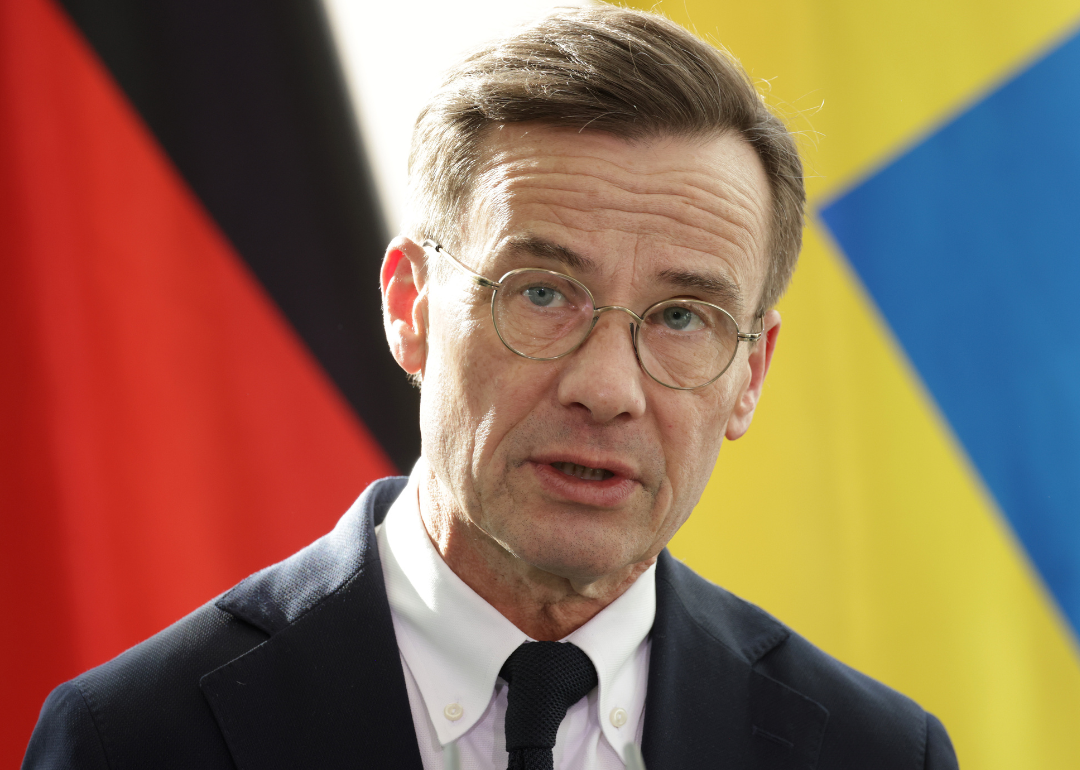 Sean Gallup // Getty Images
#12. Ulf Kristersson, Sweden
Swedish Prime Minister Ulf Kristersson speaks in Berlin.
– Approve: 33%
– Disapprove: 54%
– No opinion: 13%
Rising crime remains a top issue for Swedes, although politicians and citizens disagree on whether crime stems from immigration and integration policies, poor housing, drug use, or growing inequality. Gun and gang violence continued escalating during the election which put Ulf Kristersson in power. A coalition government comprised of Christian Democrats, Liberals, and Moderates (Kristersson's party) is now wielding joint power, representing a broader shift in politics toward tougher immigration policy and policing.
---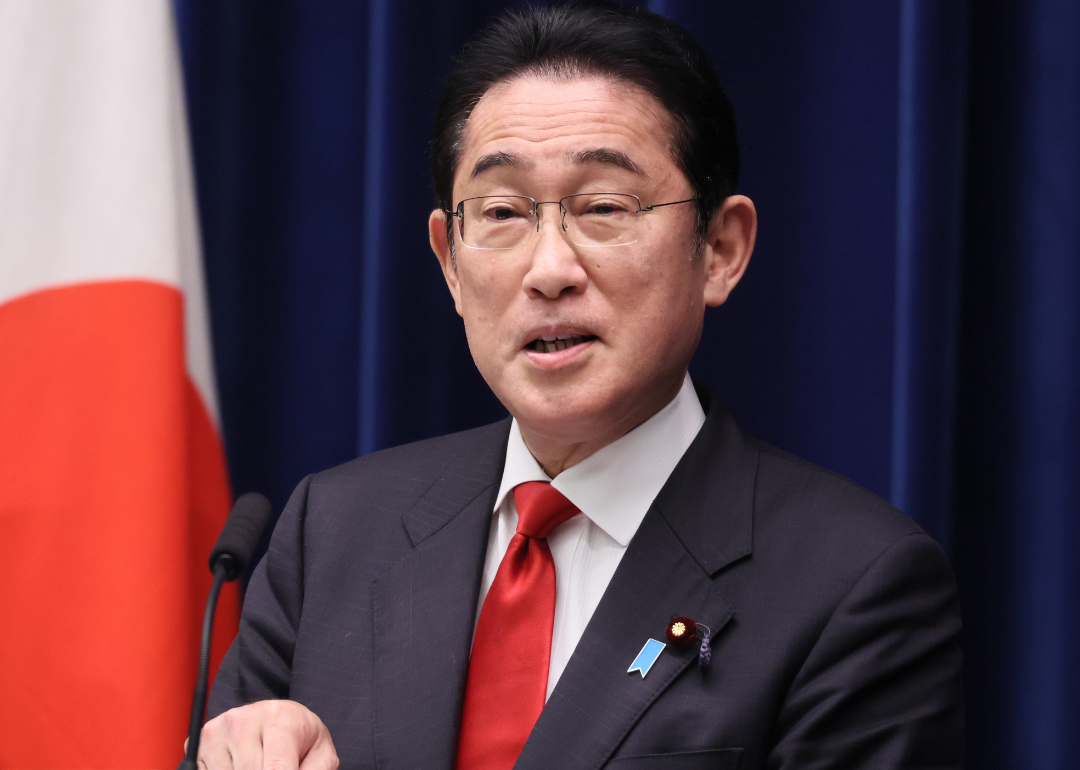 Yoshikazu Tsuno – Pool/Getty Images
#11. Fumio Kishida, Japan
Japanese Prime Minister Fumio Kishida speaks in Tokyo.
– Approve: 34%
– Disapprove: 53%
– No opinion: 13%
Fumio Kishida is enjoying a modest improvement in his approval rating after rolling out a stability-based national security strategy to counter the aggression of China and North Korea. At the same time, Japanese workers are suffering from falling wages for the 13th month in a row. Falling cash earnings and rising food insecurity contributed to the introduction of a farming policy intended to increase the domestic production of goods such as wheat and soybeans and cut the country's dependence on imported goods.
---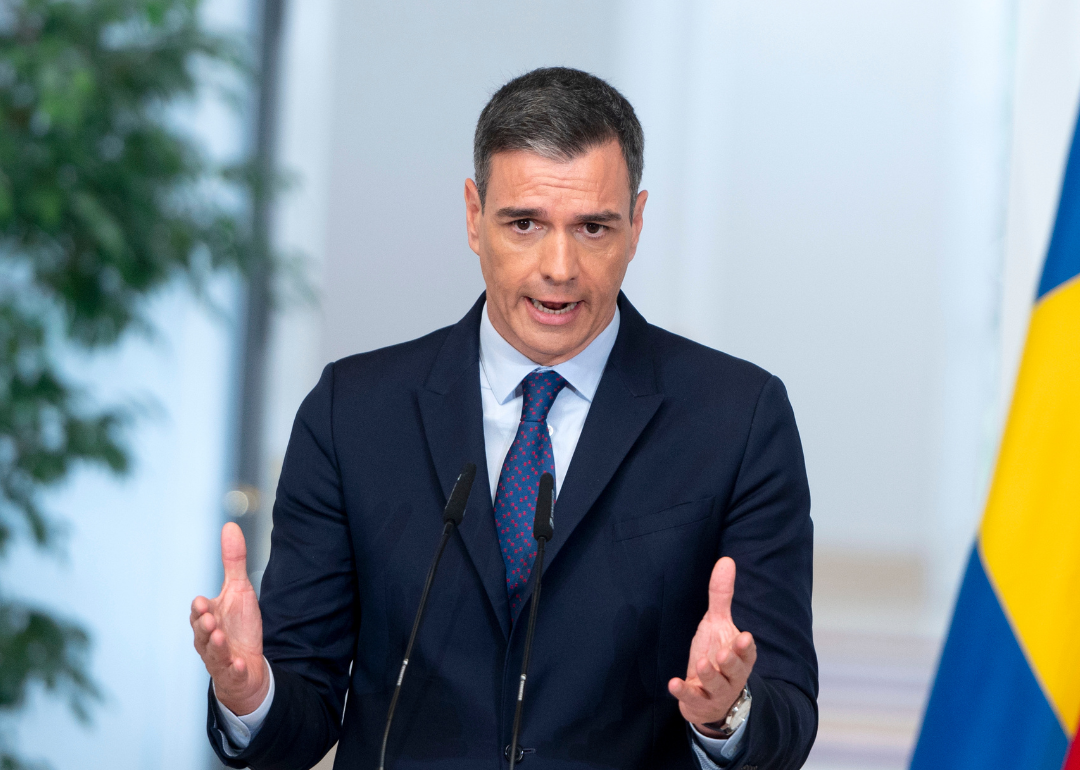 Alberto Ortega/Europa Press via Getty Images
#10. Pedro Sánchez, Spain
Pedro Sanchez gives a press conference.
– Approve: 38%
– Disapprove: 56%
– No opinion: 6%
Sánchez's style of governing is characterized by bold political decisions. His party, the Socialist Workers' Party, lost big in the May 2023 elections, and Sánchez responded by calling for a snap general election in a move that could possibly vote him out of power. By triggering this general election, Sanchez forces an answer from voters to the question of whether they want him and his coalition or the steadily gaining conservative opposition in charge.
---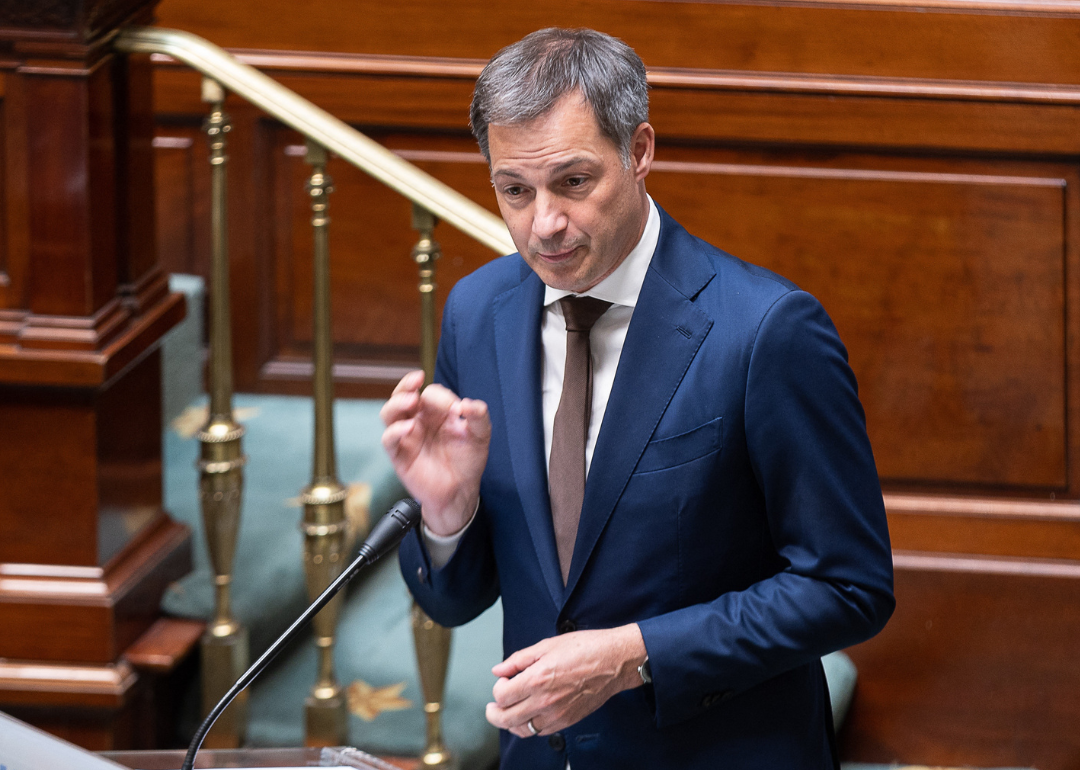 JAMES ARTHUR GEKIERE/Belga/AFP via Getty Images
#9. Alexander De Croo, Belgium
Prime Minister Alexander De Croo speaks in Brussels.
– Approve: 40%
– Disapprove: 45%
– No opinion: 15%
Belgium has a unique political system due in part to its linguistic and cultural divide. Belgium has three official languages (French, German, and Dutch) and a complex institutional structure including five parliaments and three regional levels. Cultural and language divides facilitate a competitive and often conflicting regional system and ultimately weaken the reach of the federal government. Prime Minister Alexander De Croo emerged as Belgium's leader only after a 16-month deadlock in the legislature.
---

Anna Moneymaker // Getty Images
#8. Joe Biden, United States
U.S. President Joe Biden speaks in Washington D.C.
– Approve: 41%
– Disapprove: 53%
– No opinion: 7%
Americans report economic issues as the most important concern as inflation and interest rates continue to rise in the United States. Following the evasion of national debt default, which was largely seen as a victory for his administration, Biden is nonetheless facing divided support both among all Americans and within the Democratic Party itself. Only a third of Americans agree that a win for Biden in 2024 would be "a step forward" for the country.
---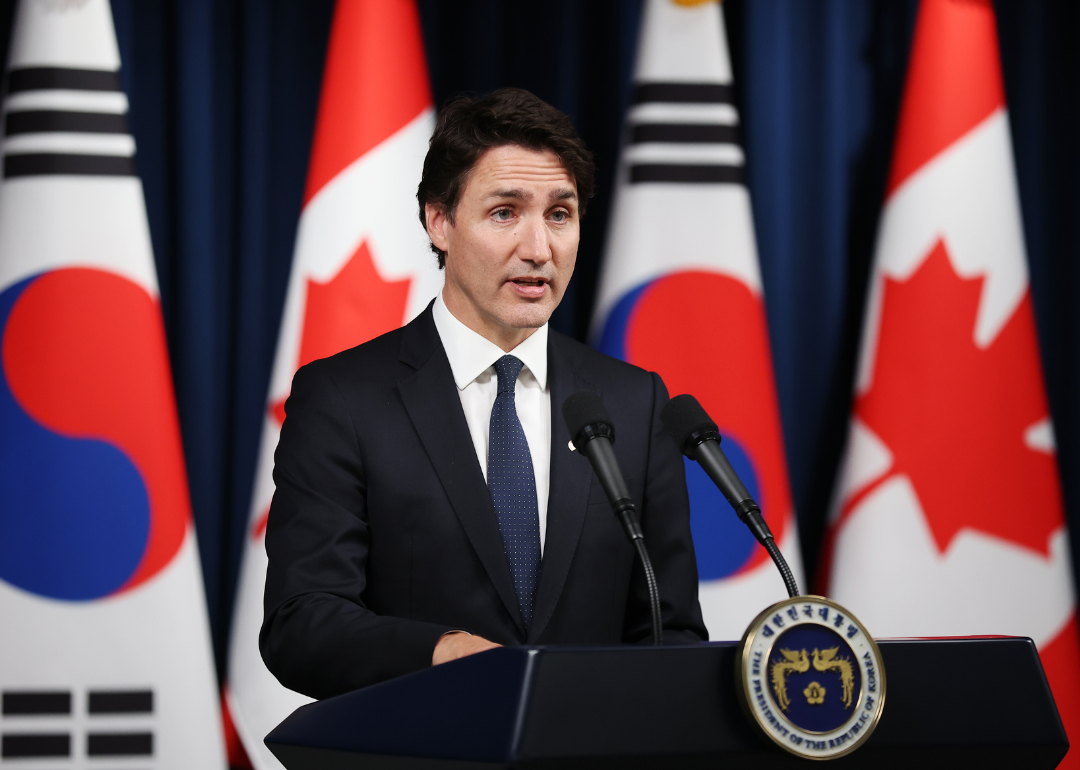 Kim Hong-Ji – Pool/Getty Images
#7. Justin Trudeau, Canada
Prime Minister Justin Trudeau speaks in Seoul.
– Approve: 42%
– Disapprove: 52%
– No opinion: 6%
Trudeau has been in power for eight years, retaining steady popularity during that stretch. Recently, the issue of potential election interference on the part of operators sponsored by China hurt Trudeau and his Liberal Party, but Conservative opposition leader Pierre Poilievre remains a controversial opponent among Canadian voters. Poilievre structures his appeal to Canadian voters based on the message that Canada is "broken" but voters are divided in their belief of this narrative.
---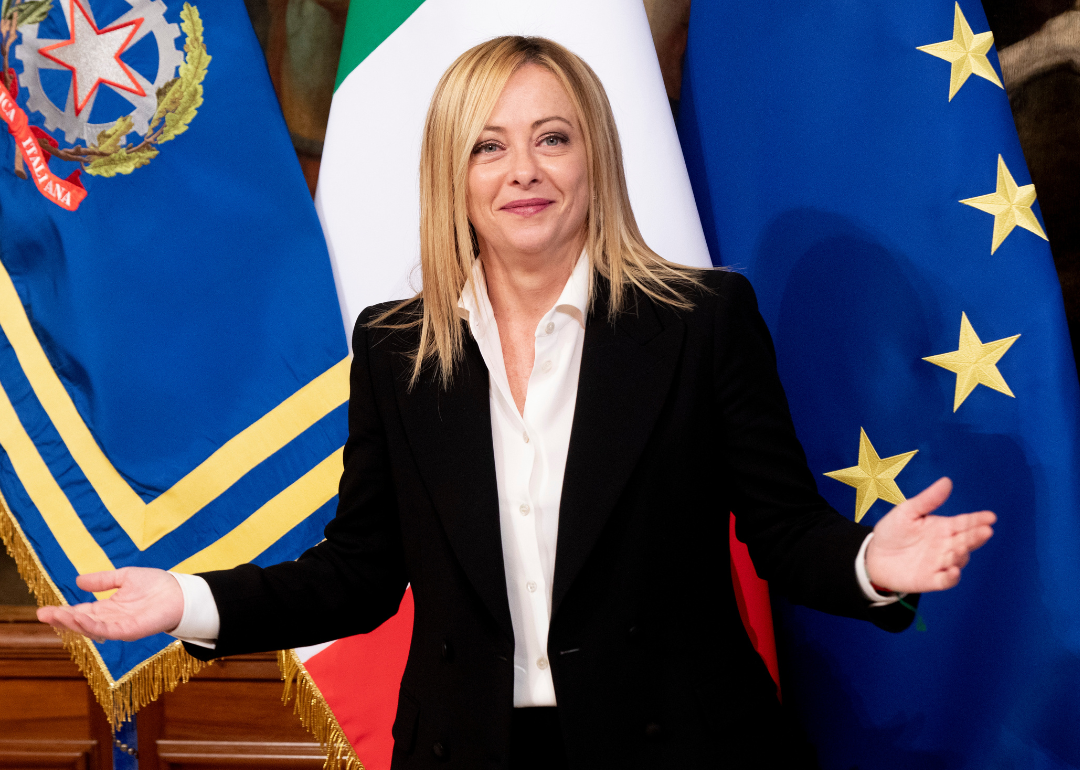 Alessandra Benedetti – Corbis/Corbis via Getty Images
#6. Giorgia Meloni, Italy
Prime Minister Giorgia Meloni speaks to media during a handover ceremony.
– Approve: 50%
– Disapprove: 44%
– No opinion: 6%
After Mussolini's reign of power ended in 1943, Italy introduced checks and balances to the constitution in order to support the development of democracy. Prime Minister Giorgia Meloni seeks to pursue constitutional reform, citing that the checks and balances enabled a revolving door system of politics that doesn't allow for long-lasting, meaningful reform. Meloni presides over a right-wing government that embraces a "natural family" ideology, effectively rolling back rights for LGBTQ+ couples. Despite fears about her authoritarian leanings and conservative social agenda, Meloni remains popular in Italy and a formidable conservative leader in Europe.
---

Hollie Adams // Getty Images
#5. Luiz Inácio Lula da Silva, Brazil
Brazilian President Lula da Silva waves as he arrives in London.
– Approve: 53%
– Disapprove: 41%
– No opinion: 6%
Luiz Inácio Lula da Silva was imprisoned on corruption charges after his first two terms as president in 2018 but came back to win the presidency in a fierce election with far-right opponent Jair Bolsonaro in 2022. Bolsonaro did not concede the election and facilitated propaganda that the election was illegitimate, eventually stoking his supporters into a call for an armed overthrow of the elected government. Although the overthrow was put down and Lula remains in power, Brazil remains fiercely polarized. In his presidency, Lula has vowed to combat poverty, protect the Amazon, and bolster rights for Indigenous Brazilians.
---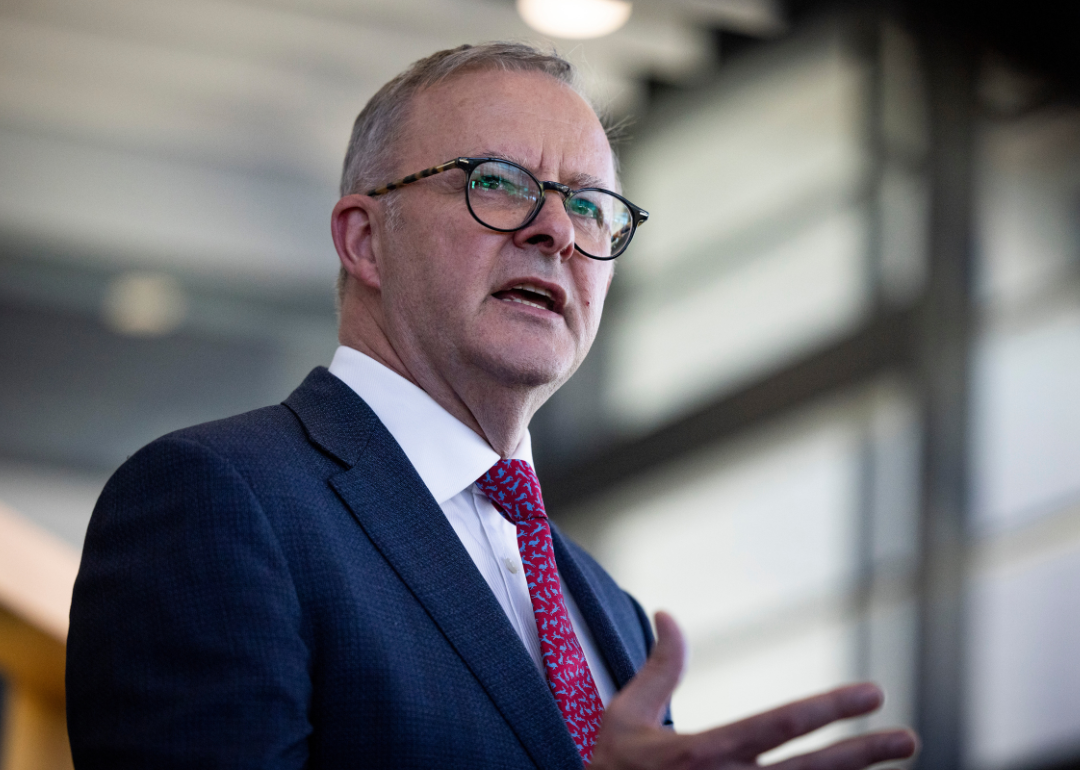 Matt Jelonek // Getty Images
#4. Anthony Albanese, Australia
Australian Prime Minister Anthony Albanese speaks in Perth.
– Approve: 56%
– Disapprove: 33%
– No opinion: 11%
This year, Australia will have a referendum to decide whether to reform the nation's constitution by establishing an Aboriginal and Torres Strait Islander Voice; a vote of yes would form an independent advisory body to give counsel to the Australian Parliament on issues pertaining to these peoples. Critics of the referendum say it will slow the cogs of government, but Prime Minister Anthony Albanese and other proponents claim the referendum is a vital step toward improving the lives of Indigenous people in Australia.
---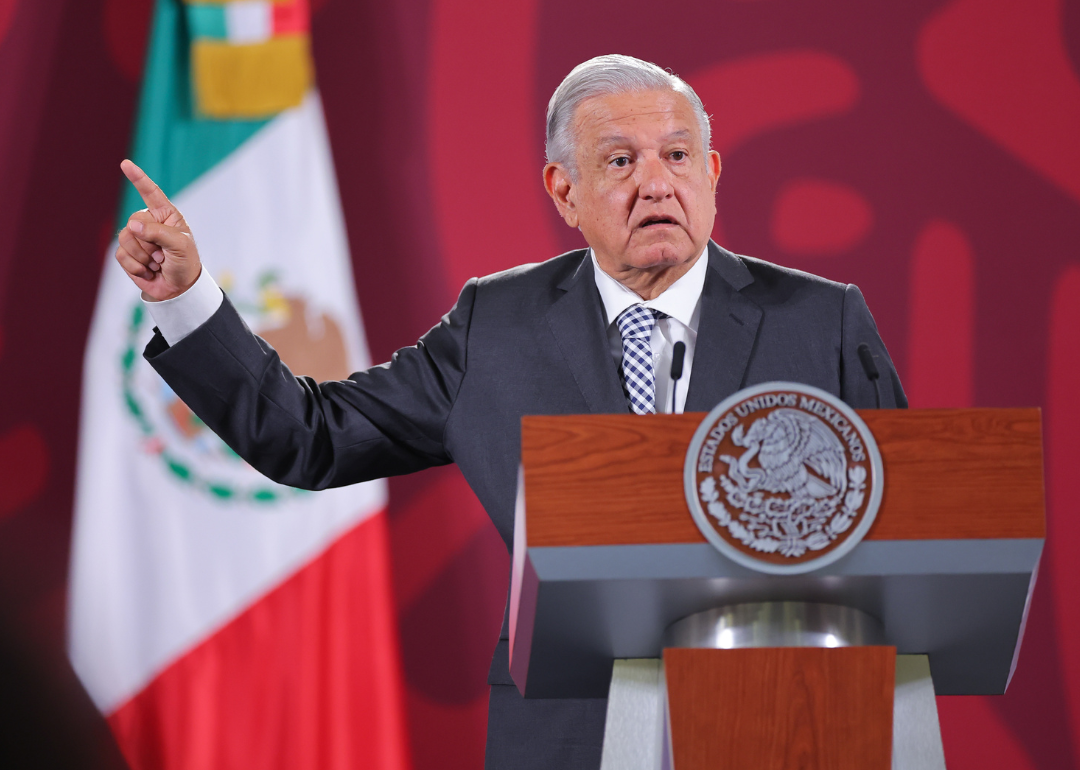 Hector Vivas // Getty Images
#3. Andrés Manuel López Obrador, Mexico
President of Mexico Andres Manuel Lopez Obrador speaks during a daily briefing.
– Approve: 59%
– Disapprove: 36%
– No opinion: 5%
For much of its post-revolutionary history, Mexico was a one-party authoritarian state governed by the PRI (Institutional Revolutionary Party). Obrador founded the MORENA (National Regeneration Movement) party in 2011 largely as an anti-corruption alternative. His presidency since 2018 has promoted social spending, and he remains very popular among the Mexican people, although he has also played an essential role in dismantling some of the fragile democratic institutions in Mexico. The MORENA party is well positioned to last beyond Obrador's constitutionally mandated single term.
---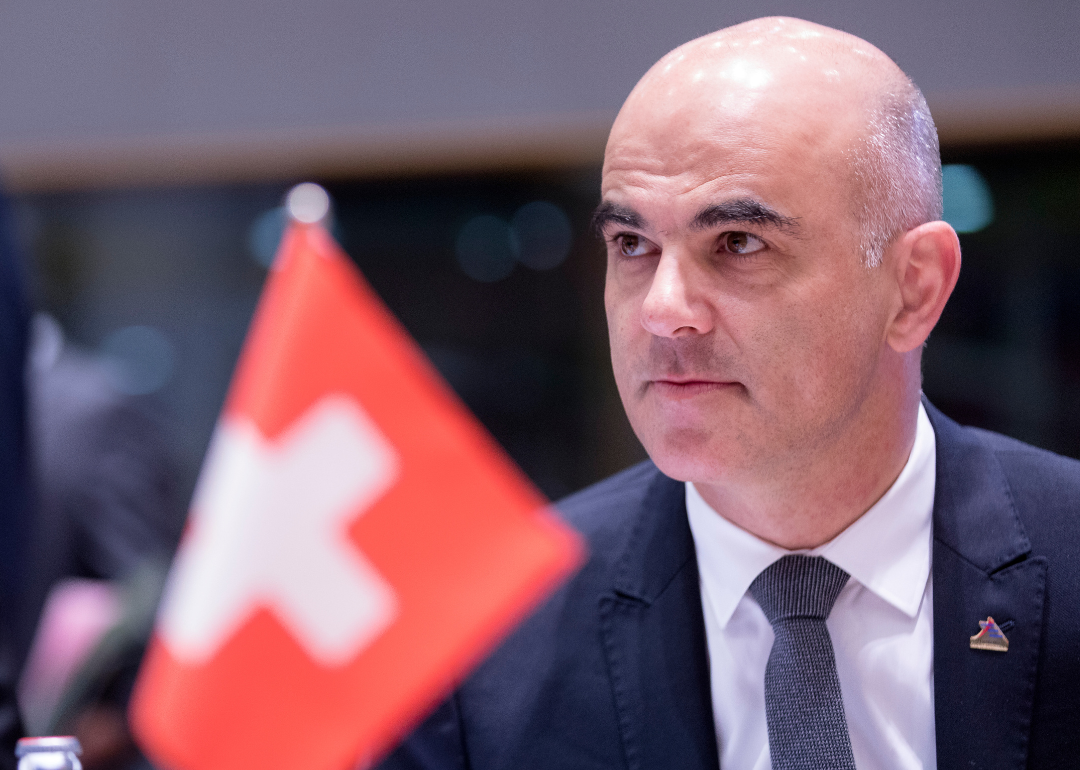 Thierry Monasse // Getty Images
#2. Alain Berset, Switzerland
President of Switzerland Alain Berset at ASEM in Brussels.
– Approve: 62%
– Disapprove: 26%
– No opinion: 12%
Switzerland is a direct democracy, meaning Swiss citizens can vote on laws each year during a period of referendum. The role of the president is to preside over meetings of various legislative bodies and serve as a global representative of the country. The Swiss president only serves for one year. During Switzerland's referendum on June 18, 2023, Swiss voters approved a new climate law that puts Switzerland on track to reach carbon neutrality by 2050.
---

SAJJAD HUSSAIN/AFP via Getty Images
#1. Narendra Modi, India
Prime Minister Narendra Modi waves to his supporters in Delhi.
– Approve: 76%
– Disapprove: 19%
– No opinion: 5%
Narendra Modi first won office in 2014 and has since presided over a growing national divide between Muslims and Hindus in a country poised to soon be the most populous in the world. British colonization and the partition in 1947 set the foundation for a difficult path to democracy for India.
Although the religious divide is not new, Modi remains silent over increasing threats to the Muslim minority by his Hindu nationalist party including violence against Muslim communities, boycotts of businesses, and even calls for genocide. Although Modi remains one of the most popular state leaders in the world, his party recently sustained regional defeats and faces tough political opposition for his next bid for reelection in 2024.
Data reporting by Sam Larson. Story editing by Brian Budzynski. Copy editing by Tim Bruns. 
---