Monterey County cleared for high-contact outdoor sports to return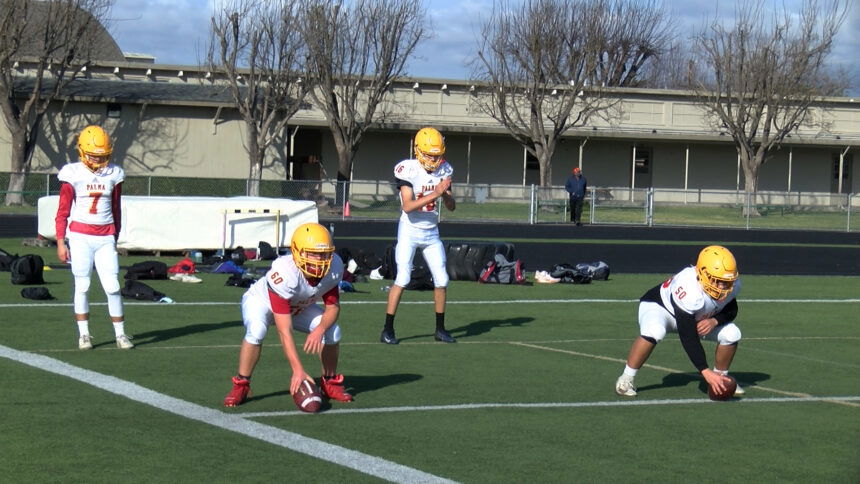 SALINAS, Calif. (KION) Monterey County meets the state's criteria to bring back high-contact outdoor sports, including football.
Under the state's Blueprint for a Safer Economy, counties must typically wait until the orange tier to play outdoor high-contact sports, but if the county's adjusted case rate is 14 per 100,000 or less, they can resume with restrictions. All three Central Coast counties are under the threshold.
Football players at Palma School got their gear and practiced with equipment for the first time Tuesday, but it's been a difficult process to get to the end zone. Practices have been on and off because of the pandemic and to get to game day, teams must adhere to the new COVID restrictions.
But after being locked down with little activity during the pandemic, players are just excited to be back on the field with their teammates, especially seniors, such as Noah Pulealii and Oki Hautau.
"I can't wait to, you know, get out here, do my best and give it my all," Pulealii said.
Football is almost a year-round sport when it comes to conditioning and
weight room training, but with the team's first big game scheduled for late March, they'll have just two to three weeks to get ready for the season.
"Having the sense of community as a team really helps us push forward," Hautau said.
The team is scheduled for 4 games and some scrimmages this year, but even with a limited season, Head Football Coach Jeff Carnazzo said this provides an opportunity for players to learn.
"You have to improvise, adapt and overcome and I think my players are doing a great job of doing that right now. I'm really proud of them," Carnazzo said.
Under the state's reopening blueprint, outdoor high-contact sports aren't allowed until the orange tier, but the California Department of Public Health issued new guidance saying they can be played in the purple or red tier if case rates are low enough and teams adhere to COVID safety rules.
To get on the field, players' parents have to sign a consent form but Coach
Carnazzo said most parents are on board. Players must wears masks on the sidelines and get COVID tested weekly, along with coaches.
"Financially, it's going to be difficult with tests anywhere from $50-70 per, and when you're talking about both our varsity, which consists of about 45 kids, and then the JV, which is about the same, and then coaches,
it's close to 100 people that will have to be tested every week for
potentially seven weeks," Carnazzo said. "There's very few schools and school districts that could handle a bill like that."
Monterey County Superintendent of Schools Dr. Deneen Guss said schools won't directly be getting funding for sports testing, but the state's 6.6 billion dollar school reopening plan could cover the issue.
"School districts, though, can use their CARES funding they can use their LCFF funding and if they receive these additional funds, they could also use this funding to help support the cost of the weekly testing," Guss said in a media briefing Wednesday.
Dr. Guss said she is expecting the school reopening assistance proposal to be approved by the legislature tomorrow and hoping it will be signed by the governor on Friday.