NBA player Jamaree Bouyea to host basketball clinic for local children
MONTEREY, Calif. (KION-TV) Update July 21, 2023, at 8:02 p.m.- The LuvOne Foundation announced that current Miami Heat player and Seaside native Jamaree Bouyea will host a basketball clinic for local children on August 25.
Registration opens on Saturday, July 23, at 9 a.m., you can register here.
The clinic will be held at Monterey Peninsula College.
The clinic will be for children ages 8 to 13 and lunch will be provided.
"The campers will be taught the basic techniques of shooting, dribbling, passing, rebounding and basic defense," said the LuvOne Foundation. "The camp will not only provide fundamental base for each young player, but will also be a fun and enjoyable experience for each camper."
Seaside native Jamaree Bouyea called up to Miami Heat
Update Feb. 8, 2023, at 11:25 a.m.- Seaside native Jamaree Bouyea is being called up to NBA after signing a 10-day contract with the Miami Heat.
Bouyea will see his first NBA minutes after an injury to Kyle Lowry's knee.
Bouyea is averaging 19 points, five assists and five rebounds for Sioux Falls this season.
The Heat play the Pacers at home Wednesday at 4:30 p.m.
UPDATE Jan.27, 2022, at 2:40 p.m.- The Seaside Native has been making a name for himself after going undrafted in the 2022 NBA Draft.
Jamaree Bouyea has averaged 20.2 points per game, with 5.8 rebounds and 6.2 assists. The Palma High graduate has also averaged 30.2 minutes per game, shooting 51.9% from the field for the Sioux Falls Skyforce.
To send Bouyea to his first All-Star game, click here.
If anyone deserves to be at the #GLeagueNextUpGame it's Mr. Do It All 😏

🗳️ >> https://t.co/WGcfGhWx0L pic.twitter.com/iEai8vNQ3q

— Sioux Falls Skyforce (@SFSkyforce) January 25, 2023
Seaside native Jamaree Bouyea signs deal with Miami Heat to compete for a roster spot
BROOKLYN, New York (KION-TV) UPDATE JULY 14, 2022, at 10:21 a.m.- The Miami Heat have officially signed a deal with Seaside native Jamaree Bouyea Thursday, and he will have the opportunity to compete for a roster spot.
Miami summer league guard Jamaree Bouyea is signing a deal with the Heat to compete for a roster spot in training camp, sources tell @TheAthletic @Stadium.

— Shams Charania (@ShamsCharania) July 13, 2022
Bouyea has averaged 6.2 points, 3.7 rebounds, and three assists in five games with the Heat this summer.
At the very least, this will assure Bouyea will play in the NBA G League if he doesn't make the Heat's roster after training camp.
Seaside native Jamaree Bouyea signs deal with NBA Miami Heat
After going undrafted, San Francisco guard Jamaree Bouyea has agreed to play in Summer League with the Miami Heat, according to NBA insider Shams Charania.
The 6'2 Seaside-born player averaged 17.3 points in his last two of five seasons with the Dons. He helped take the Dons to their first March Madness tournament since 1998 as a 10 seed, where he averaged 45 minutes played and 36 points.
In other regional sports news, the 12th pick in the NBA Draft by the Oklahoma City Thunder was Santa Clara Bronco's guard Jalen Williams.
The 6'6 junior averaged 18 points, and 4.2 assists, on 51% shooting and 37% shooting from three.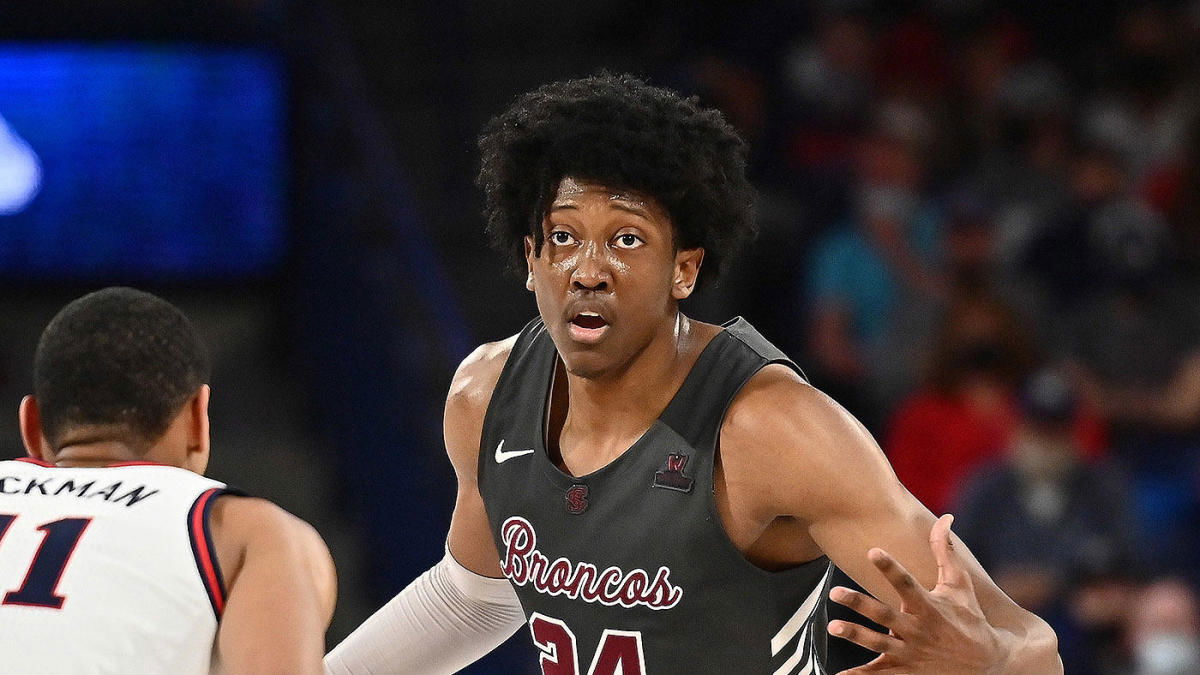 He was born in Gilbert Arizona.