Ben Lomond shooting suspect linked to Texas Boogaloo Bois member charged with rioting
(KION) A suspected Boogaloo Bois member has been arrested and charged with participating in a riot for allegedly shooting at a Minneapolis police building, and the FBI said he is connected to the man accused of killing Sgt. Damon Gutzwiller with the Santa Cruz County Sheriff's Office.
The suspect, Ivan Hunter, was arrested in Texas as part of an investigation into the civil unrest that happened in Minneapolis after the death of George Floyd. According to an affidavit, Hunter was present when the Minneapolis Police Department's Third Precinct building was set on fire, and it is believed that Hunter fired 13 rounds from an AK-47 style rifle into the building while people were inside.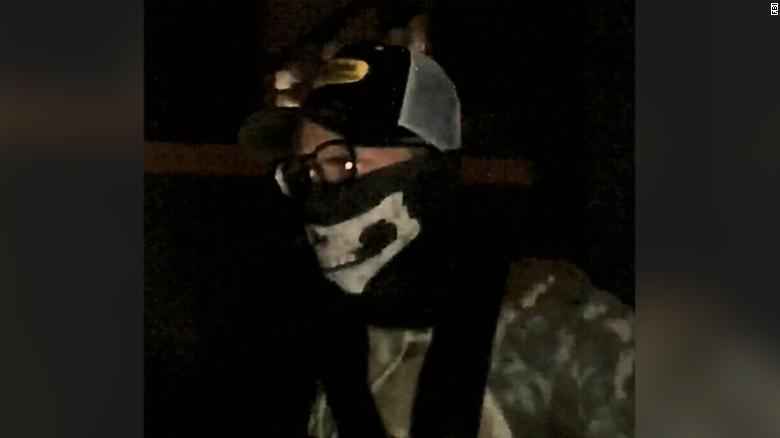 Investigators allege that Hunter and Carrillo, a suspected Boogaloo Bois member accused of killing a federal officer in Oakland and Sgt. Gutzwiller. were in communication with each other before, during and after the incident in Minneapolis and the murders in California.
The Boogaloo movement is known as a right wing-extremist group
comprised of different ideologies, but is primarily anti-government. The U.S. Attorney for Northern District of California said the boogaloo term references a violent uprising or impending civil war.
"Really with COVID and the government lock downs in a number of states I think particularly provided momentum for individuals that are self-identified as Boogaloo individuals or Boogaloo Bois as they call themselves," said Jason Blazakis, a professor at the Middlebury Institute for International Studies and the director at the Center on Terrorism, Extremism and Counter Terrorism at MIIS.
Read more about the Boogaloo movement here.
Blazakis says the Boogaloo movement started in 2019, but did not get national publicity until 2020 at a gun rights rally in Richmond, Virginia.
Members have a disparate set of views; many are pro-grun, some neo-nazis or hold libertarian ideals. But they are all binded by anti-government hatred and a particular dislike of law enforcement.
The advent of social media has made them more organized.
"The internet and social media platforms, the ubiquity of it, provides these individuals who aren't next to each other to exchange ideas, views," said Blazakis.
As early as March 14, the FBI said Hunter was in communication with Carrillo, and messaged him saying, "Start drafting that op. The one we talked about in December..." Carrillo replied, "Sounds good, bro!"
About four hours after the murder of Protective Security Officer Pat Underwood in Oakland and about two hours after the precinct was set on fire, investigators said Hunter contacted Carrillo on a social media app and said the following:
Hunter to Carrillo: Go go go
Carrillo to Hunter: ?
Hunter to Carrillo: Boog
Carrillo to Hunter: Did
Hunter to Carrillo: Luv
Carrillo to Hunter: Currently in hide mode
Hunter to Carrillo: Go for police buildings
Carrillo to Hunter: I did better lol
Hunter to Carrillo: Hold
Carrillo to Hunter: ("ok" hand emoji)
Carrillo is accused of going to Oakland with the intent to "kill cops" while the George Floyd protests were taking place along with another person charged, Robert Alvin Justus, Jr.
Read more about the murder of Pat Underwood here.
On June 1, Carrillo allegedly told Hunter that he would "be in the woods for a bit" when Hunter asked for money over Facebook Messenger.
Just days later, on June 6, the Santa Cruz County Sheriff's Office responded to a report of a white van near Ben Lomond that appeared to have guns and bomb-making equipment inside. It is believed to be the one Carrillo used during the attack in Oakland.
When a witness saw a similar van heading up Harmony Hill toward Waldenberg road. When law enforcement responded to the area, they said they were ambushed, and Sgt. Gutzwiller was shot and killed. Carrillo allegedly carjacked one person and attempted to carjack several others before being detained by a witness. When he was arrested, he had a patch that is allegedly tied to the "Boogaloo" movement and appeared to have written phrases in his own blood on the hood of a car, including what the FBI believe says "boog."
Read more about the ambush that killed Damon Gutzwiller here.
A day later on June 7, the FBI said Hunter sent an admitted Boogaloo bois member a private message on Facebook with a link to a news article on Carrillo's arrest for Gutzwiller's murder.
Hunter was stopped in Austin, Texas when officers said they saw him and two other men wearing tactical gear and carrying rifles on June 3. In Hunter's indictment, it says that he told officers in Austin that he was the leader of the Boogaloo Bois in South Texas and that he was at the scene when the Minneapolis police station was burned down. After the marijuana, weapons and ammunition were seized, police released Hunter and the two others.
Within a few days of the traffic stop, the FBI learned that Hunter was affiliated with Carrillo.
The FBI learned of Hunter in August when they said a confidential source said Hunter admitted to shooting the police building, helping to set it on fire and looting.
The source said Hunter admitted to being a Boogaloo Bois member and being a founding member of the "Happy Friends Group" with Carrillo. Hunter said the group is a "fire team" that uses violence if police try to take their guns away.
Hunter was arrested Wednesday.
Read the criminal complaint against Ivan Hunter that contains details of the connection here.
Carrillo's next hearing for the deadly attack in Ben Lomond is scheduled for December.
"It's going to take law enforcement diligence, it's going to take the mining of communications by individuals who may have been identified as potential threats, it's about inserting informants into these organizations to foil them from the inside," said Blazakis.