The latest leadership test for the Republican Party will be settled by secret ballot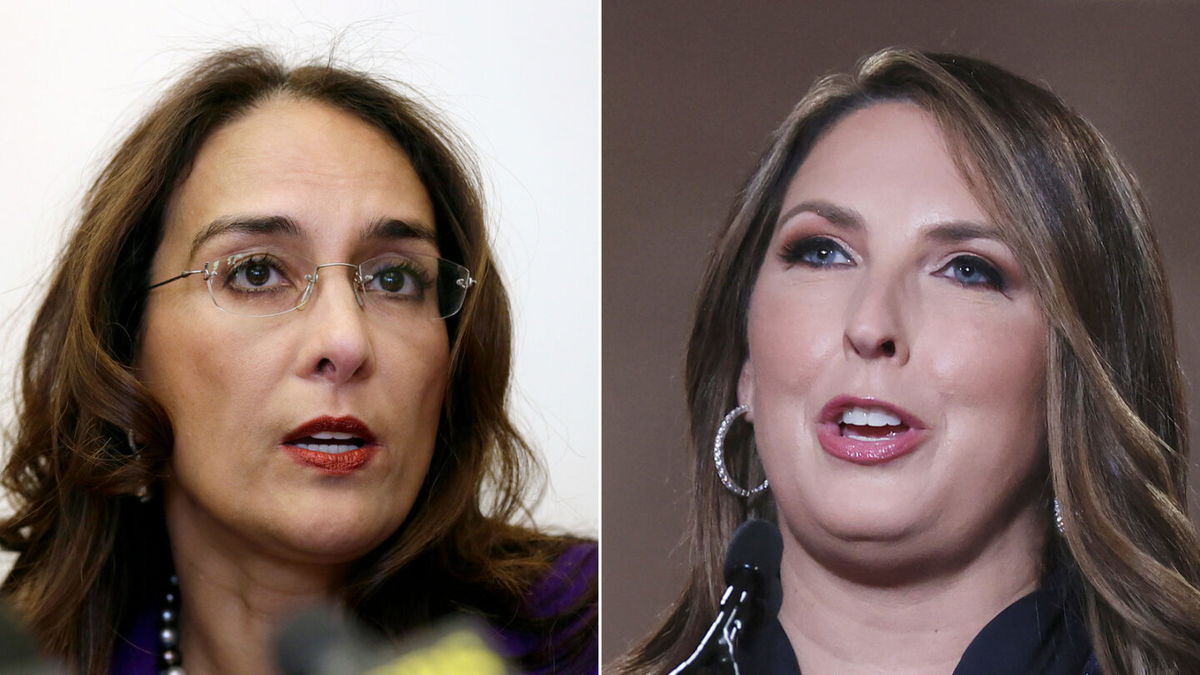 By Jeff Zeleny and Gabby Orr, CNN
A fresh family feud is boiling inside the Republican Party.
As the GOP begins looking ahead to the 2024 presidential campaign — and following a disappointing midterm election and a disorderly race to elect House Speaker Kevin McCarthy — members of the Republican National Committee are set to elect a leader Friday in a contest that has exposed deep divisions inside the party.
Ronna McDaniel, chairwoman of the RNC, faces a fierce challenge as she seeks a rare fourth term to a post she has held since 2017 and was hand-picked for by former President Donald Trump. Top rival Harmeet Dhillon, one of Trump's many lawyers, argues it is high time for new blood in the ranks of party leadership.
A secret ballot will determine whether McDaniel, Dhillon or My Pillow CEO Mike Lindell — an election denier and Trump conspiracy theorist — will be selected by 168 members of the RNC who have traveled from all 50 states to a seaside resort here in Southern California.
Gone are the days when party bosses can actually control their political parties. Yet the position remains highly influential, particularly in helping to plan debates and many other aspects of presidential primaries, as Republicans work to regroup and win back the White House.
The Friday vote marks the first competitive fight for the position in more than a decade.
The battle has created strange bedfellows and has come alive with pointed questions about party spending, allegations of profiteering from the RNC and charges of being too loyal — or not loyal enough — to Trump. It's far from the classic establishment vs. anti-establishment divide that once roiled the party, but rather the next chapter of that war, with some Trump loyalists fighting one another even as other party faithful plead for a new direction.
While the former president is at the center of it all, he has taken a rare backseat to the fight, saying last week of McDaniel and Dhillon: "I like both of them. Let them fight it out."
Florida Gov. Ron DeSantis, a potential 2024 presidential contender, said in an interview posted Thursday that the party must change its approach to start winning again.
"I think we need a change," DeSantis told conservative web show host Charlie Kirk. "I think we need to get some new blood in the RNC."
DeSantis stopped short of supporting Dhillon's bid but embraced her idea to move the RNC headquarters from Washington, DC.
"Why would you want to have your headquarters in the most Democrat city in America? It's more Democrat than San Francisco is," DeSantis said. "So I think you get it in real parts of the country. You attract people who want to live in those parts of the country, not DC insiders."
For Republicans, it's the latest test of the party's identity and its ability to present a unified front as the Trump era enters its waning days — or dawns a new chapter, depending on the outcome of his latest bid for the White House.
"There are a lot of RNC members who want change," said Henry Barbour, a longtime RNC member from Mississippi, who is leaning toward backing McDaniel. "It's something that people are weighing very seriously because the '24 election is a big opportunity for our party. It's one we can't blow."
While McDaniel is seen to have the upper hand, some committee members said the election on Friday could stretch into several rounds, considering members will be voting by secret ballot and a majority is needed to win. Both camps believe anonymity could work to their advantage.
"The reason why this is never done until it's done is because RNC members are experienced political hands," said Bill Palatucci, a New Jersey committeeman who supports Dhillon. "They know how to look you in the eye and say, 'I love you,' and then walk into the voting booth because it's a secret ballot and slit your throat."
Another committee member, who requested anonymity to speak candidly, said they were leaning toward supporting McDaniel, but "might still be persuaded" to vote for Dhillon, depending on how RNC leaders address the party's midterm election shortcomings at the three-day winter meeting this week.
Even among political enthusiasts, the race is the epitome of inside baseball, akin to the election of a class president but with far higher stakes. The final hours of the heated campaign are unfolding inside the hallways and conference rooms at the Waldorf Astoria in Dana Point, a luxury resort about an hour south of Los Angeles, where all three candidates gathered behind closed doors Wednesday afternoon to take questions at a private forum.
"When you're running against an incumbent, you have to make the case for why change is necessary," Dhillon told CNN on Wednesday night as she spoke to reporters, acknowledging that she had been confronted by some members about the tone of the race. "We can't have change unless we've acknowledged that we've done something wrong."
Dhillon, who is an RNC member from California, is poised to have a handful of surrogates at the meeting, including Turning Point USA founder Charlie Kirk and defeated Arizona gubernatorial candidate Kari Lake.
Meanwhile, McDaniel is expected to get a boost from Trump's inner circle, including chief adviser Susie Wiles, who is expected to assist the chairwoman's vote-getting operation.
Wiles has worked closely with McDaniel since joining Trump's political operation in early 2021, including throughout the last midterm election cycle. Wiles does not have a close relationship with Dhillon, a person familiar with the matter says, and has been frustrated by allies of Dhillon overstating her relationship with Trump during the campaign for RNC chair.
Dhillon's law group represented Trump in his dealings with the House select committee investigating the events surrounding the January 6, 2021, attack on the US Capitol, with the RNC paying more than $1 million for the legal work.
Despite her alliance with the former president, Dhillon has also drawn support from some of the staunchest anti-Trump voices inside the RNC's 168-member voting body — including Palatucci.
In an email to fellow members last week, a copy of which was shared with CNN, the New Jersey Republican said he would be supporting Dhillon because they are "both tired of losing."
"The RNC needs to stand up against bigotry, racism, and intolerance," Palatucci said. "The Party of Lincoln needs to be unashamed to denounce hatred as unacceptable, with no place in our political discourse."
While several state party executive committees across the South have conducted no-confidence votes against McDaniel, other statewide GOP leaders have bemoaned the campaign tactics deployed by Dhillon since she entered the race in early December.
Later that month, Dhillon accused current RNC leaders of "handing out perks" to members in return for their support in the chairman race.
"They're offering to pay legal bills they weren't willing to pay two weeks ago. They're offering cash transfers to the state. They're offering contracts. They're offering cozy committee assignments. I can't compete with that," she told a conservative radio host at the time.
The suggestion prompted immediate backlash from members in private email chains that were obtained by CNN, with Washington committeeman Jeff Kent accusing Dhillon of insulting the "integrity" of members and others claiming Dhillon's claims had led to "phone calls, emails and texts accusing me of benefitting from my support of Chairwoman McDaniel."
A few weeks later, a whisper campaign about Dhillon's Sikh faith caused another stir among members, eliciting outrage from supporters over questions about her religious beliefs.
"Attacking Sikh faith of an Asian-American candidate 4 RNC chair has the optics of racism!" tweeted Oregon committeeman Solomon Yue, an early Dhillon supporter. The episode even prompted McDaniel, a member of the Church of Jesus Christ of Latter-Day Saints, to issue a statement condemning "religious bigotry in any form," while her allies insisted she had nothing to do with any attacks on Dhillon's faith.
As the winter meeting has drawn closer, some Republicans have accused Dhillon of drastically changing her tone to appeal to members who may have been turned off by some of her early campaign tactics or allegations.
In a final message to fellow RNC members, Dhillon outlined what the first three months of transition would look like if she was elected as the party's next chairwoman. She linked to an essay she penned for The Daily Wire outlining her concerns and vision, including calling on Republicans to take early voting more seriously whether they agree with such state laws or not.
"When Democrats are voting for a month and Republicans for a day, we've lost before we even get warmed up," Dhillon wrote. "Until election month gets tightened up to a short period of early voting, we must compete and outperform Democrats in early voting, including competing for independent voters before the opposition gets to them."
The-CNN-Wire
™ & © 2023 Cable News Network, Inc., a Warner Bros. Discovery Company. All rights reserved.
CNN's Steve Contorno and Jeff Simon contributed to this report.