Banko Brown death: Family sues Walgreens, security company and guard for wrongful death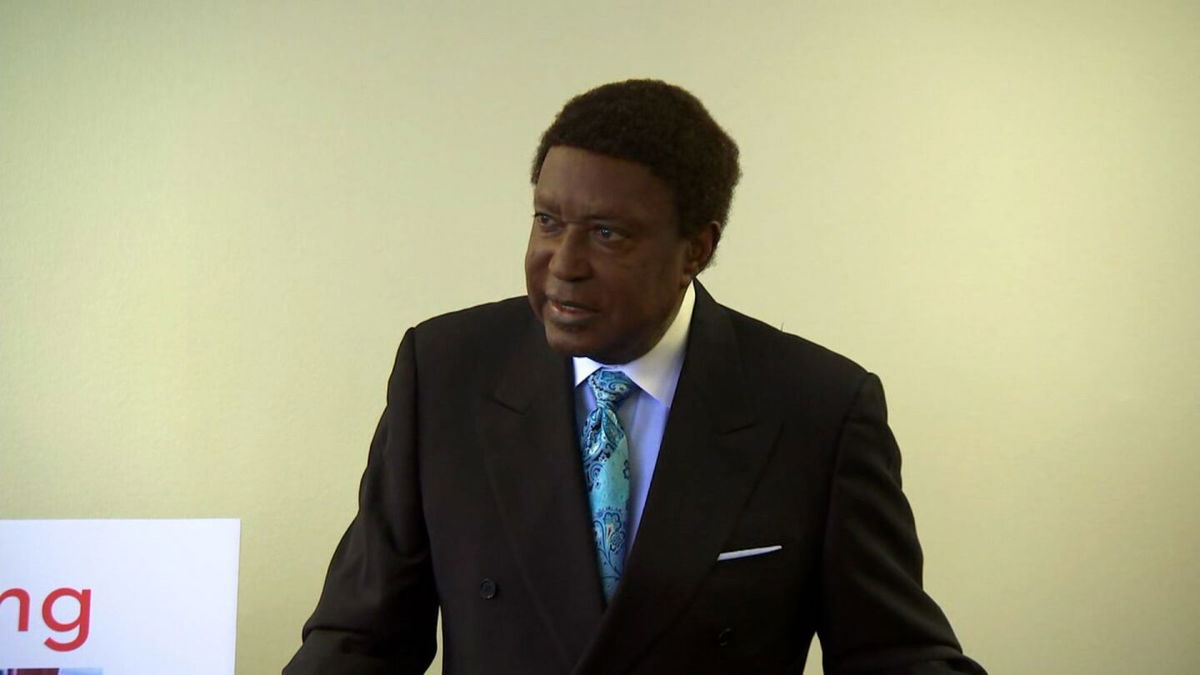 By Cheri Mossburg and Steve Almasy, CNN
(CNN) — The family of Banko Brown, a transgender man shot and killed by a security guard in San Francisco last month, has filed a wrongful death lawsuit over the fatal encounter, their lawyers announced Friday.
Brown's parents are suing Walgreens, where the fatal shooting took place; private security company Kingdom Protective Services; and security guard Michael Earl-Wayne Anthony. John Burris, the Browns' attorney, told reporters they are seeking at least $25 million in damages.
"This is a young person … whose life was taken unnecessarily … as a consequence of what Walgreens did by putting in place policies that caused this security officer to think for whatever reason that he could shoot and kill a person over petty theft," Burris said.
The fatal shooting happened following a suspected shoplifting incident at a downtown Walgreens store on April 27. Dramatic surveillance video shows a scuffle between Brown and the store's security guard.
The killing and lack of criminal charges spurred protests in San Francisco, with demonstrators marching to demand justice for Brown, amid a larger debate over criminal justice, viral smash-and-grab thefts, and homelessness in the city.
The lawsuit claims Anthony "shot and killed Mr. Brown at least in part because of his frustration with people other than Mr. Brown shoplifting or committing petty theft crimes in his presence."
At the news conference, Brown family attorney Ben Nisenbaum said Brown was "only responsible for potentially shoplifting the $16 of candy that apparently was in (his) bag."
Brown's parents attended the news conference but did not speak. Burris said they want the security guard to face murder charges.
The filing states Anthony was following a new directive by the store and its security company to "forcibly detain suspected shoplifters," a move the suit says changed "longstanding security policies of avoiding escalating confrontations with people suspected of minor property crimes into potentially lethal force encounters."
Walgreens declined to comment on the lawsuit.
Kingdom Group Protective Services, which provided officers in the store, did not weigh in on the lawsuit specifically, but released a statement saying, "We are fully cooperating with law enforcement in the investigation of this extremely unfortunate incident and are deeply saddened by the loss of Banko Brown's life. At this time, we are not permitted to comment further."
According to the lawsuit, "Defendant Anthony's killing of the unarmed Mr. Brown shocks the conscience. It was the rash, angry reaction of someone frustrated by the demands of his job, taking it out on Mr. Brown in the worst, most violent way possible."
Witnesses that were interviewed by the District Attorney, which decided not to file charges against Anthony, said they heard Brown tell Anthony that, "I'll fight you on the sidewalk," the lawsuit says. "No witness reported any threat by Mr. Brown to use any weapon, and Mr. Brown was unarmed," it added.
Brown and Anthony continued to argue as Brown backed toward the store's exit, the lawsuit says. "Mr. Brown paused, pointed with right hand toward Defendant Anthony's face and momentarily flexed his chest toward Defendant Anthony, but did not touch him," the lawsuit continues. "No one could reasonably believe Mr. Brown was trying to strike Defendant Anthony."
An armed security guard must weigh the value of what they are trying to protect with the need for deadly force, Burris told reporters.
At the moment of the shooting, Anthony's life was not in danger, he said. The security officer could have walked away or de-escalated the situation, the attorney added.
Brown repeatedly threatened to stab Anthony before the shooting, according to a report from the DA's office released last week. Police didn't find a knife in Brown's possession, the report states, but prosecutors still determined his fear was reasonable.
"Given the totality of the circumstances, including the threat that Anthony believed, and could reasonably believe, the evidence shows that Brown's shooting was not a criminal act because Anthony acted in lawful self-defense," the report states. "Thus, Anthony is not criminally liable for the death of Brown."
The report also mentions the policy change for security guards, saying it was "recently" initiated by the security company.
"On April 27, 2023, the instructions to guard personnel was to engage in "hands-on" recovery of merchandise," the report states. The guards were also allowed to request receipts for merchandise, but in any event they were to actively work to retrieve or recover any stolen items once it was clear that the individual who concealed the items intended to leave the store without paying."
San Francisco troubled by property crimes
CNN has not heard back from Anthony. It is unclear if he has retained an attorney.
San Francisco has seen a marked exodus of middle class residents since the Covid-19 pandemic, and a series of brazen property crimes and rampant public drug use has created a sense of disorder, as CNN explored in the recent special, "What happened to San Francisco?"
One such incident was a daytime theft at a Walgreens store in 2021 captured on video in which a suspect casually grabbed items from shelves, tossed them into a black bag and left the store, brushing past the store's security guard and several onlookers. Walgreens said at the time this "blatant retail theft" was an ongoing problem at its stores, although a company executive said earlier this year "maybe we cried too much" about the issue.
As part of the backlash, the progressive prosecutor Chesa Boudin was recalled by a 55% vote last year. San Francisco District Attorney Brooke Jenkins was appointed to replace him and pledged to "restore accountability and consequences to our criminal justice system," saying this was a moment to "take back our streets."
She chose not to charge Anthony, saying last week he acted in self-defense when he shot Brown.
No criminal charges, but state AG is taking a second look
The California Attorney General's Office said earlier this week it will review the decision not to charge Anthony.
"We can confirm that our office has agreed to review whether the San Francisco District Attorney's decision not to file charges was an abuse of discretion," the Attorney General's Office told CNN on Tuesday in a statement.
Surveillance camera video of the incident, released by the district attorney's office, shows Brown attempting to leave the store before being stopped by the security guard, identified by police as Anthony. Brown then shoves the guard, leading to a physical altercation, the video shows.
Brown is held on the ground by the guard but released after about a minute, the video shows. Brown starts to leave but appears to turn around and move toward the guard who then shoots him, the video shows.
Brown repeatedly threatened to stab Anthony during the fight, the security guard said in a videotaped interview with police.
"I felt like I was in danger. I felt like I was going to be stabbed," he said.
The DA's report notes that self-defense applies when a person has a reasonable belief they are in imminent danger of being killed or suffering great bodily harm. "There is no evidence to contradict that Anthony's fear was honest," the report states.
Jenkins welcomed the attorney general's review and "will assist and cooperate as needed," she told CNN in a statement Tuesday.
"I heard the public's concerns and we released a comprehensive analysis and report that included investigative records, witness statements and video evidence, so the public could see all of the facts and details and understand how we arrived at our decision. We provided the highest degree of transparency possible that we could with this case," she said.
Burris said Tuesday his clients are pleased with the decision, as they think a review by another prosecutor is justified.
The-CNN-Wire
™ & © 2023 Cable News Network, Inc., a Warner Bros. Discovery Company. All rights reserved.
CNN's Veronica Miracle, Taylor Romine and Eric Levenson contributed to this report.