California still has an anti-gay marriage law on the books. Voters could remove it next year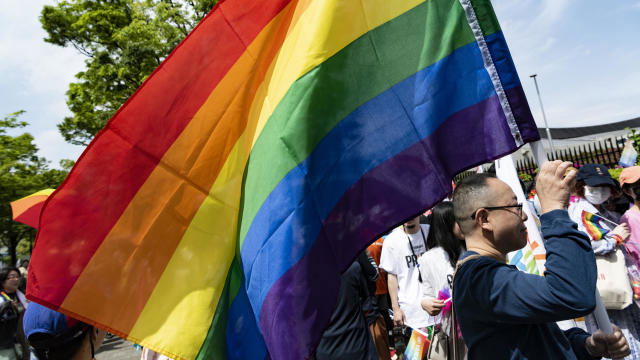 By SOPHIE AUSTIN
Associated Press/Report for America
SACRAMENTO, Calif (AP) — California voters will decide in 2024 whether to enshrine the right to same-sex marriage in the state constitution, a chance for them to permanently remove an inactive ban on same-sex marriage that they approved in 2008.
The California Senate overwhelmingly passed the proposed constitutional amendment on Thursday, though most of the chamber's eight Republicans did not take a position. It would repeal a 2008 measure, known as Proposition 8, which voters approved to ban the state from recognizing same-sex marriages.
In practice, that law has been void for about a decade. In 2013, the U.S. Supreme Court cleared the way for same-sex marriage in the state. But it remains on the books and can only be removed by voters.
"What we are doing today is joyous," said Sen. Scott Wiener, a Democrat representing San Francisco. "What the voters, I believe, will do next year is joyous. This is about recognizing the fundamental humanity of all 40 million Californians."
Wiener and Democratic Assemblymember Evan Low, both members of the California Legislative LGBTQ Caucus, introduced the legislation after the U.S. Supreme Court's ruling last year that overturned the right to an abortion, putting the fates of other previously decided rights into uncertain territory. Supreme Court Justice Clarence Thomas said at the time the court should reconsider its rulings on prominent cases such as the 2015 decision requiring states to recognize and issue licenses for same-sex marriages.
In an emotional debate on the Senate floor, lawmakers said the proposed amendment was long overdue. Democratic Sen. Caroline Menjivar, who is lesbian, fought back tears while sharing a story about her family members refusing to attend her wedding.
"This vote goes beyond faith. It goes to the damage it causes to me and my LGBTQ+ families and friends," Menjivar said.
California took the national spotlight in 2004 when then-San Francisco Mayor Gavin Newsom issued marriage licenses to same-sex couples, even though it was illegal at the time. The move was controversial even among Democrats and was halted by a court. Then-Republican Gov. Arnold Schwarzenegger vetoed a subsequent legislative attempt to legalize gay marriage. Then voters in 2008 passed Proposition 8.
After another round of court intervention, same-sex marriage has been legal in the state since 2013. The U.S. Supreme Court legalized gay marriage nationally two years later.
In 2020, Nevada became the first state to ensure the right to same-sex marriage in its state constitution.
California Sen. Brian Dahle, a Republican representing part of Sacramento County, decided not to vote on the proposed amendment, citing religious reasons.
"I truly, truly love so many of you that have lost your rights," he said, referring to his LGBTQ colleagues. "This is about me. It's not about our relationship. It's about what I think I need to do in my faith."
But Sen. Steve Padilla, a Democrat representing San Diego, said Thursday's vote was not about personal religious beliefs.
"It is about whether the government we serve in a pluralistic society with many faiths treats us all equally before the law," he said.
___
Sophie Austin is a corps member for the Associated Press/Report for America Statehouse News Initiative. Report for America is a nonprofit national service program that places journalists in local newsrooms to report on undercovered issues. Follow Austin on Twitter: @sophieadanna.