SPECIAL REPORT: What are accessory dwelling units and how they can help create more places to live in California
MONTEREY COUNTY, California (KMUV) The housing crisis is a problem in the United States and California is feeling it more than anything as they have to build more than 2.5 million homes by 2030.
According to the regional housing needs allocation plan, between 2014 and 2023, Monterey and Santa Cruz County had to build 10,430 new homes.
Now, in a new report, the number tripled from 2023 and they need to build 33,274 homes by 2030 – 20,300 have to be in Monterey County alone.
In an effort to deal with the housing crisis, Governor Newsom signed several legislations in September that would make home building easier. Among them is SB 897, which eases certain restrictions for permits to build additional dwelling units or ADUs.
The intent is to encourage and facilitate the construction of more homes to combat the housing shortage in the state of California.
And to facilitate the construction of more places to live, Salinas created pre-approved plans for homeowners to build more homes on their properties.
This tiny house in the background is what the government calls additional dwelling units—or ADU—which are projects where another home is built on a residential property.
"We don't have a lot of space to build new houses, but we do have space in our house to build ADUs," explains Cynthia Godina, a designer and architect. "Those who have space can rent for someone or for their family."
Godina designed this 1,000-square-foot, 3-room backyard house and she helps with the site plans and other documents needed by the city to approve the project.
"In my perspective of construction," said Raul Ortega, an engineer for the city of Salinas. "The review of the plants in this last year or so have been mostly 80% ADUs."
There are four types of additional dwellings that can be built on a property. They can convert your garage, separate a space within the house, produce a space attached to the house, or build something completely separate, which are the plans that the City of Salinas produced this year.
There are 4 pre-approved designs, 4 different sizes, to facilitate the construction of these additional homes. One Bedroom/ One Bath 495 square feet and 553 square feet. Two Bedroom/Two Bath 746 square feet and 749 square feet.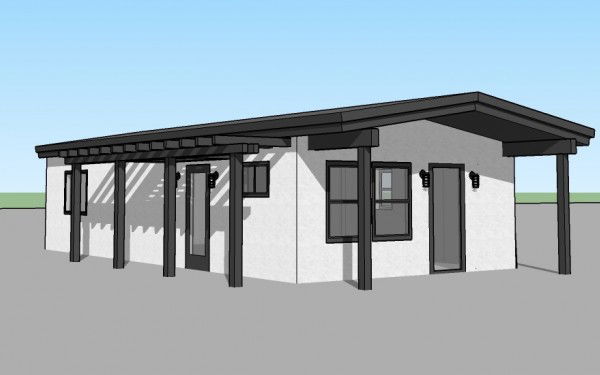 And even if the government has these resources available, the property may not have room for those models and they may have to start from scratch.
"We were trying to figure out how to streamline the process for someone who wanted to put in ADUs on their property," recounts Jack Kirk who created Premier ADU trying to make the process easier for people who are hung up with design, financing and construction. "We were getting bogged down in design and financing and construction. So our concept was, get it all in one place so that someone who maybe doesn't have a lot of construction experience can come in and create a successful project from start to finish."
Like Salinas, Premiere ADU also offers simpler pre-created plans that have already been approved throughout Monterey County and San Benito.
Among the incentives are also grants up to $40,000 for pre-development and post-closing expenses not associated with ADU construction.