Seaside Police hosted 6-mile run to honor Officer Jorge Alvarado Jr.
SEASIDE, Calif. (KION-TV) UPDATE MARCH 20, 2022 at 12:30 p.m.-- Dozens gathered on Sunday morning for a 6-mile fundraiser to help donate funds for Salinas Police Officer Jorge Alvardo Jr., who was tragically gunned down in the line of duty in February.
Community members as well as Mayor of Seaside Ian Oglesby, several Seaside Police Officers and Seaside Police Chief Nick Borges all participated in the run around Seaside High School's track to show their love and support for the Salinas Police Department.
"Four of our officers who work here went to the Police Academy with Officer Alvarado, so it's really personal to Seaside PD," said Borges. "This is the Seaside community I know and love. We come together when there's trauma, when there is tragedy, we pull together and help each other out. In this small area, this small peninsula, this small county, we're all really one."
Shirts, stickers and wristbands to keep track of your lap progress were all on sale.
The funds gathered from the run will go to Jorge Alvardo's Fund a Hero page set up by the Peace Officers Research Association of California.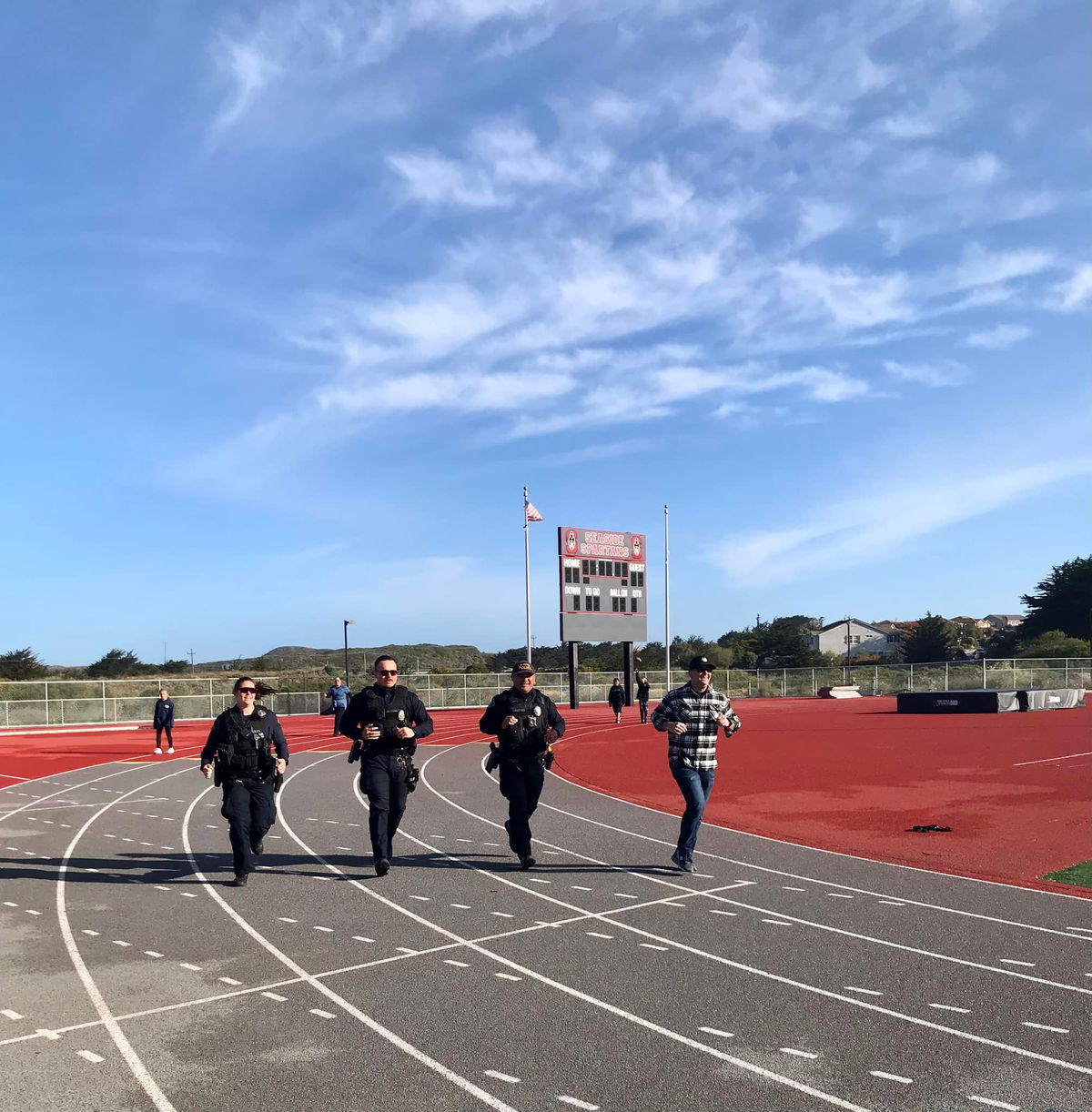 "What we wanted to do today, was put something together and have a good turnout. For supporting our local agencies and the loss of our fellow officer in Salinas," said Sr. Administrative Assistant for Seaside Police Regina Lualemana. "It was just devastating, we wanted to do what we could in order to support the family and just show our support for him. We are grateful for the people that are here."
"6 miles is absolutely nothing compared to the time he served (Officer David Alvarado Jr.) our country, for the time he served our communities," said Mrs. Rogish. "Chief Filice, we love you. Salinas Police, we love you. Alvardo family, we got your back."
---
UPDATE MARCH 15, 2022 at 1:01 p.m.-- Seaside Police Department is hosting a six-mile run to honor fallen Salinas Police Officer Jorge Alvarado Jr. on Sunday, March 20.
The event will be hosted at the Seaside High School track and begin at 9 a.m.
Shirts will be available for purchase and donations are welcomed.
All the proceeds will go to PORAC's Fund a hero campaign for Officer Alvarado.
ORIGINAL STORY
Denny's locations in Salinas are planning to donate proceeds to help Officer Alvarado's family on Thursday.
If you visit a location after 7 a.m. on March 10, 50% of all sales from dine-in purchases made will be donated to the family of officer Alvarado.
Additional donations of cash, card, or check can be made as well.
The three locations are on 2005 North Main Street, 1255 De La Torre and 975 East Blanco Road.
---
UPDATE MARCH 4, 2022-- Today, the Salinas community will come together to show support for the Salinas Police Department by hanging up ribbons around the city.
The event comes as the Central Coast marks one week since the death of Officer Jorge David Alvarado Jr.
Members in the community are calling on volunteers to help out. They're asked to bring their cars, thumbtacks, tape, lighters and scissors.
They will meet at the police department's parking lot at 6 p.m.
---
UPDATE MARCH 3, 2022 at 6:12 p.m.-- A few community events are planned for Officer Alvarado this weekend.
An interfaith vigil for peace is planned for Saturday, March 5 starting at 7 p.m. at the Salinas Police Department.
A coffee fundraiser is scheduled for March 6 from 8 a.m. to 10 a.m. on South Main Street.
The event is hosted by Salinas Cars & Coffee.
To donate and help Alvarado's family you can donate here.
ORIGINAL STORY
Salinas Police honored one of their own officers with a procession Monday after he was fatally shot Friday night.
The procession route started at the Monterey County Sheriff's Office and end at the Struve & Laporte Funeral Chapel.
There is a vigil scheduled for officer Jorge David Alvarado Jr. at Salinas City Hall on March 1, from 3 p.m. to 4 p.m.