Residents reflect on one year anniversary of Central Coast wildfires
MONTEREY COUNTY, Calif. (KION) It has been one year since the River and CZU Lightning Complex fires started during a dry lightning storm, and residents living in the area where the River Fire burned are reflecting on that day.
"There were a lot of fields that we couldn't even graze for quite some time after that," said Clifton Dorrance, fourth-generation cattle rancher and landowner of Dorrance Ranch in Salinas where the lighting strike started the River Fire.
On the morning of August 16, 2020, Clifton Dorrance received a text message from his sister about a fire that was started on the property below their ranch that they had been leasing to run their cattle on.
But what started small vegetation fire sparked by a lighting strike soon became the River Fire engulfing 48,088 acres along River Road in Salinas to south Greenfield. The River fire destroyed 30 structures, including homes and four people were injured. Thousands of people were evacuated from their homes during the fire, but it was finally fully contained on Sept. 4 of that year.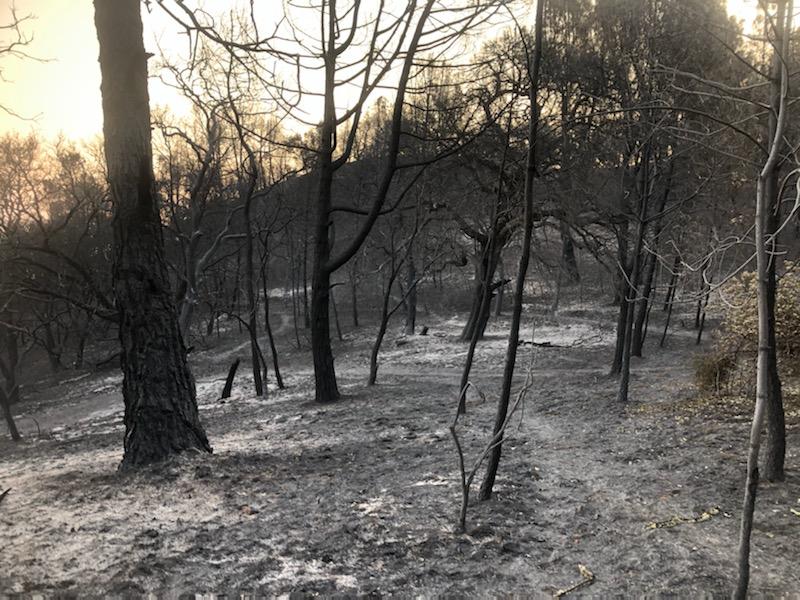 "But in a situation like this—what we've been seeing in the summers in California, where there are so many fires and resources are spread so thin," Dorrance said, "There gets to be a point where really the staff or Cal Fire really is only available to protect the residences and the residential areas."
While Dorrance tried to keep their cattle away from the fire, it got to a point where he had to open the gates and hope the animals would be able to save themselves if the fire kept expanding into their ranch. Fortunately, Dorrance and his family were able to save and later locate all 150 cattle. But even though Cal Fire announced the River Fire was fully contained on September 4, 2020, Dorrance said they had trees still burning a month later.
Over in Santa Cruz and San Manteo County, The CZU Lightning Complex burned a larger area, 86,509 acres. 1,490 structures were destroyed, and most of them were homes in Santa Cruz County. One Santa Cruz County resident was killed in the fire. It was contained on Sept. 22, 2020.
Now, after one year of recovery, one non-profit organization, Save the Redwoods is dedicated to learning lessons from last year's fires.
'What we saw was really high-intensity fire, come through, completely burn the trees head to toe, torch the trees so that all the needles were burned off and burned surrounding communities and really devastated the landscape," said Anthony Castaño, Land Stewardship Manager of Save the Redwoods League.
Castaño helps heal the earth in the San Vicente Redwoods and Cascades Creek area of the Santa Cruz mountains near Big Basin. Redwoods, he says, are a resilient species of trees that can live up to 2,000 years and regrow despite being charred. Thankfully, the league has witnessed significant regrowth since the fires.
"It's really remarkable to see that the trees still continue to recover in the way that they always have. They're putting on new growth, redwoods are coming back and they're still alive," said Castaño.
Save the Redwoods is trying to prevent another disaster like this from happening again in the mountains. Their solution to prevention is prescribed, intentional burns, and restoration thinning. Castaño says fire suppression in places like the Santa Cruz mountains has lead to years of dry litter buildup.
"We conducted a prescribed burn along a major roadway adjacent to the property... It'll help protect areas to create these buffers for future wildfires so that it can help reduce the intensity and protect adjacent," said Castaño.
The Central Coast Prescribed Burn Association is a new association formed around the time of the CZU Fires. The association describes prescribed burns as "good fire" needed to get rid of excess dry vegetation.
"We have 200 years plus of dead, accumulated sticks and leaves and duff that really only fire can address," said Jared Childress, the coordinator of Central Coast Prescribed Burn Association.