How to prepare your home for fire season
MONTEREY COUNTY, Calif. (KION) For more than two decades, the Monterey County Regional Fire District has had its Wildland Inspection Program to make sure residents are prepared and safe in case of a wildfire breaks near their house. 
Homes along steep slopes and in highly populated areas are the targets of these inspections. This year the program is especially crucial after the Carmel and River Fires devastated parts of Monterey County in August 2020.
Paul Pilotte, a Salinas Resident said, "It gives me a higher level of comfort knowing that another set of eyes has looked over my property and pointed out things I might have not noticed as a homeowner."
Monterey County Fire inspectors tell us the goal is to minimize combustible materials such as vegetation surrounding homes. "A lot [of people] are uninformed on the proper regulations and how to properly prepare their home," said Joshua Terry with Monterey County Regional Fire District. "That's why we're going out to these inspections to help residents help us in the event of a fire."
If needed, inspectors will ask residents to remove overgrown brush from their property.
The spokesperson for the MCRFD Dorothy Priolo said it's sometimes difficult for firefighters to defend homes in the case of a wildfire and it has to do with the brush and unmanaged trees surrounding homes. She said these inspections create a defensible space and prevent debris from becoming a barrier. 
"Defensible space is the area around the home or building that has a managed level of vegetation that not only prevents the fire from spreading directly to the home as much as possible," said Priolo. "But it also enables firefighters to successfully defend the home."
Monterey County Regional Fire District started reaching out to residents about the inspections in the spring. Those residents received letters providing a checklist for requirements that will need to be met in order for their homes to pass the inspection.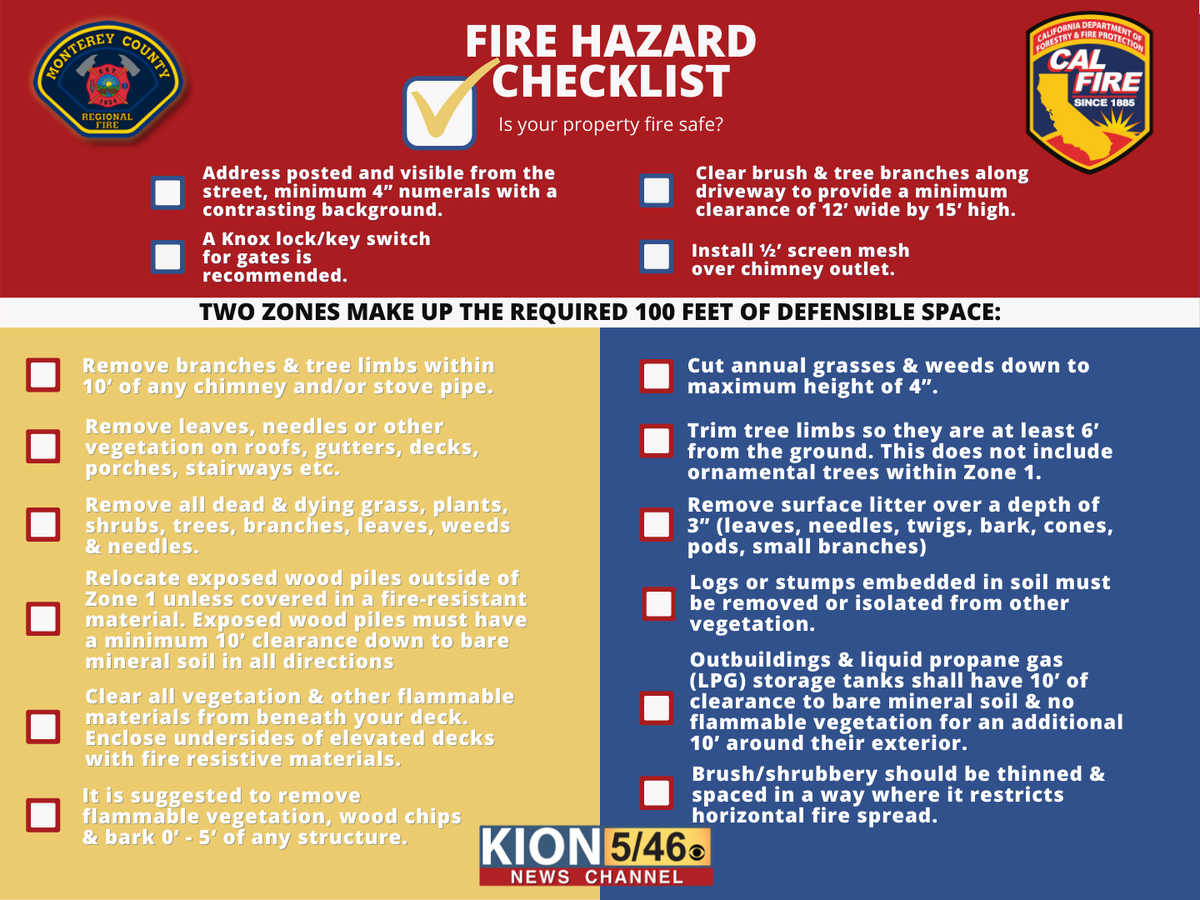 According to Priolo, California Law provides fire crews the ability to enforce these regulations. "You could be a fine associated with it depending on the severity of the noncompliance," said Priolo. "[It] could be hundreds of dollars, depending on the extent and duration of the violation."
An education-based approach rather than enforcement, they said.  About 1700 homes are inspected annually, 80% pass the inspection the first time. That number increases to about 90% after recommendations from the Monterey County Fire.
"A little bit more work for me or my landscapers to come into compliance with the laws that are coming down the pipe but in light of all the homes that have burned down due to wildfire in the state and particularly this area," said Pilotte. "I think it's a move we need to do."
The Monterey County Regional Fire District says a wildland fire can happen at any time of the year. The hope is that this wildland inspection program can prevent an even bigger fire from growing in our area in the future.