VP Mike Pence's visit to Central Coast met with both support and opposition from locals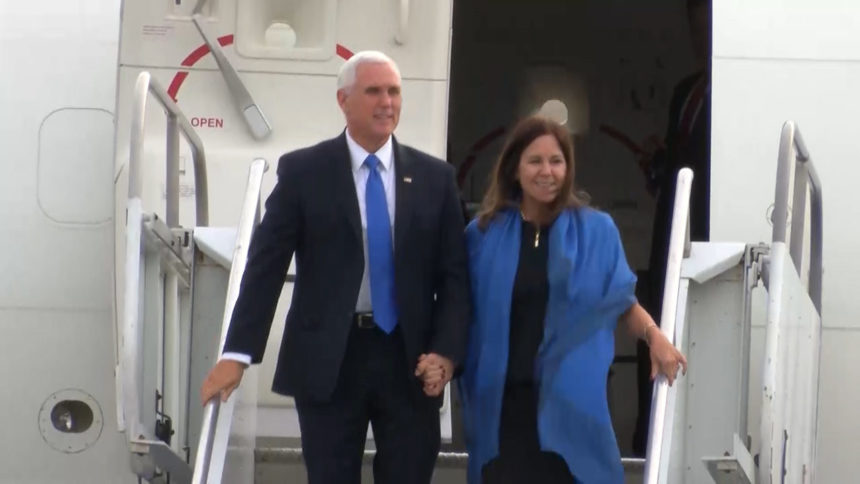 MONTEREY COUNTY, Calif. (KION) Vice President Mike Pence and his wife, Karen, were greeted with loud cheers from the moment they stepped off Air Force Two.
"I mean he's so personable and just seeing air force two flying in here to the Monterey Jet Center is such an exciting moment," said Peter Kuo, a member of the Republican Party.
Pence's visit marks yet another trip to the central coast for pence this year. This time his sights are set on a campaign fundraiser here on the west coast.
Some supporters were meeting a sitting-vice-president for the first time.
"He was very inspiring. Once in a lifetime," said Rodolfo Gomez, who snapped a photo with Pence.
During a brief conversation, Gomez said Pence told him "maybe one day I could be vice president."
In response, Gomez said, "I'm gonna work hard to make that dream come true."
The question as to whether Pence had a response to the impeachment hearings underway did come up.
The Vice President would provide no comment.
CHP and Monterey County sheriff's deputies assisted in escorting the Vice President around the peninsula. A grand motorcade rode through the streets of the Carmel Valley Wednesday to
the Bernardus Lodge and Spa–a reported stop on Vice President Mike Pence's trip to the Central Coast for a fundraiser and dinner.
Only those on the guest list were allowed in. But to get on, it costs a pretty penny. According to the San Francisco Chronicle, an invitation listed that tickets to the fundraiser start at $1,000 and go up to $35,500.
Outside of the spa, some Trump supporters held a sign that read "all abroad the Trump train."
But not all were excited about Vice President's arrival.
"I don't want mike pence here or anywhere. Certainly not anywhere near the White House," said protestor Siobhan Wolfe.
Carmel Valley residents staged a protest outside the venue, holding signs calling for Trump's impeachment and supporting Planned Parenthood.
"I strongly oppose Mike Pence's agenda to de-fund planned parenthood. I'm a big supporter and I think it's really important healthcare for all women," said Carmel Valley resident Laura Dunn.
They were met with honks of support from some drivers, but others threw thumbs down gestures and shouted support for Trump.
Some drivers were frustrated law enforcement halted traffic on West Carmel Valley Road for the arrival and departure.
"We certainly don't need his commotion here. He's impacted us today by holding up traffic for 20, 30 minutes here on a small two lane road," said Carmel Valley resident Dale McCauley.
Pence and his wife's visit comes as the Trump impeachment hearings are underway in Washington D.C.
"It's clear that he has involvement in this. Both Trump and pence are involved in trying to dismantle national security and everybody should be," said protestor Tina Empol.
The San Francisco Chronicle said proceeds of the fundraiser will go to the Trump Victory committee. The Federal Election Committee reports that since January, the campaign has raised over $65 million.