This photo of male intimacy in 1980s India was more subversive than it seems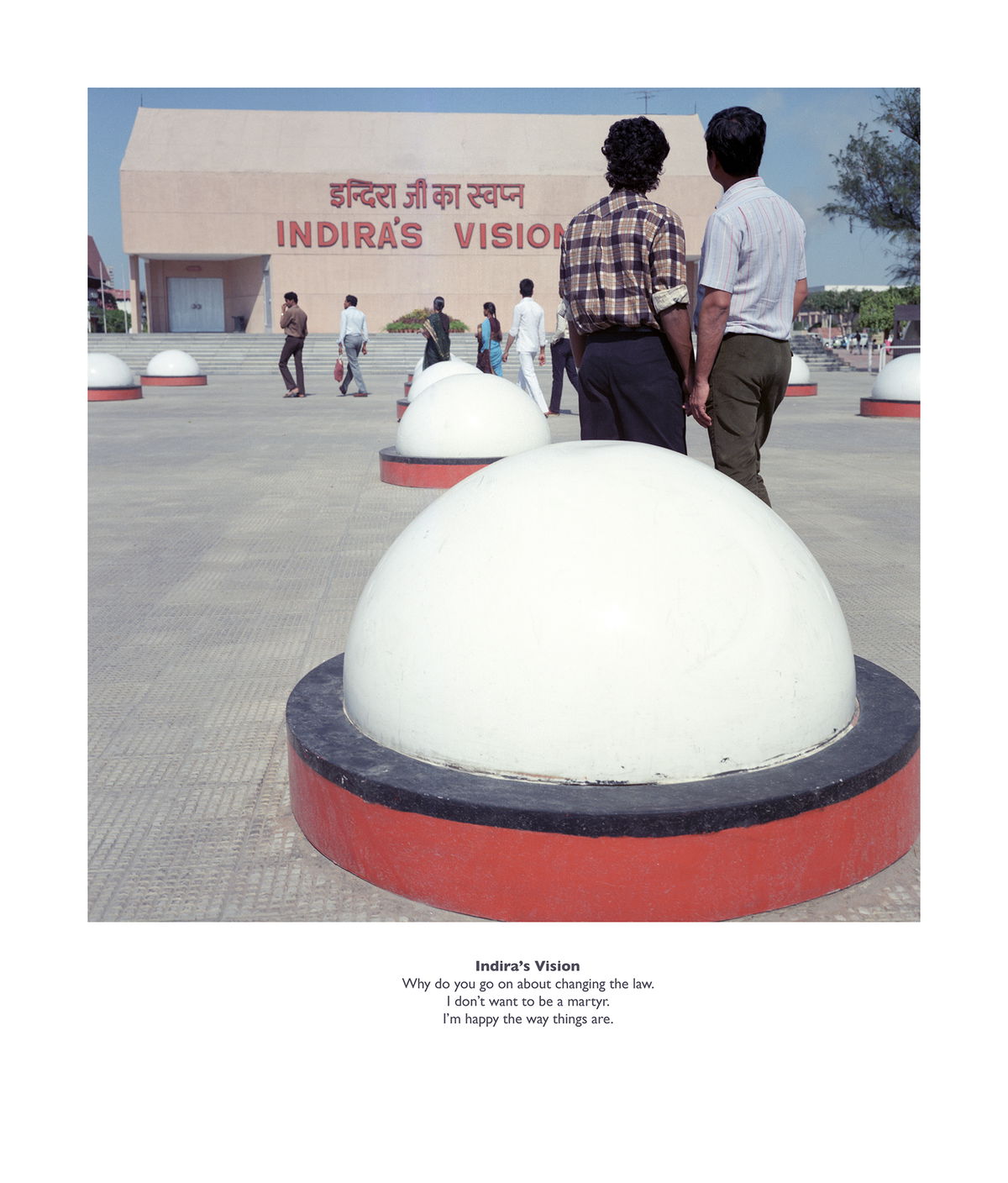 Oscar Holland, CNN
To passersby, the sight of two men embracing besides New Delhi's India Gate in 1986 might have seemed unremarkable. In a city where public displays of platonic male affection are relatively commonplace, it was photographer Sunil Gupta who attracted more attention at the time.
"Men holding hands or lying in each other's laps is not an issue — it looks very romantic from (the outside), but they're usually just hanging out," he said in a video interview from the UK, before recalling: "I was creating more interest than them, because I was standing there with a tripod and a camera, so everybody was focused on me."
Onlookers may not have realized, but Gupta was creating a subtly subversive image in what he has described as the "repressive atmosphere" of 1980s India. At a time when homosexuality was more taboo in the country than it is today — and with consensual gay sex then criminalized as an "unnatural offense" — the photographer had found his subjects via the informal networks constituting Delhi's gay scene. The pair in question had chosen the war monument's gardens for their photo shoot due to its reputation as a cruising spot.
Having lived in New Delhi until his mid-teens, London-based Gupta knew this from personal experience. "I passed that place on my way to school every day for 11 years," he said. "You just had to hop off the bus and get laid on your way home. It was very easy."
The image forms part of the photographer's series "Exiles," which was first exhibited in the UK in 1987 but is this week showing at the India Art Fair in New Delhi. Primarily shot outdoors around India's capital, it captures gay men sat on benches or in public places popular among those looking for casual sexual partners, their faces often out of shot or turned away from the camera.
Concerned about "outing" his subjects, Gupta treated them as collaborators in what he called a "constructed documentary" approach. After shooting his images and developing the film in London, he returned to Delhi with printed contact sheets to ensure the men were comfortable with the pictures he selected for his show.
"There was quite a bit of horsing around in the pictures," he said of the India Gate shoot. "And there were other photos that were (more suggestive)… So I picked a somewhat tamer one to put in the series."
The other ethical challenge, he recalled, was communicating to the duo how the images would be used — and the art of photography itself.
"It wasn't for publication, and the only way they saw pictures was in a magazine, so it took some explaining," he said, adding: "Then I tried to explain the process."
Photography for many at the time, Gupta observed, was still "a very mysterious thing that only a few people did in a darkroom."
For 'the canon'
Now among India's most celebrated photographic artists, Gupta often addressed LGBTQ experiences in his explorations of race, immigration and identity. While studying in the US in the mid-1970s he produced a now-celebrated series of photos from New York's Christopher Street that captured the city's gay scene in the years between the Stonewall Riots and onset of the AIDS epidemic.
Although "Exiles" presented a rare portrait of gay life outside the West, Gupta's intended audience was always back in London. Homophobia was rife in 1980s Britain, and the photographer said he faced "a lot of hostility" at art school for making work relating to his sexuality.
"I couldn't make gay work, and I couldn't make gay work about India, especially," he said. "There was none in the library for reference. So, I thought, 'I'm making it my mission to make some. Not for India, but for this canon — we need to have gay Indian guys in our library, in our art schools, over here.'"
New York's Museum of Modern Art has since acquired several of the pictures for its permanent collection, signifying the series' place in contemporary photography. But it was not an instant success.
"It didn't have any impact when it was first shown," Gupta said of its debut. "I think it was too early."
By the 1990s, however, interest in Gupta's work was growing, as art made by, and about, gay people of color became increasingly visible in the West. The fact that "Exiles" is now showing in India, where he said it is positively received, is testament to changes on the subcontinent, too.
Although the country's LGBTQ communities still face significant social stigma, gay sex was decriminalized in 2018 and the arrival of apps like Grindr have been transformative, Gupta said. ("Those sorts of chance meetings behind the bush are not happening — or maybe happening less," he added). This modern context and the power of hindsight have helped paint the photos in a new light.
"I think it has become historical enough that people are curious about what gay life was like before Grindr and the internet," Gupta said. "People think it was all doom and gloom, and people jumping off buildings. They don't seem to appreciate that we also managed to have some kind of a life back then."
This is a message reflected in the photographer's carefree India Gate shoot, which he recounts as a relaxed day of fun and abundant sunlight.
"It just seemed very pleasurable. It was a nice day out, and I got to hang out with these guys who were having a good time and having a laugh."
"Exiles" is showing via Vadehra Art Gallery at India Art Fair, which runs February 9-12 in New Delhi, India. A book of outtakes from the series, published by Aperture, is available now.
The-CNN-Wire
™ & © 2023 Cable News Network, Inc., a Warner Bros. Discovery Company. All rights reserved.