Warmer Start To The Week, But It Won't Last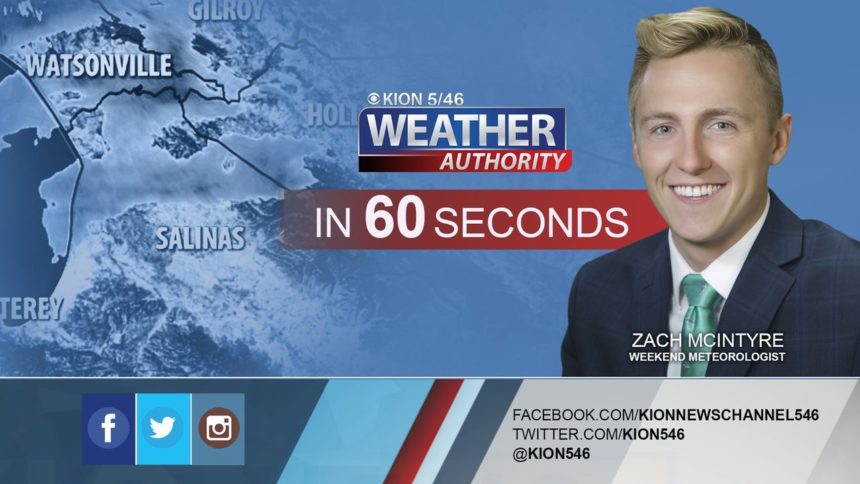 Temperatures continue to climb today behind this weekend's weather system. However, the warm-up won't last. Overall troughing will continue on the west coast with another lobe of low pressure rotating back toward us mid-week. This will once again bring cooler temperatures and increased clouds both to coastal and inland areas. Winds will pick up as well. Temperatures will slowly warm into the holiday weekend as low pressure to our north/east eases, but periodic winds will continue.


Tuesday: Patchy low clouds near the coast, otherwise mostly sunny with a few high clouds passing through. Warmer, with coastal highs in the mid-60s to mid-70s and 80s to mid-90s inland. Breezy for inland valleys in the afternoon.
Overnight: Widespread low clouds with patchy drizzle. Patchy low clouds slow to develop around the bay. Otherwise, clear. Expect coastal lows in the upper 40s to low 50s with 40s for inland areas.

Wednesday: Low clouds will be on the increase with cooler temperatures expected. Coastal highs will stay in the 60s with mainly 70s inland. Breezy at times in the afternoon.

Extended: We'll see low clouds on the coast for most of the next week with slightly cool temperatures—mainly in the 60s. Inland areas will be cool too on Thursday, then warming Friday, and above normal into the holiday weekend. Conditions will likely be hot & dry inland with bouts of wind, so please be extra careful over the holiday!

-------------------------------------------------------------------------

This week's normal temperatures:
--COASTAL CITIES--
LOW: 53ºF
HIGH: 69ºF

--INLAND CITIES--
LOW: 50ºF
HIGH: 85ºF

----------------------------------------------------------------------------
-The outlook from the Climate Prediction Center for July 7th-13th calls for the likelihood of BELOW normal temperatures and near normal precipitation. Note: Little to no precipitation typically falls this time of year.

-El Niño/La Niña STATUS: Neutral
-Forecast into Summer: Neutral
-Forecast into Winter: Equal chances of Neutral and La Niña

-Area drought status: Good to Abnormally Dry