Weekend Relief from the Heat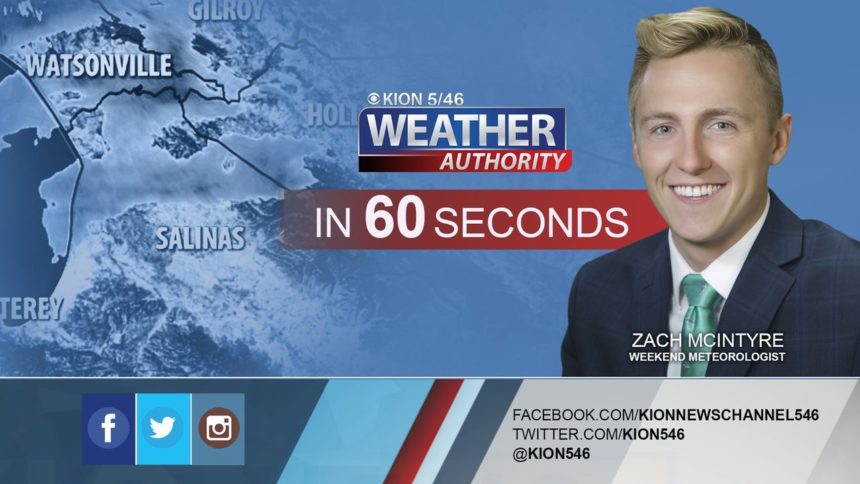 A trough of low pressure will approach from the west today. At first, we'll see an increase in high clouds and then as the marine layer deepens overnight, low clouds and cooler temperatures will push inland. Some patchy drizzle will be possible. The system will pass by quickly and may spawn a light shower over the inland hills Friday afternoon. Behind it, breezy northwest winds will kick up, ushering in cooler temperatures to all areas through the weekend. The pattern won't move much next week, but it also will be fairly zonal--essentially lacking any major troughs or ridges--so you can expect fairly seasonable temperatures and only partly cloudy skies. It may be breezy at times, however.

Friday: Mostly cloudy early with patchy drizzle. Then, becoming partly cloudy with a stray light shower possible over the inland hills/mountains. Cooler and breezy at times with highs in the 60s-70s. A few southern Monterey County locations may make it into the low 80s.
Overnight: Widespread low clouds with patchy drizzle. Lows in the 40s-50s.
Saturday: Partly cloudy and breezy at times. Slightly cool with coastal highs in the 60s to low 70s and mainly 70s to around 80ºF inland.
Extended: Expect mostly sunny skies for most of next week with coastal highs in the 60s-70s and 70s-80s inland. Low clouds will be possible for the coast in the mornings with afternoon sun.

-------------------------------------------------------------------------

This week's normal temperatures:
--COASTAL CITIES--
LOW: 52ºF
HIGH: 67ºF

--INLAND CITIES--
LOW: 48ºF
HIGH: 81ºF

----------------------------------------------------------------------------
-The outlook from the Climate Prediction Center for June 19th-25th calls for the likelihood of ABOVE normal temperatures and ABOVE normal precipitation. Note: Little to no precipitation typically falls this time of year.

ADVERTISING
-El Niño/La Niña STATUS: Neutral
-Forecast into Summer: Neutral
-Forecast into Winter: Trending toward La Niña

-Area drought status: Good to Abnormally Dry