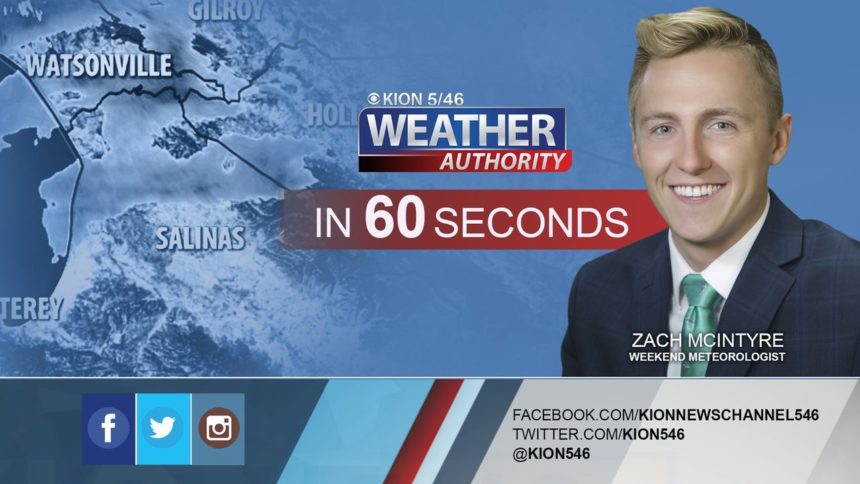 High pressure will slowly build in throughout the week. However, its warming trend will be paused Tuesday into Wednesday as a weather system passes by to our north. While it won't necessarily cool us, the steady upward climb of temperatures will be delayed. We'll also likely see some wind on Wednesday. The warm-up continues Thursday into Saturday with highs some 8-18ºF above normal, all under mostly sunny skies. Some cooling expected out of next weekend as some moisture streams in from the south which will also increase high clouds.


Monday: Mostly sunny and a bit warmer with coastal highs in the low 60s to low 70s and 70s to mid-80s inland. Breezy at times inland.
Overnight: A few coastal clouds possible, otherwise clear. Coastal lows in the 40s with 30s-40s inland.

Tuesday: Mostly sunny and warmer with coastal highs in the mid-60s to mid-70s and upper 70s to upper 80s inland.

Extended: Warming will pause on Wednesday and may even be a bit cooler on the coast with increased wind, then temps will head back up through Friday & Saturday under mostly sunny skies.

The outlook from the Climate Prediction Center for May 11th-17th calls for the likelihood of ABOVE normal temperatures and near normal precipitation.

El Niño/La Niña STATUS: Neutral
Forecast into Summer: Neutral

--------------------------------------------------------------------------

This week's normal temperatures:
--COASTAL CITIES--
LOW: 48ºF
HIGH: 65ºF

--INLAND CITIES--
LOW: 44ºF
HIGH: 74ºF