Your Weather in 60 Seconds with Zach 12 11 19
Mild & Moist For Now
The weather pattern will remain somewhat active into next week with the tail ends of several weather systems moving across the area. The next disturbance will approach late Friday night into Saturday with more light rain possible. This will also bring some wind and cooler temperatures to the region beginning Saturday. A stronger system will be possible mid-week next week.

*Dense Fog Advisory*
The National Weather Service has issued a Dense Fog Advisory until 9AM for coastal cities and lower elevation valleys around the Monterey Bay Area.

Expect visibility one quarter mile or less in dense fog, leading to hazardous driving conditions due to low visibility.

If driving, slow down, use your headlights, and leave plenty of distance ahead of you.

*High Surf Advisory*
The National Weather Service has issued a High Surf Advisory for the immediate coastline of Monterey and Santa Cruz Counties through 3AM Saturday.
-Northwest swells 12 to 14 feet at 17 to 18 second periods. Breakers of 16 to 22 feet possible.

- High tide will correspond with the peak of the swell Friday morning between 10AM and noon. Localized coastal flooding possible as a result of increased wave run-up.
-Large breaking waves along the coast will lead to increased wave run-up on beaches with waves topping and washing over large rocks and jetties. Use extra caution near the surf zone as these large waves will be capable of sweeping people into the frigid and turbulent ocean water. Cold water shock may cause cardiac arrest, and it also can cause an involuntary gasp reflex causing drowning, even for a good swimmer. Long periods increases the risk of rip currents. The surf zone will be dangerous due to strong currents and powerful breaking waves. A High Surf Advisory means that high surf will affect beaches in the advisory area, producing rip currents, localized beach erosion, and sneaker waves.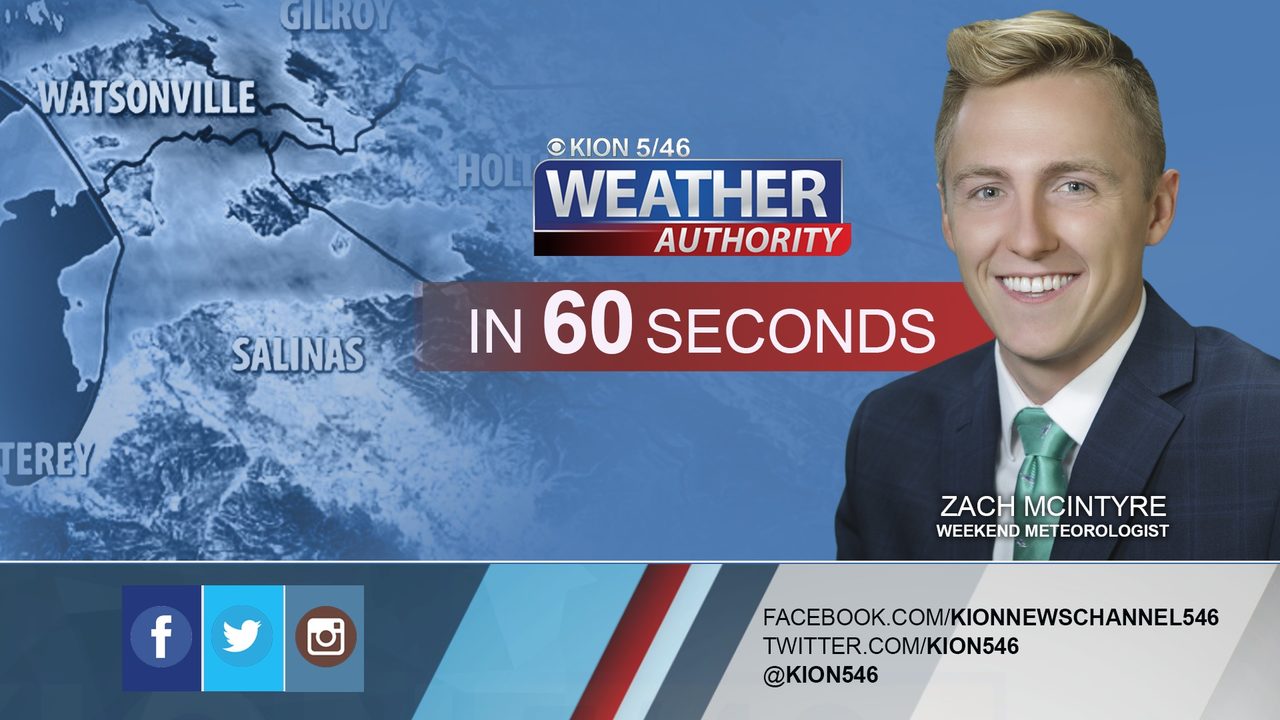 Friday: Low clouds early, then partial clearing. Then, high clouds increase. An area of light rain will move into the Monterey Bay area after dark. Highs in the upper 50s to mid 60s with a few locations in southern Monterey County between 65ºF-70ºF.
Overnight: Light rain showers possible overnight, with some patchy fog possible. Mild with low in the upper 40s and 50s.

Saturday: Mostly cloudy with isolated showers early, then becoming partly cloudy, cooler and breezy in the afternoon. Highs in the upper 50s to low 60s.

Extended: Another cool, breezy day on Sunday under partly cloudy skies, clearing on Monday. Lows will be chilly early next week with cool to seasonable highs. Rain returns mid-week.

The outlook from the Climate Prediction Center for December 20th – 26th calls for the likelihood of ABOVE normal temperatures and ABOVE normal precipitation.

El Niño/La Niña STATUS: Neutral
(Winter) Forecast: Neutral

--------------------------------------------------------------------------
This week's normal temperatures:
--COASTAL CITIES--
LOW: 42ºF
HIGH: 60ºF

--INLAND CITIES--
LOW: 36ºF
HIGH: 61ºF