Salinas man arrested on hit-and-run charges after allegedly fleeing from a car crash
MARINA, Calif. (KION-TV)- Marina Police have arrested a 30-year-old Salinas man on felony hit and run plus DUI charges after he allegedly fleeing the scene of a car crash on Saturday night.
Officers said that they responded to reports of a three-vehicle crash in the area of Imjin Parkway and Preston Drive around 10:40 p.m. When officers got to the scene, they discovered that a driver of a red Dodge Durango was reported to have fled the scene on foot.
Investigators said that the driver of a silver Toyota 4-Runner SUV sustained minor injuries after both tires on the driver's side of the vehicle were sheared off the vehicle. Police said the driver was treated on the scene.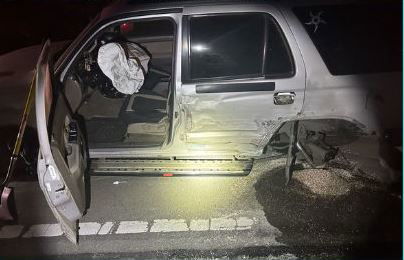 Marina Police remained in the area to look for the driver of the Dodge Druango who fled on foot.
Around 12:40 a.m. an officer was able to spot the suspect along Imjin Parkway and started chasing the suspect but the male suspect was able to get away.
Marina Police said another officer spotted the suspect for a second time around 1 a.m. and established a perimeter on the 3000 block of Lexington Court.
Police identified the suspect as Arturo Noel Porraz II of Salinas. Porraz was arrested without incident.
Officers discovered that Porraz was driving with a blood alcohol content over 0.08%. Porraz was transported to a local hospital to get treatment for injuries he sustained in the crash.
After being released from the hospital, Porraz was booked into the Monterey County Jail on multiple charges including felony hit-and-run, violation of probation and felony DUI charges.