State hospital confirms Paradise home out of consideration for rapist
By Ryan Ketcham, Brandon Downs and KION Staff
PARADISE, Calif. (KION-TV)- UPDATE AT 6:04 P.M. ON FEB. 23, 2023- The Paradise Police Department says it has received confirmation that the Gate Lane home in Paradise is no longer in consideration for housing rapist Michael Cheek. 
On Wednesday, USKO Realty told our sister station in Butte County Action News Now that the house was no longer in consideration but Butte County District Attorney Mike Ramsey said he didn't receive confirmation. 
On Thursday, the Paradise Police Department said Ramsey reached out to Liberty Healthcare on Wednesday and confirmed the home located at 1550 Gate Lane has been pulled from consideration.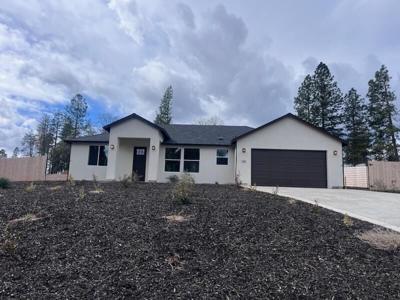 Liberty Healthcare told Ramsey it would continue its search to place Cheek somewhere else. The Department of State Hospitals also confirmed the Gate Lane home was pulled from the sexually violent predator housing consideration. 
A previously scheduled hearing to send Cheek to the home was vacated by a judge in Santa Cruz County, according to the Paradise Police Department. 
Cheek, 71, was convicted of kidnapping, rape and forcible oral copulation in 1980. A year later, he escaped custody and raped a teenager. 
Santa Cruz County in fight with Northern California over housing a violent predator
Santa Cruz County and Butte County are in a battle over who has to house a sexually violent predator.
Michael Cheek, 71, was convicted of kidnapping, rape and other crimes in the 80s. With backing from a Santa Cruz County Court Judge, the state hospital contracted vendor, Liberty Healthcare Corporation, now proposes that he stay in Paradise with state supervision.
Read More: Bonny Doon neighborhood voice concern about violent sex offender possibly moving in.
Nobody wants to house someone with a reputation like Cheek. A dozen neighbors came out of their homes to speak with our sister station in Butte County Action News Now, and many of them say they are furious and scared to have Michael Cheek there since many kids live in the neighborhood.
"I couldn't live in a neighborhood where he lives. I couldn't do it," said Jayne Keith who lost 2 homes in the Camp Fire.
Keith and many of her neighbors say if Cheek moves to the neighborhood, they will sell their homes; some even say they will leave the town.
Cheek was convicted of kidnapping, rape and forcible oral copulation in 1980 when he abducted a woman from Seabright State Beach in Santa Cruz.
Officers said Cheek drove the 21-year-old woman to a remote location and raped her at gunpoint. He was then sentenced to 20 years in prison but he escaped custody and raped a 15-year-old girl in 1981 in Lake County.
He was sentenced to an additional 11 years and four months for rape and furnishing a controlled substance to a minor.
A Santa Cruz County Court Judge agreed to let Cheek live in a supervised home. In 2020, the court was going to send him to Butte County to live with his sister in Berry Creek, but Butte County fought it.
In 2020, the supervision contractor proposed housing him at his sister's home in Berry Creek but Butte County District Attorney Mike Ramsey and Sheriff Kory Honea objected to the proposal, saying it was too close to a school. The consideration was pulled when his sister withdrew her consent.
Ramsey noted that the school and his sister's home were destroyed in the Bear Fire later that year.
In July 2021, the supervision contractor found a place for Cheek in Santa Cruz but in August of that year, a private school opened near the proposed home.
The decision to move to that home in Santa Cruz was denied in January 2023.
Similarly, when we spoke to neighbors in Bonny Doon, they had the same reaction back in 2021. "Absolutely not acceptable in a community like ours," Tricia Proffitt, Bonny Doon Resident.
"It's just the worst possible place, to place somebody because he's on an electronic monitoring but power often goes out. There's intermittent wifi. There's very little cell coverage. Very little police coverage. And this community is still recovering from the fire that happened exactly one year ago this week," said Ryan Coonerty, Third District Supervisor Santa Cruz County when asked back in 2021.
Coonerty said it made no sense to house Cheek because he is from the East Bay and came to Santa Cruz for a day when he committed the crime he was convicted of.
He "Took a woman at gunpoint from Sea Bright Beach and took her into the woods and raped her. Was convicted, escaped from jail, and then raped a 15-year-old in another community," mentioned Coonerty.
The state tried to release Cheek to San Mateo County in 2021, but the community there fought back.
Butte County District Attorney Mike Ramsey says the county, the Town of Paradise, and Paradise Police are all against having Cheek move to Paradise.
"We do not want to be a dumping ground for other county's sexually violent predators," said Ramsey.
Ramsey told Action News Now Santa Cruz County Court would hold a hearing in March about this, and Butte County has until Feb. 24 to come up with enough evidence to object.
Here are some of the guidelines the county can use to object. If the home is ¼ mile from a school, children's congregation, or daycare. It also can't be close to parks.
Ramsey says Butte County received the news of the proposed home on Feb. 2 and objected to the decision since they were not involved in the conversation and did not hear from the courthouse about the ruling but rather through local news stations.
The objection was denied. That does not mean Cheek will move to Paradise, though. If the county gets enough evidence showing the home is not fit for Cheek to live in, they can send the objection to the courthouse. If approved, the proposed home will no longer be an option.
Ramsey and several neighbors believe Paradise Memorial Trailway can be used to stop the move. That trail is a popular walking and biking area for families. Neighbors say kids walk it daily to school and it's very close to the proposed home.
"I jog this every week, my wife and I walk this daily. There are kids up and down this all the time. High schoolers jogging, there's high schoolers right down the road," said Devin Gutierrez and elementary school teacher.
A school bus stop also picks up and drops off at least 5 to 6 kids daily. It's right around the corner from the home.
A town hall meeting is scheduled at Paradise Alliance Church on Clark Rd. on Feb. 16, 6:30 p.m. - 9 p.m., to discuss everything.
Paradise Police Department says its officers will go door-to-door in the coming weeks to gather information to object Cheek moving to town.
For more information on Cheek and the proposed home in Paradise, click here.