The NFL Draft: How have number one draft picks performed at quarterback?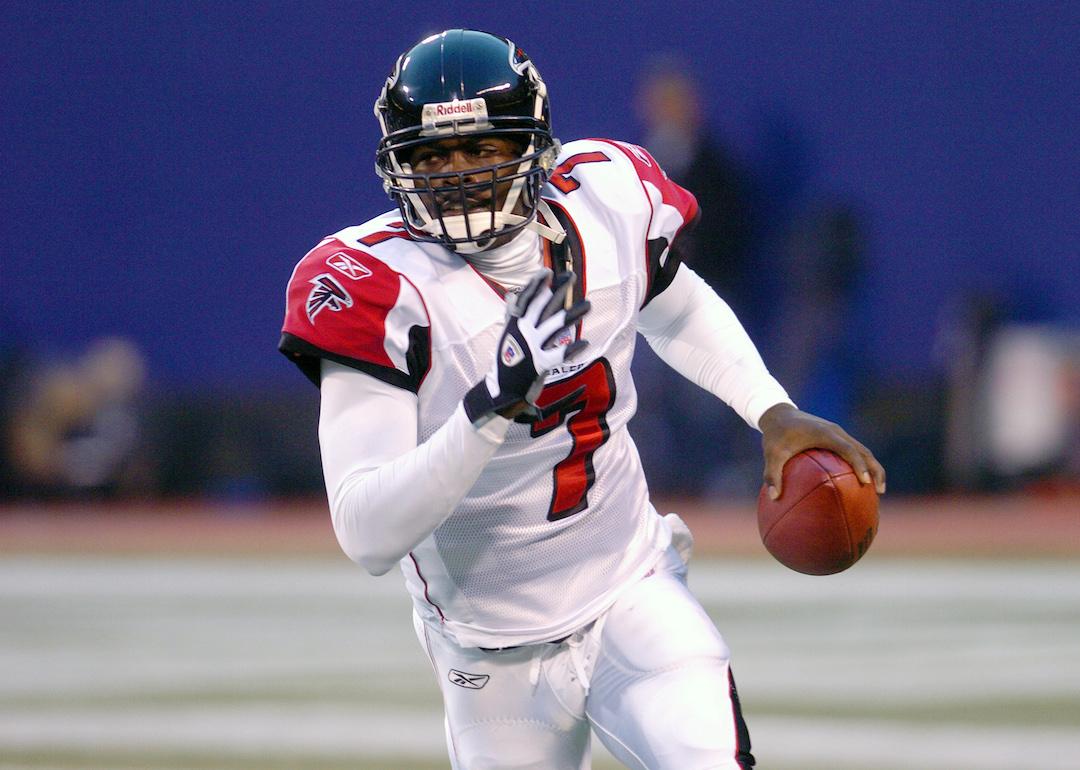 Focus on Sport // Getty Images
The NFL Draft: How have number one draft picks performed at quarterback?
Michael Vick #7 of the Atlanta Falcons runs with the ball against the New York Giants.
Every year the NFL hosts its annual draft event and every year teams reach for quarterbacks. The payoff of selecting a Pro Bowl-caliber quarterback is obvious. When the pick pans out, playoff appearances soon follow and ticket and merchandise sales soar. But for every success story, the top of the draft is littered with busts. Franchises rise and fall on the back of quarterbacks, as do coaches and general managers. The pressure is particularly ramped up when a team owns the first overall pick in the NFL Draft. Since 2000, 23 separate players have heard their name at the start of the NFL Draft. Of those 23 players, 16 were quarterbacks. While the jury is still out on some of the recent picks, for the most part, we know how those players and franchises have fared. 
OLBG has assembled a rundown on every quarterback selected first overall in the NFL Draft since 2000.
---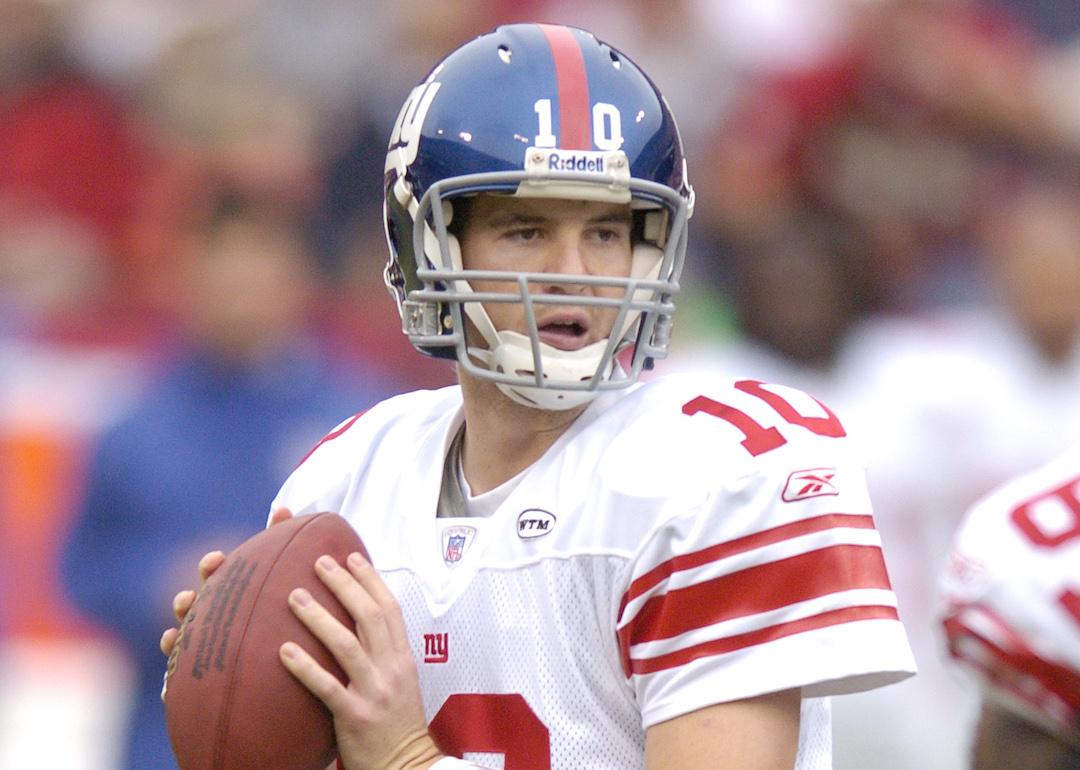 Focus on Sport // Getty Images
2000s
Eli Manning of the New York Giants drops back to pass against the San Francisco 49ers during an NFL football game.
Michael Vick, Atlanta Falcons (2001)
College: Virginia Tech
Career Highlights: 4x Pro Bowler, NFL Comeback Player of the Year (2010), 6,109 Career Rushing Yards (QB Record)
Record As A Starter: 61-51-1 Regular Season, 2-3 Playoffs
Michael Vick had a Shakespearean career. He willed the lowly Atlanta Falcons to the playoffs twice in his first four years as the starter, bringing them to the NFC Title Game in 2004. His game-changing ability both on the ground and through the air made him must-watch TV and a fan favorite across the NFL. But in 2007 he plead guilty to federal charges related to his involvement in a dog fighting ring. He would serve 21 months in Leavenworth Penitentiary. The Atlanta Falcons released him and he was signed as Donovan McNabb's backup in Philadelphia in 2009. By 2010, Vick was a starter once again and led the Eagles to the playoffs, was named the NFL Comeback Player of the Year, and made his fourth and final Pro Bowl of his career. He played five more seasons after that 2010 redemption tour and ended his career as the NFL's leading rusher among quarterbacks with 6,109 career yards.
David Carr, Houston Texans (2002)
College: Fresno State
Career Highlights: NFL completion percentage leader (2006)
Record As A Starter: 23-56 Regular Season
David Carr was the Houston Texans' first draft pick as a new expansion franchise in 2002. Carr was battered for the majority of his time in Houston, as the Texans were never able to put a competent starting line in front of their young quarterback. He was sacked 76 times in his rookie season, which remains an NFL record. A nice silver lining for Carr was that he served as Eli Manning's backup in 2011 and got a Super Bowl ring for his service. Despite his disappointing win-loss record, he ended up making $40 million during his 12-year NFL career.
Carson Palmer, Cincinnati Bengals (2003)
College: USC
Career Highlights: 3x Pro Bowler, NFL completion percentage and passing touchdown leader (2005)
Record As A Starter: 92-88-1 Regular Season, 1-3 Playoffs
This Heisman Trophy winner had the tall task of turning around the "Bungels" in Cincinnati. Prior to his arrival, the Bengals had posted a 26-70 record in the previous six seasons. He would lead Cincy to the playoffs in his third year, but he was knocked out of that playoff game with a torn ACL. He would end up leading four winning campaigns as a starter (2x CIN, 2x ARI), but he never broke through in the postseason posting a 1-3 overall record with five touchdowns against seven interceptions.
Eli Manning, New York Giants (2004)
College: Ole Miss
Career Highlights: 4x Pro Bowls, 2x Super Bowl MVP, 2x Super Bowl Champion
Record As A Starter: 117-117 Regular Season, 8-4 Playoffs
Eli Manning's career wasn't as storybook as his two Super Bowl MVPs would lead you to believe. He was benched multiple times in New York and struggled with interceptions throughout his career. But when the lights shone the brightest, Manning played his best. His late-game heroics in two upsets of the New England Patriots in the Super Bowl make him a shoo-in to be enshrined in the NFL Hall of Fame.
Alex Smith, San Francisco 49ers (2005)
College: Utah
Career Highlights: 3x Pro Bowler, NFL Comeback Player of the Year (2020), NFL passer rating leader (2017)
Record As A Starter: 99-67-1 Regular Season, 2-5 Playoffs
Alex Smith may have been slightly overdrafted in the 2005 class (hello, Aaron Rodgers), but he had his fair share of highlights as an NFL starter. The Utah product was a three-time Pro Bowl, the NFL Comeback Player of the Year in 2020, and was simply fantastic in the playoffs. Despite a 2-5 record in the postseason, he posted a 97.4 QB rating and a sterling 14-2 touchdown to interception ratio. He also overcame one of the most gruesome injuries in NFL history and became an inspiration to any player rehabbing from an on-field setback.
JaMarcus Russell, Oakland Raiders (2007)
College: LSU
Career Highlights: Three-start winning streak from 2008 to 2009
Record As A Starter: 7-18 Regular Season, 0-0 Playoffs
Russell is the biggest bust in NFL Draft history. It started with a contract holdout and ended with him being out of the league after his third season. On the field, he was an inaccurate turnover-machine. He quickly proved to be overwhelmed by the speed and complexity of the NFL and let himself go physically. His comeback attempts were mostly thwarted by his weight, which had ballooned to over 300 pounds.
Matthew Stafford, Detroit Lions (2009)
College: Georgia
Career Highlights: Super Bowl LVI Champion, 2011 Pro Bowl, NFL Comeback Player of the Year (2011)
Record As A Starter: 89-101-1 Regular Season, 4-3 Playoffs
Stafford's career was headed south in Detroit after he failed to win the beleaguered franchise a playoff game in his first 12 years in the Motor City. But then a change of scenery helped Stafford rewrite his narrative. Once the LA Rams acquired him, his first season was a dream. Stafford led the Rams to a 12-5 regular season record and then helped them run through the playoffs en route to a Super Bowl victory over the Bengals. That Super Bowl ring can now be paired with many of his statistical accomplishments (5K Club), making it much easier to point to Stafford as a true success in the NFL.
---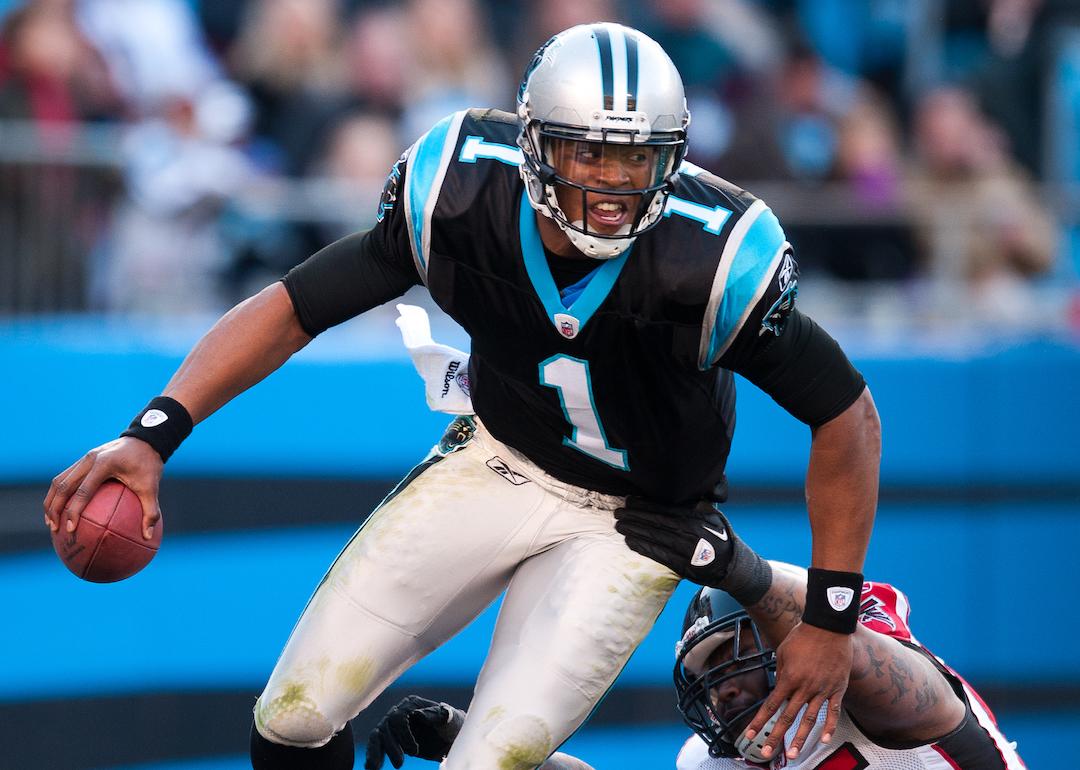 Rob Tringali/SportsChrome // Getty Images
2010s
Quarterback Cam Newton #1 of the Carolina Panthers scrambles away from the rush by John Abraham #55 of the Atlanta Falcons.
Sam Bradford, St. Louis Rams (2010)
College: Oklahoma
Career Highlights: NFL Offensive Rookie of the Year (2010), NFL completion percentage leader (2016)
Record As A Starter: 34-48-1 Regular Season, 0-0 Playoffs
He struggled to stay healthy and never led a team to the playoffs, but he did make an absurd amount of money along the way. By the end of his career, each touchdown he threw was worth $1.25 million. His total earnings during his nine-year NFL career amounted to over $130 million. That makes him the highest-paid QB in NFL history to never make a playoff appearance. 
Cam Newton, Carolina Panthers (2011)
College: Auburn
Career Highlights: NFL MVP (2015), 3x Pro Bowls, NFL Offensive Rookie of the Year (2011)
Record As A Starter: 75-68-1 Regular Season, 3-4 Playoffs
When Cam was healthy, he was an absolute, unstoppable force in the NFL. During his MVP season in 2015, in which he led the Panthers to the Super Bowl, he accounted for 45 total touchdowns and amassed 4,473 total yards. The back-end of his career was marred by injury and the fact that he was attempting to carry mediocre teams. But at his apex, Newton was the embodiment of the ideal superstar dual-threat quarterback.
Andrew Luck, Indianapolis Colts (2012)
College: Stanford
Career Highlights: 4x Pro Bowls, NFL Comeback Player of the Year (2018), NFL passing touchdowns leader (2014)
Record As A Starter: 53-33 Regular Season, 4-4 Playoffs
Speaking of injuries, Andrew Luck is one of the NFL's greatest "What If?" questions. The Stanford product took the league by storm, winning 33 regular season games in his first three seasons. But he was battered during his career, enduring 185 sacks. The result? He called it quits at the age of 29. The four-time Pro Bowler left tens of millions of dollars on the table, but hasn't waffled on his decision in the four years since.
Jameis Winston, Tampa Bay Buccaneers (2015)
College: Florida State
Career Highlights: 2015 Pro Bowl, NFL passing yards leader (2019)
Record As A Starter: 34-46 Regular Season, 0-0 Playoffs
Winston has a gunslinger mentality, which helped him exceed 4,000 yards passing in three of his first five years in the league. The only problem? He tossed 88 interceptions in those first five years as well. This cost him his starting job in Tampa Bay. As a backup quarterback, he's proven to be capable, evidenced by his 2021 season in which he tossed 14 touchdowns against just five picks. But no one has taken the plunge to sign him as a full-time starter, leaving him to hold a clipboard in New Orleans.
Jared Goff, Los Angeles Rams (2016)
College: California
Career Highlights: 3x Pro Bowls, Most completions in a regular season game (45)
Record As A Starter: 54-45-1 Regular Season, 2-3 Playoffs
Goff is an interesting case. On one hand, he's amassed a ton of yardage (25,854) and won more than he's lost as a starter. He also led the Rams to the Super Bowl in 2018. But that wasn't enough to stop the Rams from looking for an upgrade (Stafford) and he was banished to the NFL's version of Siberia (Detroit). But even in Detroit, he's played really well (48-15 TD-INT ratio). If he were to lead the Lions to a playoff victory, that could tip the scales in his favor in the debate over his legacy in the NFL. 
Baker Mayfield, Cleveland Browns (2018)
College: Oklahoma
Career Highlights: All-Rookie Team (2018). Most passing touchdowns in a single game for the Browns (5)
Record As A Starter: 31-38 Regular Season, 1-1 Playoffs
It seemed like Mayfield was on the cusp of breaking through in the NFL when he led the Browns to their first postseason victory since 1994. But he followed up that an up-and-down 2021, due in large part to a partially torn labrum. The Browns didn't waste any time once Mayfield's play slipped and traded him to Carolina in the offseason. Since then Mayfield has bounced between the Panthers, Rams and Buccaneers. He may be destined for a backup role for the remainder of his career.
Kyler Murray, Arizona Cardinals (2019)
College: Oklahoma
Career Highlights: 2x Pro Bowls, NFL Offensive Rookie of the Year (2019)
Record As A Starter: 25-31-1 Regular Season, 0-1 Playoffs
In five NFL seasons, Murray has made two Pro Bowls and led the Arizona Cardinals to the playoffs once. That was enough to get Murray a monster five-year, $230.5 million contract. One person who didn't get an extension was Murray's coach, Kliff Kingsbury. His former head coach was fired after a 28-37-1 record over his four years in the desert. New head coach Jonathan Gannon will try to coax better play out of Murray in his first year. One element Gannon will work on with Murray will be the mental component which hasn't been a strength early in his career.
---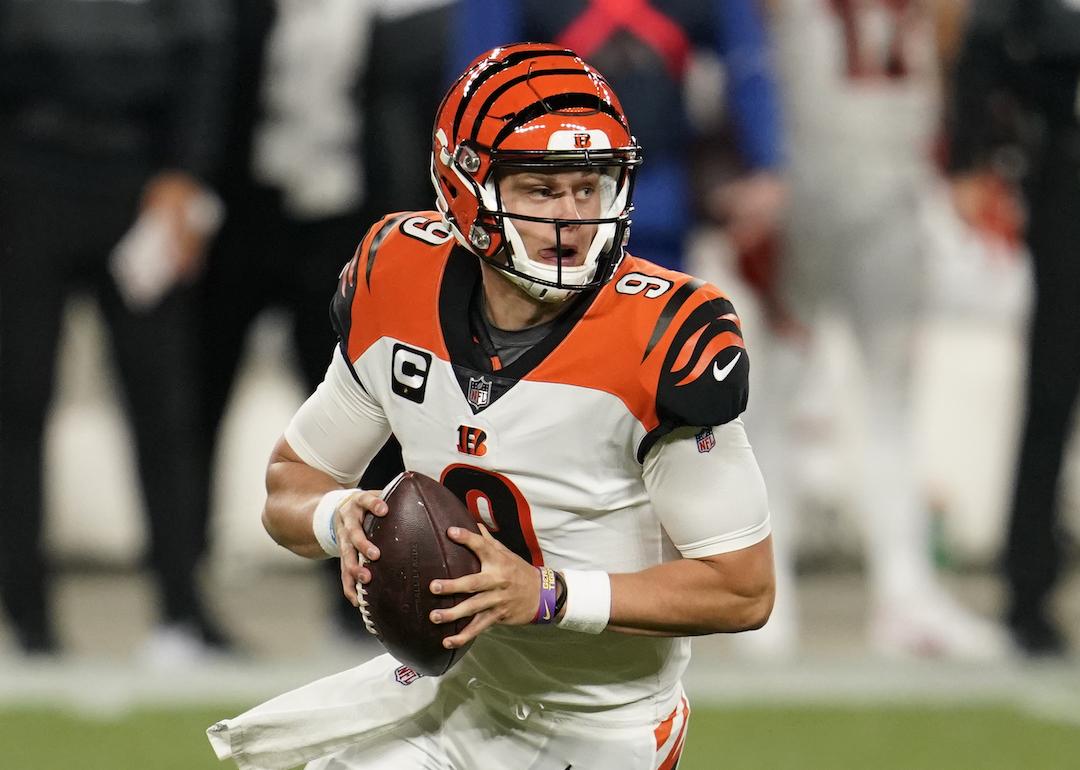 Cooper Neill // Getty Images
2020
Joe Burrow #9 of the Cincinnati Bengals scrambles with the ball during an NFL game against the Cleveland Browns.
Joe Burrow, Cincinnati Bengals (2020)
College: LSU
Career Highlights: 2022 Pro Bowl, NFL Comeback Player of the Year (2021), NFL completion percentage leader (2021)
Record As A Starter: 24-17-1 Regular Season, 5-2 Playoffs
Burrow is the modern dream for an NFL GM. The Bengals needed to hit paydirt with a QB at the top of the draft and they got that and more with Burrow. He has instantly elevated the Bengals into an offensive juggernaut and has proven to be a killer in the playoffs. His 5-2 record in the postseason has led to comparisons between Burrow and NFL Hall of Famer Joe Montana. The Bengals would be wise to invest more in their offensive line if they hope to keep Burrow healthy in the years to come. He has been sacked 92 times in the past two years, the most in the NFL. 
Trevor Lawrence, Jacksonville Jaguars (2021)
College: Clemson
Career Highlights: 2022 Pro Bowl, Orchestrated the third-largest comeback in NFL Playoff History (27 points)
Record As A Starter: 12-22 Regular Season, 1-1 Playoffs
It's still early, but Lawrence has shown signs that he's turned the corner after a rocky rookie season. Lawrence went 37-0 in high school, 34-2 in college, and then started his NFL career 3-15 in his first 18 games. Since then, he's 10-8 with a playoff victory under his belt. He finished his 2022 campaign tenth in the NFL in QB Rating and is suddenly brimming with confidence. The Jaguars are favored to win the AFC South next season, due in large part to Lawrence's maturation. 
This story was produced by OLBG and reviewed and distributed by Stacker Media.
---