College coaches are the highest-paid state employee in most states. Here's a closer look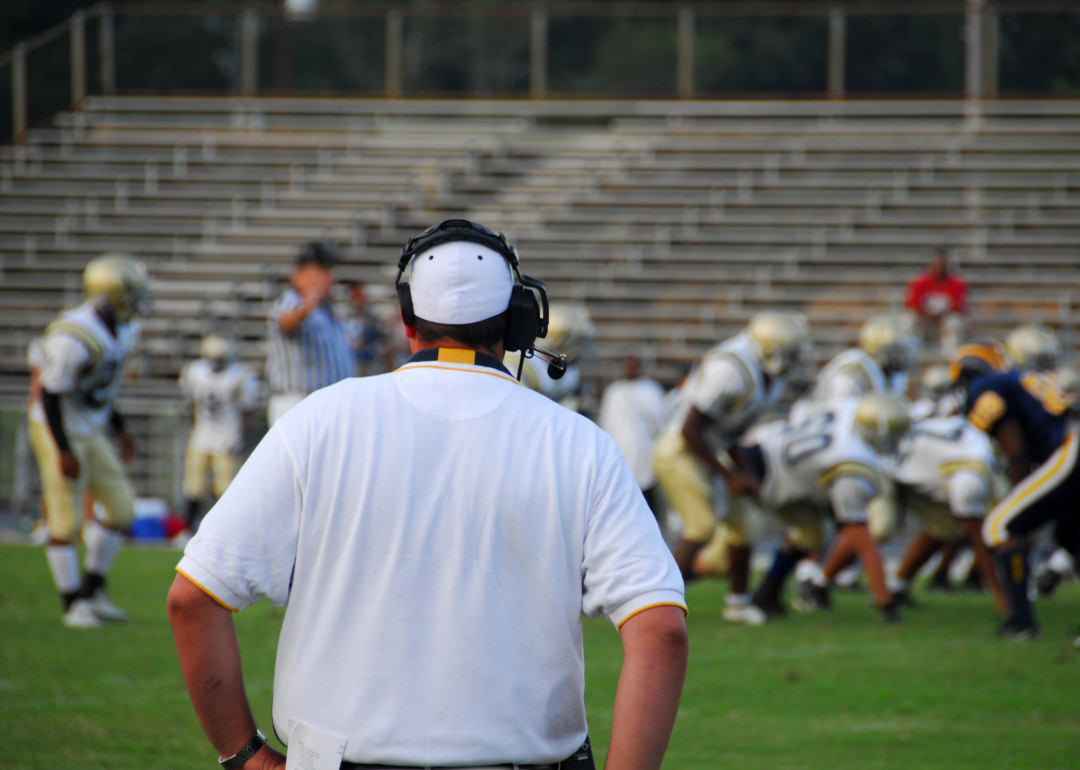 Canva
College coaches are the highest-paid state employee in most states. Here's a closer look
A football coach watches players on the field.
In the new era of NIL deals and TV contracts valued in the billions, it's easy to forget that the entire college athletics landscape is built on an outdated notion of amateurism. To be clear, there is nothing amateur about big-time college athletics. It is a business—and one that's doing very well. 
And like any good business, it takes money to make money. As a result, colleges and universities, and by extension the states that fund those institutions, have made significant financial investments in their on-field success. Stadiums and training facilities valued in the hundreds of millions have sprouted from Tucson to Tallahassee. But while these shiny toys have been purchased by professional leagues like the NBA and NFL, colleges have escalated their spending in one particular category at an alarmingly fast rate in recent years: their budget for head coaches.
OLBG has researched the highest-paid state employee in every US state using data from local government sources and can reveal that most of them are college sports coaches. 
---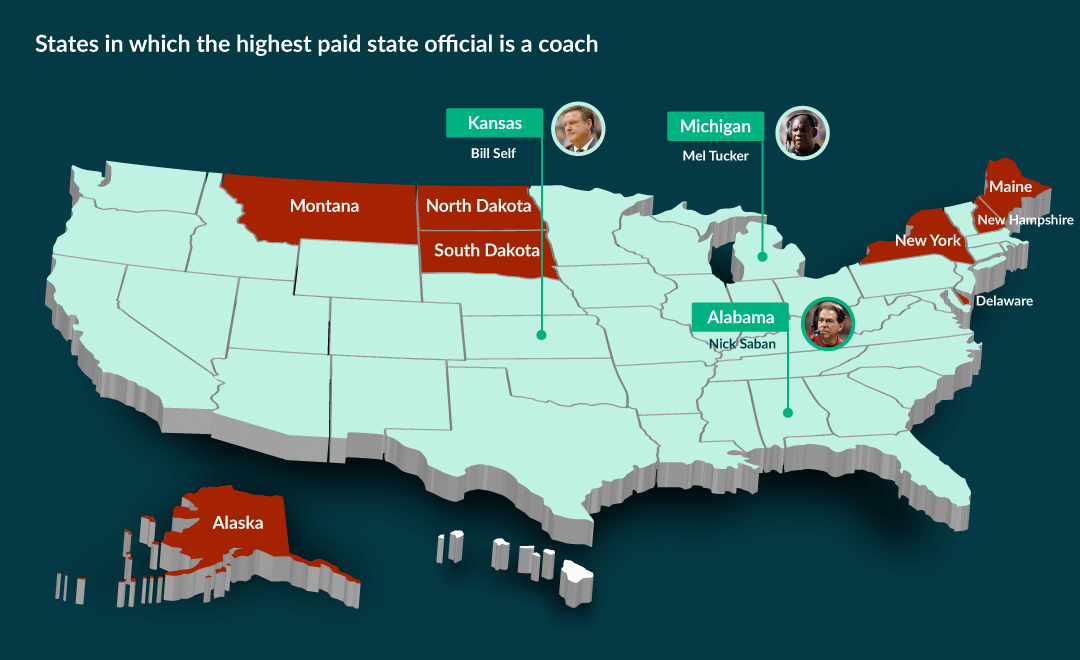 OLBG
College football coaches lead the charge for sky-high salaries
Illustration of the US with states highlighted showing the highest paid coaches.
In 1995, Florida State's legendary coach Bobby Bowden signed college football's first million-dollar deal. His base salary bartered in that deal ($975K) would have the buying power of nearly $1.9 million in today's dollars. Nick Saban is the highest-paid coach in 2023, raking in  $11.7 million annually. But unlike Bowden, he's not in a class by himself, not by a longshot. The legendary head coach with seven national championship rings is joined by 12 other head coaches who are set to make north of $7 million in 2023 alone. 
Saban's success on the field has been a boon for Alabama off the field. Alabama merchandise is consistently one of the top-selling across NCAA institutions, and they recently brokered a deal with Fanatics for a first-of-its-kind team store inside of its football stadium that will feature a NIL activation area for Alabama student-athletes and co-branded NIL merchandise from Nike, Fanatics, and Topps. 
Opposing schools are envious of Alabama's success and are willing to do anything within their financial wherewithal to compete. In some cases, like University of Georgia's, that meant hiring away one of Saban's long-time assistants and paying him a king's ransom ($11.25m). Two national titles later and it appears it was money well spent. But for every Georgia-Smart marriage there are dozens of ill-fated contracts being signed. In some cases, it's states chasing glory on the gridiron in others on the hardwood. The commonality between them all is they're shelling out big bucks in the hopes of finding success. 
---


OLBG
When it comes to coach salaries, football reigns supreme
Table showing how different sports compare by coach salary.
Among states with at least one major football (FBS/FCS), basketball (Division 1) or hockey (Division 1) program here is the breakdown of which coach made the most money in his respective state.
As you can see, football reigns supreme with 36 of the 50 states paying their football coach the highest salary. Basketball came in a distant second, but some of their head coaches made serious money like Kansas' Bill Self ($10.18m) and Kentucky's John Calipari ($8.6m). The lone hockey coach who was his state's highest-paid coach was North Dakota's Brady Berry. He collected a little over $450K. Alaska, with no major college sports programs, had one single coach as well.
---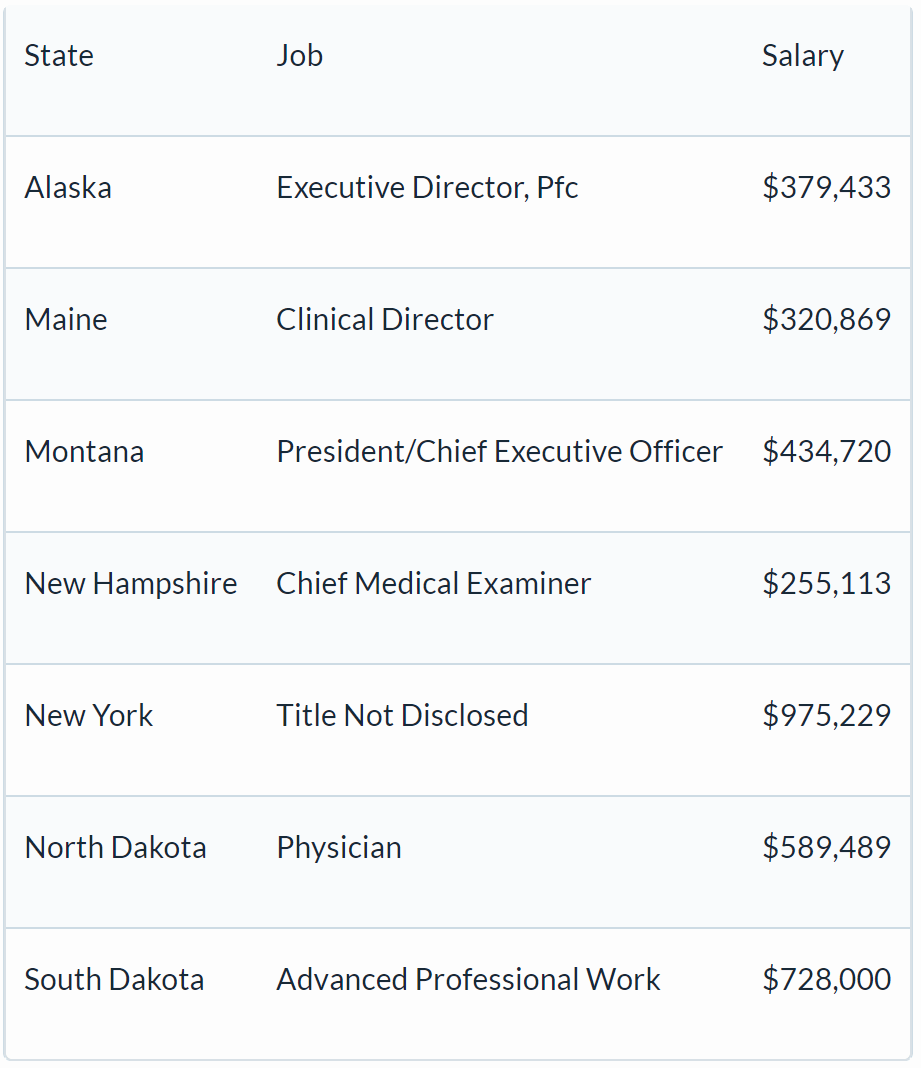 OLBG
Football coaches are paid more than most state officials
Where things get really interesting is when you start comparing these salaries to all salaries in a state budget. Nick Saban's mammoth contract is far and away the highest salaried position in the state of Alabama, but is that the case in every state? 
While examining the other 49 states, you may be shocked to find that over 80% of states believe that making either their football, basketball or hockey coach the top-paid state official is a good idea. 
Seven states have offered a higher salary outside the sporting realm ranging from Chief Medical Examiners to Executive Directors. The Clinical Director in Maine and the Chief Medical Examiner in New Hampshire, are earning more than Jordan Stevens (Maine Football HC) and Bill Herrion (New Hampshire Basketball HC) respectively. 
And while this is rare, it does seem to be relegated to low-population states without major college sports, with the exception being New York. The Empire State, unlike many of its northeast neighbors, does not have a flagship state institution with major sports like Penn State or Rutgers in Pennsylvania and New Jersey, respectively. 
---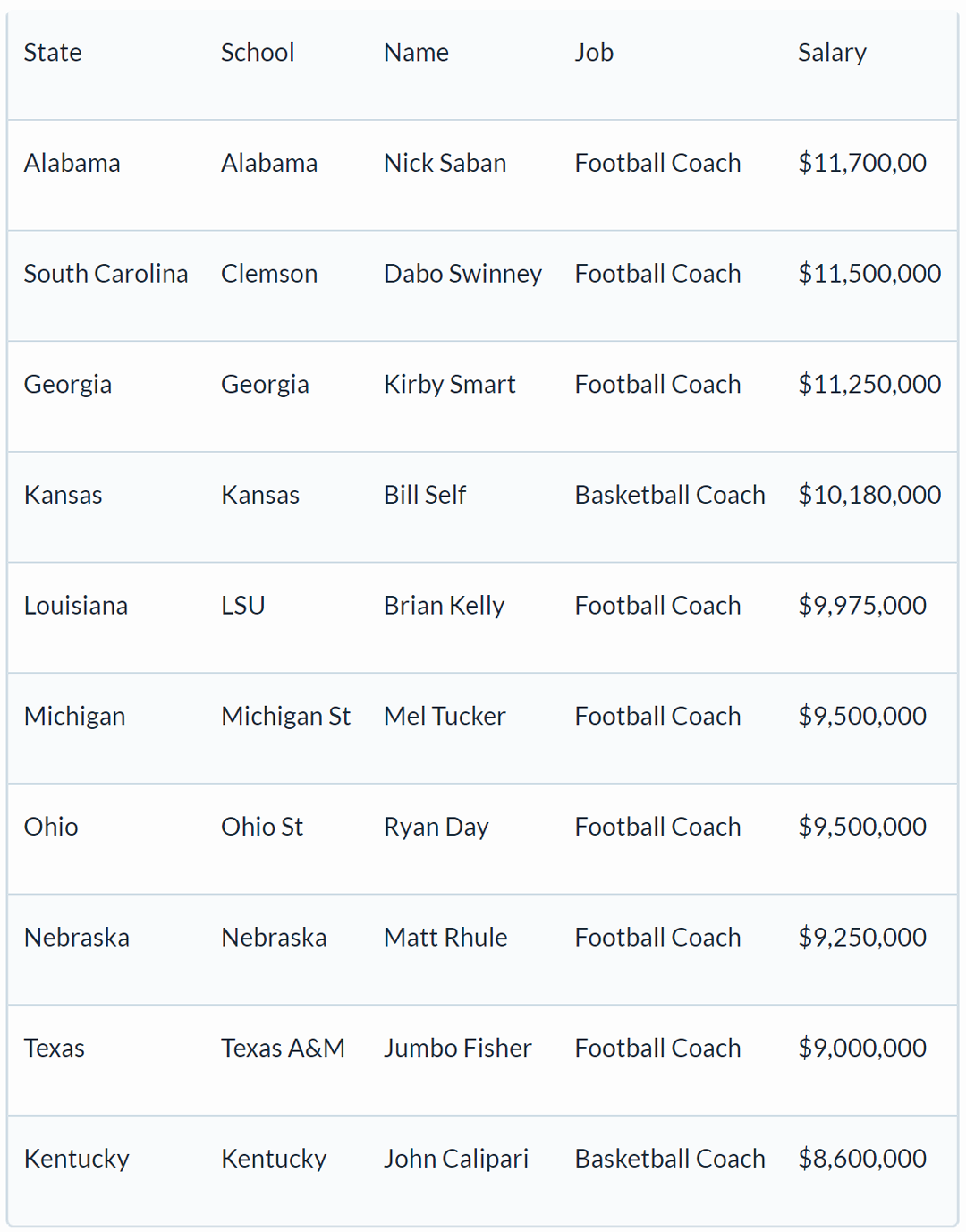 OLBG
Top 10 coach salaries for state universities across all sports
The majority of states—43 in fact—have gone all in college athletics making one of their head coaches the highest-paid state official. (Source, Source, Source, Source)
Coaches like USC's Lincoln Riley ($10m) and Duke's John Scheyer ($9.7m) at private institutions demonstrate that state schools are working within market limits. 
Nick Saban has set the pace, but the three coaches behind him have all won at least one national championship in their respective sports. 
Clemson's Dabo Swinney tops the list for South Carolina budget at $11.5m per year.  The 53-year-old coach has captured two national titles and eight ACC Conference crowns since he was promoted from interim head coach in late 2008.
Kirby Smart has Swinney beat at the bank and on the field in recent years. Georgia became the first team in the College Football Playoff era to win back-to-back national championships and he has ridden that success to fabulous riches along the way. 
Because of the success generated by the likes of Swinney, Smart and Saban the three also have massive contract buyouts should their fans and university ever turn against them. Swinney, for instance, would be owed $64 million if Clemson wanted to part ways with him in 2023. That figure drops to $60 million in 2024 and 2025 and then $57 million in 2026. This is par for the course for top-end coaching talent.
---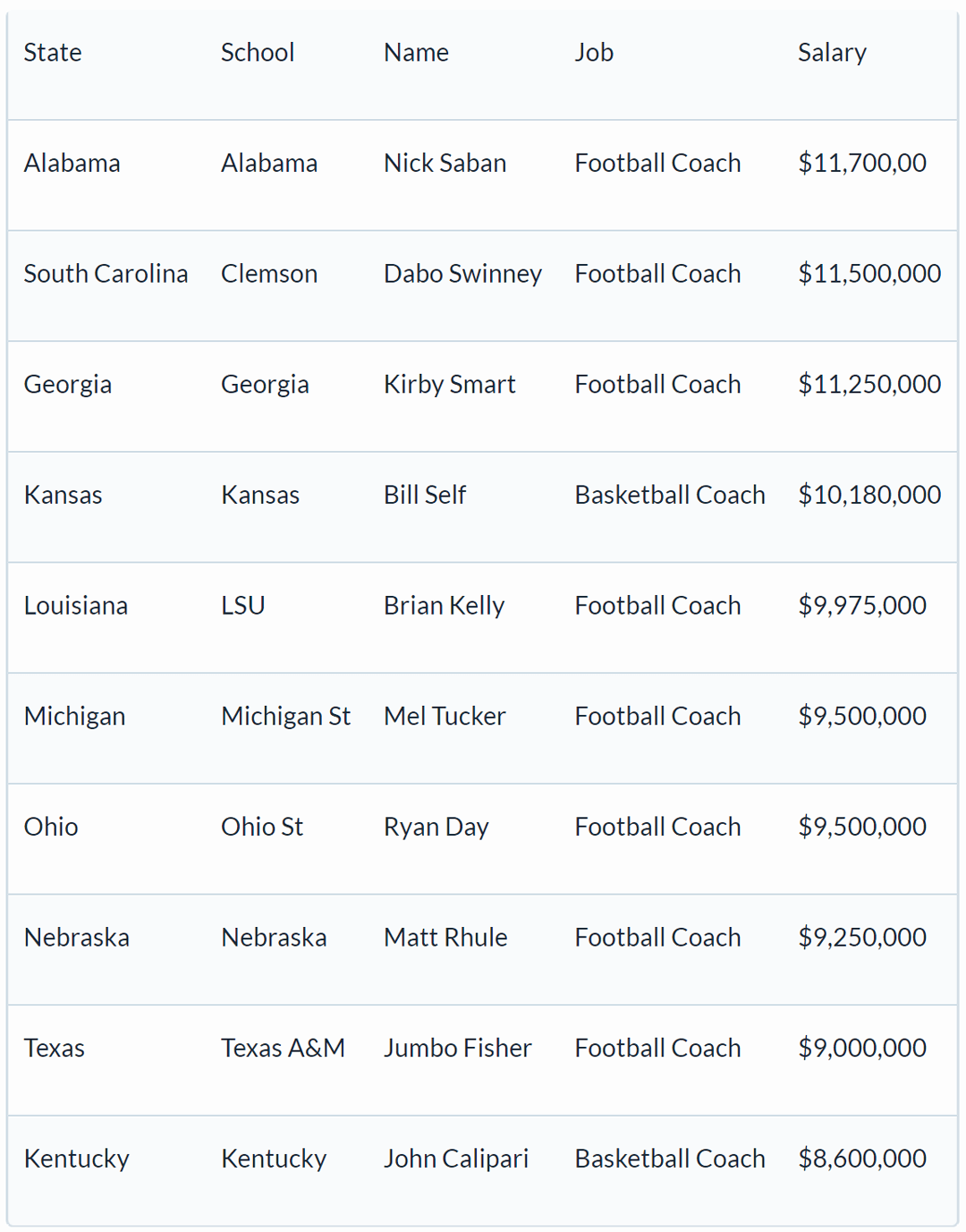 OLBG
National and conference titles for the 10 coaches who make the most in their state
Is it worth it? In some cases, the answer is a resounding yes. In others, it's harder to say given a school and fanbase's strict definition of success. 
Some of the success obviously came before the big contracts for these coaches, but it's still worth examining how a previous track record can lead to massive paydays. 
Each year the floor for elite coaches appears to rise and, in the world of college football, that salary figure is now at the $9 million mark. But it's not just the football coaches who are raking in the cash. Bill Self and John Calipari, each with 16 regular season conference titles under their belt, have set the pace for top-end coaching salaries. 
Self was in the unenviable position of replacing living legend Roy Williams when he was hired 20 years ago, but despite the pressure and expectations, he has managed to score a pair of national championships while appearing in four Final Fours for the Jayhawks. 
John Calipari has stretched the definition of success, keeping Kentucky in the national spotlight each season by dominating the recruiting trail and filling his roster with future NBA lottery picks. Since taking over in Lexington back in 2009, Calipari and Kentucky have been associated with three No. 1 selections, 34 first-rounders, 22 lottery picks and 45 total players in the NBA Draft.
The $9 million mark is where things start to get a little dicey in the world of college football. Brian Kelly and Mel Tucker both make the same salary, yet Kelly has won the Home Depot Coach of the Year Award on three occasions (2009, 2012, 2018) while leading his teams to seven major bowl games since 2009. Mel Tucker is 23-21 with four losing seasons since becoming a head coach in 2019. Michigan State overpaid to keep him after a breakout 11-2 campaign and Peach Bowl victory in 2021, but that may prove to be a very costly mistake in the coming years. 
Tucker's salary is particularly shocking when you consider that Big Ten rival Ohio State pays Ryan Day the same amount on an annual basis. Day is 45-6 as Ohio State's head coach with a pair of trips to the College Football Playoff on his resume in his first four seasons. 
Matt Rhule is starting at square one out in Lincoln for a Nebraska program in dire need of a makeover. His coaching pedigree, particularly his success at Baylor, makes his gaudy $9.25 million price tag palatable to most college football pundits. 
Last but certainly not least is Jimbo Fisher. Texas A&M is currently forking out $9 million per year for his services, and he has yet to live up to that contract. After a breakout 9-1 campaign during the COVID season, A&M is a middling 13-11 with a losing record (6-10) in SEC play in the past two seasons. In the previous era, that would have gotten Fisher booted straight out of the Lone Star state. But his buyout sits at $76.8 million if he is fired before Jan. 1st of next year. Even in the SEC where TV contract money rivals oil money and well-heeled boosters are willing to fork up tens of millions in buyout cash, his price tag will likely keep him in College Station for a few more years. 
---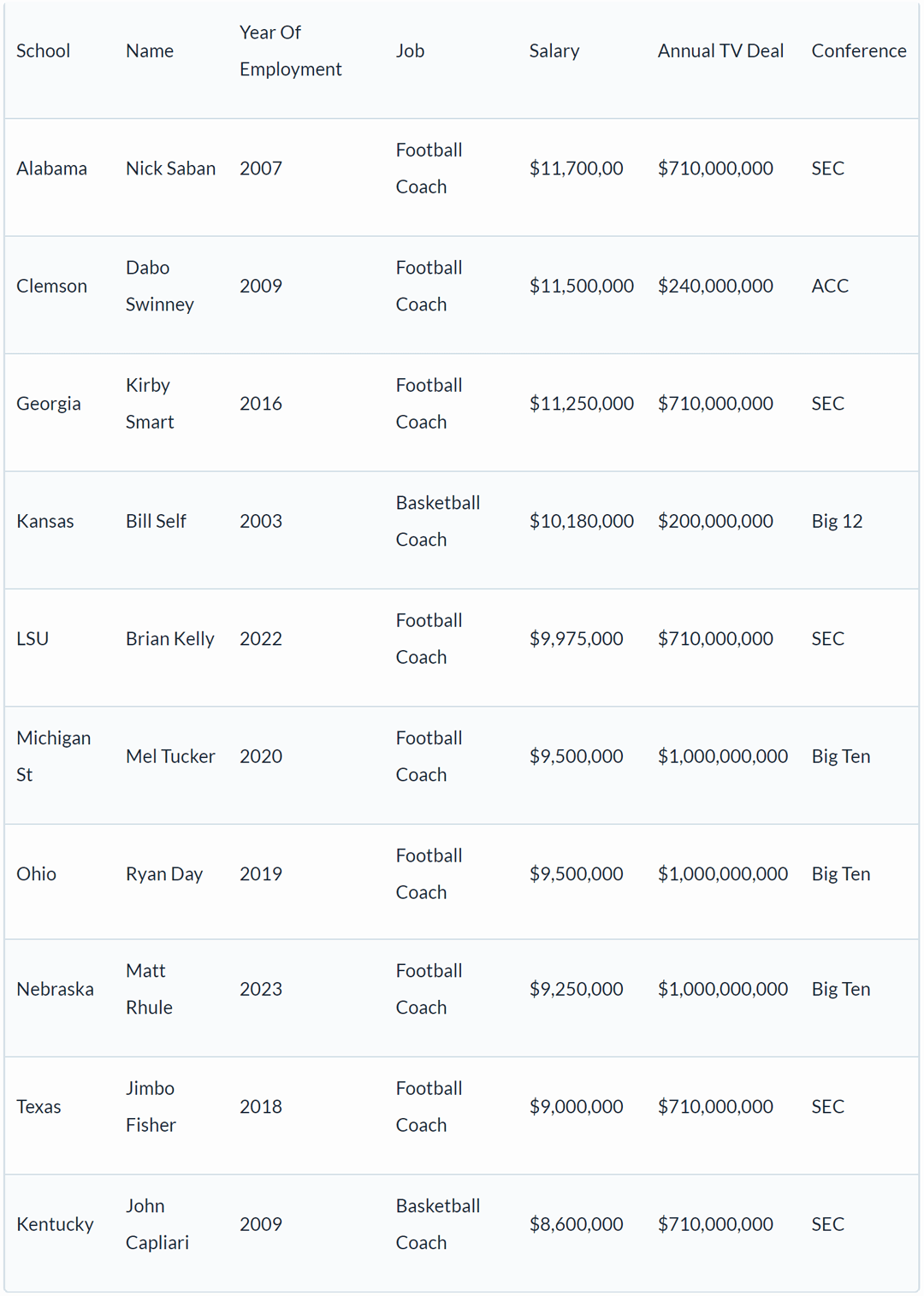 OLBG
Do coach salaries correlate to television broadcasting revenue?
Looking at what each of the conferences are currently collecting in annual revenue, we can also compare salaries to television broadcasting revenue. One figure that leaps off the page is what the Big Ten has negotiated on the TV front. From 2023 to 2029, the conference will soon be collecting $1 billion a year from the combined likes of FOX, CBS and NBC and this will be great news for coaches like Jim Harbaugh and PJ Fleck at Michigan and Minnesota who may be looking to bolster their existing deals. 
Data also shows that not all investments are created equal when we can compare the salaries paid to the television deal that the college or university is connected to.
The ACC is in the worst TV situation, hamstrung by their current deal which runs through 2036. Clemson has still made its commitment clear to Swinney by paying him north of $11 million but they don't have the same safety net should as their Big Ten and SEC opponents should they look to break that contract and pay top dollar for a new coach.  
Speaking of their competition, the Big Ten and its institutions have truly hit the jackpot with the conference earning a staggering $1 billion a year through the sale of televised games and content. It has a direct correlation to the likes of Ohio State and Nebraska digging a little deeper when it comes to their coaching offers. 
The SEC is currently running in second place at $710 million per season, but that's about to change in a big way. Unlike the ACC, they're in a power position with a contract that is set to expire and a bidding war that is sure to unfold. Given the new standard set by the Big Ten, the SEC will be joining the billion-dollar club very soon. 
This means if Kirby Smart and Nick Saban are still in charge of Georgia and Crimson Tide, then they may be in line for yet another pay raise. If either can win a national championship in 2023, such a request would be granted without much negotiating. 
This story originally appeared on OLBG and has been independently reviewed to meet journalistic standards.
---