How tribal gaming has changed over time and impacts tribes today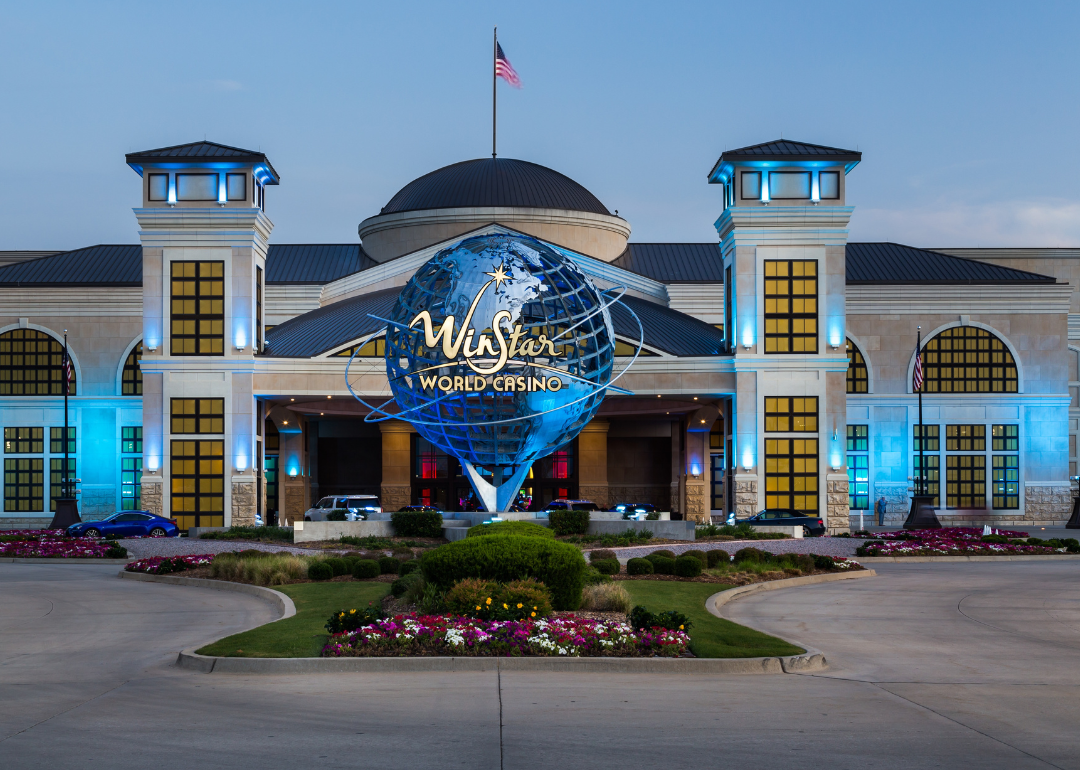 Victoria Ditkovsky // Shutterstock
How tribal gaming has changed over time and impacts tribes today
The exterior of WinStar World Casino and Resort in Thackerville, Oklahoma.
With the history of systemic racism, lack of federal investment, and lack of property rights to build wealth, Native American communities have long been at an economic disadvantage. Today, there are 515 tribal casinos and gaming venues across the country, and revenue from gaming has allowed these tribal communities to fund social services, housing, education, health care, and more. Examples include everything from tribal schools and health care to local infrastructure projects.
But the casino revenue—which totaled a record $39 billion in 2021—hasn't always been around. Before the first tribal casino opened in 1979 (long before online betting was an option), people had to fly to places like Las Vegas or Atlantic City to play legally.
OLBG compiled details on the history of tribal gaming using research from across the internet, including ABC News, USA Today, and Marketplace.org. Data was also pulled from the National Indian Gaming Commission.
---

singh_lens // Shutterstock
Tribal gaming dates back to a 1970s court case
The interior of Foxwood Casino, operated by the Pequot Tribal Nation, in Connecticut.
A 1976 U.S. Supreme Court case established the freedom of tribal governments to operate independently, a unanimous decision that permanently changed the gaming industry in America and the financial fortunes of countless Native Americans.
The events that led to Bryan vs. Itasca County began with a $29.85 tax bill levied on Chippewa couple Helen and Russell Bryan's trailer home on the Leech Lake Indian Reservation in northern Minnesota. A handful of public interest attorneys prevailed in the case, regarded by many as the most impactful event on the well-being of tribal members in decades.
Unable to pay the tax and desperate to avoid foreclosure, the Bryans sued. In a class action suit, their attorneys argued that property on Indian lands should not be taxable and that the U.S. government should not have regulatory powers over tribes. An appeal to the Minnesota Supreme Court failed, but the U.S. Supreme Court sided with the Bryans.
The expansive High Court decision, among other things, allowed tribes to operate casinos outside the purview of or taxation by federal, state, or local governments.
---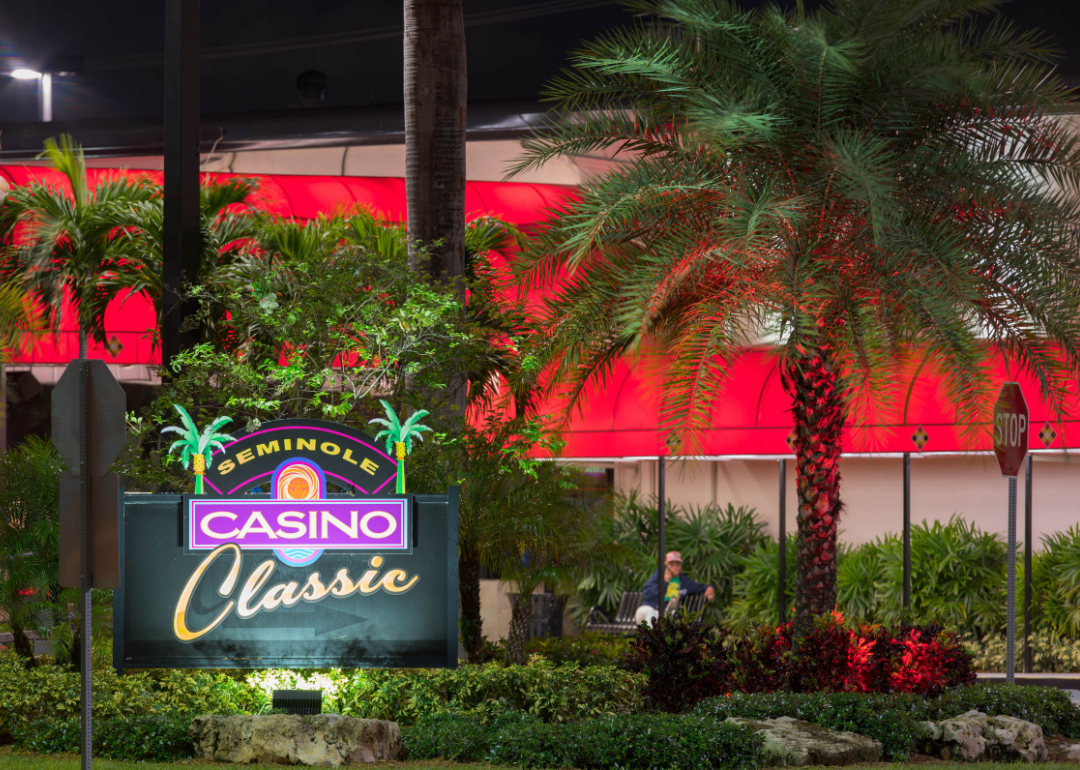 Felix Mizioznikov // Shutterstock
The Seminole Tribe opened the first tribal casino in 1979
The Seminole Casino Classic entrance sign.
Many new industries start small and face challenges—both are true of tribal gaming. This first tribal gaming spot was a high-stakes bingo parlor in Florida that was only open for a matter of days.
Defying state laws that required bingo parlors to be nonprofits open only two days a week with $100 maximum jackpots, the Seminole Reservation high-stakes parlor that debuted in 1979 prompted Broward County Sheriff Bob Butterworth to shut it down immediately. The Seminoles took him to court on the grounds of tribal sovereignty, and two years later, a federal circuit court ruled in their favor in Seminole Tribe of Florida v. Butterworth.
Like Indian gaming itself, the small metal building used for the bingo parlor has since expanded dramatically to become the Seminole Classic Casino in Hollywood, Florida, now offering more than 1,000 slots and table games, four restaurants, and weekend entertainment.
---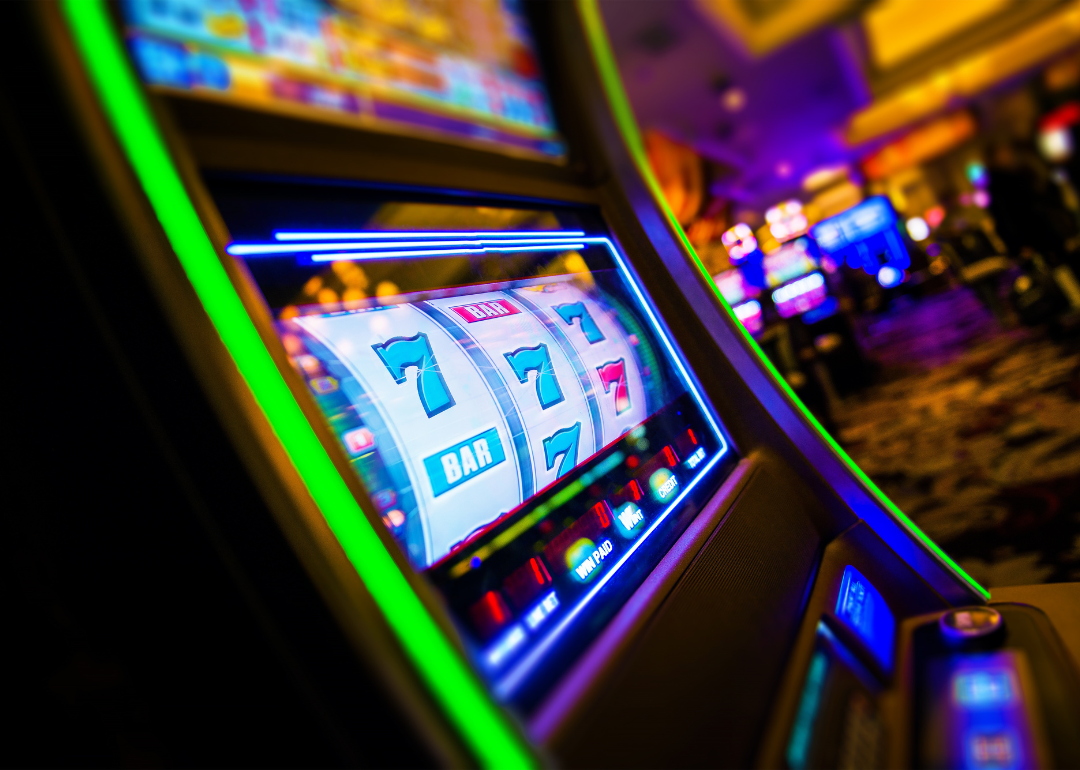 Canva
A Supreme Court ruling expanded tribal gaming in the 1980s
A close-up of a slot machine.
A SWAT team raided the Cabazon Card Room in Indio, California (near Palm Springs) in 1983. No one was hurt, but the raid did lead to a momentous court case that established the right of tribes to operate gaming establishments freely.
The small, impoverished Cabazon tribe and the nearby Morongo Band of Mission Indians joined forces to fight for their rights. After two appeals, the Supreme Court sided with them in a 6-3 decision four years after the SWAT raid. The decision in California v. Cabazon affirmed and broadened the rights of tribes over states' rights.
---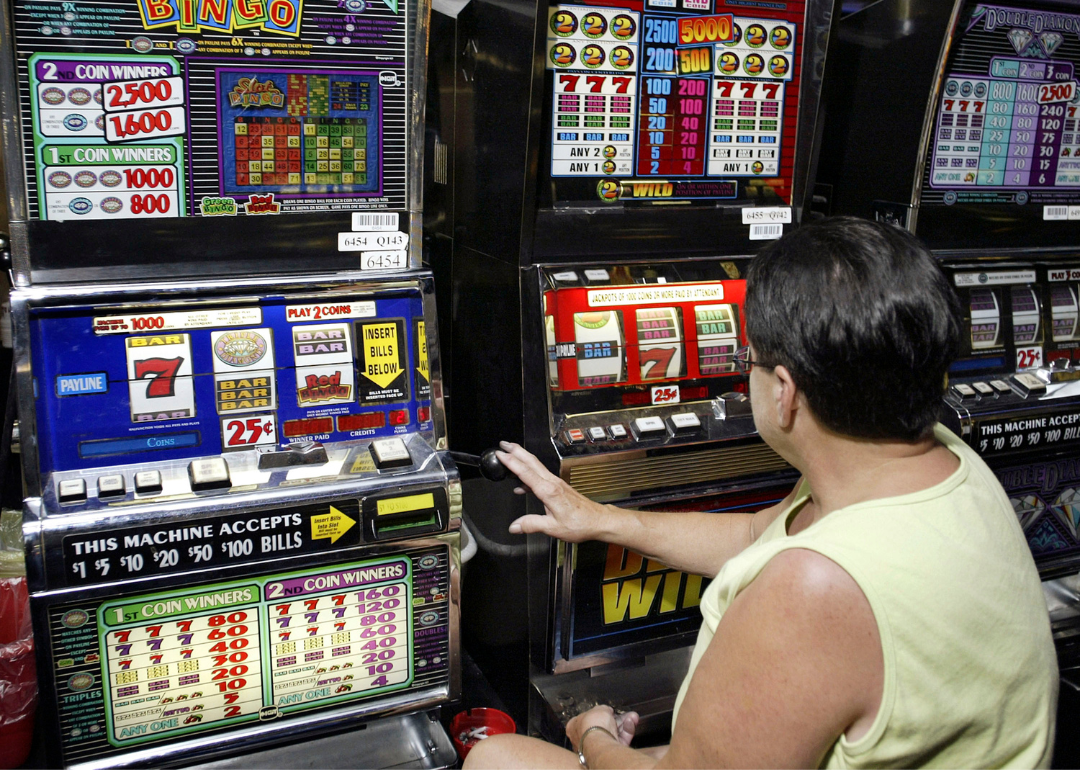 Jeff T. Green // Getty Images
The 1988 Indian Gaming Regulatory Act established the first federal regulations
A person playing the quarter slots at the Two Rivers Casino and Resort.
Inevitably, with Indian gaming exploding nationwide by the late 1980s, Congress passed a set of rules governing all gaming operations on Native American lands and established the National Indian Gaming Commission to oversee and enforce the act.
The NIGC also ensures gaming integrity while guarding against organized crime infiltration. Building on the precedents set by Bryan v. Itasca County and California v. Cabazon, the act established sets of regulations for three classes of gaming: traditional Indian/social games, bingo/nonbanked card games, and casino games.
---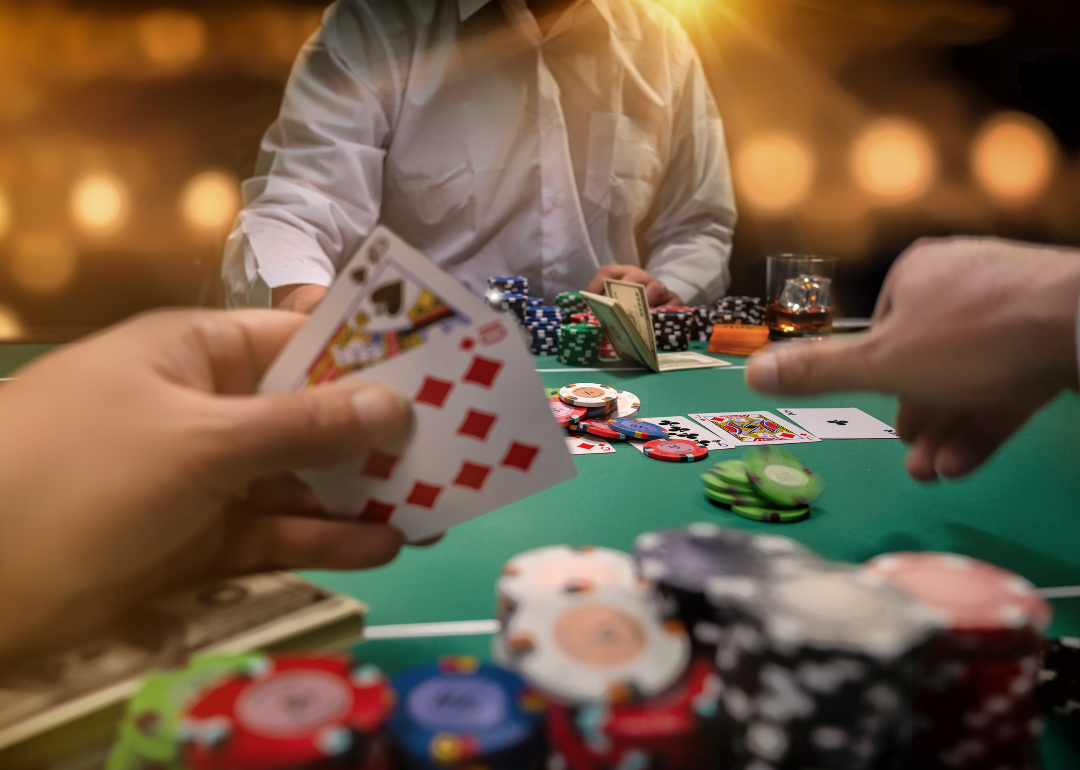 Canva
The Fort McDowell Tribe stood up against federal agents in 1992
A high-stakes poker game.
Even after the Supreme Court greenlit tribal gaming in 1987 and Congress established the Indian Gaming Regulatory Act, opposition by federal agencies remained. This was made crystal clear with the FBI's attempt to raid the Fort McDowell Yavapai Nation's Fort McDowell Casino in Phoenix on a spring day in 1992.
Word spread quickly among tribal members, who formed vehicle blockades to prevent an FBI-orchestrated convoy of moving vans from confiscating 349 gaming machines. The standoff ultimately lasted for 10 days, with about 200 tribal members from several states and Canada joining the blockade before then-Arizona Gov. Fife Symington agreed to a gaming compact—ironically, on the day before Thanksgiving.
The installation of slots and video poker machines earlier that year brought in money for jobs, health care, and other services for many in the largely impoverished tribe, which precipitated their vigorous response to the FBI action. The tribe has since added a hotel, golf courses, and other visitor attractions on their land.
---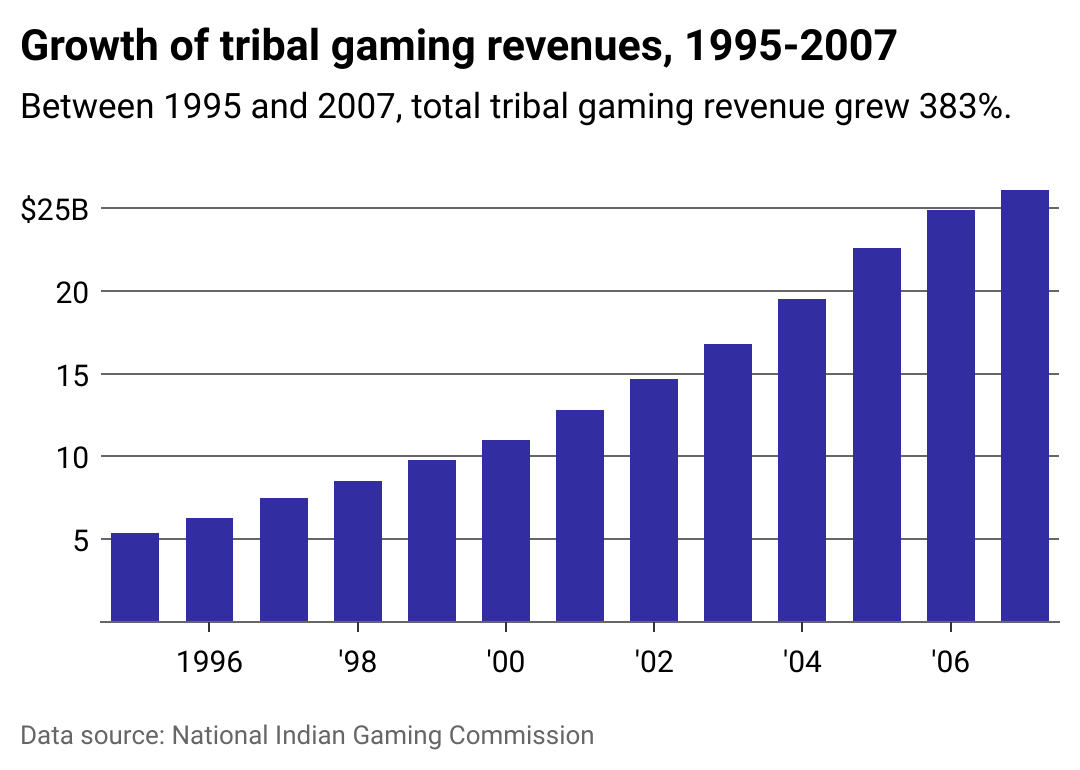 OLBG
Tribal gaming boomed by the billions at the turn of the century
Bar chart of tribal gaming revenues between 1995 and 2007.
After the legal challenges to tribal gaming were won in the 1970s and 1980s, the industry grew as rapidly as a pile of chips when every player has a full house.
From 1995 to 2006, the industry snowballed from $5.4 billion to $26.1 billion per year. That growth curve finally showed signs of flattening when it rose by 11% in 2006 compared to 14.6% the previous year. And the annual growth from 2010 to 2019 was a modest 3.4% ($26.5 billion to $34.6 billion), though the growth continued yearly.
The steady growth during the quarter-century between the mid-1990s and the 2020 pandemic can be attributed to several factors, including the proliferation of large tribal casinos and the number of slots and other games of chance offered at those mega-casinos.
---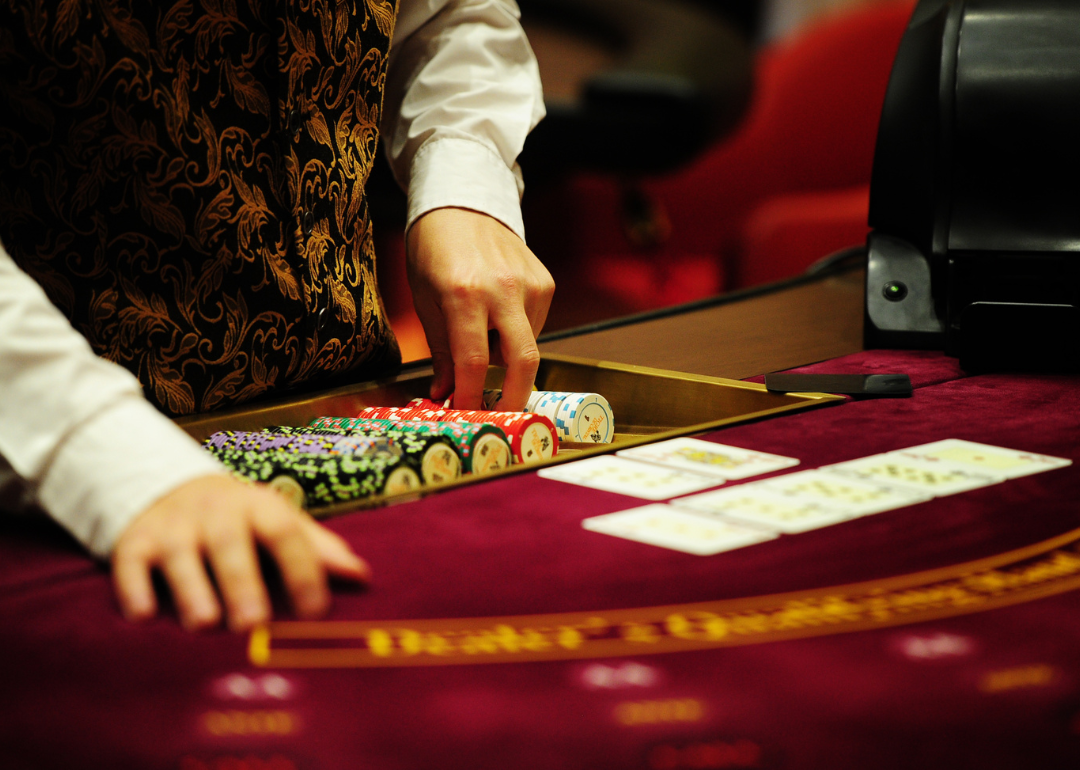 Orlov Sergei // Shutterstock
COVID-19 hit tribal casinos hard
A card table within a casino.
Tribal casinos and the hotels, restaurants, and spas that often accompany them were devastated by the COVID-19 pandemic. More than half of the 1,000 casinos that closed in the U.S. during the early stages of the pandemic were on Native American land.
Besides costing many casino-related jobs held by tribe members, who filled about half of those jobs, the lost revenue has meant that funding for many tribal projects—such as schools and medical clinics—largely dried up.
The government did not offer the first round of Payment Protection Program loans to small businesses to tribal casinos, adding further financial pain. All told, nearly 300,000 jobs related to tribal casino operations were at least temporarily lost to the pandemic.
---

Kit Leong // Shutterstock
Tribal gaming reaches new heights
The interior of the Remington Park Casino in Oklahoma.
The easing of COVID-19 restrictions and fears is bringing customers back to tribal casinos that have survived. And they're coming back in spades. Following a steep drop in revenues in 2020, tribal gaming rebounded to hit an all-time high of $39 billion in 2021, up 40% from 2020 and 13% from the last pre-pandemic year of 2019.
Despite this rosy picture, tribal casinos face myriad challenges in the years ahead, including finding enough workers, competing with new nontribal casinos increasingly being allowed by tax revenue-seeking local and state governments, and the burgeoning online betting industry. But with the funding of so many Indian services at stake, you can bet they will do whatever is needed to avoid going backward. For example, in October, two Oklahoma tribes and one California tribe announced a partnership with a New York gaming company to launch a sports betting app.
This story originally appeared on OLBG and was produced and
distributed in partnership with Stacker Studio.
---