How to build a zero-waste economy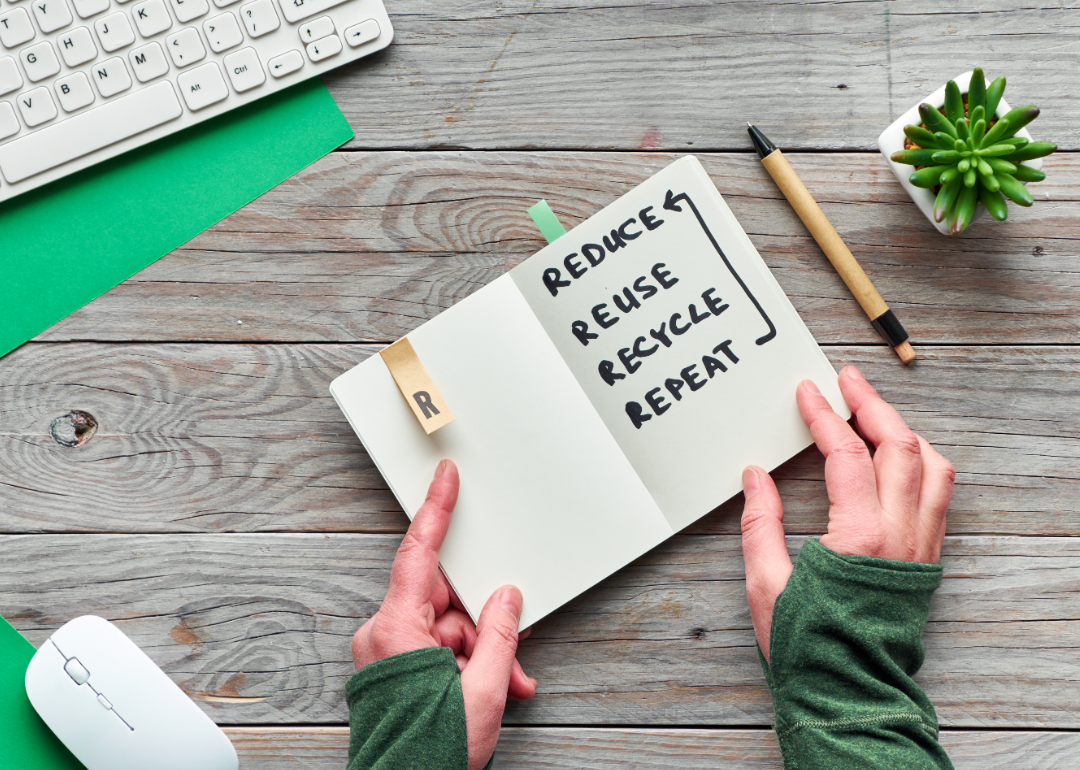 Canva
How to build a zero-waste economy
Person using zero-waste planner at desk.
It wasn't until Sarah Paiji Yoo became a new mother that her journey into plastic-free living really began. 
Specifically, it was the switch to baby formula that changed her worldview. Yoo had been breastfeeding her son for a few months and was looking to transition him to a dissolvable formula in 2018. But she found herself wondering what kind of water to mix it with — bottled or tap.
There were no good options. "I was horrified to learn that regardless of whether you drink tap water or bottled water here in the United States, our water contains hundreds of pieces of microplastics per liter," she said. 
Yoo began connecting the dots, tracing those microplastics — tiny shards of plastic that form from the breakdown of larger plastic items — back to their source. Or rather, their many, many sources. Yoo was soon seeing plastic throughout her life: It held her child's vitamins, her toothpaste, the ketchup she kept in the fridge. "It's really everything," she said.
The next few years would bring a deluge of new and alarming data about plastic's impact on people and the planet. Scientists began finding microplastics everywhere: in deep ocean trenches, near the tops of remote mountains. In 2019, researchers in Australia estimated that we ingest a credit card's worth of microplastics every week, with unknown health effects. Other reports documented the ballooning impact of plastic pollution on marine life, as well as plastic production's growing carbon footprint and disproportionate harms against poor communities of color.
Yoo was determined to do something about it. A self-described serial entrepreneur, she ended a self-imposed break from starting new businesses to co-found Blueland in 2019. The company's mission is to eliminate unnecessary plastics from familiar cleaning and personal care products like dish soap, toilet bowl cleaner, and body wash — all of which it sells in concentrated tablet form, shipped directly to customers in recyclable paper packaging. 
The tablets dissolve in water and can be used to refill Blueland's durable glass or ceramic bottles. Yoo said the bottles are intended to be "the last set" of cleaning containers her customers ever buy: No more disposable plastic, no more pollution, no more hazardous tap water. "We don't take that lightly," she told Grist.
Yoo is among a growing number of business owners who have aligned themselves with activists and policymakers who want to move the global economy away from plastics, which are rarely recycled and are laden with toxic chemicals. The broader movement seeks to reduce plastic production, an urgent priority considering petrochemical companies' plans to triple the amount of plastic they make by 2060. That scenario could cause more than 44 million metric tons of aquatic plastic pollution every year. 
But these advocates and entrepreneurs are also envisioning a future free from single-use items altogether. By promoting a "circular economy" — patterns of consumption that reduce waste generation of any kind — they hope to eliminate not only single-use plastics, but also disposable products made from paper and metal. Their vision will require whole new business models and supply chains that prioritize reuse — containers and dishware and shipping packages that can be used again and again rather than discarded after just a few minutes.
The Ellen MacArthur Foundation, or EMF — a nonprofit that advocates for a circular economy — estimates that businesses have an opportunity to save some $10 billion in material costs if they replace just 20 percent of their single-use plastic packaging with reusable alternatives. But the shift will also require buy-in from customers, who will have to embrace a host of unfamiliar products and practices. Some of these reusable solutions are relatively new inventions, like lightweight, concentrated formulas of familiar body care products, while others represent a return to systems that have been around for a long time: say, bringing your own container to the bulk aisle at the grocery store, or leaving glass bottles curbside to be picked up for cleaning and reuse, à la the milkmen of generations past.
American culture needs to "dispose of that disposable mindset, where everything is to be used and thrown away," said Linda Corrado, a board member for the reuse nonprofit Upstream and an independent consultant in sustainable business strategies. She said she dreams of a day when plastic-free shopping is the default, where customers shop in stores that are "just one bulk bin after another."
EMF has broken down the reuse market into four models defined by who owns the packaging and where it gets refilled. To get a better sense of how the reuse revolution is taking shape, Grist spoke with representatives from businesses — some of which were previously highlighted in an EMF report — that are turning those models into a reality, and to customers who have tried their products. Some companies, like Blueland, are making plastic-free refills for soap available through the mail so customers can fill up their own empty containers. Others are setting up "reverse logistics" infrastructure so people can borrow takeout containers and later return them to a dropoff location. All are trying to strike a balance, nudging consumers toward new habits while also making their systems as convenient as possible.
"With all of today's technology and innovative solutions," Corrado said, "the possibilities are endless."
---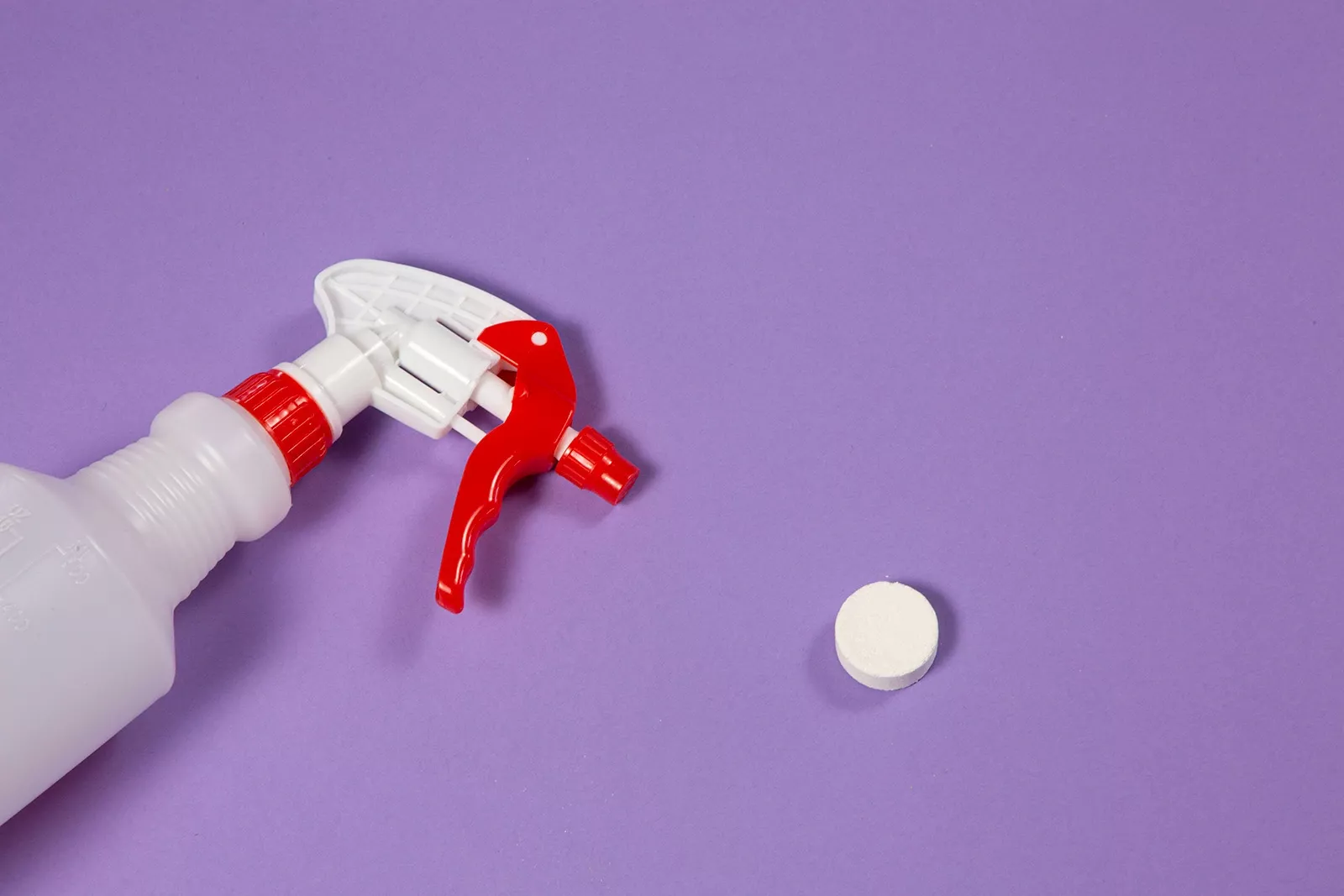 Daniel Penner // Grist
Refill-at-home models can reduce a product's plastic footprint
A plastic spray bottle sits next to a tablet of concentrated cleaning product.
Broadly speaking, the Ellen MacArthur Foundation classifies reuse systems based on two factors: who owns the containers and where they're filled. With companies like Blueland, the customer owns the container — potentially one sold by Blueland for $8 to $11 (although, for many products, any old container will do). And because refills are ordered online and delivered straight to people's doorsteps, the system is labeled "refill at home." 
The concept works for a wide range of products, particularly those that can be dehydrated into tablet or powder form: toothpaste, mouthwash, dishwasher detergent. Getting rid of the water in these products means they don't have to be shipped around in huge plastic containers; customers just dilute them at home with water from the tap.
These lightweight products take up less space and are easy to move around, said Jennifer Congdon, deputy director for the advocacy group Beyond Plastics and an avid user of low-waste products. Although toothpaste and detergent refills ordered online often come with a small amount of paper packaging, she said her family prefers them to traditional items from the store, which often come with a larger plastic footprint. "We've reduced so much of our plastic consumption, which feels really good," she said. 
There are refill-from-home systems that go beyond cleaning and body care, including some familiar ones that allow customers to re-create their favorite soft drinks and other beverages. Sodastream, for example — which was acquired by PepsiCo in 2018 — sells a machine that lets customers make their own carbonated water, which can then be turned into a sort of DIY root beer or cola with the addition of some concentrated flavor droplets. The brand Bevi brings this concept to office spaces, dispensing customizable drinks from a contraption that looks kind of like a high-tech espresso machine.
Companies like these refill-at-home models because they can boost brand loyalty. Once customers have made an initial investment in a company's reuse system, buying their containers or technology, they're less likely to switch to another one — at least in theory. Congdon says she feels "some pull" to return to her favorite reuse brands, but that she often switches between several options for different refillable products. Which one gets refilled is a matter of convenience, and sometimes, she opts for products that can be refilled on the go — in a grocery store.
Refill on the go, in which customers own their own reusable containers but fill them up at locations outside their homes, is arguably the most common reuse system. Just think of the now-ubiquitous water-bottle-refilling station, or reusable shopping bags that you bring to the supermarket. Many cities now have entire stores dedicated to this reuse model, often called zero-waste stores or refill stores.
Miriam Gordon, a strategist for the nonprofit Story of Stuff Project, which advocates for policies to reduce plastic pollution, shops at a co-op grocery store in San Francisco that carries many of its products in bulk. She brings reusable containers from home to fill with everything from spices to honey and vinegar. "There are all kinds of things" to refill, she said. "It's really exciting to be able to do that."
Many consumers also find it exciting to compare the per-pound prices of packaged versus bulk goods, and to save money on in-store grocery refills. Some bulk products like spices can cost just a quarter of their prepackaged counterparts by weight.
That's not to say there aren't still challenges. First of all, shoppers have to actually remember to bring their reusable bags and containers — it's not refill on the go if you use those paper or plastic baggies that most stores offer in the bulk section. Containers then have to be inspected and weighed by store clerks before they can be refilled. All this takes extra time and forethought that most shoppers aren't accustomed to.
"I'm not the average consumer," Gordon acknowledged. Although she's willing to take on some inconveniences for the sake of reuse — like schlepping around a heavy load of stainless steel, glass, and ceramic jars every time she does a grocery run — not everyone feels the same way. For in-store refills to catch on more widely, Gordon said she'd like to see stores offer their own reusable containers, which customers could borrow and return later.
Businesses face additional challenges in communicating the cost savings of bulk, particularly for concentrated products. For Meliora, a cleaning product company that sells soap sticks and tablets, the price-per-ounce label that's required in many states can be misleading. They make concentrated products look deceptively expensive, said Kate Jubkas, Meliora's founder — especially when compared with their watered-down competitors, even though they may actually cost less on a per-use basis.
"The price is going to look high for a tiny little package" of dissolvable soap, Jubkas said, even if one package is enough to fill three normal-sized bottles of all-purpose cleaner.
In some cases, restrictive health regulations give customers no choice but to use disposable packaging. While refill on the go is relatively straightforward for nonedible goods like soap and shampoo, public health departments in many places bar stores from letting people use their own containers for food. Instead, they're required to offer disposable tubs or bags, meaning many bulk-food systems aren't actually advancing a circular economy. In Washington, it wasn't until late 2020 that an update to the state's food code finally began allowing customers to bring their own containers to the bulk section, as long as a cashier visually inspected each one before use. Even now, the containers are only allowed for select items.
Aimee Simpson, formerly the senior director of advocacy and product sustainability for a small chain of grocery stores in the Seattle area called PCC, said the state still prohibits their customers from filling up reusables with foods deemed ready to eat, a category that includes many bulk favorites like nuts and granola, as well as the entire hot bar. There are also separate rules for bulk foods that have to be scooped and those that operate by gravity — as in, when you pull a lever to release food from a narrow chute. (The rules are stricter for scoops, since they present a greater risk of cross-contamination.)
Advocates for reusables nationwide say there's a labyrinth of bulk-food safety regulations that may or may not be enforced, confusing customers from state to state and from store to store. People "really, really want to bring their own containers … but they're getting mixed messages," said Heather Trim, executive director of the nonprofit Zero Waste Washington. Bills in several states aim to bring clarity by allowing reusables in more situations. In Oregon, for example, Governor Tina Kotek recently signed a law directing the state's health authority to write rules allowing consumers to bring their own containers to restaurants so they can be filled with food.
---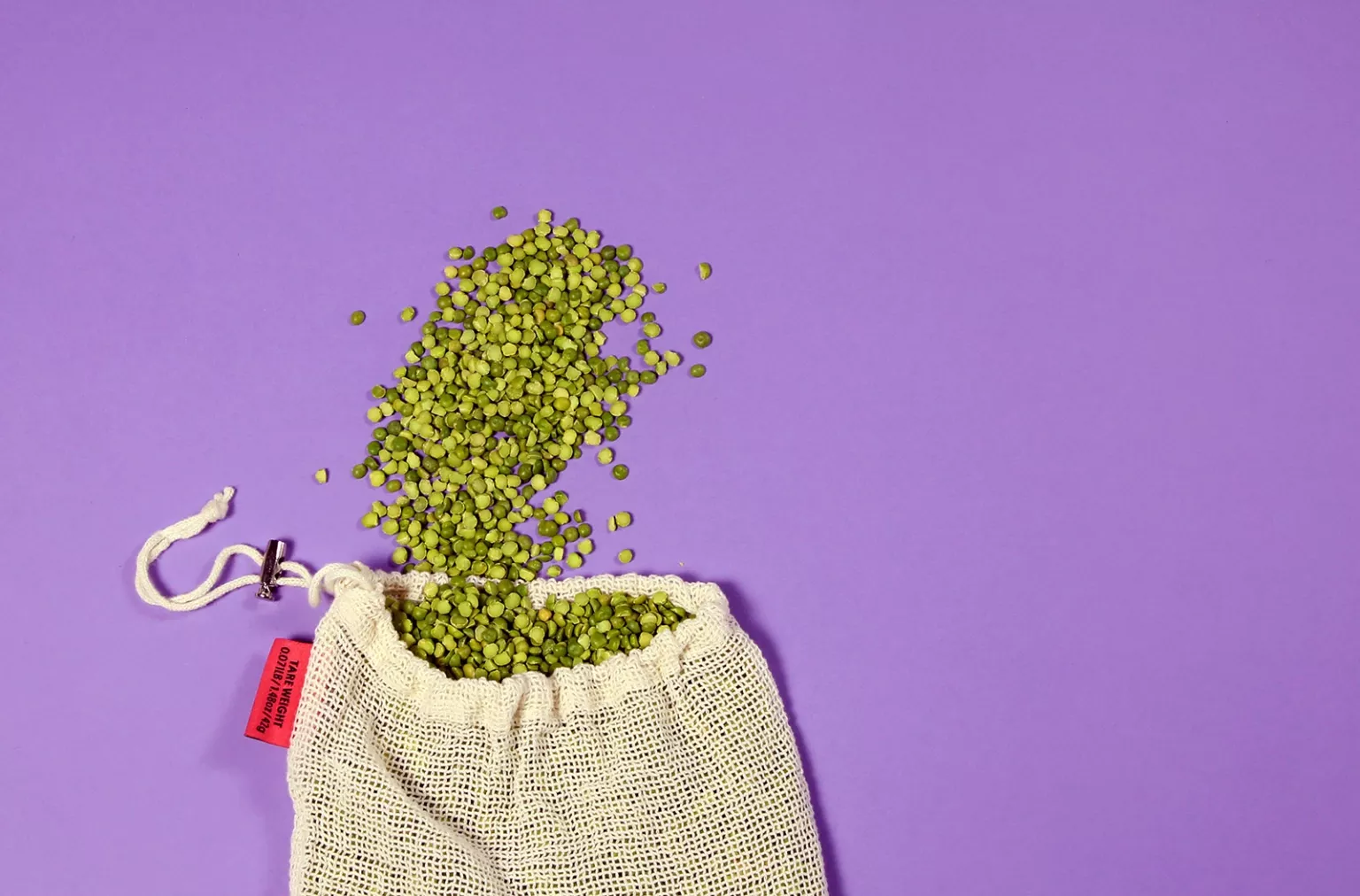 Daniel Penner // Grist
Reusable and returnable containers build a model for sustainability
Split peas spill from the top of a fabric bag.
For the other two kinds of reuse systems, known as return from home and return on the go, businesses own the containers, rather than individuals. The biggest hurdle in these cases isn't necessarily customer buy-in; it's logistics.
In the so-called linear economy, products fly off the shelves wrapped in cheap plastic and paper that companies don't have to keep track of. The packaging becomes someone else's responsibility — to discard, to recycle — the minute it reaches a customer.
"We are very efficient in selling products to consumers," said Clem Schmid, general manager of Loop, a self-described "global reuse platform" that partners with major brands and retailers. "This part of the supply chain … has been optimized to death for 60 years. But returning products back to where they started is virtually a virgin land today." 
Unlike with single-use packaging, company-owned reusable containers have to be fastidiously tracked, washed, inventoried, restocked, and refilled. All of this requires infrastructure that many companies have simply never built.
Rather than figure out all those steps on their own, businesses commonly hire a third party to do it for them. Loop, for example, helps its corporate clients set up the "reverse logistics" infrastructure that forms the backbone of returnable packaging systems. In one of Loop's most prominent partnerships, with Walmart locations in northwestern Arkansas, customers can order a small number of food and body care products — things like ketchup and laundry detergent — that are packed in reusable squeeze bottles and canisters. In this return-from-home model, customers pay a small deposit, usually between $1 to $3, that gets refunded after a Walmart employee picks up the empty containers from people's homes. 
The system is particularly promising for restaurants and cafes, which can participate together in a third-party reuse program that would be too complicated to manage on their own. Heather Watkins, co-founder of the Portland, Oregon-based company Bold Reuse, said many food-service locations lack the kind of dishwashing infrastructure that's necessary for them to go fully reusable. 
Bold Reuse helps by offering a subscription service for restaurants, which can sign up to replace either some or all of their single-use dishware with reusable inventory. Participating businesses can decide to charge customers a returnable deposit to "borrow" the dishes, which are later handed off to Bold Reuse for cleaning offsite. Starbucks ran a pilot program like this in Seattle in 2021, where it gave customers the option of paying a $1 deposit for a reusable cup that could be returned at drop-off kiosks. (Bold Reuse handled the cleaning.) Starbucks says it wants to implement the program in all its Europe, Middle East, and Africa locations by 2025.
The business owners Grist spoke with were evasive when asked whether customers ever forgot to return their packages, but none seemed overly concerned about losing their inventory. That may be because many such programs involve inexpensive reusable polypropylene containers, which are less wasteful than single-use but are still made of plastic. Critics note that, at the end of their life, these containers will likely have to be downcycled into lower-quality plastic products like carpeting. Other materials like glass and stainless steel are preferable from a sustainability standpoint, but companies may hesitate to use them since they would require higher deposit fees to discourage theft.
It sounds like a lot of work, but there are reasons beyond good PR for companies to embrace returnable packaging. Watkins said her clients see it as a "huge opportunity" to meet their waste diversion and greenhouse gas mitigation targets, since plastics, made from fossil fuels, have a heavy carbon footprint. Returnables can also be a money-saver, since they free companies from endlessly recurring purchases of single-use packaging. 
"We meet or beat single-use," Watkins told Grist. She said return on the go reduces some of her clients' packaging costs by 70 percent.
Although returnable packaging systems are still geographically limited — they're usually only available to those living in major cities — consumers who have access to them report big benefits. Consumers who were formerly lugging around a heavy collection of jars and other containers might no longer have to do so, while others report a sense of relief from not having to decide how to responsibly dispose of their takeout boxes. Small deposit charges might deter some people from choosing a returnable package, but it can also feel good to see that money returned, as if it's a kind of reward.
Gordon, with the Story of Stuff Project, said the return-from-home systems she's participated in have been "super convenient." One company, Dispatch Goods, drew her in when she learned in the depths of the COVID-19 pandemic that it was partnering with local Bay Area restaurants to offer takeout meals in returnable containers. The $3 deposit she paid per container was quickly refunded after a courier picked up the empty containers from her home.
"I ended up doing all my takeout orders from the restaurants that offered Dispatch Goods containers, and my level of takeout really increased," Gordon told Grist. She got "pizza, Indian food, Burmese food, salads. It was great."
---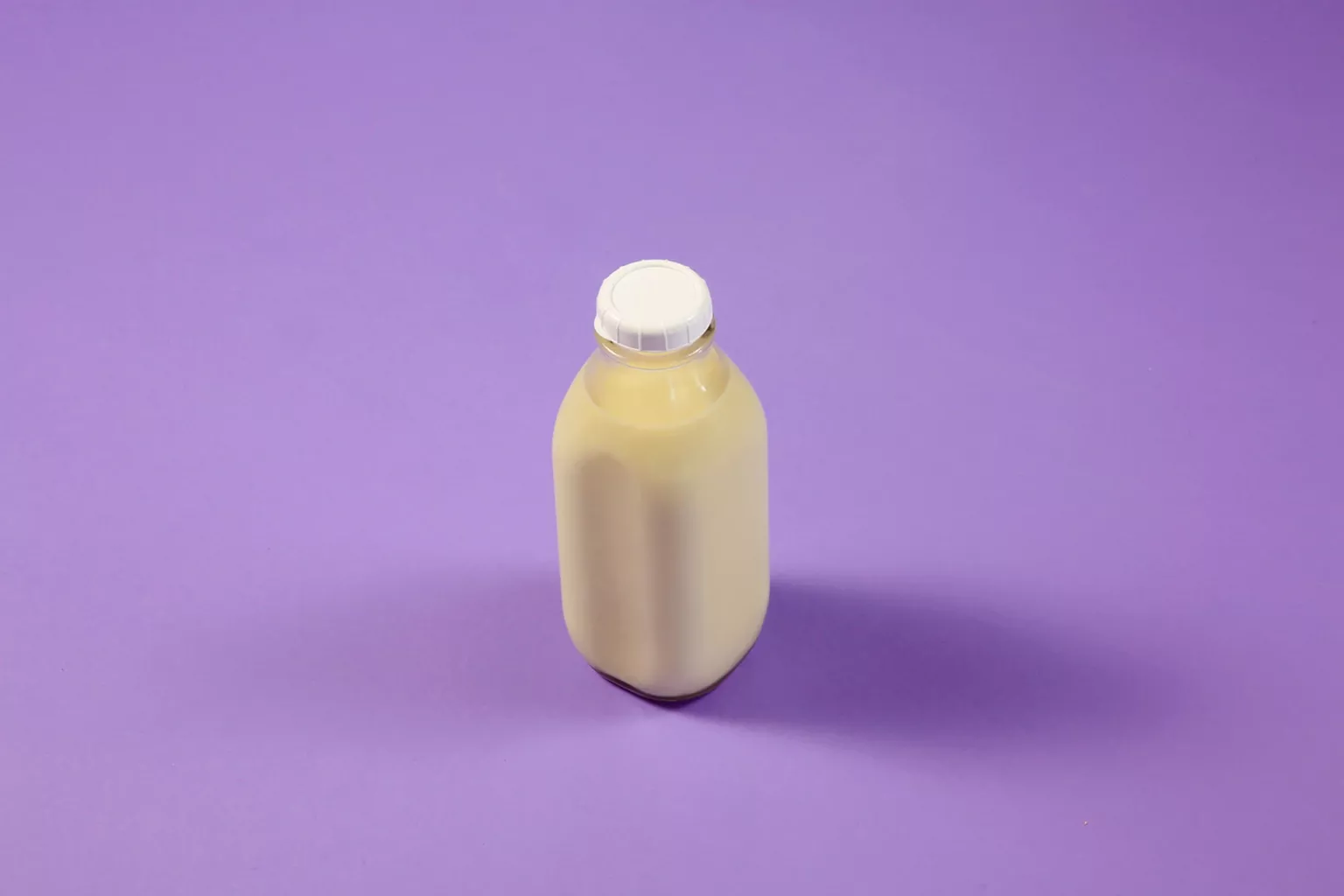 Daniel Penner // Grist
Replacing single-use plastic requires systemic change
Milk fills a reusable glass bottle
As some of the most enthusiastic consumers incorporate reuse into their lives, big brands also seem to be recognizing the growth potential for reusable products. In the beverage sector, Coca-Cola and Pepsi announced targets last year to sell 25 and 20 percent of their beverages globally through reusable systems, respectively. Coca-Cola, for example, plans to deploy more "Freestyle" machines — basically, soda fountains that can dispense soft drinks into a refillable cup.
Environmental advocates note, however, that more systemic solutions are needed to fill in the gaps of what's currently a patchwork of private-sector reuse programs. "There's only so much that voluntary initiatives can do," said Mark Buckley, strategic design manager for EMF. EMF's own voluntary initiative for companies to cut back on single-use plastic — the "Global Commitment" — showed in its most recent annual report that its members have made almost zero progress in reducing virgin plastics use since 2018 and will "almost certainly" miss 2025 targets for scaling up reusable, recyclable, and compostable packaging.
Plastics recycling, greenwashing, and deceptive lobbying raise additional concerns. Even as plastic companies advertise initiatives to move toward reuse, they and their lobbying groups have spent hundreds of millions of dollars to keep single-use plastics in play. Most plastics aren't truly recyclable, and a growing body of research shows that plastics recycling can harm low-income communities of color and keep thousands of hazardous chemicals in circulation, but the industry still promotes plastics recycling as part of a circular economy. A survey conducted in February showed that a majority of Americans don't trust the industry to address plastic pollution without government enforcement.
Congdon, with Beyond Plastics, said it's important for consumers to not only demonstrate demand for reusable products, but to fight for policies that tip the scales away from plastics. Individual action is necessary, she said, but it should serve as "fuel for that fire that burns in us to make bigger change." This could include updating health codes that keep reusables out of grocery stores, restricting companies' use of plastic packaging, or passing policies to make reusables more cost-competitive by increasing the price of virgin plastics.
Trim, with Zero Waste Washington, said these measures could help "institutionalize" some of the reuse infrastructure that's being laid out by the private sector. Specific examples include the WRAP Act in Washington state, which would, among other things, set up a statewide deposit return system for beverage bottles and require companies to redesign packaging so it's reusable, recyclable, or compostable. The Break Free From Plastic Pollution Act of 2021 would have implemented a national bottle bill at the federal level, but it never moved out of committee. The bill is expected to be reintroduced this congressional session. 
One beacon of hope: Americans across the political spectrum support policies to address plastic pollution, including by replacing single-use plastic with alternatives. That same poll from February, conducted by the progressive think tank Data for Progress, showed that a majority of voters want to reduce overall plastic production and ban single-use plastic items. Nearly 80 percent of voters want a return-on-the-go reuse system for their community.
"It's a bipartisan issue to reduce waste," Trim said. "If we can reduce, we can move to refillables."
This story was produced by Grist and reviewed and distributed by Stacker Media.
---