Most states have seen an increase in nursing licenses. So why are there still shortages?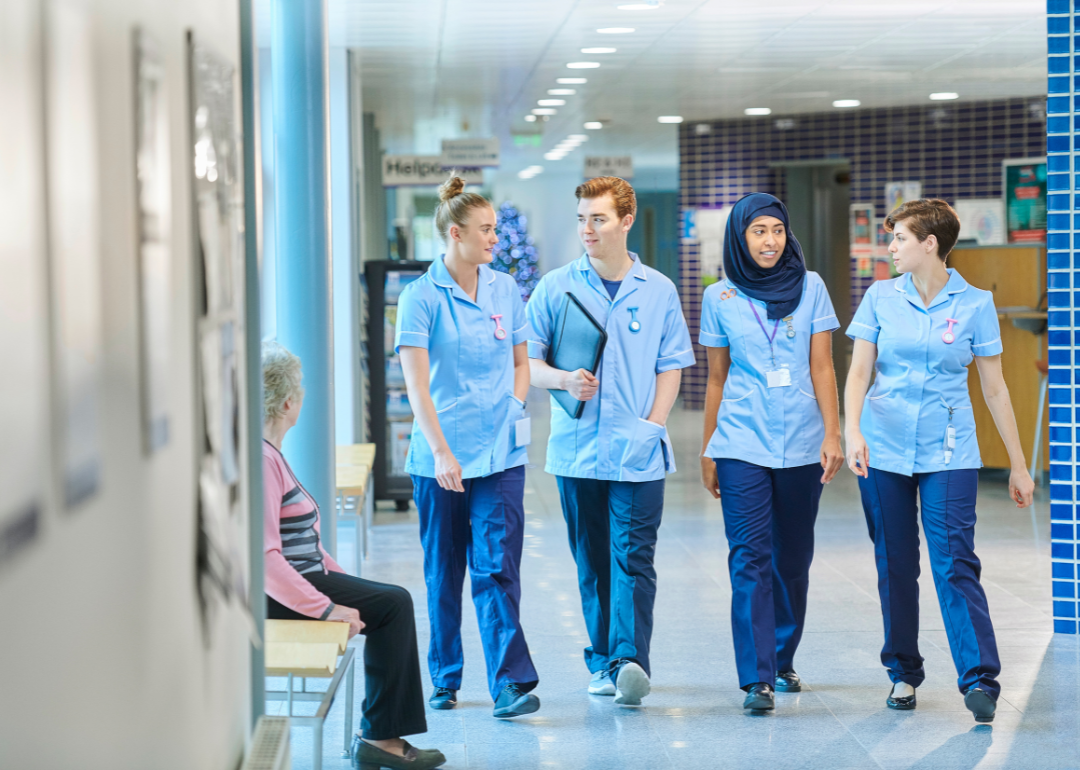 Canva
Most states have seen an increase in nursing licenses. So why are there still shortages?
A trainee nurse team walking down a hallway.
A population's health depends on and reflects the capacity of its health care system. The U.S. health care system is facing a shortage of doctors and nurses. As a result, almost 100 million Americans live in primary health care shortage areas where staffing doesn't meet demand.
A rapidly aging and ailing population, an exodus of experienced nurses from the workforce, and bottlenecks along the path to becoming a nurse, from classrooms to licensure, are just a few of the reasons why the U.S. cannot meet its health care demands.
About 1 million registered nurses in the U.S. are age 50 or older. In 10-15 years, this cohort, which also includes nurse faculty, will reach retirement age. In recent years, the U.S. has experienced an uptick in the number of new nursing licenses—some of which is driven by young professionals joining the field, and some of which reflects the expansion of interstate nursing practices during the pandemic—but not yet enough to close the gap between supply and demand.
Enrollment in entry-level bachelor's degree programs in nursing increased by 3% in 2021, according to the American Association of Colleges of Nursing. However, enrollment in Ph.D. and master's nursing programs both declined. These trends raise concerns about whether the demand for nurses with the clinical autonomy to serve as primary care providers can be met. The U.S. also faces a shortage of nursing educators at these advanced levels, creating a bottleneck for nurses who do wish to pursue advanced degrees.
For nurses who earn their degrees and pass their examinations, more hurdles often await. An NPR analysis found that approximately 10% of nurses waited six months or longer to receive their licenses, without which they could not treat patients. More than one-third of registered nurses and licensed practical nurses waited three months or longer. Many more sit in limbo due to clerical errors like misplaced files or missed emails.
For those considering a career in nursing, wage stagnation, stressful or dangerous working conditions, and burnout continue to be deterrents to entering the field.
Incredible Health investigated why there are still nursing shortages when most states have seen an increase in nursing licenses using data from NCSBN.
---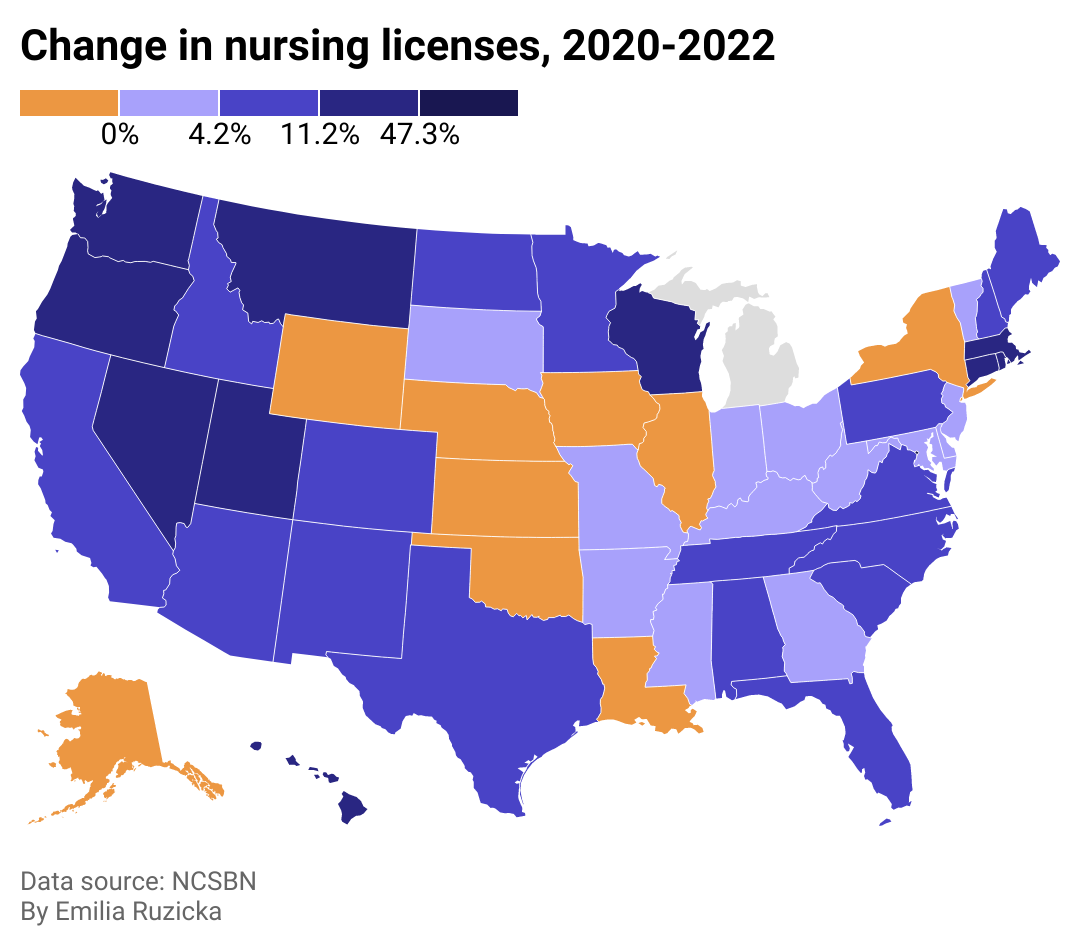 Incredible Health
Since 2019, the number of licensed nurses has trended upward. But from 2020 to 2022, some Midwestern states saw decreases
A map of the U.S. showing that most states saw an increase in nursing licenses from 2020 to 2022. There is a portion of the middle of the U.S. that primarily saw small decreases.
In recent years, some states have fast-tracked nursing licensure to meet the demand caused by unexpected waves of illness. For example, in 2022, Nevada fast-tracked some nursing licenses to treat pediatric patients suffering from RSV. This nationwide trend of a growing number of nursing licenses can also be partially attributed to the adoption of travel nursing and the issuance of temporary interstate nursing licenses during COVID-19. Many nurses who received temporary emergency licenses, which are now expired, have applied for permanent licenses in various states. States like Oregon, for example, are now working through a backlog of new permanent nursing applications.
---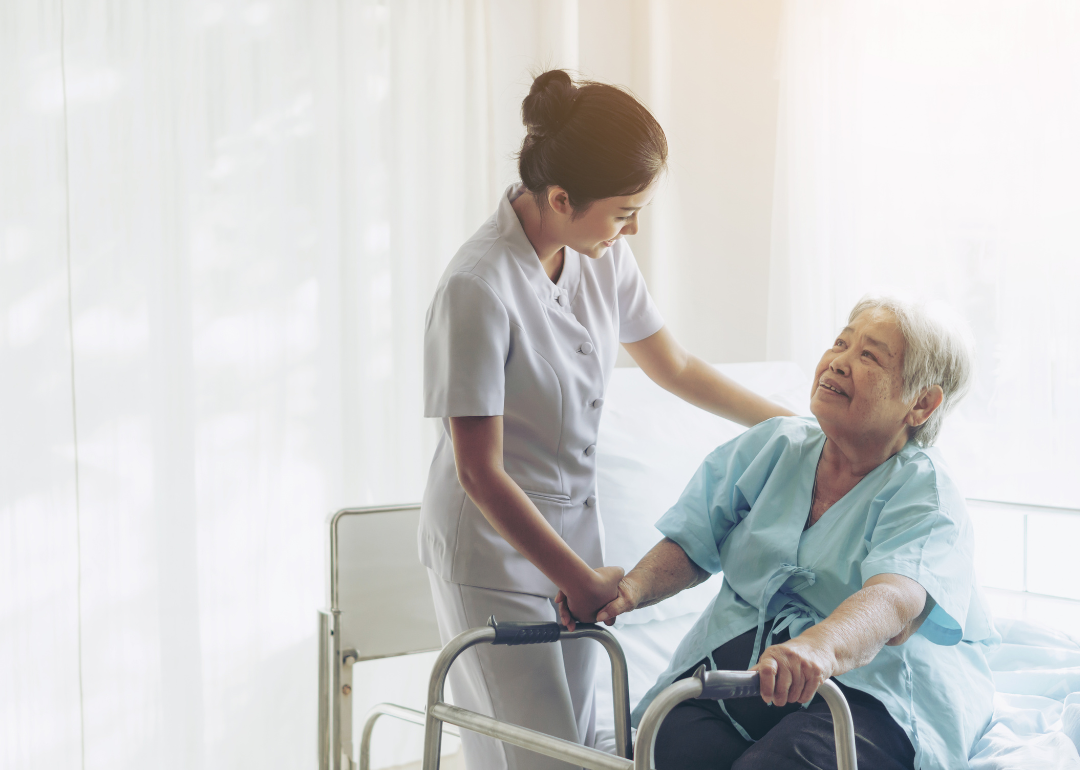 Canva
Despite this trend, America's aging population requires more nurses than ever, causing shortages
A nurse helping an elderly patient with a walker.
Roughly one out of every six Americans—many born during the post-World War II baby boom—is 65 or older. Seniors are expected to grow to nearly a quarter of the total U.S. population over the next several decades. In addition to an aging population, chronic illness is also rising, driving up the need for patient care capacity. Eighty percent of adults 65 and older—about 45 million people—have at least one chronic condition, while 68% have two or more. Arthritis, cancer, diabetes, and heart disease are among the most prevalent chronic conditions that will continue to strain the understaffed health care system.
---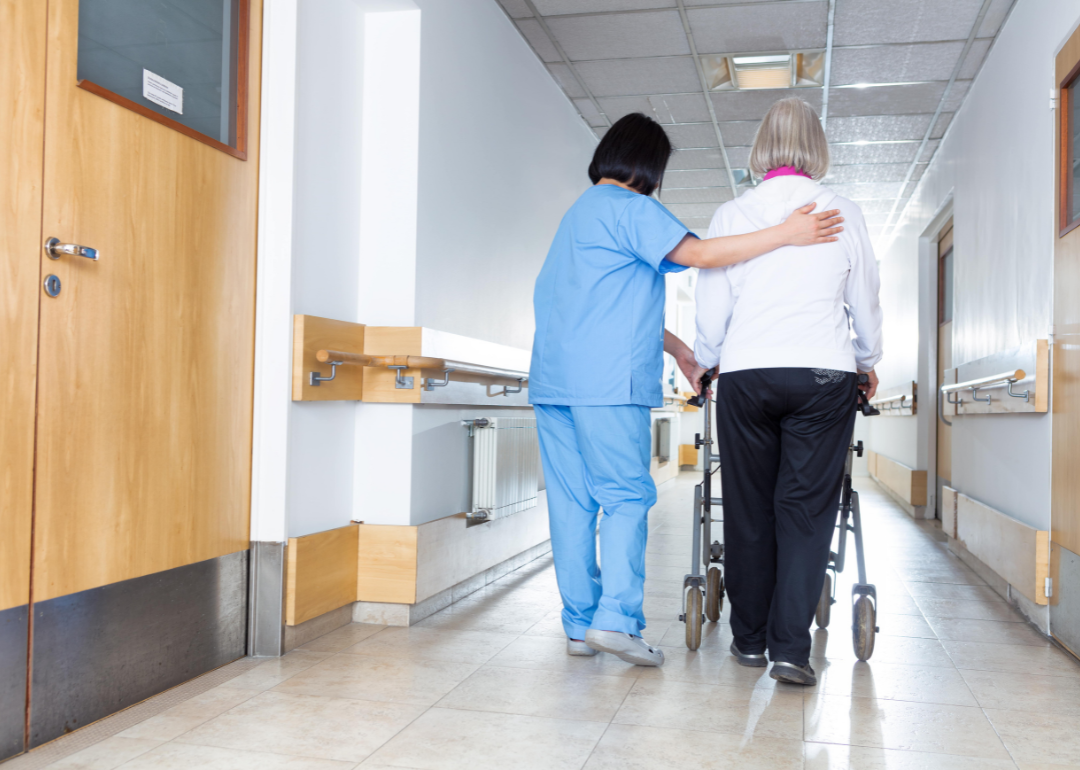 GagliardiPhotography // Shutterstock
The nurses working in the field are also aging, causing many to retire and exacerbating shortages
A nurse walking an elderly patient down a hallway.
The stressors of being a health care worker were exacerbated by the pandemic, not created by it. For many, the pandemic drove burnout due to increased workloads, longer hours, and emotional drainage to unsustainable levels, prompting many to retire or leave the field for a new industry. A 2022 National Nursing Workforce study found that roughly 100,000 registered nurses and 34,000 licensed practical and vocational nurses left the workforce between 2020 and 2022 because of the pandemic.
The median age of nurses has decreased over the last two years, from 52 in 2020 to 46 in 2022, due primarily to an exodus of experienced workers. Roughly 800,000 RNs and 185,000 LPNs who responded to the 2022 survey—equivalent to 20% of the licensed RN workforce in the U.S.—indicated they were likely to leave the nursing field by 2027.
This story originally appeared on Incredible Health and was produced and
distributed in partnership with Stacker Studio.
---