A dozen cities set youth curfews this year, even though they don't reduce crime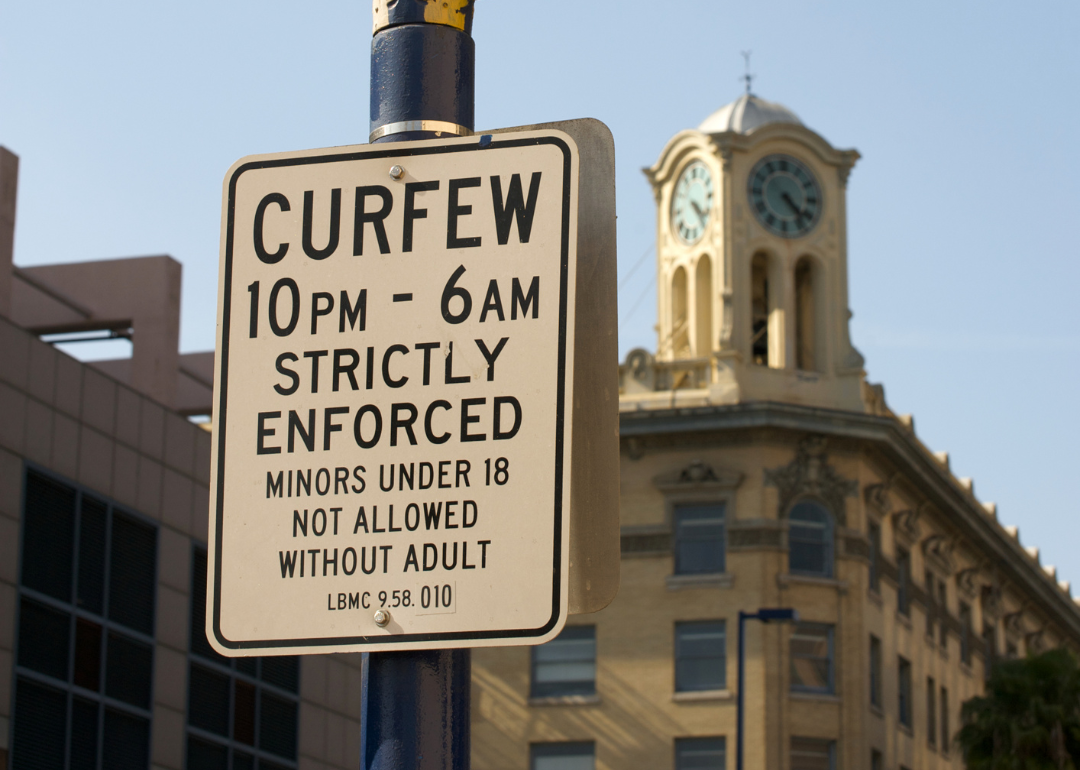 Canva
A dozen cities set youth curfews this year, even though they don't reduce crime
Street curfew sign.
Memorial Day weekend marked not only the unofficial start of summer in Baltimore this year, but also the return of the city's controversial juvenile curfew.
After the shooting of two teenagers this spring, Mayor Brandon Scott announced the city would again enforce when young people can be outside on weekends without adult supervision.
"This is about saving lives in every single way," he said at a press conference in May.
Baltimore isn't the only city bringing back a curfew. Since the start of the year, more than a dozen cities and counties have enacted curfews — or are once again enforcing them — in the name of youth safety, despite a mountain of research showing they have little effect on crime.
Even as many cities continue to rely on these methods, Republican leaders in Texas bucked the trend, recently enacting a statewide ban on juvenile curfews that will take effect in September. Criminal justice reform advocates in the state had long argued for abolishing curfews because the policies didn't prevent violence.
The Marshall Project has found that arrests of people 17 or younger for violent crimes have been declining for years nationwide. Even when young people do commit violent offenses, federal data shows that crimes peak in the afternoon, hours before most juvenile curfews begin.
Critics argue that curfews aren't just ineffective, but are potentially harmful for young people. Advocates across the country have raised concerns about curfews increasing the interactions that Black and Latino teenagers have with police. Depending on the city, teenagers can face a citation or even arrest for curfew violations, and their parents can be dealt fines as high as $1,500 for repeated violations.
David Wilson, a criminology professor at George Mason University, said the academic community has reached consensus that curfews aren't effective at reducing crime.
"The common problem with crime policy is that both politicians and among the public — if their common sense notions are at odds with the research — they just disregard the research as a general rule, and I don't know why," he said.
In Baltimore, officials have invested about $500,000 to enforce the curfew, including printing 80,000 info cards and blasting robocalls days before it went into effect. The mayor's office said the curfew is necessary to address an increase in youth violence during evening hours. While violent crime has declined overall this year, Baltimore has seen a recent increase in shootings of school-aged teenagers.
This is the second time in less than a decade that the city has tried this tactic. In 2014, Baltimore instituted a curfew ordinance that some said was among "the strictest in the nation." A research report later indicated that the policy resulted in a higher ratio of youth arrests, even as arrests overall were declining.
"Curfew enforcement in Baltimore, in my opinion, should have never stopped," Mayor Scott told The Marshall Project. "The truth is that I had conversations with my staff and others about bringing it back last summer."
Scott said this summer's approach is different from years past. Instead of using police as the primary enforcers, the city will have social workers help transport teenagers out past 11 p.m. to a recreation center, where they can receive counseling services and play basketball.
If a child's parents can't be reached or if a child breaking the curfew is especially young, officials will contact child protective services. Parents may face up to $500 in fines and community service if their child repeatedly breaks the rules. At the same time, city officials say they understand that some teenagers may be experiencing homelessness or fleeing abusive households.
At a hearing about the curfew in late May, city council members raised a litany of concerns, including staff burnout and officials assuming Black teenagers are older than they look. One council member said the city's fliers are difficult to read, while another said the city's efforts, while promising, were likely unappealing to teens.
"The young people who are going to follow our curfew are not the ones shooting each other or the ones carrying guns," Council member Mark Conway said. Though he's happy the city is trying a curfew with less police involvement, Conway remains skeptical that it will reduce violence among youth. "When we look at the data, there are some instances of violence in the later parts of the nighttime, but by and large when we're seeing violence… it's actually happening during the day."
Juvenile curfews became popular during the 1990s crime wave, which was marked by its increase in violence committed by young people and the demonizing belief among some policymakers that these youth were "superpredators." The laws faced legal challenges from the start.
"There's a whole host of constitutional concerns with juvenile curfew laws," said Sarah Hinger, a senior staff attorney with the American Civil Liberties Union.
The nonprofit took several cities to court in the late '90s and early 2000s, arguing that curfews criminalized young people solely based on their age and resulted in racial disparities. More than a decade later, the ACLU reported that Black kids comprised 60% of arrests for curfew violations in Minneapolis.
These concerns have fueled advocates like Brett Merfish, a director with the nonprofit justice organization Texas Appleseed, who has pushed for years to end curfews in Texas. She says the restrictions are often poorly enforced by local police and can unnecessarily pull kids into the legal system.
That means "sometimes getting a fine that can't be paid, and then having something that ends up on your record that can then keep you from future opportunities," she said. "We're basically criminalizing something that really [is] an outsized response to being out of your house at a certain time."
Earlier this month, Texas Gov. Greg Abbott signed a bill banning juvenile curfews in the state. The measure, while authored by Republican lawmakers, attracted broad bipartisan support. In the years leading up to the bill's passage, at least one police department in the state had stopped using curfews, citing their ineffectiveness. Advocates that supported the ban say it expands parental rights, and it was one of several bills passed during the session that limits the power of local governments.
"We believe that the parents are the best decision makers for their children, not the government," said Anita Scott, policy director with the Texas Homeschool Coalition, which supported the bill. "The juvenile curfew was unnecessarily placing a burden on Texas families by restricting the ability of parents to allow their children out in public."
Beginning on September 1, Texas cities can enact curfews only in emergencies, like hurricanes.
In Baltimore, the city's curfew over Memorial Day weekend turned out to be uneventful.
The mayor's office reported no violations and said that no teenagers were transported to the recreation centers. Nor were there any reports of shootings involving young people. Scott called the quiet first curfew weekend a "complete success."
As of late June, the city still had not issued any citations. That was a sign, according to the mayor's office, that its engagement with teens was working.
This story was produced by The Marshall Project, a nonprofit news organization covering the U.S. criminal justice system, and reviewed and distributed by Stacker Media.
---