How the AP program expanded to 7 in 10 high schools in the US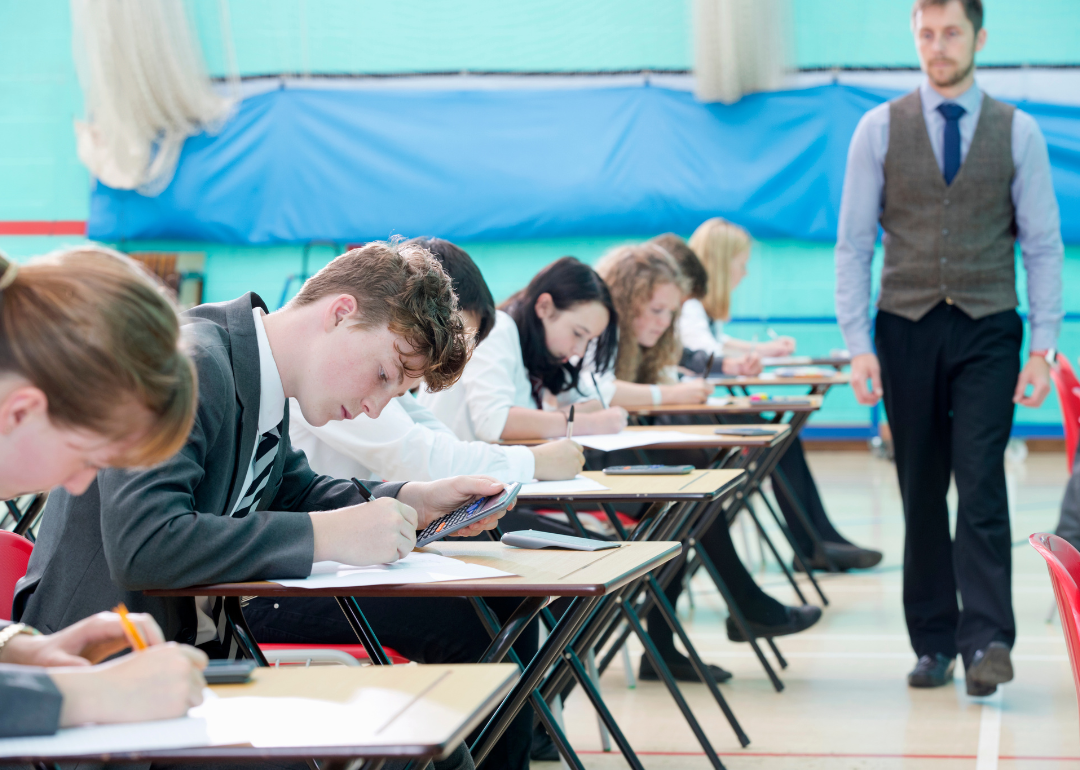 Juice Flair // Shutterstock
How the AP program expanded to 7 in 10 high schools in the US
A teacher supervising students as they take an exam.
Advanced Placement, a program of college-level courses run by the College Board, has left an indelible mark on U.S. high school curriculum, with more than one-third of the class of 2022 having taken at least one AP exam. Less than a century since the program's inception, AP has made its way into more than 70% of public schools and expanded its available classes to nearly 40, ranging from art history to statistics to precalculus.
AP classes may also help high school students better prepare for college-level coursework. A report published in 2011 established a strong connection between students' AP participation and the choice to major in a related field, citing the correlation between AP computer science students and those seeking a bachelor's degree in the same subject.
An earlier 2006 study from the National Center for Educational Accountability found that after accounting for differences in socioeconomic background, prior academic achievement, gender, and other variables, students who scored a 3 or higher on at least one AP exam had higher five-year graduation rates than students with no AP participation. This positive correlation was echoed in a 2013 College Board study on AP exams and college graduation rates, finding that students who took at least one AP class were more likely to graduate with a college degree in four years than their peers who didn't.
Study.com compiled a timeline detailing how AP courses have expanded their reach and impact on the high school curriculum, using various academic and historical sources.
---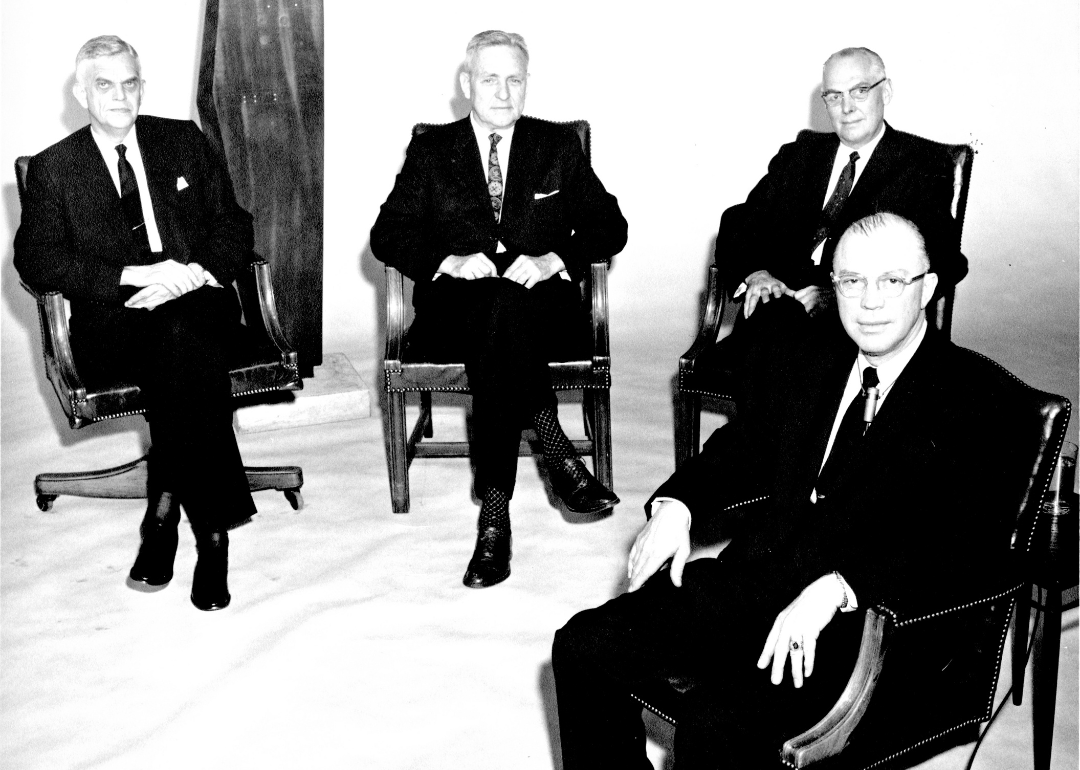 JHU Sheridan Libraries/Gado // Getty Images
1950s: Birth of AP classes
Johns Hopkins University President Milton S. Eisenhower seated with guests from the Ford Foundation discussing the Fund for the Advancement of Education.
The end of World War II ushered in the Cold War era, marked by competition between the United States and the Soviet Union in scientific, military, and geopolitical advancements. Out of concern that its high school students would fall behind their Soviet peers, the U.S. explored ways to prevent such a scenario and the geopolitical disadvantage it feared would result. To that end, in 1951, the Ford Foundation created the Fund for the Advancement of Education to respond to the need for a better-educated populace.
Two studies by the FAE discovered that college students often repeated material they had already covered in high school. The research revealed a need for improved coordination between secondary and higher education. The Committee on Admission then recruited higher education professionals from every field to develop high school assessments and course descriptions that would satisfy colleges' requirements for academic rigor in granting college credits at the high school level.
---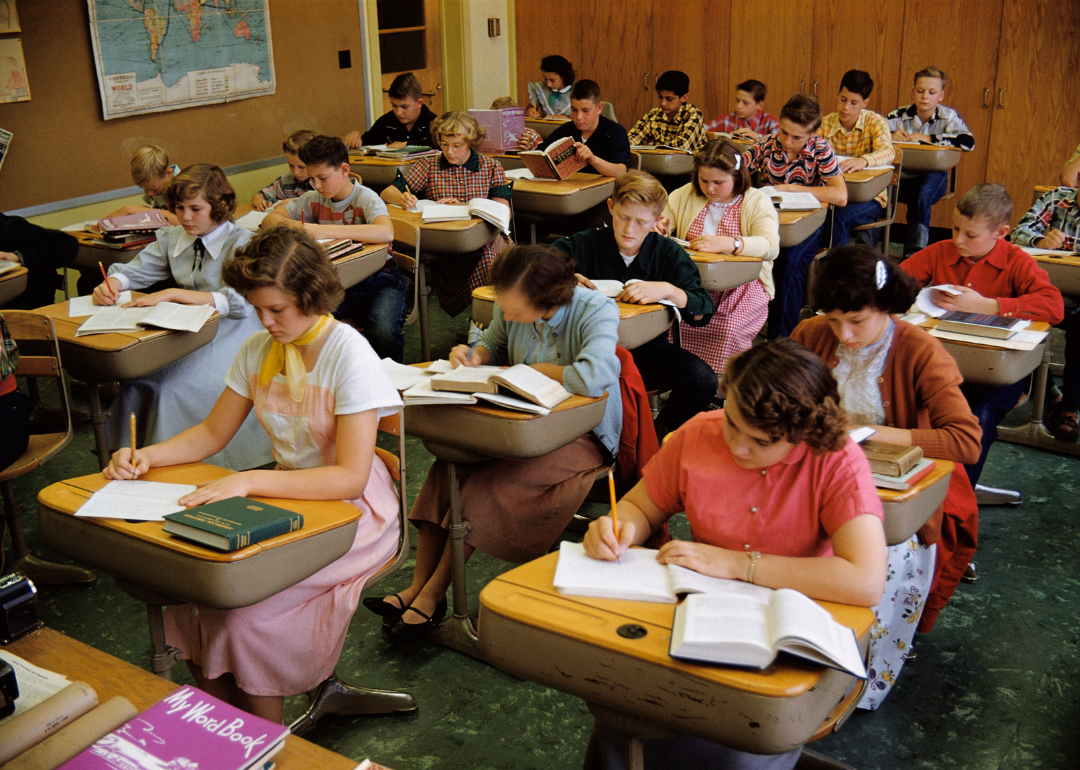 Steven Gottlieb // Getty Images
1952-1954: Pilot program and first AP exams taken
High school students writing at their desks in the 1950s.
In 1952, the FAE launched a pilot program of advanced courses in 11 disciplines tailored for high-achieving students. A report announcing the plan touted it as offering "an opportunity and a challenge to … the strongest and most ambitious boys and girls." Two years after its launch, 18 schools participated in the program. In the spring of 1954, around 530 students took the first AP exams and paid a $10 fee per exam, equivalent to just over $110 in 2023. The possible scores of the exams ranged from 1 to 5 and determined college credits for students.
---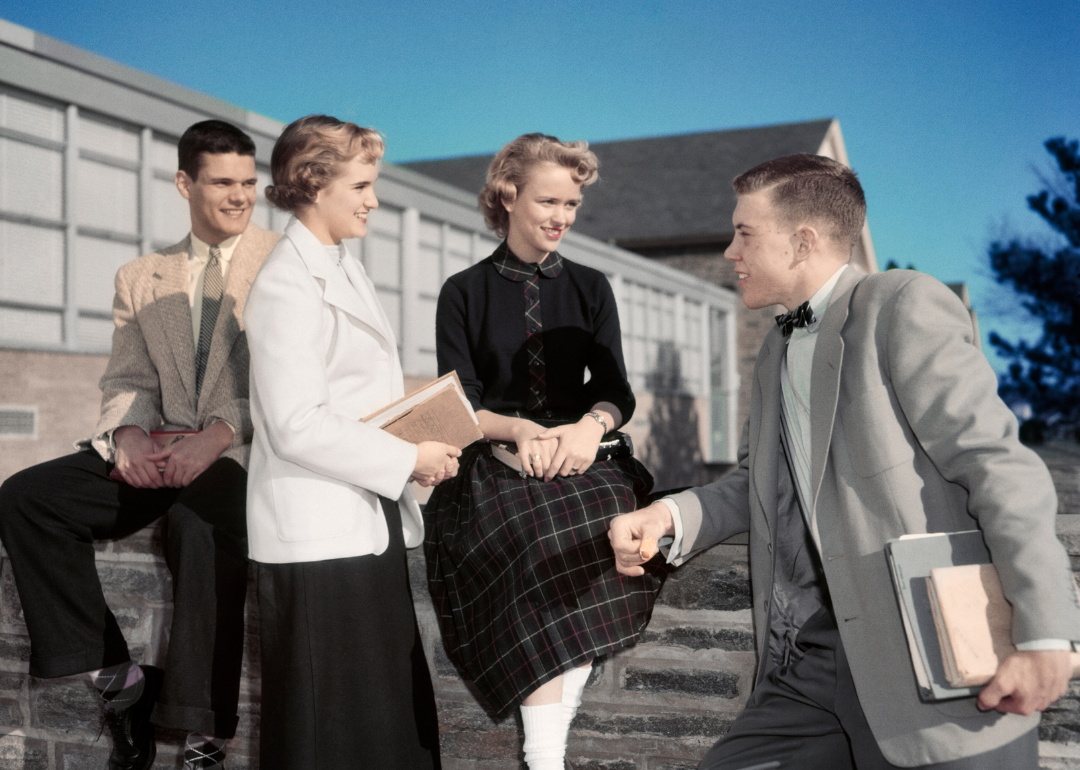 H. Armstrong Roberts/ClassicStock // Getty Images
1955: The College Board takes over
Four students talking outside a school building.
The number of participating schools surpassed 100 the year the College Board assumed leadership of the program. Additionally, the number of students taking at least one AP exam more than doubled from the previous spring—and would increase more than eightfold by the end of the decade. However, this improved reach did not immediately change the nature of AP courses, which remained a program devoted to gifted children. As David Dudley, the second director of AP, stated in 1958, "The basic philosophy of the Advanced Placement Program is simply that all students are not created equal." Thus, only affluent, predominantly white high schools offered AP courses.
---

H. Armstrong Roberts/ClassicStock // Getty Images
1960s: AP exams and college admissions
Two high schoolers taking an exam in the 1960s.
The late 1950s saw an increase in highly selective colleges receiving applications for fixed enrollment. In this environment of growing competitiveness for admissions, AP exams started gaining momentum as a prestigious tool that allowed certain applicants to stand out. In 1961, nearly half of the incoming class of Harvard had participated in the AP curriculum, and around 1 in 10 admitted reportedly had enough AP credits to enter the university as sophomores. Taking AP classes was regarded as the second-best thing to attending a prep school in terms of its effect on potential college admissions.
---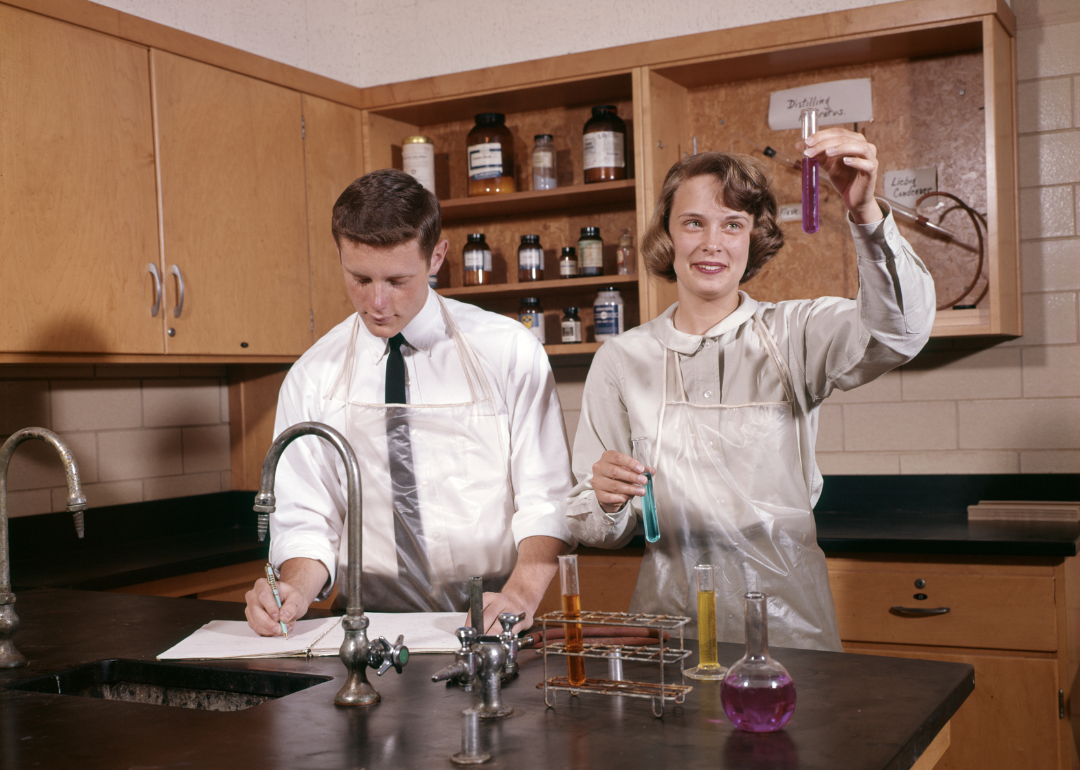 H. Armstrong Roberts/ClassicStock // Getty Images
Late 1960s-1980s: Concerns over inequity
Two white students working in a chemistry lab.
The growing prestige of the AP program did not immediately translate into increased coverage. In 1969, only 14% of high schools had students taking AP exams, with most having fewer than 10 participating. The program became a target of criticism for exacerbating both the racial divide and socioeconomic disparities in education. Detractors argued that the rising rigor of the classes made them inaccessible to "regular" students and those requiring more academic support, who were by then facing an ever-narrowing set of college choices.
By 1980, more than 5,000 high schools nationwide installed AP courses. However, newly established high schools were utilizing the program primarily to gain credibility in the eyes of parents rather than improve the educational outcomes of underserved students. Moreover, as late as the mid-'80s, AP implementation was much more likely to occur at larger schools that were generally more well-funded and bore student bodies with as much as 85% white student enrollment.
---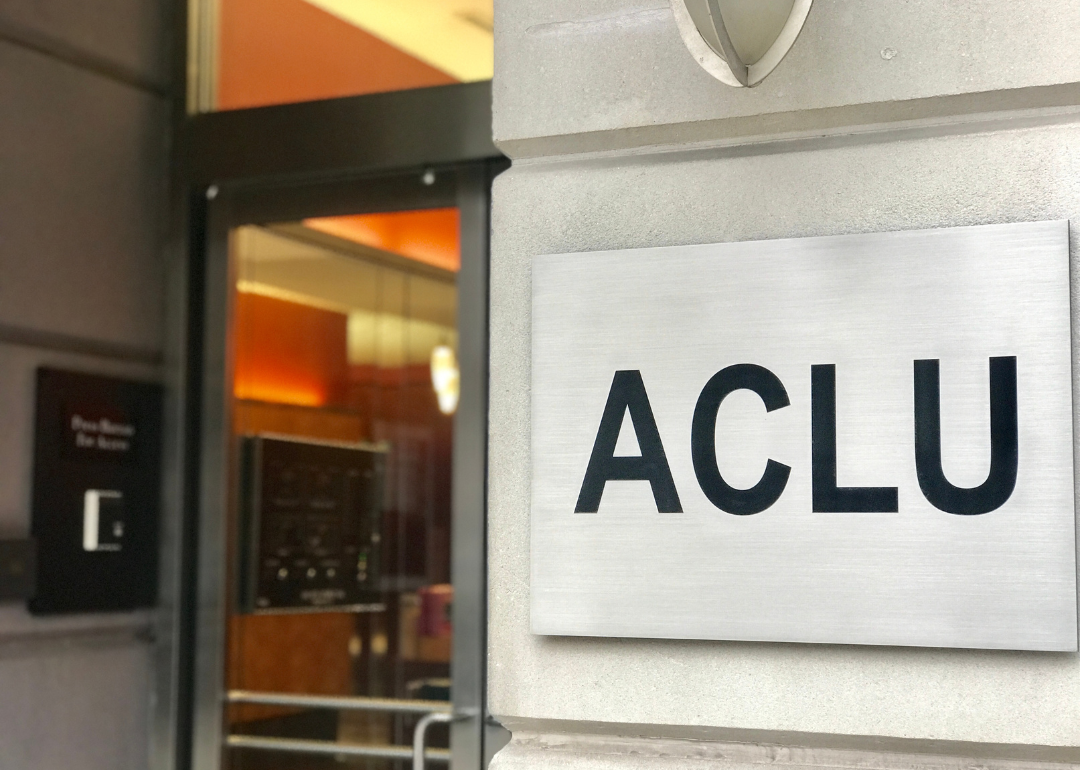 DCStockPhotography // Shutterstock
1999: ACLU files racial inequity lawsuit in California
A sign outside the ACLU's DC office.
In a July 1999 lawsuit, the American Civil Liberties Union alleged the state of California violated students' rights to equal education by providing differential access to AP courses. Mark Rosenbaum, then-legal director of the ACLU of Southern California, referred to the situation as a "two-tiered educational system" that, in particular, disadvantaged Black and Latino students from low-income school districts in violation of the Equal Protection Clause and the education clause of the California Constitution. The lawsuit cited the example of Beverly Hills High School, a majority-white school offering 45 AP classes across 14 subjects. Conversely, Arvin High School, located in a relatively low-income area with a student body of more than 93% Black and Latino, offered only two AP courses.
The state eventually settled by agreeing to expand access to AP classes in public schools. One year later, in August 2000, the ACLU filed suit against the state again, this time alleging a more widespread lack of equal access to educational opportunities. That suit was settled in 2004 by a $1 billion state investment in public education.
---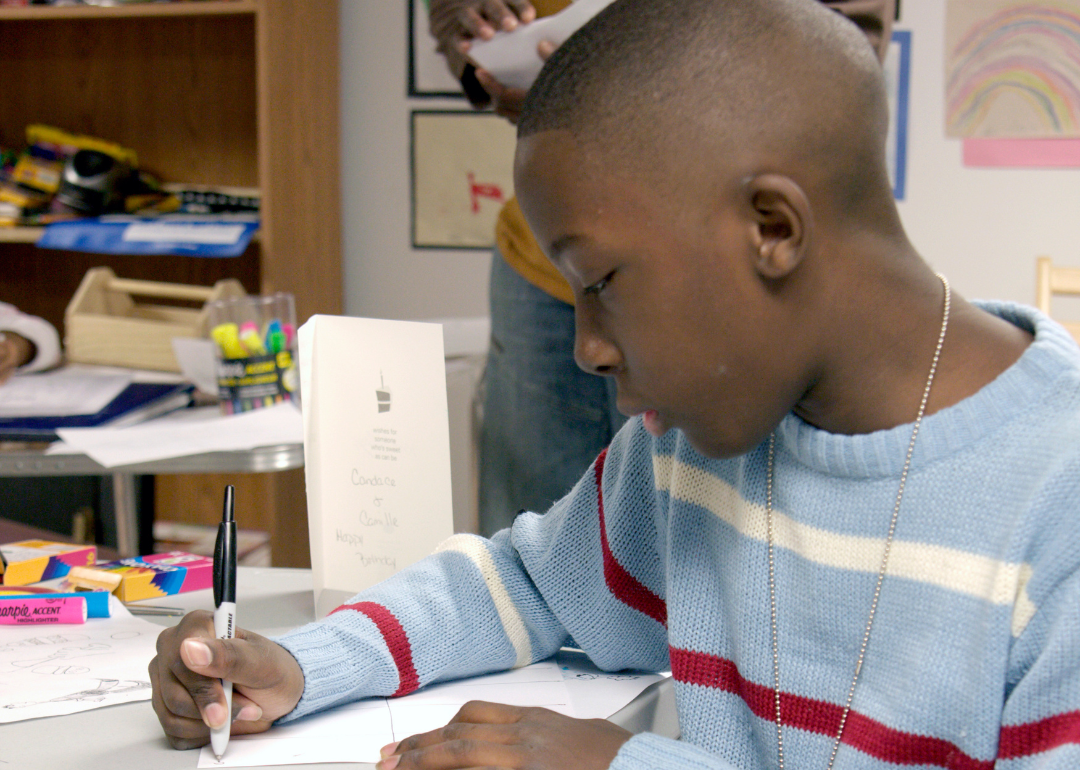 Robert Abbott Sengstacke // Getty Images
Late 1990s-early 2000s: Increased participation by Black and Hispanic students
A Black student working on an assignment.
With the overall increase in popularity of the program, which now encompassed more than 13,000 schools and accommodated nearly 850,000 students, access to AP classes among Black and Hispanic students began steadily improving in the late 1990s. In 1988, fewer than 1 in 5 AP test-takers were "minority students," according to a 1989 report in the journal Black Issues in Higher Education. That figure rose to 26.3% by 1994 and surpassed 31% by 2002.
Improvements in the racial composition of AP participants did, however, reveal another issue: interracial differences in exam performance. Accusations of unfair treatment of minorities surfaced in 2016 when 70% of Black and 57% of Hispanic AP test-takers did not pass, compared to the overall no-pass rate of 42%.
---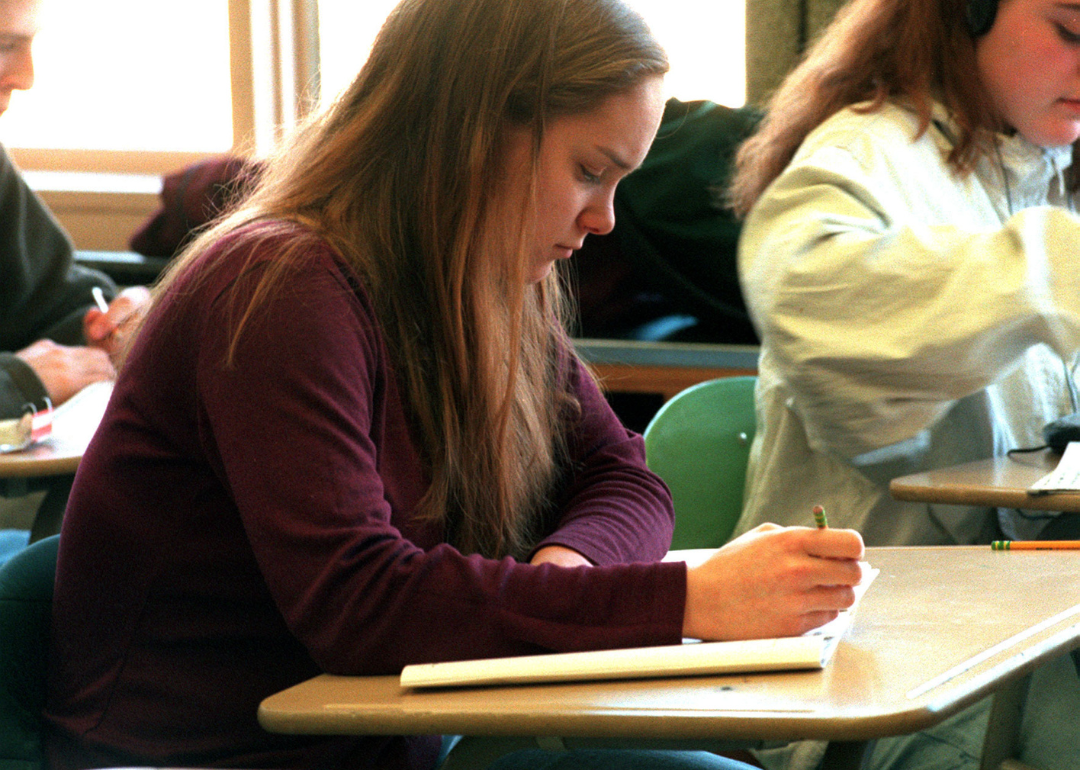 Portland Press Herald // Getty Images
Late 1990s: Start of subsidies for low-income students
A student taking a test in 1999.
In a fight against unequal access, some states introduced a minimum number of AP classes all public high schools had to offer. However, this measure alone could not fully address the deeply rooted disparities. In the late 1990s, the federal government introduced subsidies to help low-income students cover their exam fees. Over the following years, the program saw hundreds of millions of dollars spent on AP fees and teacher training. By 2016, 29 states subsidized AP exams. Additionally, 30 states required AP metrics when assessing school and district performance.
Unfortunately, the exam-fee subsidies did not incentivize school districts—namely those in low-income or rural areas—to expand their AP course offerings, nor did they provide a test preparation resource.
---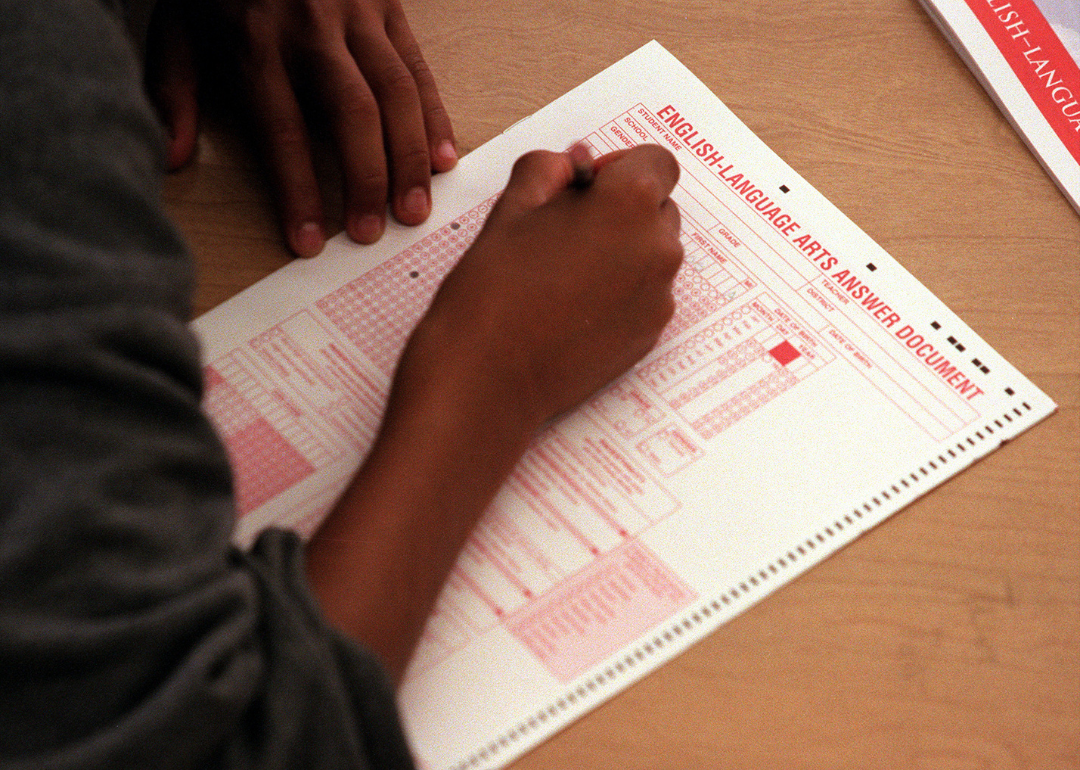 Lawrence K. Ho // Getty Images
2007-2008: Quality control measures
A close-up of a student filling out a scantron sheet.
In 2007, the number of high school students taking at least one AP exam ballooned to 1.5 million, nearly doubling since 2000. Such rapid expansion of AP participation called into question the degree to which the quality of AP classes was enforced across schools. To maintain the program's prestige, the College Board decided to standardize the quality of courses across schools. Beginning with the 2007-2008 academic year, the College Board required high schools to seek authorization to use the AP label. The list of approved high schools was then shared with colleges.
Since then, some colleges have instituted strict standards for AP course acceptance. Harvard University, for example, now awards credit only for an AP exam score of 5, a change from the past when any score above 3 sufficed. Other top schools, such as the University of Pennsylvania, prohibited incoming students from claiming credits for required college-level coursework based on AP exams.
---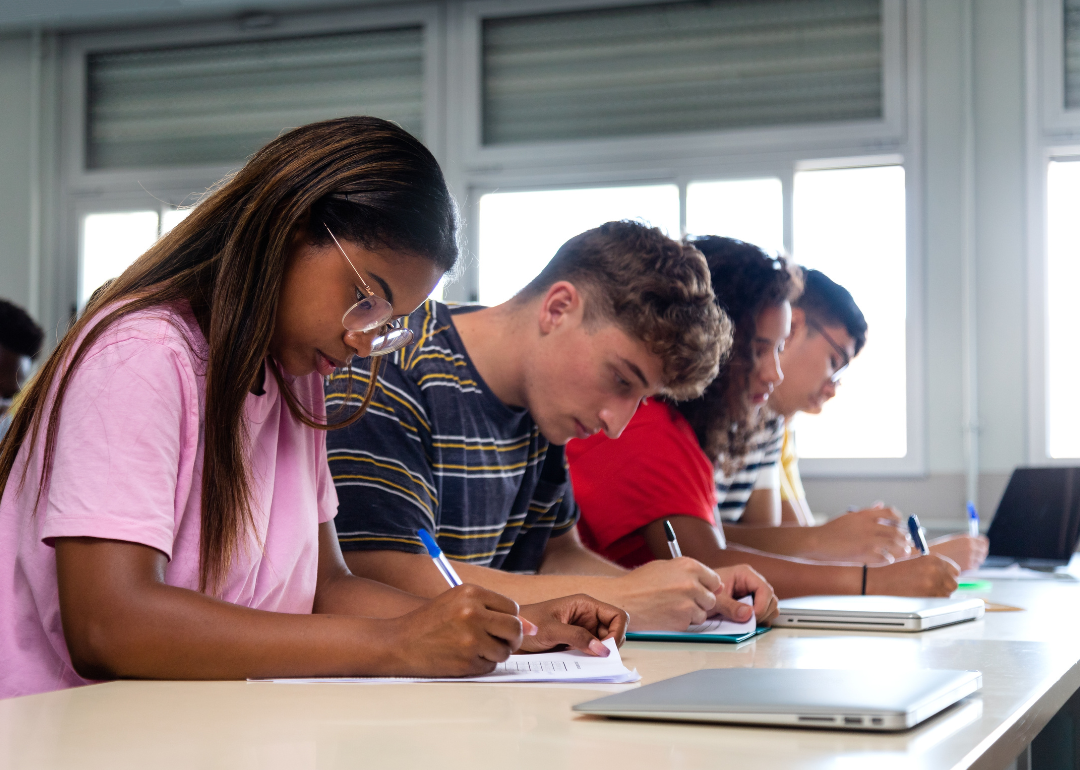 Daniel Hoz // Shutterstock
1997-present: Expansion of AP program
Students sitting at their desks and writing in class.
From 1997 to the 2017-2018 academic year, the number of schools participating in the AP program nearly doubled, and the number of test-takers quadrupled to exceed 2.8 million. The College Board introduced initiatives such as the AP Capstone Diploma Program, which includes two yearlong courses (AP Seminar and AP Research) for enhancing students' critical thinking, research and presentation skills, and collaboration. As of 2021, the program's three most popular AP courses are AP English Language and Composition, AP U.S. History, and AP English Literature and Composition. Starting in the 2023-2024 academic year, the College Board will add two new courses: AP African American Studies and AP Precalculus.
Story editing by Brian Budzynski. Copy editing by Paris Close.
This story originally appeared on Study.com and was produced and
distributed in partnership with Stacker Studio.
---