12 jobs that require the most stress tolerance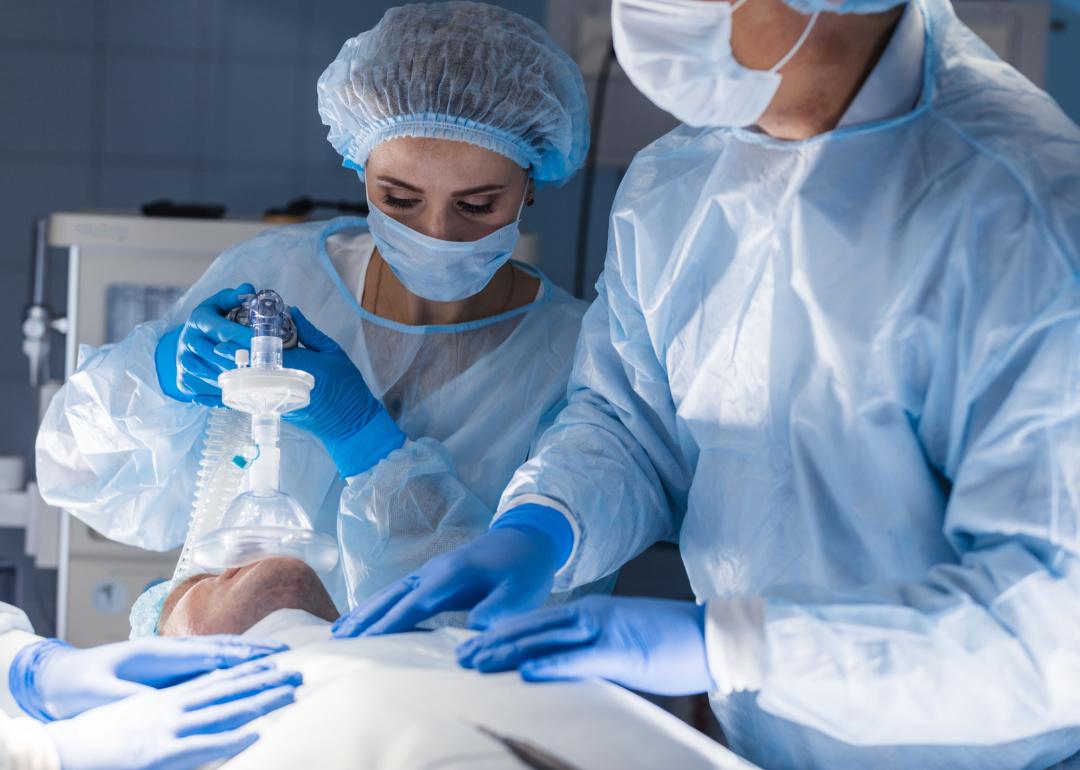 UfaBizPhoto // Shutterstock
12 jobs that require the most stress tolerance
Anesthetist holding oxygen mask above patient during surgery.
One thing urologists and video editors have in common? Stress. While the two jobs couldn't be more different, they share the first and second slots, respectively, leading the list for U.S. jobs requiring the most stress tolerance. Operating under time pressure and with intense concentration are no doubt part of the daily routine for these intensive roles. 
But feeling the strain isn't unique to these occupations. At least 2 in 5 workers in the U.S. consider their job "very or extremely" stressful; at least 1 in 4 workers report "often or very often" feeling "burned out or stressed" at work. High stress levels in the workplace can make individuals feel burned out, depressed, or anxious, making it more difficult to perform their job or even function in their personal life. It can even lead to health problems and even injuries. 
According to the American Institute of Stress, more than half of adults in the U.S. report feeling like they have little control over their stress and experiencing extreme fatigue in their jobs. Health care positions are seemingly the most stressful, and six occupations in the medical field landed on the list of most stressful jobs. The responsibility of caring for a human being, in addition to the constant exposure to infectious diseases and dangerous drugs, adds pressure to the crucial daily duties performed by nurses, health technicians, and doctors, who often confront severe illness and death regularly.
The COVID-19 pandemic amplified stress levels in health care workers exposed to an unknown and highly contagious virus. Hospitals were overcrowded, had to improvise on protocols, and treated patients with experimental medication or procedures.
Workers from other industries, self-employed people, and business owners also endured intense stress during the coronavirus health crisis and the financial instability it caused immediately after the initial confinement period. Citing data from a Gallup poll, AIS reports that "daily stress reached a record high, increasing from 38% in 2019 to 43% in 2020."
The organization warns that polls and statistics about stress in the workplace must be analyzed thoroughly, since "stress is a highly personalized phenomenon." The same occupation is perceived and performed in different ways by every employee. Each worker has a unique skill set and a particular stress level tolerance. While some might thrive in a fast-paced environment, finding it challenging and rewarding, others prefer repetitive tasks with less responsibility.
One thing to also note is that individuals choose career paths and jobs for a multitude of reasons and motivations. While one person chooses a high-paying position knowing the toll it will take on their mental and physical health, others will settle for a lower wage in exchange for a better work-life balance. 
To better understand the occupations where workers tend to work under stressful situations, Wysa cited information from O*NET, a data collection program sponsored by the U.S. Department of Labor, to identify the 12 jobs that require the highest amount of stress tolerance. Data is collected through questionnaire responses by sampled workers and occupation experts and based on their rating of whether a job requires dealing with high-stress situations. Data from the Bureau of Labor Statistics on annual salary for the occupation's industry as of May 2022 is also included.
Read on to learn more about the jobs that call for high stress tolerance.
---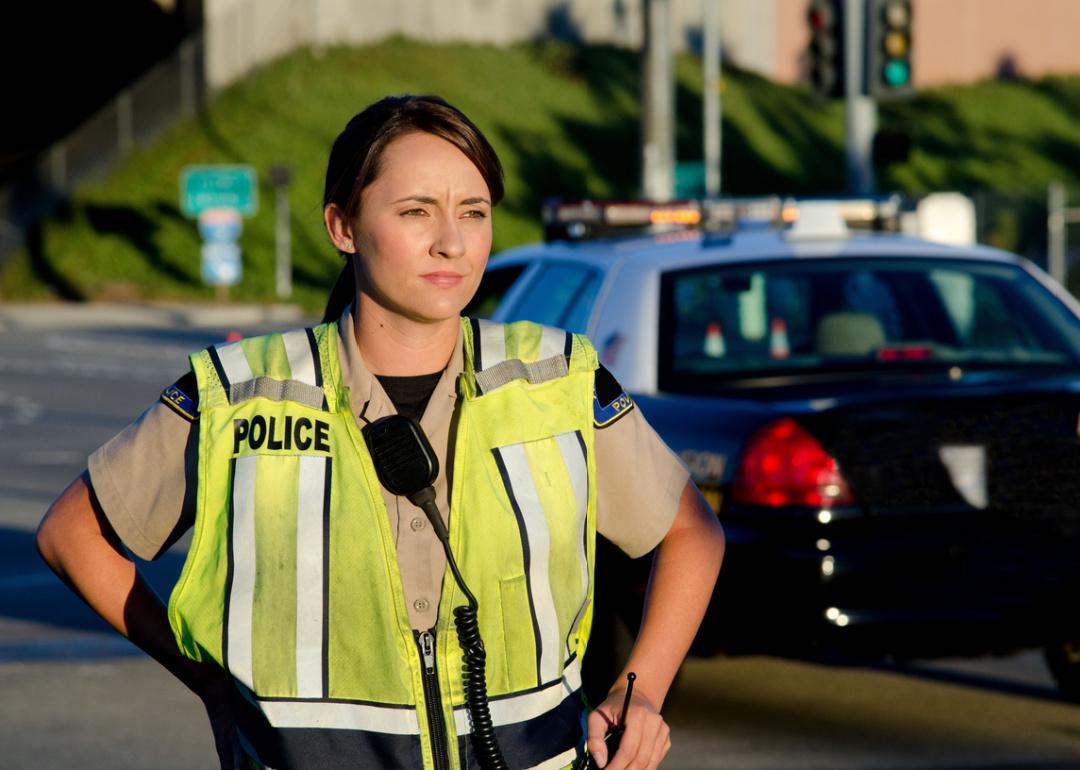 John Roman Images // Shutterstock
#12. Transit and railroad police (tie)
Woman police officer surveys area during a shift.
– Importance of stress tolerance: 96/100
– Average annual salary for transit and railroad police: $76,380
Law enforcement officers often work extended hours under challenging circumstances. Chronic fatigue syndrome and sleep disorders are common among police officers, according to the National Institute of Justice. Long periods of untreated stress and fatigue can lead to "anxiety, depression or post-traumatic stress disorder."
---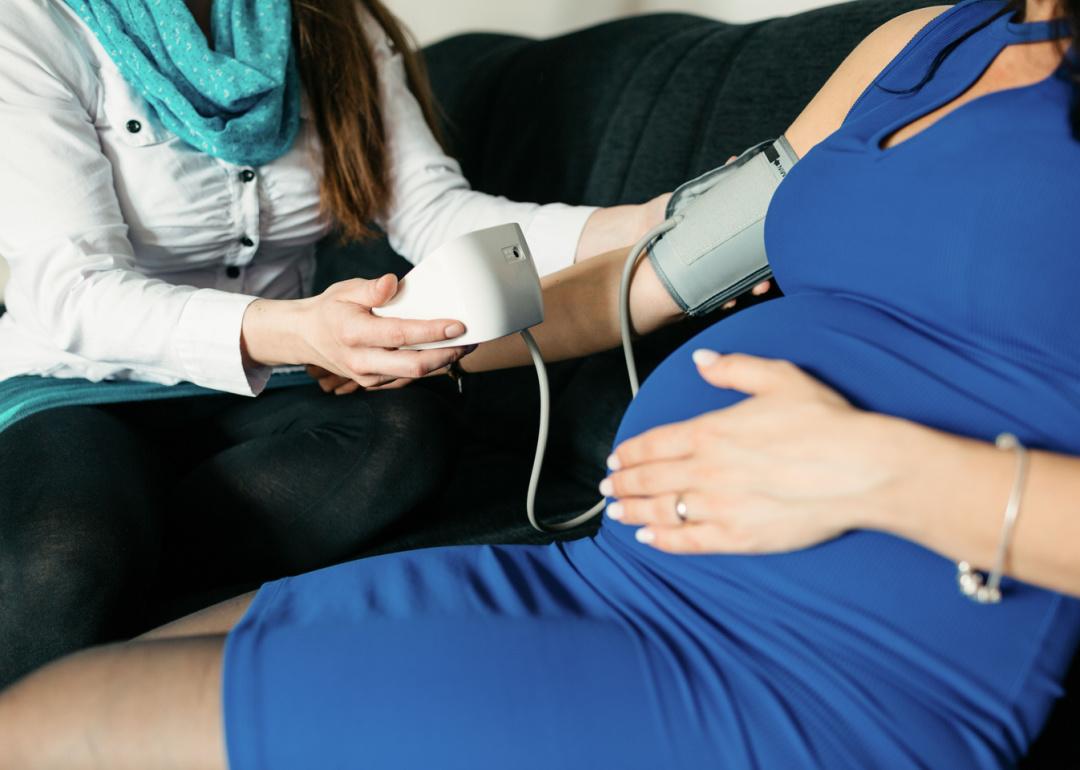 Newman Studio // Shutterstock
#12. Nurse midwives (tie)
Midwife measuring blood pressure of a pregnant woman
– Importance of stress tolerance: 96/100
– Average annual salary for nurse midwives: $122,450
Nurse midwives focus on reproductive health; they are trained to guide patients through pregnancy, postpartum, and menopause. One of their most stressful duties is attending to pregnant people and newborns during childbirth. Midwives' shifts usually last eight to 12 hours, sometimes even longer. They are required to work whenever needed, including weekend and night shifts.
---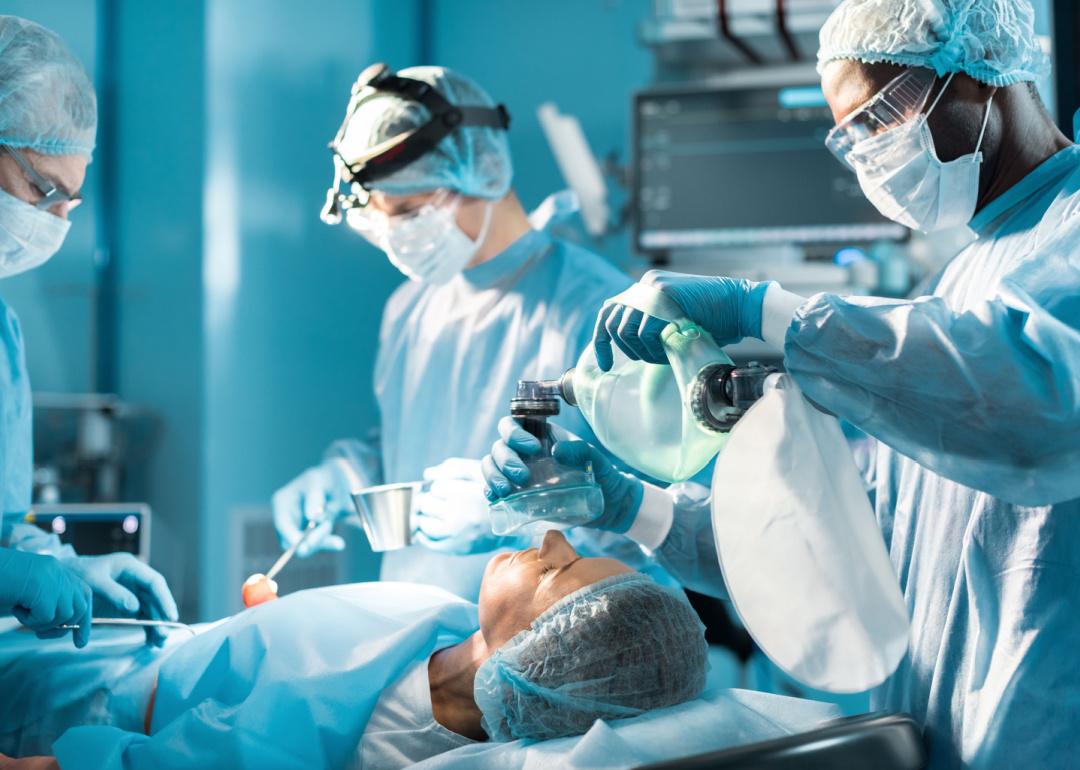 LightField Studios // Shutterstock
#12. Nurse anesthetists (tie)
Anesthetist holding oxygen mask above patient.
– Importance of stress tolerance: 96/100
– Average annual salary for nurse anesthetists: $205,770
Nurse anesthetists work in operating rooms, intensive care units, and surgical facilities. If they work independently, picking pre-programmed procedures, they can enjoy a certain level of autonomy. The salary of anesthetists is one of the highest among health care technicians because they are advanced, highly specialized practice nurses; however, they often perform their job under dire conditions.
---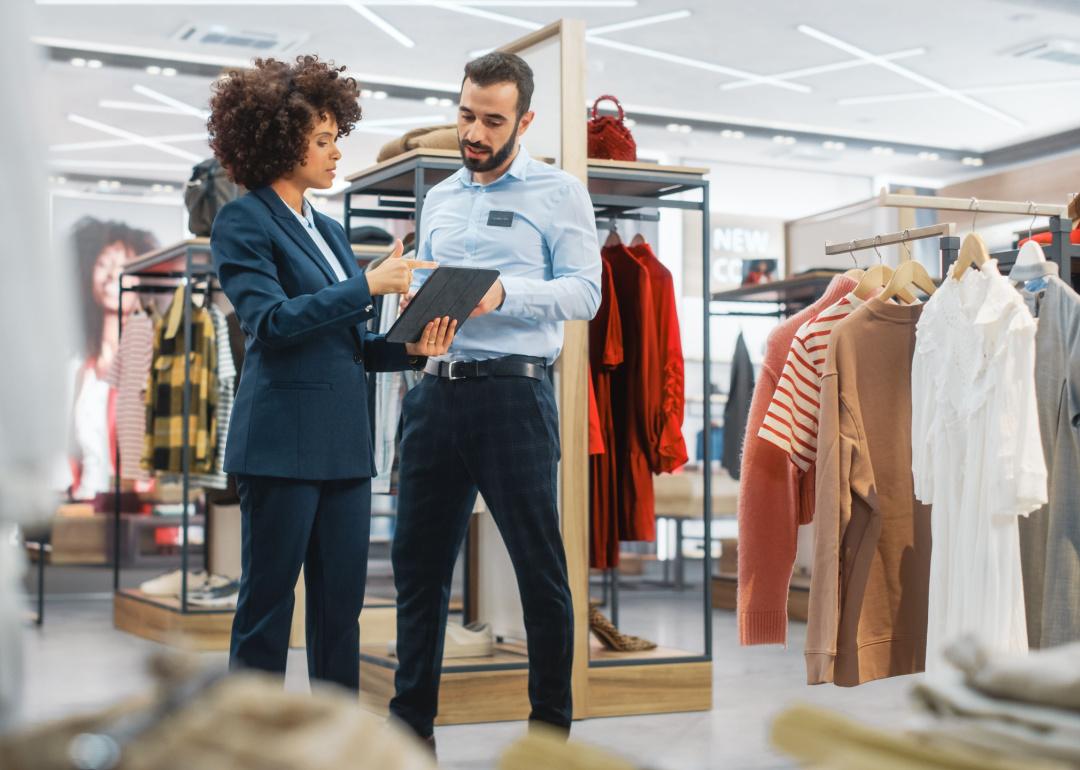 Gorodenkoff // Shutterstock
#12. First-line supervisors of retail sales workers (tie)
Retail manager with tablet talking to employee.
– Importance of stress tolerance: 96/100
– Average annual salary for first-line supervisors of retail sales workers: $50,130
This position demands a great deal of organization and multitasking. First-line supervisors of retail sales workers can be store managers, assistant managers, keyholders, or department managers, all performing different duties simultaneously, from staff scheduling to inventory management. Among the most stressful responsibilities of retail supervisors is implementing procedures to constantly increase revenue and maintain optimal brand reputation without neglecting customer satisfaction.
---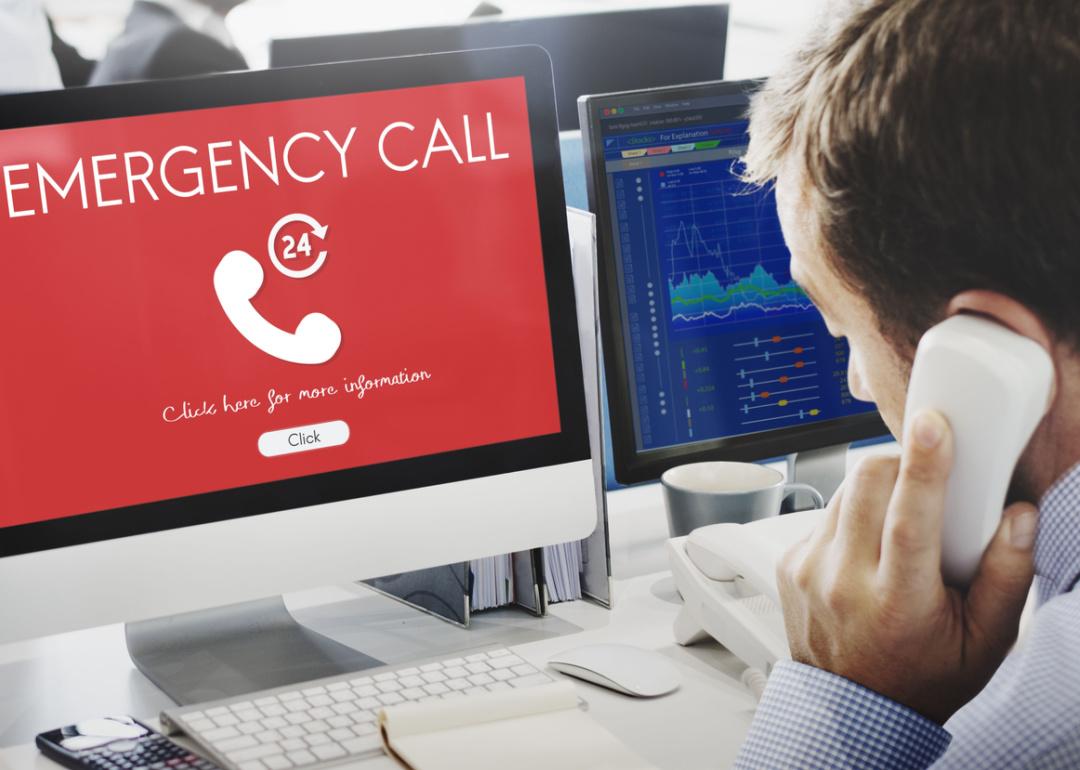 Rawpixel.com // Shutterstock
#8. Public safety telecommunicators (tie)
Emergency call dispatcher worker at terminal.
– Importance of stress tolerance: 97/100
– Average annual salary for public safety telecommunicators: $49,370
Public safety telecommunicators, such as 911 and fire dispatchers, answer and redirect calls in emergency response centers named "public safety answering points." To provide 24-hour service, employees have rotating schedules that include night, weekend, and holiday shifts. Stressful situations frequently arise in PSAPs, as operators must remain calm while responding quickly and assertively to calls that often report violent, life-threatening situations.
---

Blue Planet Studio // Shutterstock
#8. Obstetricians and gynecologists (tie)
Pregnant woman with ultrasound visiting obstetrician.
– Importance of stress tolerance: 97/100
– Average annual salary for obstetricians and gynecologists: $277,320
Obstetricians and gynecologists specialize in childbirth and reproductive health, but at a doctorate level. While they can be assisted by nurses and technicians, OB-GYNs are responsible for a patient's well-being and also perform surgeries. Like most doctors, they focus on preventive care and must be available at any time of any day to treat emergencies, including surgical procedures and delivering babies.
---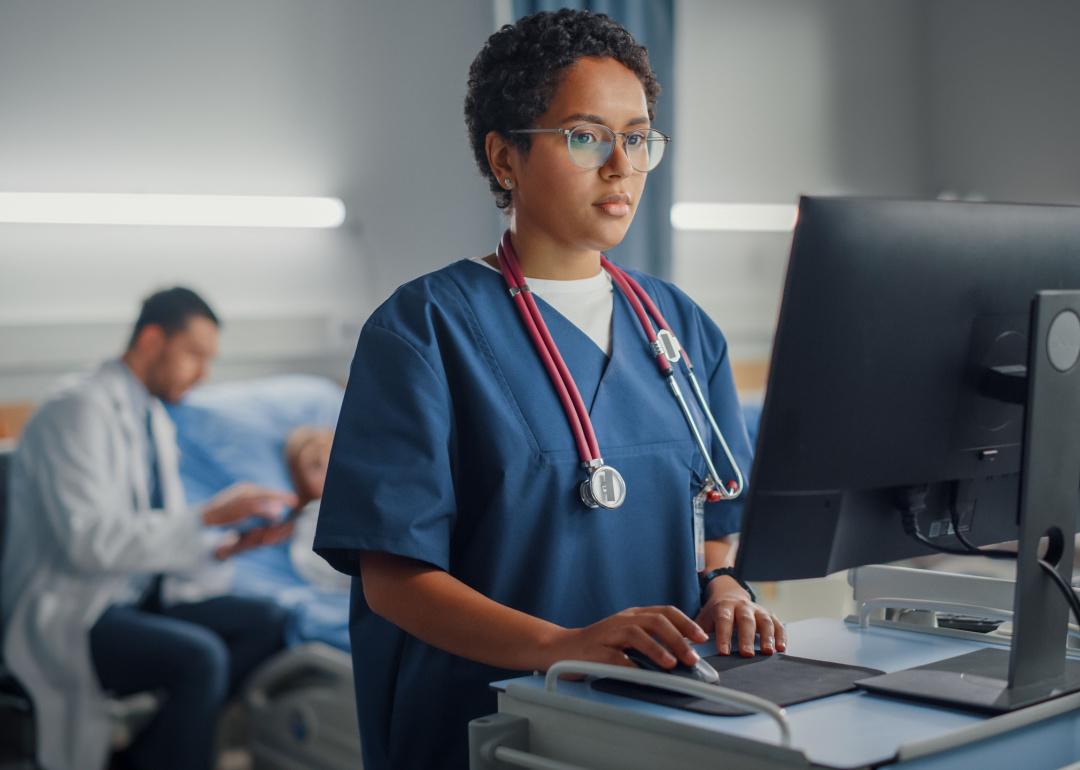 Gorodenkoff // Shutterstock
#8. Acute care nurses (tie)
Acute care nurse at terminal in hospital room.
– Importance of stress tolerance: 97/100
– Average annual salary for registered nurses: $89,010
After experiencing a severe illness or trauma, a patient can require pre- and post-operative care or other specialized medical treatments. Acute care registered nurses must intervene with precision under time-sensitive conditions. Working hours are unpredictable and usually include nights, weekends, and holidays. Besides the academic and legal requirements, acute care nurses must have the patience and compassion necessary to interact with people experiencing pain and fear.
---

Canva
#5. Telephone operators (tie)
Telephone operator on call.
– Importance of stress tolerance: 98/100
– Average annual salary for telephone operators: $41,590
Telephone operators use computerized telephone directories, such as a private branch exchange, to adequately direct large quantities of calls a business or organization receives. The daily dynamics of a telephone operator can be quite stressful, especially in health care facilities and hospitality businesses. They must answer inquiries courteously and accurately, often assisting in other administrative duties. The service and information a telephone operator provides are the foundation on which customers build their first impressions of a business.
---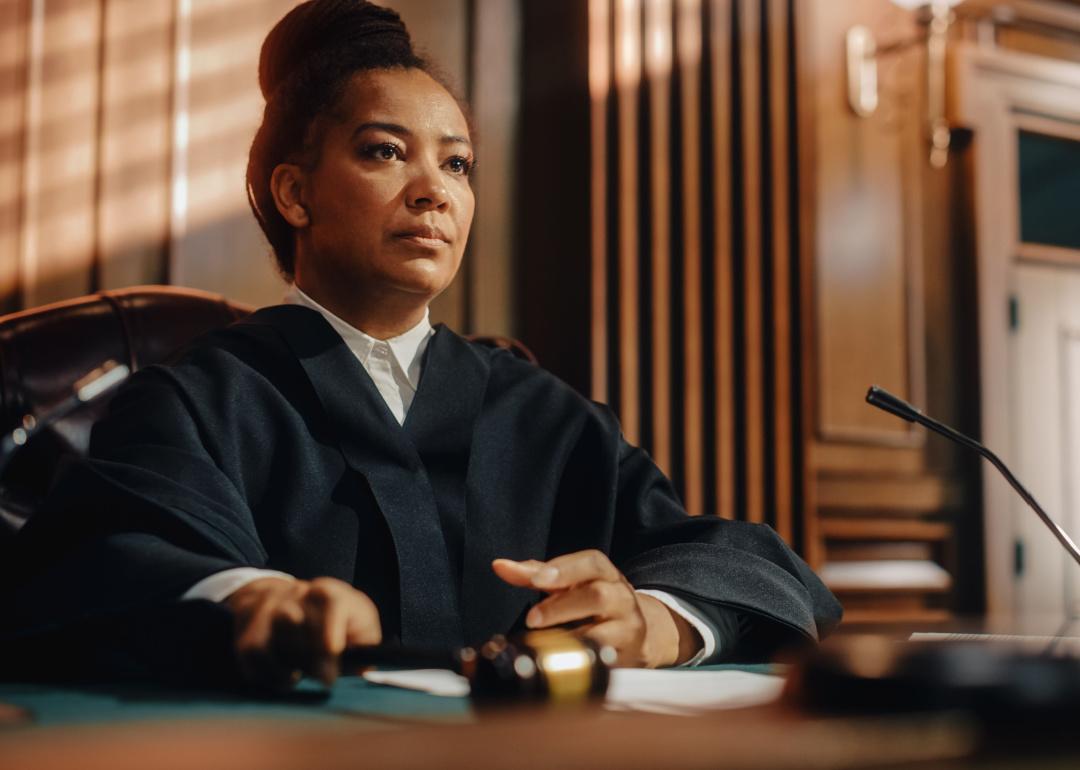 Gorodenkoff // Shutterstock
#5. Judges, magistrate judges, and magistrates (tie)
Woman judge with gavel in courtroom.
– Importance of stress tolerance: 98/100
– Average annual salary for judges, magistrate judges, and magistrates: $153,700
Judges and magistrates are sworn to uphold the law and administer justice. They must act without bias and navigate legal proceedings with objectivity—not an easy task. The responsibility of deciding whether a person did or did not commit a crime is overwhelming, just as having to decide on a fair punishment that suits the victims. In civil cases, judges decide who is liable and deliver a verdict according to statutes, regulations, and guidelines.
---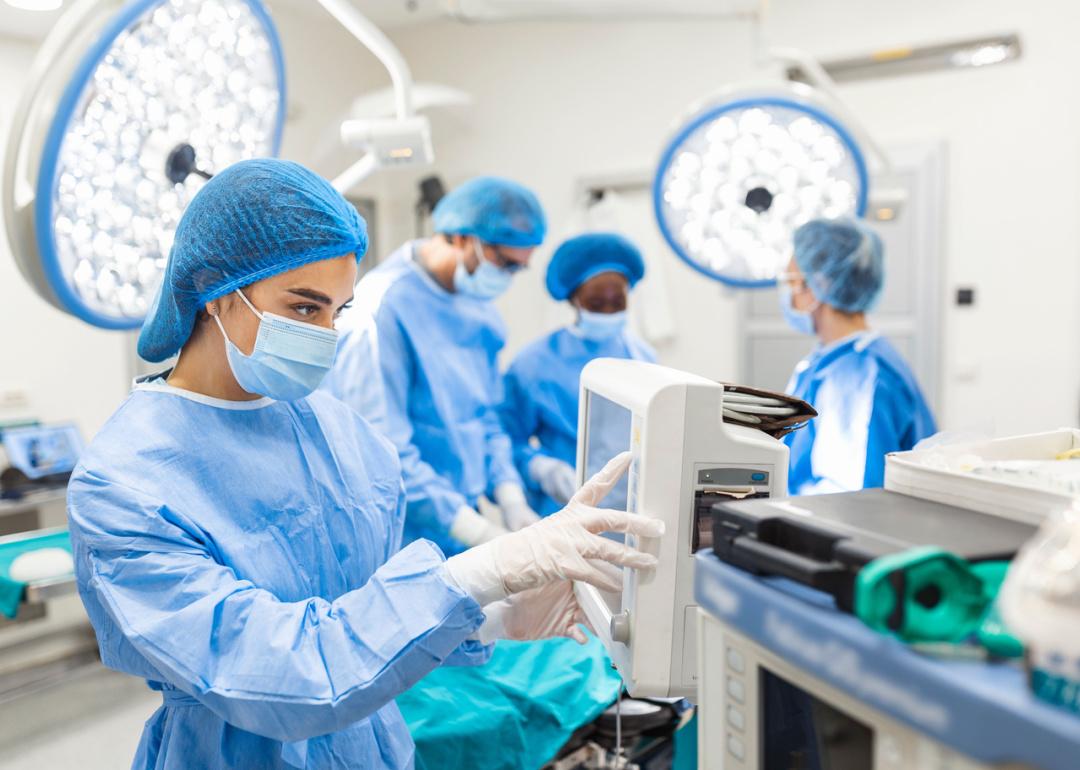 Photoroyalty // Shutterstock
#5. Anesthesiologist assistants (tie)
Anesthetist assistant tracking vital functions during surgery.
– Importance of stress tolerance: 98/100
– Average annual salary for physician assistants: $125,270
Certified anesthesiologist assistants are "highly trained master's degree level non-physician anesthesia care providers," according to the American Society of Anesthesiologists. Their academic background has a stronger science and medical component than certified nurses specializing in patient care. Anesthesiologists perform the same duties as nurse anesthetists, enduring similar stress levels; however, unlike nurses, they can seek admission to medical school to pursue a higher postgraduate degree in the health care field.
---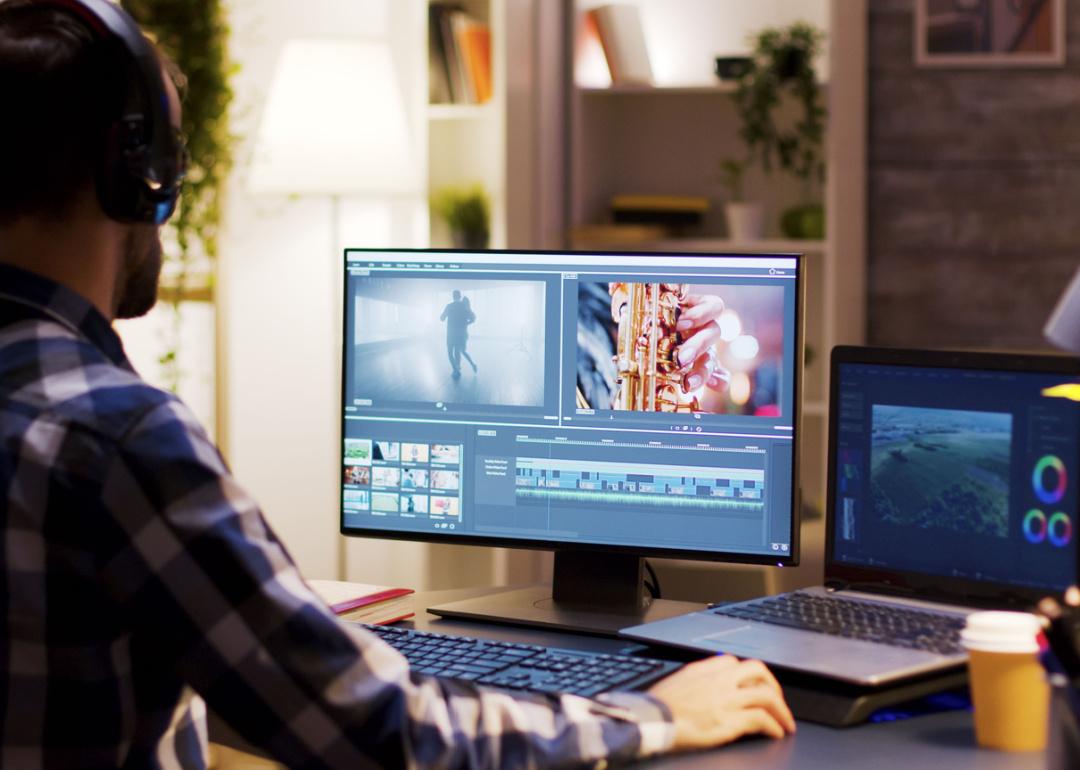 DC Studio // Shutterstock
#2. Film and video editors
Film editor working on post production at desk.
– Importance of stress tolerance: 99/100
– Average annual salary for film and video editors: $80,990
The main responsibility of film and video editors is to choose and combine raw footage so that it flows smoothly, tells an engaging story,  and follows technical specifications defined by a post-producer—all while still respecting the vision of a director or producer. Live television news editors work under extreme pressure, as they must deliver newsworthy videos in minutes. Many times events are still developing and require immediate updates. Editors must be detail-oriented and have a keen eye for impactful images.
---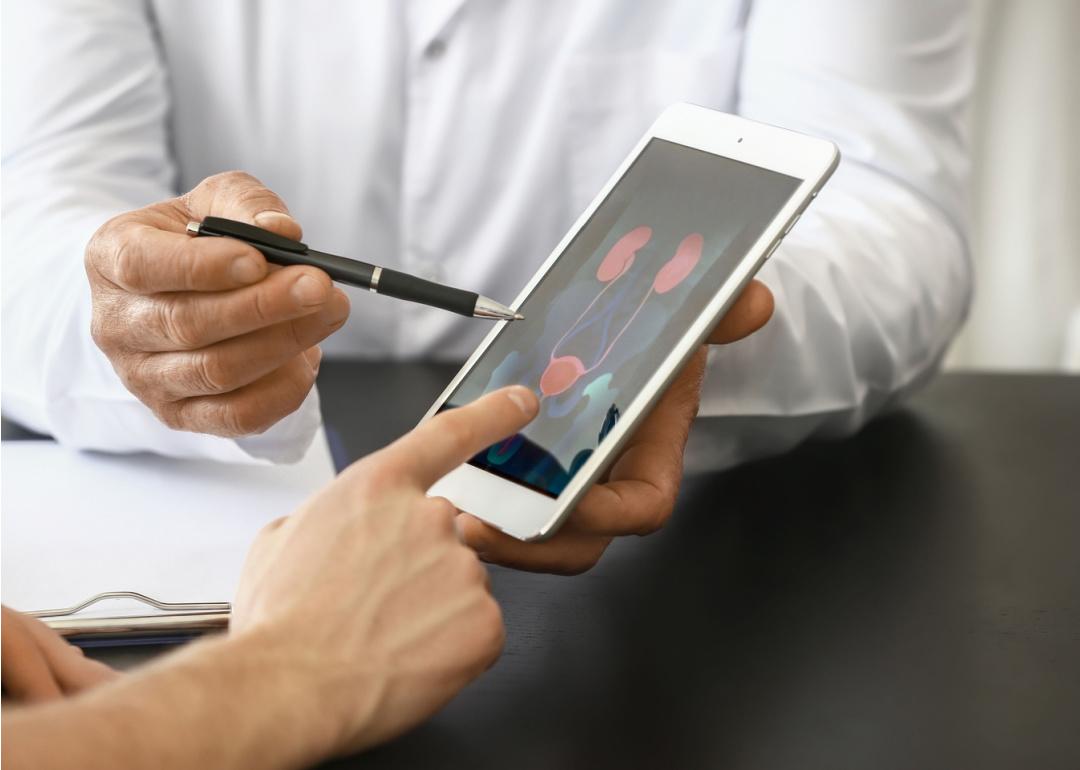 Pixel-Shot // Shutterstock
#1. Urologists
Urologist with tablet computer speaking with patient.
– Importance of stress tolerance: 100/100
– Average annual salary for physicians, all other: $238,700
Urologists are medical doctors specialized in treating health disorders in the urinary system and men's genitourinary tracts. They diagnose and treat the kidneys, bladder, urethra, prostate, and reproductive organs. Illnesses involving these organs are typically painful, debilitating, and psychologically exhausting. Urologists must treat patients with compassion and empathy while inflicting the least pain and organ damage possible.
Data reporting by Emma Rubin. Story editing by Robert Wickwire. Copy editing by Paris Close. Photo selection by Elizabeth Ciano.
This story originally appeared on Wysa and was produced and
distributed in partnership with Stacker Studio.
---