Monterey Bay FC steps away from the soccer field to volunteer in the Food Bank for Thanksgiving  
SALINAS, Calif. (KION-TV)- Thousands of low-income families on the Central Coast seek food during the holidays. Some families turn to local food banks and distribution centers, so they can prepare food on Thanksgiving night. But this year, Monterey County Food Bank, in partnership with non-profit organizations and the Monterey Bay FC soccer team, will bring food to 50,000 families in Monterey County.
The food bank is working at full speed to meet food demand this Thanksgiving, and are getting a hand from the Crisp & Kelp. Members of the soccer team took turns packing food at the center located in Salinas. 
Melissa Kendrick, Executive Director of the Monterey County Food Bank, said this mission was a little more difficult to complete this year, with the high demand for groceries, it has also been difficult to stock their warehouses.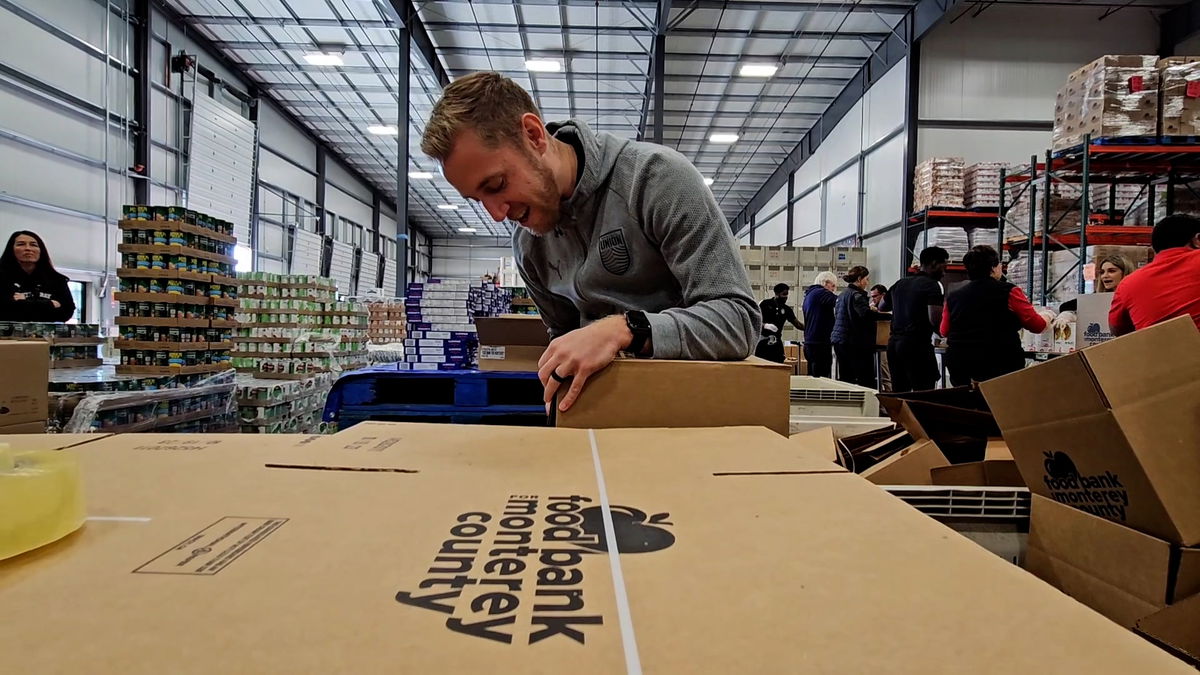 The Food Bank feeds 1 out of every 3 children in the county, according to Kendrick. For this reason, the UNION left behind their blue jerseys for a pair of gloves. A task they will perform two consecutive days, taking turns in four groups. 
"I've been putting together boxes my whole shift, but I think it's a great experience to be able to help the community and give back," said Alex Dixon, forward with MBFC.
Ray Beshoff, owner of the sports club, was also on hand and said this experience brings joy to the players. Ray says they have come a long way, but there is still a long way to go.
"I thought we'd done 500 or 600, but we've actually done 250, so it's a lot more work than you'd think, it's a little monotonous, but it's amazing," Ray added. "Every time you fill a box, you know you're helping someone."
Representatives from Cardinale, contributors to the stadium, home of Monterey Bay FC, also did their part.
General Manager John Guru accompanied the Crisp and Kelp lineup all morning, filling box after box. John says his company has participated two years in a row and intends to do it again at Christmas.  The Monterey County Food Bank is accepting volunteers for those interested in participating, please contact, follow the link below or call (831) 758-1523.