Exclusive: Education secretary says federal funds are at stake if schools fail to combat antisemitism and Islamophobia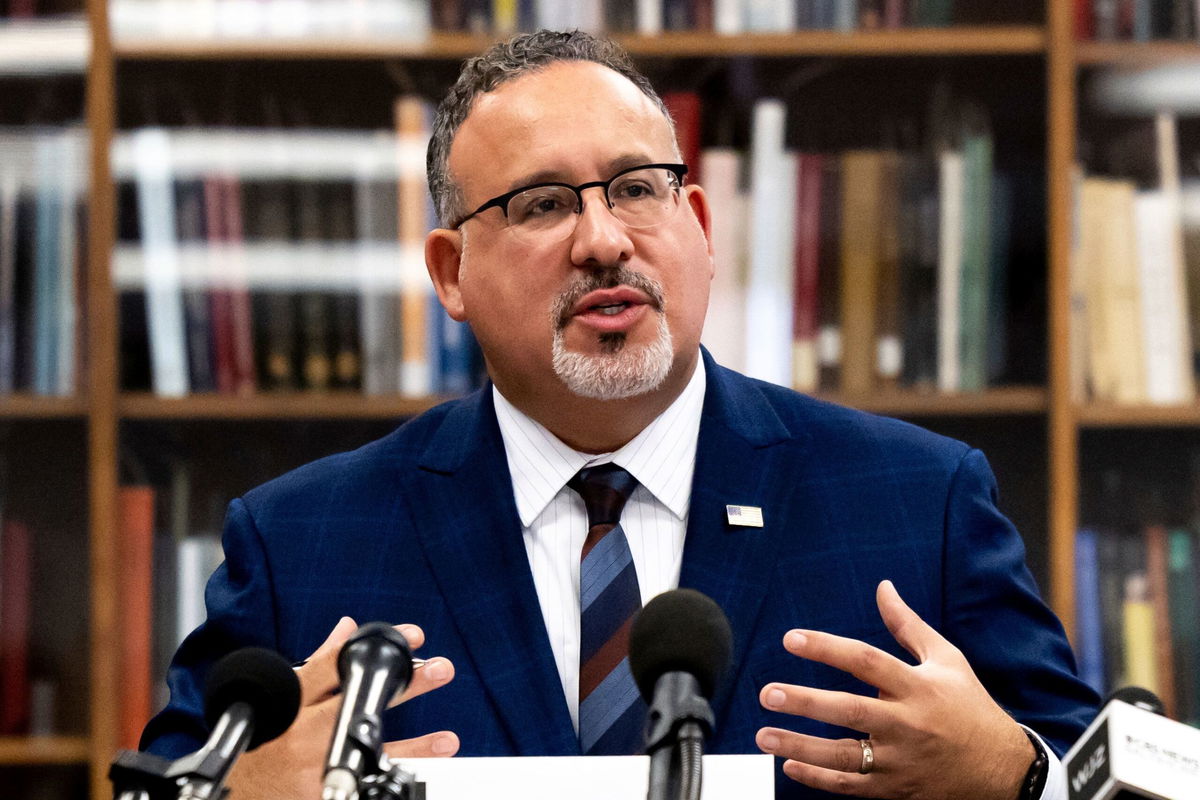 Originally Published: 07 NOV 23 07:00 ET By Rene Marsh and Katie Lobosco, CNN
Washington (CNN) — The Department of Education is reminding schools and colleges that they have a legal obligation to address incidents of discrimination – including against those who are Jewish, Israeli, Muslim, Arab or Palestinian – and that they could ultimately lose federal funding if they fail to do so.
In an interview with CNN on Monday, Education Secretary Miguel Cardona said there has been an uptick in complaints filed with the department's Office of Civil Rights in the wake of the Hamas terror attacks on Israel last month.
Since October 7, the office has received "eight or nine" complaints about antisemitic and Islamophobic incidents on school campuses, he said.
Cardona is asking Congress for more funding "so that we can make sure we're expediting investigations against antisemitism or Islamophobia."
On Tuesday, the Department of Education is sending guidance to colleges, universities and K-12 schools regarding their legal responsibility to provide all students with an environment free from discrimination under Title VI of the Civil Rights Act of 1964.
While the Department of Education could withhold federal funds, Cardona said it's not the first action he would take.
"I would want to provide support for these universities, provide guidance. And if there are egregious acts, I want to make sure that we're investigating," Cardona said.
"Ultimately, if we have to withhold dollars from a campus refusing to comply, we would," he added.
The education secretary acknowledged that it can be a challenge for schools to ensure a safe learning environment for all students while also protecting students' rights to free speech.
"We want to promote free speech and, to be frank with you, college campuses are where students should be able to express different opinions. But when it comes to antisemitism or Islamophobia, that has no place on our college campuses or in our schools," Cardona said.
The Office of Civil Rights recently updated its discrimination complaint form, specifying that Title VI's protection from discrimination based on race, color or national origin extends to students who are or are perceived to be Jewish, Muslim, Hindu or Sikh, or based on other shared ancestry or ethnic characteristics. Anyone can file a discrimination complaint.
The agency is also building a framework of additional guidelines for schools and universities to guide them on how to handle incidents of discrimination. There is no timeline on when the framework will be complete.
The-CNN-Wire
™ & © 2023 Cable News Network, Inc., a Warner Bros. Discovery Company. All rights reserved.