How California's recent flooding could set the stage for a dangerous wildfire season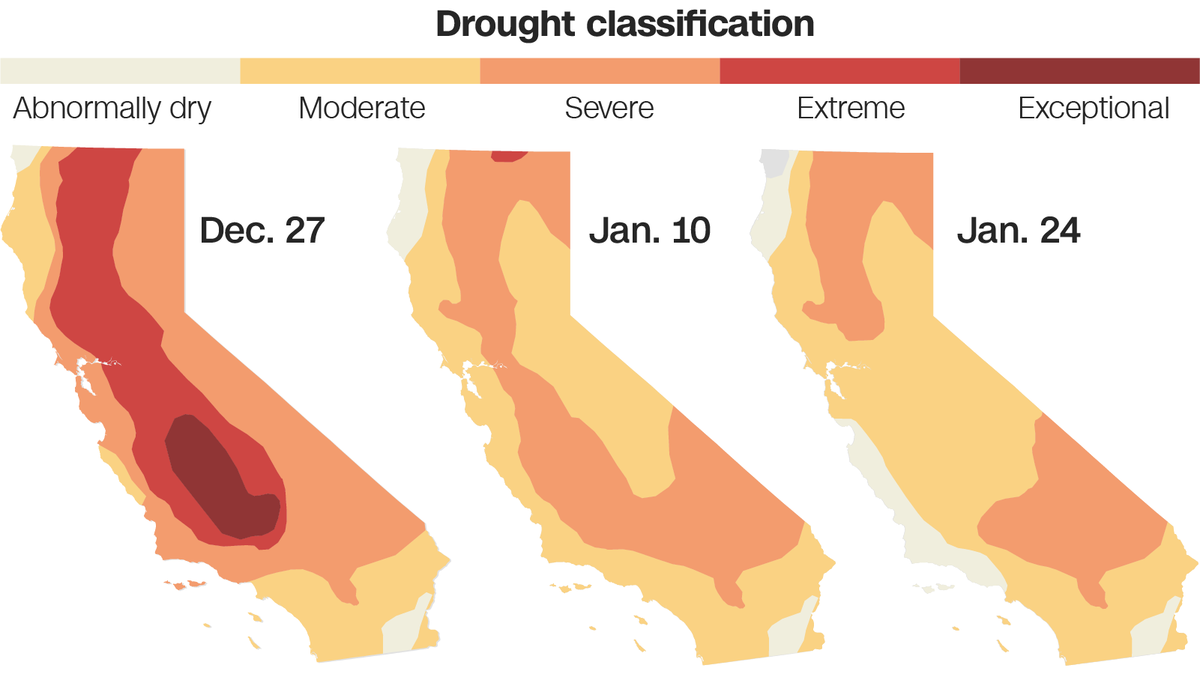 Originally Published: 26 JAN 23 13:49 ETBy Rachel Ramirez and Renée Rigdon, CNN
(CNN) -- With vast stretches of desert that give way to towering, snow-capped mountains or the waters of the Pacific Ocean, California's landscape has always been alluring. But it is this very climate -- where dry summers and wet winters provide the perfect conditions for tourism and agriculture -- that's also the state's vulnerability.
Everything could be dried out one year, then completely drenched the next. For years, historically dry conditions have pushed the West to uncharted territory, triggering never-before-seen water shortages. Then at the end of December and into the early weeks of January, an onslaught of rain and snow finally came, significantly reducing the severity of the drought.
But Californians know the pendulum could abruptly swing the other way again: If moisture doesn't stick around and heat sets in, experts worry the wintertime rain and snow could prime the landscape for an intense wildfire season.
"The dangerous side to this could be -- and we've seen this in the past -- is we get all this moisture, which increases the amount of spring growth around the state, and then all that growth dries out after we no longer get more moisture and becomes just additional fuels," Andrew Schwartz, lead scientist at the University of California, Berkeley Central Sierra Snow Lab, told CNN.
More important than the amount of moisture in the ground right now is what's there at the end of winter, said Daniel Swain, a climate scientist at the University of California, Los Angeles.
"What's concerning is that now, in a warming climate, even in some of the wet years, we're seeing significant or even elevated severe fire activity because of how dry and warm it gets in the intervening months," Swain told CNN.
While it's too early to tell exactly, he added, the ingredients for a dangerous fire year are slowly coming together.
It's happened before. Issac Sanchez, CalFire's battalion chief, said he recalls 2020 being an "unusual year," with the season starting off with atmospheric river storms that dumped plenty of rain and snow and fueled vegetation growth across California.
But those conditions quickly turned to drought, fueling record-breaking wildfires that burned more than 4 million acres -- the worst wildfire season in state history, according to the California Department of Forestry and Fire Protection.
"We can't say we're going to get a lot of fires this year, because we simply don't know," Sanchez told CNN. "What we can point to is we can see that the conditions for large destructive fires are going to be there and we have to be prepared when that happens, because we don't know when or where the fire is going to be."
California was slammed this winter with nine back-to-back atmospheric river storms, according to Scripps Institution of Oceanography. Those storms -- conveyor belts of concentrated moisture in the atmosphere emerging from the warm waters of the Pacific Ocean -- unleashed record rainfall, deadly flooding, debris flows and hurricane-force winds.
In just three weeks, the storms brought an average of nearly 12 inches of rain -- more than 32 trillion gallons of water -- to the state. San Francisco saw nearly 18 inches in that three-week span, which is more than the city accumulated in the previous 12 months combined.
High-elevation snowpack -- which serves as a natural reservoir that eases the drought, storing water through the winter months and slowly releasing it through the spring melting season -- now stands at more than 200% for this time of the year and is roughly equivalent to what the region sees at the end of the season, on April 1.
"The numbers have been big, but we are still concerned that if we hit a prolonged dry and warm period, we may not end up in a spot that's favorable come March and April," Schwartz said. "We still have several months to get through in the water season, and these aren't static numbers."
California's winter storms significantly improved the state's surface drought conditions. As of Thursday, nearly 90% of the state was in some level of drought. But it was only three weeks ago that nearly 7 million Californians lived in areas of extreme drought — the second-worst designation. That number has since dropped to zero.
Climate researchers have said it's the lack of precipitation, higher temperatures and an increase in evaporative demand -- also known as the "thirst of the atmosphere" -- that has pushed the West's drought into historic territory.
So these storms, experts say, were desperately needed. Schwartz said he wants moisture and the elevated snowpack to stick around to avoid an active fire season.
The barrage of storms has also increased soil moisture, which is good for California's severely parched vegetation. Moisture in plants and new growth help keep California wildfires at bay. April 1 is usually the time of the year when the state has the highest fuel moisture content.
But that moisture needs to hold until then. Kurt Solander, a hydrologist at Los Alamos National Laboratory, told CNN that storms could potentially have a strong impact on this year's wildfires. It all depends on the moisture content of plants across the state during the late spring and early summer months.
"It could be that the faucet providing the atmospheric rivers that we are seeing shuts off abruptly for the remainder of the winter," Solander told CNN. The rain California has already seen "could promote the growth of [plant] fuels" that would increase the likelihood that areas which have burned in years past could burn again.
If temperatures climb in the coming months, the sun could bake out what little moisture there is in the ground. Once all the vegetative fuel dries out, that's when fire woes begin to emerge, said Lee Turin Dickman, a plant ecologist with the Los Alamos National Laboratory.
"Even if it's not particularly dry, if there are changes in the plant's dry mass or carbon content, that can actually make the vegetation drier than you might expect based on weather or climate conditions," she told CNN, referring to the phenomenon called the "spring dip" in which moisture content declines.
The winter storms sparked some hope for drought-stricken California, but experts forecast another dry spell ahead as temperatures warm.
"We see persistence of drought in Southern California as well as most of Nevada," said Joe Casola, regional director for climate services in the Western region of NOAA's National Centers for Environmental Information. "It doesn't mean it's not going to rain or snow in these places, it just won't be enough necessarily in January, February, March and April to offset some of the drought conditions that we are still experiencing."
The Metropolitan Water District of Southern California, for instance, is still under a regional drought emergency as it expects a fourth consecutive dry year.
If dry and relatively warm conditions form over the coming months, Swain said that could substantially offset the gains that recent snow and rain storms brought in recent weeks. And dry conditions, in concert with low humidity and extreme heat, are a recipe for a destructive wildfire season.
"If we have another summer punctuated by record heat -- as we have pretty much every year for the past decade, at least somewhere in the West -- then all of that extra vegetation still manages to dry out more or less completely," Swain said. "So, by the end of the summer and the fall, the peak of the dry season, what you then have is a system full of extra vegetation that is just as dry as it would have been."
California is no stranger to life-threatening, landscape-altering fires. And scientists have showed that climate change is making them worse. In his research, Solander recently found that California was the only state where the rate of fire reburns, or areas burned multiple times over the years, has increased and was consistently higher than other areas of the West.
"One of the primary drivers of wildfire re-burns in California was the moisture flux from plants during the late spring to early summer months," Solander said, noting that he will have to go back and check the "moisture content of plants across the state during that time to better understand" how fires may play out later in the year.
The-CNN-Wire
™ & © 2023 Cable News Network, Inc., a Warner Bros. Discovery Company. All rights reserved.