Great white shark determined to have bit paddleboarder at Lovers Point Beach
PACIFIC GROVE, Calif. (KION-TV)- UPDATE 8/23/22: The shark that bit the board of a paddleboarder on Lovers Point Beach was determined to be a great white shark after testing DNA left on the board, according to California Fish and Wildlife.
This encounter took place on August 10 when paddleboarder David Stickler and his German Shepard Brutus were attacked by a shark. They were knocked off their board but sustained no injuries.
Fish and Wildlife said, "Based upon a full examination of the available evidence, including eyewitness description of events and bite measurements from the stand-up paddleboard, the white shark was determined to be an adult with a minimum estimated length of 14-16 feet, with 16 feet being the most likely estimated size."
Fish and Wildlife added that two shark attacks in the same spot less than two months apart are no indication of increased shark incidents. Shark attacks remain rare as this was the 204th incident since 1950, and of those, only 109 resulted in injuries.
CDFW doesn't use the term "attack" as it incorrectly implies the shark was intentionally trying to harm the person. A recent study concluded that based on similarities to pinnipeds or other prey when viewed from below, the poor spatial resolving power of the shark retina may result in bites on humans due to mistaken identity. It is also possible that these incidents are investigatory in nature but still not predatory attacks. Juvenile white sharks have been observed biting many non-food items, including kelp, floating debris, and other inanimate objects, and are known to make exploratory bites when investigating their environment.

California Department of Fish and Wildlife
There is no indication that shark activity is increasing, according to CDFW. KION also asked if the increased number of sea lions along the peninsula contributed to the increased 'activity' numbers, and CDFW said that is unlikely since both species usually frequent the area.
Read more: Pacific Grove great white shark bite survivor discharged from hospital
This is the second great white shark encounter at Lovers Point this summer.
Lovers Point reopens after paddle boarder's encounter with shark
PACIFIC GROVE, Calif. (KION-TV)- UPDATE 8/13/22: Pacific Grove Police announced Lovers Point is back open after a paddle boarder's encounter with a shark.
The incident happened Wednesday when a paddle boarder said their board was bitten by a shark, which left him and his dog rattled.
Both the dog and paddleboarder weren't injured in the incident.
Pacific Grove Police closed Lovers Point as a precaution.
ORIGINAL STORY
A paddle boarder at Lovers Point said their board was bitten by a shark Wednesday. This is the second shark attack at the beach this summer.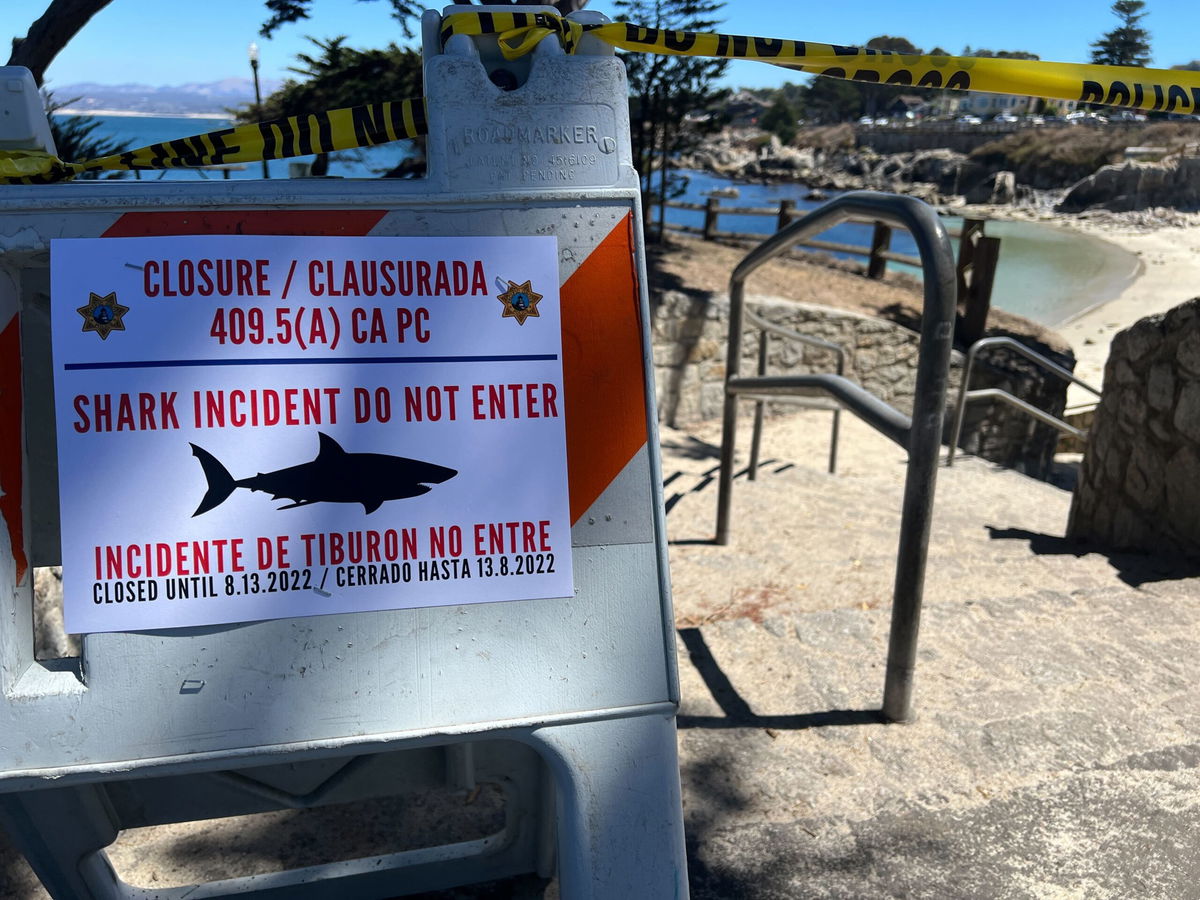 At around 11:30 a.m., David Stickler and his German Shepard Brutus were paddle boarding when the shark bit the board multiple times. They fell off the board but were able to safely paddle back to shore.
The incident was around 150 yards from Lovers Point Pier, according to the City of Pacific Grove
The male paddle boarder and his dog fell off his board but were not injured. The paddle board will be tested to determine the shark species, according to the city.
After a shark sighting at Lover's Point about 11:30am today, 8/10/22, the City of Monterey is posting warning signs along all #Monterey beaches and entry areas. We will provide updates as we learn more about the incident. pic.twitter.com/1ATy6ND0MJ

— City of Monterey (@CityofMonterey) August 10, 2022
The beach will be closed out of precaution until Saturday, August 13, according to Pacific Grove.
"The City of Pacific Grove is following the California State Parks protocol to close Lovers Point Beach and coastal access starting at the Sea Palm turnout," said the city in a press release. "Federal, state, local public agencies, and volunteers are clearing beaches and assisting visitors out of the local waters. The area will continue to be monitored during the closure."
This is a developing story.