Taylor Farms packaging building deemed a total loss, all shelter-in-place orders lifted
SALINAS, Calif. (KION) UPDATE April 14, 1:38 p.m. -- The Salinas Fire Department says the Taylor Farms packaging building that went up in flames on Abbott Street is now considered a total loss.
"About 85% to 90% of the building is a total loss. There are parts of the building that are separate that are still operational. But as far as the main processing facility, it is considered a total loss," said Salinas Deputy Fire Chief Sam Klemek.
The fire is believed to have started near a point where maintenance workers were doing welding work. Salinas Fire says they received the first call for the fire at the 225,000 square foot building after 7 p.m. Wednesday. Klemek says those maintenance crews had just left the building and security called the fire in.
Rick Biddle says he witnessed the fire as it sparked.
"I was walking around checking the gates, the fences, I noticed some smoke and stuff and I called the fire department. And you could actually smell the gases in the air and stuff and the heat," said Biddle. "The heat was so intense that, I mean, it actually felt like you were standing next to a campfire."
Biddle says firetrucks arrived on scene, but then left. That's because crews were making sure hazardous chemicals used for cooling — nitrogen, chlorine and especially ammonia — were secured.
"It can be explosive. And so with that amount, 35,000 pounds of ammonia, that could have been devastating to this community. We're talking big explosions with major damage throughout the community, not just Taylor Farms," said Salinas Fire Chief Michele Vaughn.
Neighboring businesses were evacuated and a shelter-in-place was ordered for parts of the city, shutting down some schools on Thursday.
Those have been lifted, but the Abbott Street facility was set to open for the season Monday, welcoming back more than 1,000 employees, many traveling to Salinas from Yuma, Az.
Many are left wondering what will happen to their jobs.
"We are working internally. Bruce Taylor has been meeting with all of the vice presidents of the different divisions to make sure that any people that are suffering any hardships, primarily the workers that are in Yuma making their way here, just making sure that we take care of everybody," said Darin Salden with Taylor Farms. "We do have other plants in the immediate area and we are working on any option available to us to continue [bringing] our products to our customers and make sure that we keep everything going."
There is still an ongoing investigation but nothing suggests foul play according to fire officials.
All evacuation and shelter-in-place orders have been lifted and Abbott Street is back open.
---
UPDATE April 14, 10:59 a.m. --The City of Salinas said the area South of S. Alisal St. to Spreckels Ave and East of Main St. and Highway 68 to Hartnell Road remain in a shelter-in-place order.
Hazardous materials were burning and people should shut their windows and turn off their ventilation systems.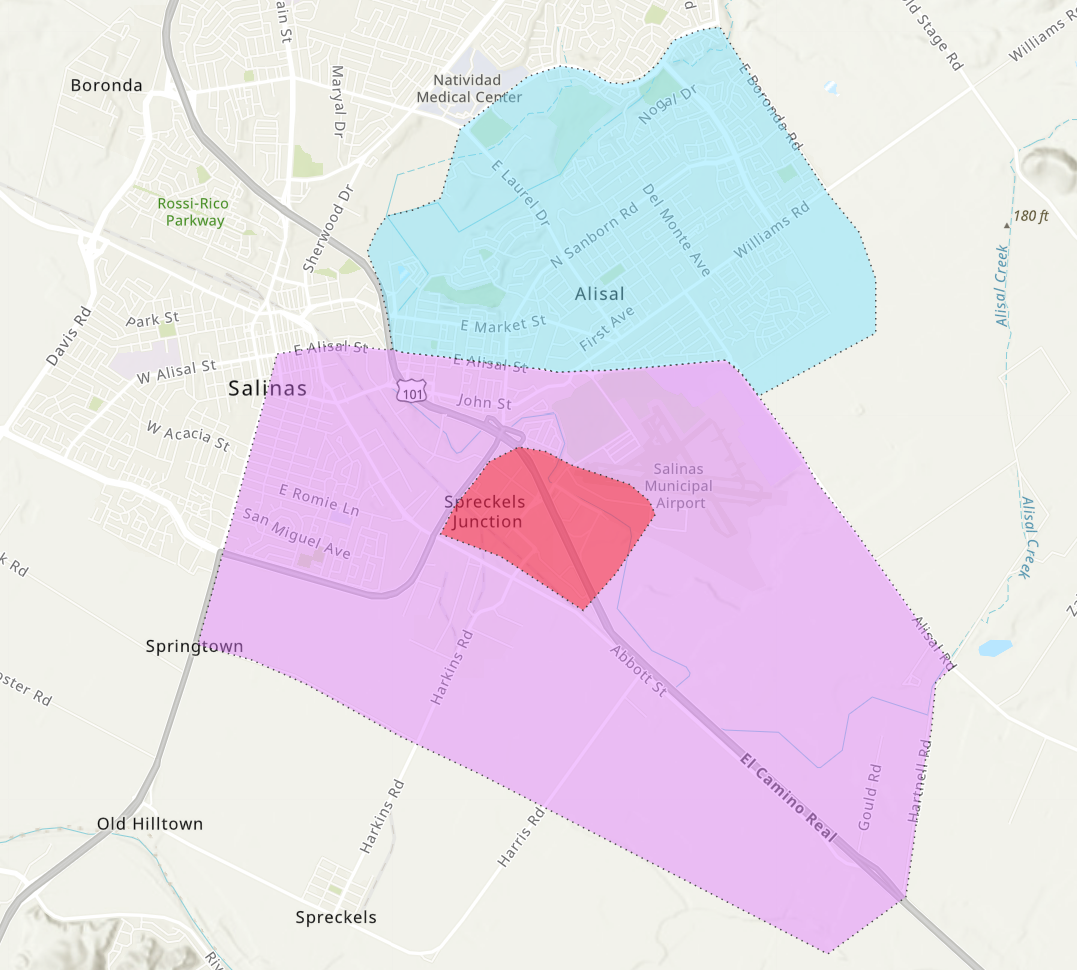 Taylor Farms also provided KION with the following statement:
On April 13th, our primary Taylor Farms California Foodservice production facility at 1207 Abbott Street, Salinas, CA was severely damaged by a structure fire. Any onsite personnel were evacuated and there have been no reported injuries. The facility had been closed for the Winter season and the team was not producing onsite. This is an active situation and we're working closely with our team, first responders and the community. We anticipate no disruptions in supply to customers. Our other 20 production locations are continuing to operate. Thank you for your patience as we work through this difficult situation. We will provide updates as we know more.

Our immediate plan is to continue operating our Yuma, AZ facility that is currently servicing our Foodservice customers. Over the next few days and weeks Taylor Farms will be utilizing all of our North American capacity to continue to support our partners with assured supply. Our total production locations and geographic diversity is our best defense to this scenario. We will work to reassign and support our Salinas Foodservice productuoin team this season as we rebuild the facility.

Thank you for your patience as we work through this difficult situation. As always, our priority is to serve our customers withour any disruptions. We will provide regular updates throughout the next 48 hours.

Taylor Farms
---
UPDATE April 14th, 8:22 a.m. - A number of school have been closed for the day, according to school officials, including:
Lincoln Elementary
Monterey Park Elementary
Los Padres Elementary
Sherwood Elementary
Washington Middle School
El Sausal Middle School
Salinas High School
This is as fire crews monitor the fire by drone. Fire officials tell KION there is no longer a threat of an explosion and they are treating the fire as a hazmat situation.
More information to come.
UPDATE April 14th 1:25 a.m. More than 75% of the roof structure has collapsed after a 4-alarm fire at the Taylor Farms facility. The fire is still burning as of 1:30 a.m.
Right now, authorities are dealing with a potential ammonia leak at the Taylor Farms facility.
Salinas Fire says it is letting the flames burn until there is no further danger from the ammonia tanks.
No injuries are being reported.
Salinas Fire says the cause could be related to maintenance, but the cause is still under investigation.
While authorities monitor the fire, everyone in the area is being asked to shelter in place. The fire has not spread outside of the facility.
Officials expect the burning to last until tomorrow and could deal with the impacts regarding the ammonia tanks for the next few days.
Drivers can expect a potential closure of Highway 101 northbound and southbound from Chualar Road to John Street. There is no closure at this hour, but California Highway Patrol has been notified.
UPDATE April 14th at 1:10 a.m. The Salinas Fire Department and Police Department has issued a Shelter-In-Place Order for the areas South of Alisal Street to Spreckels Avenue, East of Main Street and Highway 68 to Hartnell Road.
The order is effective immediately.
Authorities say the fire means the potential for a hazardous materials incident.
People in these areas are being asked to shut their windows and turn off their ventilation systems.
The Shelter-In-Place Order is effective until further notice.
UPDATE April 13th 2022 at 10:30 p.m. Salinas Fire Department told KION the fire is growing quickly and they're starting to lose the Taylor Farms building.
Salinas Fire also confirmed with KION the fire began during a welding project at the facility.
No injuries to firefighters have been reported and Salinas Fire said Taylor Farms staff were not in the building when this fire started.
Crews are not getting the kind of water pressure they need to put out this fire, according to Salinas Fire.
Salinas Fire said people in South Salinas should expect smoke in the air for some time as this fire continues to burn.
ORIGINAL STORY
SALINAS, Calif. (KION) Multiple fire crews responded to a large fire at Taylor Farms on 1207 Abbott Street in Salinas, Wednesday night.
No word yet on the cause of the fire or if anyone was injured.
KION will continue to provide updates on this investigation.