Are turkeys more expensive? Here's what we found out from a local farmer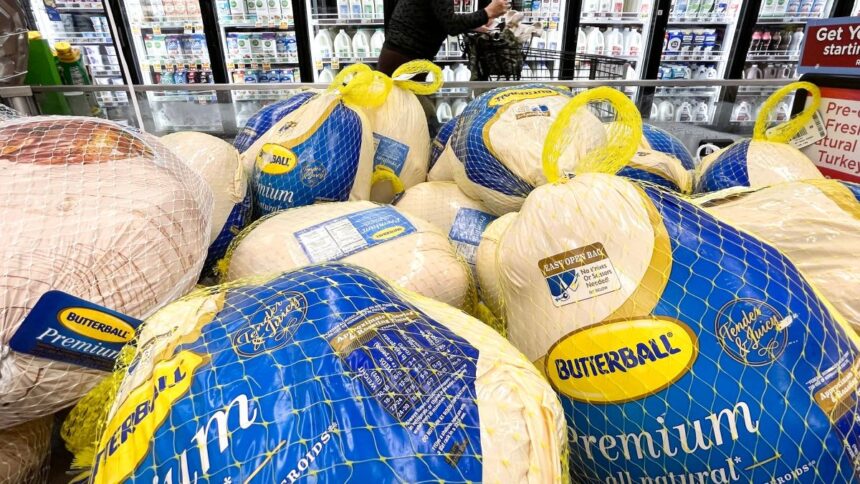 HOLLISTER, Calif. (KION) Thanksgiving is only days away and people are making their last-minute turkey purchases for the holidays but are turkeys more expensive this year?
According to the USDA, frozen turkey inventories are down 24% below the 3-year average volumes.
Things like turkey and other Thanksgiving staples have gone up. According to the American Farm Bureau, the price for a turkey has shot up to 24%. Some of the factors for these increases are the pandemic and the disruption of the supply chain.
"Well, I was trying not to look at the total at the very end just cause I knew it was going to be high. when I looked it wasn't as bad as I thought it was going to be but definitely a lot more than last year," Kellie Morten, a shopper said.
KION spoke with a local farmer who raises turkeys and says she's had to raise the prices of her turkeys
"My processing went up a lot, a lot on goat meat. It almost doubled and the turkeys, it went way up," said Lisa Knutson, the owner of Pasture Chick Farm.
At the same time, she says demand for locally grown turkeys has gone up.
"People are more aware of purchasing food locally because, through COVID, our business really ramped up. I think people got really frightened of not being able to get food from traditional sources," Knutson said.
While the prices for thanksgiving dinner are more expensive, a shopper says it's all worth it for the holidays.
"We need to buy things so as frugal as I try to be you know I still needed to get the things that we're going to be eating and cooking for our families," Knutson said.