Suspect in custody after police standoff in Salinas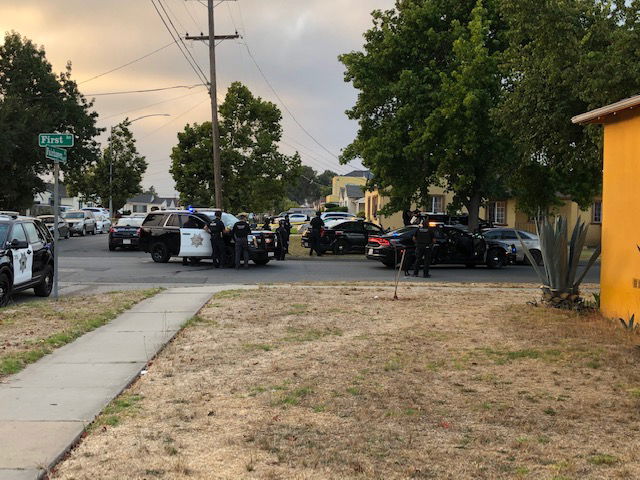 SALINAS, Calif. (KION) UPDATED 8/9/20 4:40 p.m.: A man has been taken into custody early this morning following a standoff that lasted hours in Salinas Saturday night.
According to a statement from the Salinas Police Department, 31-year-old Ernesto Rodriguez Orellana was taken into custody after an 8 and a half hour standoff with SWAT and police following an alleged robbery.
Police were called after a victim said he found Orellana going through his vehicle and noticed his personal handgun and holster were taken.
Orellana was booked into the Monterey County Jail for charges related to the firearm and narcotics.
PREVIOUS STORY 8/8/20:
Salinas police spent hours Saturday night in a standoff situation on the intersection of First Avenue and Fairhaven Street.
Dozens of officers and SWAT teams surrounded a residence in that area after an apparent robbery at around 4:30 p.m. turned into the suspect barricading himself in an adjacent garage building.
Martin Torres, a Yuma resident who says he is the victim involved, says Saturday evening, he had to call police after confronting a man who was taking his belongings from his truck.
Torres' son saw the suspect going through his dad's truck. Torres says he confronted the man, who allegedly said the items he was taking out of the truck were his.
"At that point, I kind of approached him like, 'Hey dude, where's my stuff?' And that's when he raised his shirt and he had a gun… so I backed off… and I told my son to go back inside," said Torres.
Torres was able to get away with his son and go back inside a friend's home to call police. He says the suspect fled into an adjacent garage. Torres says he personally had a weapon and two clips of ammunition in his truck, both of which were missing when he went back to check out his truck and what was stolen.
Police surrounded the garage as soon as they arrived and blocked off the intersection to traffic and pedestrians. Residents within the crime scene tape boundaries were told to stay inside.
Police have been unable to comment on the situation, with one lead officer there saying it was still an active scene.
Torres says the suspect is related to the family he was visiting in town. Torres also says the suspect seemed a little off when he encountered him.
By midnight, it appears the suspect made at least one appearance at the door where he was barricading himself. He raised his hands in the air at several moments, but he returned inside.
This is a developing story. Check back here for updates.
PREVIOUS STORY: A standoff with police is underway near the intersection of First Avenue and Fairhaven Street in Salinas.
Salinas PD confirmed for us that an individual has barricaded themselves in a home.
There was a heavy police presence in the area, including armed officers and a K-9 unit.
In a statement, Sunday, Salinas police said SWAT was able to gain entry into the garage.
The suspect was identified as 31 year old Ernesto Rodriguez Orellana.
Orellana was shot with a rubber round and was taken into custody, ending the 8 and a half hour standoff at around 1:30 a.m.
As of today, the suspect was booked into Monterey County Jail for charges relating to narcotics and firearm.