How are social distancing measures being enforced at businesses?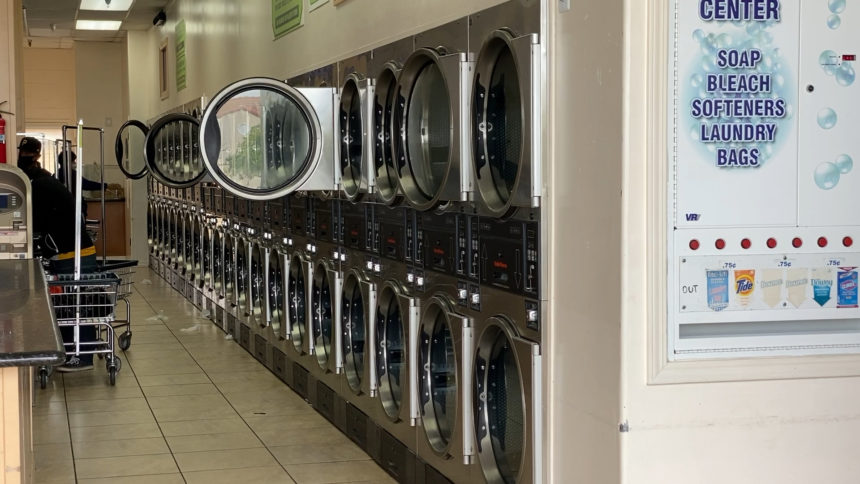 SALINAS, Calif (KION) Grocery stores have had customers wait in lines to limit the number of customers inside and enforce social distancing for more than a month now, but are other small businesses putting similar measures in place to stop the spread of the coronavirus?
At laundromats, the machines are pretty close together so that makes it difficult to stay 6 feet apart during peak hours, but some laundromats are setting limits to how many people can enter the business.
Laundromats are considered essential businesses so they are allowed to be open during the shelter-in-place order.
KION found many Salinas laundromats have signs posted outside their businesses listing guidelines for customers, like mask requirements. Some laundromats also ask customers not to bring in children for their protection.
But who's enforcing the rules?
Much of this relies on the honor system, especially at self service businesses. KION found most people were respecting the rules Wednesday afternoon at laundromats, and one shop owner, Lorenzo Nava, also said the same about his store.
"People have been very generous and I haven't had to raise my voice to enforce the measures," Nava said. "We're inviting people to wear the face mask and if they don't have one, we offer, you know, to buy one."
But concerned viewers say that's not always case at laundromats, especially when there aren't any attendants.
So we asked local agencies, who's in charge of enforcing social distancing?Some police departments have done education outreach to small businesses themselves and others say it's up to the District Attorney's Office. But the DA's office says they focus on investigating complaints, rather than visiting individual businesses to enforce the rules.
"That could be the authority of the local police departments would have that, code enforcement. There are other agencies in the county and the city that also have the authority to enforce these measures also," said Deputy District Attorney Emily Hickok. "We're responding to complaints that a business is violating the shelter in place order, whether that's that they're not considered essential and they're operating or that they're violating social distancing protocols."
The DA's office says a majority of complaints they've received are about non-essential businesses operating in violation of shelter in place and fewer about businesses violating social distancing.
"We are first engaging in efforts to educate businesses and we've brought about a lot of compliance doing that, and where we can't get compliance, then, you know, we'll evaluate that on a case by case basis," Hickok added.
"Law enforcement is going to have to make that decision at some point if there are situations where they have to enforce someone who is floating the law or the order," County Administrative Officer Charles McKee said.
You can email consumercomplaints@co.monterey.ca.us to file a consumer complaint with the DA's office.