Local union pickets in front of Sunset Center, claiming mismanagement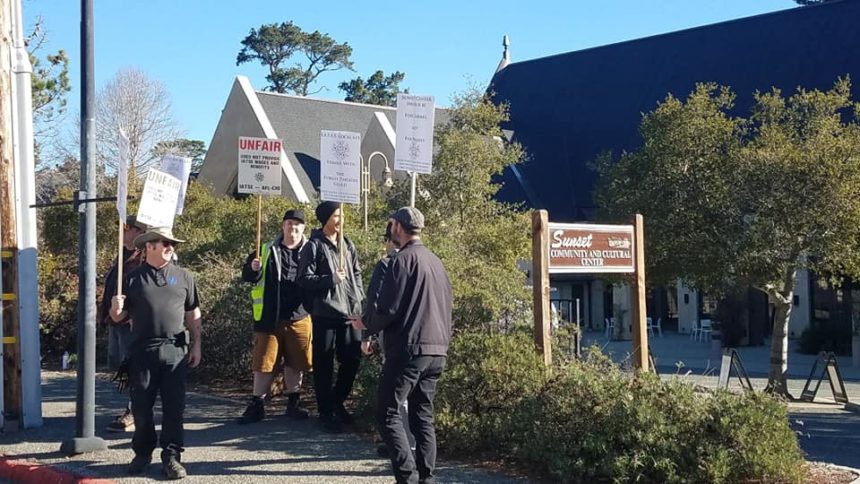 CARMEL, Calif. (KION) Picketers are outside the Sunset Cultural Center in Carmel Tuesday, saying they are sharing information about mismanagement at the center.
According to IATSE Local 611, the Sunset Cultural Center has hired out-of-county temporary workers from Craigslist and removed local professionals. The union said this means the center will make a larger profit, but that it is at the expense of safety and the well-being of the community. The union also pointed out that OSHA fined the center more than $17,000 for safety violations.
The union is asking the Sunset Cultural Center to immediately prioritize local productions and users with calendar priority and choice of labor and use local labor at living wages with proper training.
KION reached out to the Sunset Center for comment. A spokesperson for the center said for the past three seasons, it has used vetted, professional production vendors for equipment and labor. The spokesperson said locals are encouraged to apply.
The center said it also makes safety a priority by requiring vendors to train technicians and stagehands for events and addressed concerns stemming from an OSHA violation.
"SCC has had 2 serious accidents recorded in its 16 years of operation. One year ago, SCC received a citation for not reporting an employee accident within the required 8-hour timeframe. Sunset Center settled the pending citation and related fine in November 2019 after wirking with OSHA representatives and an independent OSHA consultant to identify and implement better training protocols for our vendor supplied crew members."
Tuesday and Wednesday evening, the Sunset Center will be holding the largest production in its history- Beautiful: The Carole King Musical.