Project to make Santa Cruz County pedestrian pathway accessible open for public comment
SANTA CRUZ COUNTY, Calif. (KION) The public comment period is now open for the Corralitos Creek Bridge Project in Santa Cruz County.
According to Caltrans, the project would improve infrastructure on the eastbound side of SR 152 and update the existing pedestrian pathway to make it accessible to people with disabilities.
The improved pathway would consist of a concrete barrier rail and sidewalk on the slope north of the bridge, a curb and gutter, Americans with Disabilities Act-compliant curb ramps, an upgraded guard rail and drainage features. It would involve widening the existing shoulder from two to four feet as well.
The bridge is on the eastbound side of the road east of Beverly Drive to the Holohan and College Road intersection.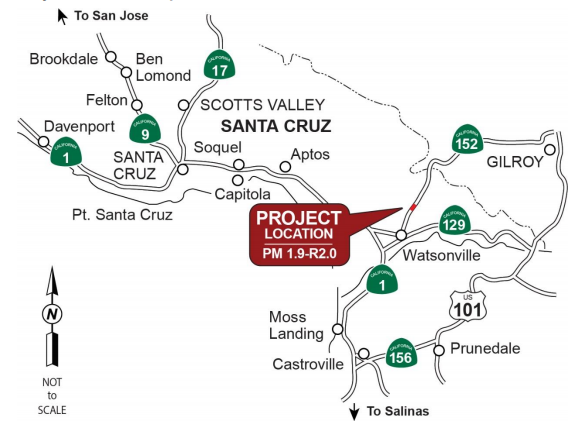 Caltrans said Watsonville is the fastest growing city in Santa Cruz County, and the project is located just outside the city limits. In the area, there are homes, restaurants, gas stations and schools. The location is also three miles west of the only regional airport in Santa Cruz County.
Read more about the initial study of the project here. It can also be found at the Caltrans District 5 Midway Office in San Luis Obispo, the Watsonville Public Library and the Freedom Branch Library.
Public comments or a request for a public hearing can be sent to Jason Wilkinson at jason.wilkinson@dot.ca.gov or Jason Wilkinson, Caltrans District 5, 50 Higuera Street, San Luis Obispo, CA 93401 by Feb. 25.