Locals not surprised slingshot was used in projectile attacks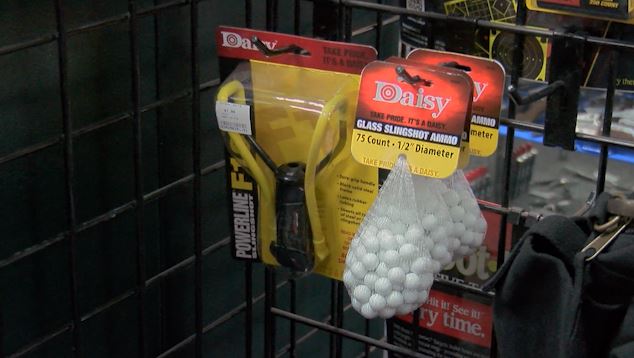 PRUNEDALE, Calif. (KION) The California Highway Patrol has said it was not a gun used in the projectile attacks, but they weren't specific about what the weapon was until today when they revealed it was a slingshot.
What is typically a child's toy, in the wrong hands a slingshot can be dangerous.
"Slingshots are always obviously they can do damage but for the most part
it's all depends who's behind that slingshot just like a firearm," says Bart Bartoli with Outdoor World Sporting Goods in Seaside.
The California Highway Patrol says Charles Kenneth Lafferty used marbles as the ammo for his attacks which area commonly available in many stores like Outdoor World in Seaside.
Nobody at Outdoor World was surpised to find out the projectile weapon was a slingshot.
"They have enough power to put down a small animal," says Bertoli.
"I'm not all that surprised, I mean slingshots are a pretty powerful device to
throw projectiles," says Francis Davi. "It doesn't surprise me that it's shattering windows let alone causing injuries to people."
We have investigated on Social media and found facebook pages with his pictures. But, on them he refers to himself as Ken Lafferty and appears to be an avid hunter.
The pages also has photos of hunting dogs and birds like pheasants, which are usually hunted and in some cases slingshots and marbles are used.
"How surpising is it to know that marbles were used?," asked KION's Max Tarlton.
"It was marbles?" Davi asked with a laugh. "I'm Not surprised those thing are just as dangerous as any hard projectile."
We asked the workers at Outdoor world and they say there are no restriction as to who can buy slingshots in California.