The "BolaWrap" rolled out by Santa Cruz County Sheriff's Office as new non-lethal force tool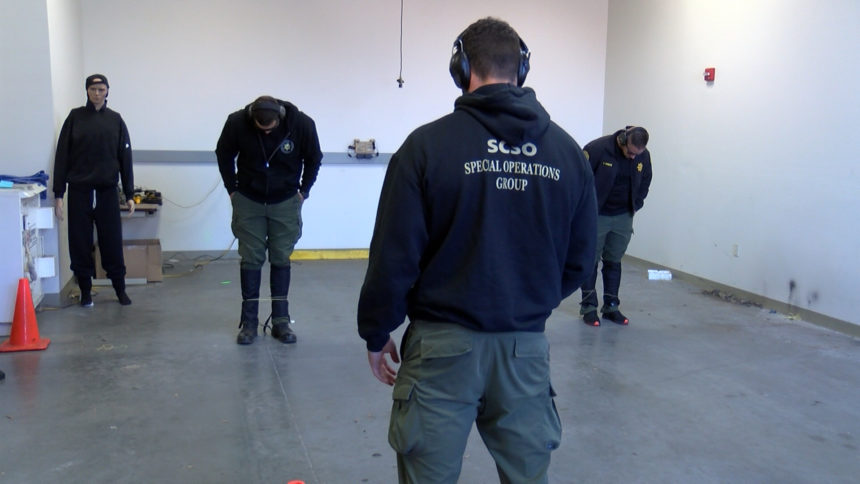 SANTA CRUZ, Calif. (KION) A new tool for sheriff's deputies will hit the streets of Santa Cruz County as early as this week. The BolaWrap restraint tool releases a tether made from synthetic fiber and wraps around a suspects legs, preventing them from getting away.
"We want to successfully resolve cases where people have a weapon, that's not a gun, without causing harm to that person," Sheriff Jim Hart said.
The device works from 10 to 25 feet away. It's an alternative to a taser and other non-lethal options.
"Allows the wrapping to occur and effectively wrap onto clothing, and hopefully safely stop the person from what they're doing," Sgt. Brian Cleveland with the Santa Cruz County Sheriff's Office said.
The wrap shoots out eight feet of Kevlar cord and travels 640 feet per second. A green laser helps law enforcement aim as the fish hooks then latch on to clothing or skin.
"If a person is acting out for whatever reason whether its alcohol drugs or mental illness and they're waving around a sword or a baseball bat or a weapon that's not a gun, like we see on a daily basis, then i think this has the potential to be effective," Hart said.
It would be the fifth non-lethal option Santa Cruz deputies carry joining a taser, baton, pepper spray and a non-lethal shotgun. It's most effective when the suspect is stationary or running away.
20 deputies will test the BolaWrap in the field to see if the $900 device is worth arming all 160 deputies .
"Even if we have one case where we prevented lethal force from having to be used it's worth the investment," Hart said.
The Sheriff's office says they are the first on the Central Coast to use the BolaWrap. Deputies will test the device for about six months and then Sheriff Hart will decide if they want to add it to their tool kit.